Gluten-free cherry cobbler is the perfect summer dessert bursting with fresh fruit and light, buttery biscuits.
I love making this gluten-free cherry cobbler because it always impresses people. The filling is so flavorful and will surely wow your guests.
If you are looking for a good gluten-free cherry cobbler, then this is the one for you! The filling is especially key. It is full to the brim with delicious, plump cherries and just the perfect amount of almond extract. The two flavors merry together perfectly.

My mom makes a killer cherry pie. Really though, it is the best you've ever enjoyed. Of course, her buttery, flaky crust (you can find the secret recipe in our cookbook) makes it great, the filling is also fantastic.
Her delicious filling is featured here with a slight change. While it does take an extra step to cook it on the stove top first, I assure you, it is totally worth it.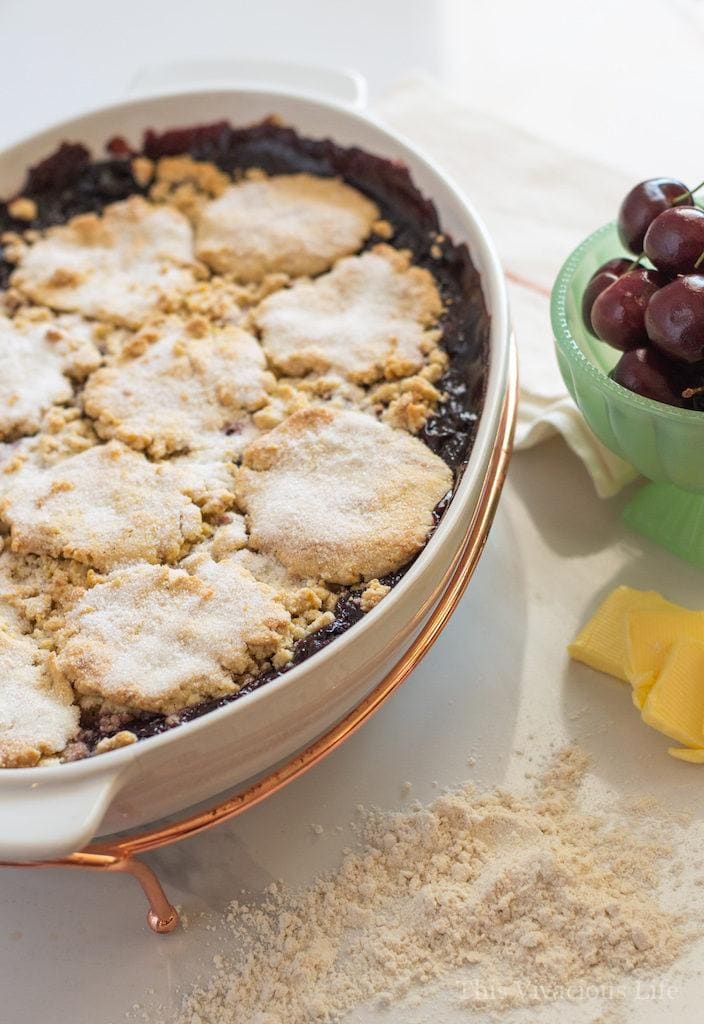 I love using Dry Sparkling rainier cherry soda in this recipe. It adds an extra depth of flavor and the effervescence gives it a nice crisp bite. This soda is also perfect to enjoy with the gluten-free cherry cobbler.
We love this soda so much in fact that we also used it in our gluten-free cherry almond danish recipe. It is one of my favorite things to make still to this day!
I love that Dry Sparkling sodas have less sugar than regular pop but are still bold in flavor. They have a variety of flavors including ginger, lavender, juniper, fuji apple and watermelon. They are all fantastic. Find Dry Sparkling near you HERE.

Some tips for making this the best gluten-free cherry cobbler possible…
While you can use fresh cherries, frozen work just as well and come in 3 lb. bags just like you need for this recipe
I like serving this cobbler in the same dish I bake it in for ease and beauty so be sure to choose a pretty pan
Be sure to generously sprinkle the biscuits with sugar before baking as they are only slightly sweet
Pour fresh cream over the top of your slightly cooled cobbler
Ice cream or whipped cream also work but I still prefer cold heavy cream as a topper


Gluten-Free Cherry Cobbler

Ingredients

FILLING
3 lb. cherries (frozen or fresh, pitted)
1 C sugar
1/3 C plus 2 T cornstarch
1/2 tsp. gluten-free almond extract
4 oz. Dry Sparkling rainier cherry soda
COBBLER
1 1/2 C gluten-free all-purpose flour
6 T sugar, divided
3/4 tsp salt
1 tsp. baking powder
1 egg
1/3 C butter, softened
3 T milk
3 T Dry Sparkling rainier cherry soda

Instructions

Preheat oven to 375°
In a large frying pan, combine all filling ingredients and cook on medium low until thickened
Once thickened, pour filling into a 13 x 9" baking pan
In another bowl, combine gluten-free flour, 2 T sugar, baking powder and salt
Cut butter in until crumbly
Gently stir in egg, 3 T soda and milk
Drop this mixture over the filling in biscuit form and top with remaining 4 T sugar
Bake 30-40 minutes or until golden brown

https://www.thisvivaciouslife.com/gluten-free-cherry-cobbler/
If you like this recipe, be sure to check out these…
Cherry Almond Danish
Gluten-Free Almond Cherry Cheesecake
Gluten-Free Peach Cobbler
*Thank you to Dry Sparkling for sponsoring this post. We were provided with monetary and product compensation. We love their products and enjoy them often.