this post may contain affiliate links
Putting together a simple salad bar for the holidays makes things so much easier. Add in these darling cookie boxes and you have the perfect healthy and indulgent party spread!
Thank you to Taylor Farms for sponsoring this post.
Salad Bar
I love putting together a simple salad bar with a variety of delicious chopped salads! They are great for any gathering whether large or small. Make it SUPER simple on yourself with pre-made salad kits from Taylor Farms.
You can also serve up our red cabbage salad, BEST cucumber salad and hazelnut oil beet and goat cheese salad. These air fryer croutons are also great with all of these salads.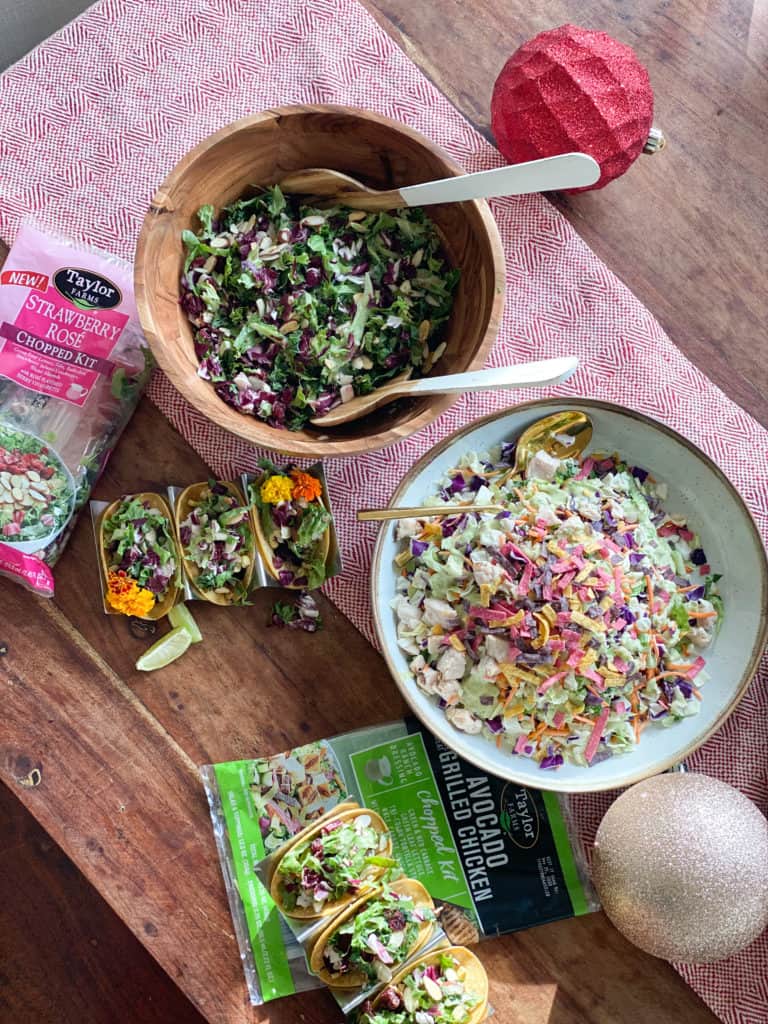 Subscribe to This Vivacious Life
Receive a free e-book of Instant Pot recipes!
They have a variety of flavors inducing…
Each kit comes with everything you need for your salad including the greens, dressing and toppings. I LOVE this new Strawberry Rose' salad because it is both beautiful on it's own or atop our beet tacos.
The vinaigrette is so delicate yet delicious in flavor. This salad is a blend of green leaf lettuce, kale and radicchio tossed with a light berry ROSÉ vinaigrette—made with real berries. It is then sprinkled with strawberry infused cranberries and roasted sliced almonds. It really is a WOW factor salad!
Plus, it is gluten and dairy free as well as vegetarian and vegan making it the perfect beet taco topping! Find out where you can get a bag using this store locator.
The key to a great salad bar is to choose a variety of salads so your guests have plenty to choose from. Serve them all up in separate bowls for a pretty, yet simple presentation.
I love a mixture of wood, clay and glass bowls. You can also serve up the salads with different spoons like wood, gold flatware and tongs.
When doing this salad bar during the holidays, add some large ornaments around the bowls atop a red holiday table runner. Add a pretty 3-4′ flocked decorative tree in the middle of the table and you have a beautiful and festive spread!
Toppings are another great thing to keep in mind for your salad bar, especially if you aren't going to be using pre-made kits. Here are some of my favorite salad toppings…
Tortilla strips
Shredded cheese
Sunflower seeds
Beans
Corn
Beets
Cottage Cheese
Peas
Jalapeños
Carrots
Bacon Bits
Shaved Parmesan
Eggs
Tomatoes
Cucumbers
Crunchy quinoa and dried fruit like you find on this delicious Taylor Farms Thai chili mango chopped salad also make great toppings. Adding other veggies like shaved Brussels sprouts also take salads to the next level.
A variety of beans and cheeses can give your salad more of a Mexican flare or Mediterranean vibe depending on who ones you use. No matter which salads you serve or which toppings you set out, everyone is sure to love the option to create their own spectacular plate!
Holiday Cookie Boxes
Making holiday cookie boxes are easier than you might think. I would say that sourcing the boxes was the hardest part. After looking high and low all over the internet to find cute boxes, like I wanted all I seemed to find were custom made.
I decided I wanted to do something easier so that you guys could recreate it yourself. So, I went to my local Michaels store and started with this big box (that is actually a canvas).
We then added in two of these little .99 cent wood holiday boxes you find in the front area of the store. You can put them in right by each other or you can turn one vertical and one horizontal like we did.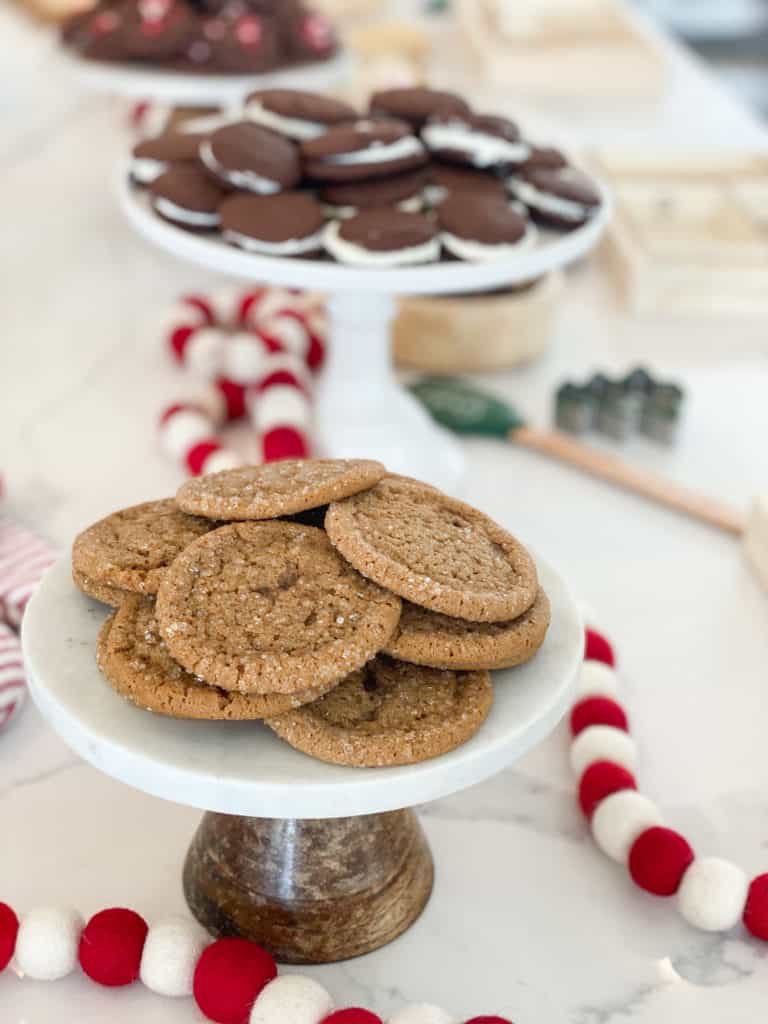 Be sure to have plenty of cookie options available for your friends whoa remaking the boxes. I had each girl bring 2-3 dozen so everyone had enough to choose from and I didn't have to make them all myself.
Plus, from what I've experienced in the past, everyone wants to contribute something when they come to a party. A simple request like cookies pleases everyone.
I recommend a variety of shapes and sizes so that you have a fun look to your box. Long, skinny ones, big wide and round ones as well as tiny cookies. Differ in colors as well with white, chocolate and even some candies.
Cookie boxes don't have to be limited to just cookies. Add in some chocolate covered pretzels, white yogurt pretzels and candy canes are all great options.
You could even throw in some peppermint candies and chocolates. The point is, get creative and have fun. It is a holiday cookie box after all.
Gluten-Free Christmas Cookies
Christmas cookies really do make any holiday gathering delicious! Here are a few of my favorites…
Easy Cookie Party Decor
When each gal arrives, have a cute red and white striped apron waiting for each one. I like to also include a spatula and Christmas cookie cutter as well.
Felt or wool holiday garland is a great decoration that can be hung anywhere or you ca simply drape it on the counter around cake stands full of Christmas cookies.
Simple Holiday Snacks
I am ALL about keeping things simple during the holidays. Especially when it comes to snacks. I love ready made, yet healthy options like these Taylor Farms veggie trays.
I love that I can easily set it out and not have to worry about any other dishes. My friends also commented at this gathering that they loved the cucumbers… "I've never seen them in a veggie tray, I love it!" was the comment I specifically heard.
It's true, these trays are full of premium, crisp veggies that everyone will enjoy snacking on. Here are some of my other favorite easy snack ideas…
Veggie Tacos
These vegetarian tacos are so full of flavor without the meat! They are both beautiful to serve and so good for your body. They definitely make even the biggest meat eaters happy.

How to make salad bar beet tacos
Cook the rice in a rice cooker with vegetable broth

Meanwhile, toss the beets in a bowl with 1/4 tsp. salt, 1/2 tsp. olive oil and all the dill

In another bowl, toss the corn with remaining 1/4 tsp. salt and 1/2 tsp. olive oil

In a frying pan, cook corn tortillas that have been smeared with a bit of butter for 30 seconds per side

Top warm tortillas with beets, rice and corn

Finish with tossed Taylor Farms Strawberry Rose Salad

Optional: Add edible flowers for presentation
Here are some other great recipes to go with these tacos…
NEED MORE GOODNESS? Follow me on Facebook, Instagram, Pinterest, and Twitter for great recipes, entertaining ideas and more!
Salad Bar Beet Tacos + Holiday Cookie Boxes
Putting together a simple salad bar with beet tacos for the holidays makes things so much easier. Add in these darling cookie boxes and you have the perfect healthy and indulgent party spread! 
Ingredients
1

C

white rice

2

C

vegetable broth

4

beets, cooked and peeled

1

tsp

olive oil, divided

1/2 tsp

salt, divided

1

tsp

dill

1

C

corn, cooked

8

corn tortillas

1

bag

Taylor Farms Strawberry Rose Salad Kit
Instructions
Cook the rice in a rice cooker with vegetable broth

Meanwhile, toss the beets in a bowl with 1/4 tsp. salt, 1/2 tsp. olive oil and all the dill

In another bowl, toss the corn with remaining 1/4 tsp. salt and 1/2 tsp. olive oil

In a frying pan, cook corn tortillas that have been smeared with a bit of butter for 30 seconds per side

Top warm tortillas with beets, rice and corn

Finish with tossed Taylor Farms Strawberry Rose Salad

Optional: Add edible flowers for presentation
Nutrition
Serving:
1
taco
|
Calories:
187
kcal
|
Carbohydrates:
39
g
|
Protein:
5
g
|
Fat:
2
g
|
Saturated Fat:
1
g
|
Sodium:
284
mg
|
Potassium:
275
mg
|
Fiber:
4
g
|
Sugar:
4
g
|
Vitamin A:
353
IU
|
Vitamin C:
6
mg
|
Calcium:
36
mg
|
Iron:
1
mg