this post may contain affiliate links
Eat gluten-free in Napa and love every minute of it! From super fancy restaurants to more casual like eats, there is something delicious for everyone.
Thanks to Schar Gluten-Free, Enjoy Life Foods, Inn On Randolph and Canyon Bakehouse for sponsoring this trip.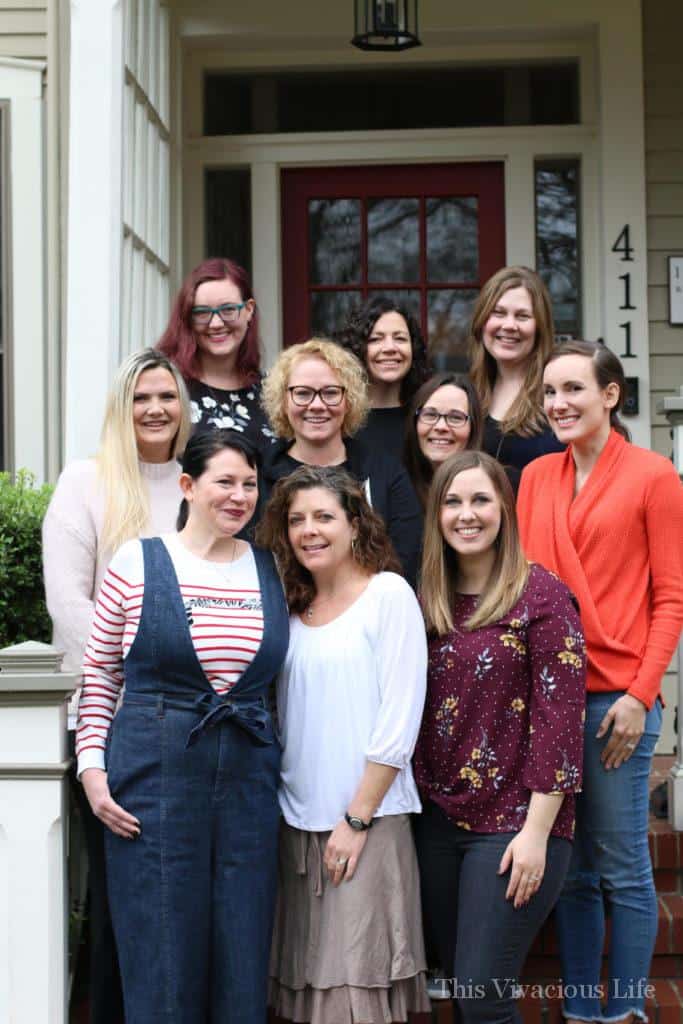 Where do you stay for the best gluten-free Napa experience?
We did a super fun gluten-free blogger retreat in Napa and it was amazing! We stayed at a dedicated gluten-free bed and breakfast, Inn on Randolph.
From the arrival to our room and this gorgeous gluten-free welcome plate to every subsequent meal, it was the perfect place to stay. The staff was so helpful and very accommodating to all of our needs.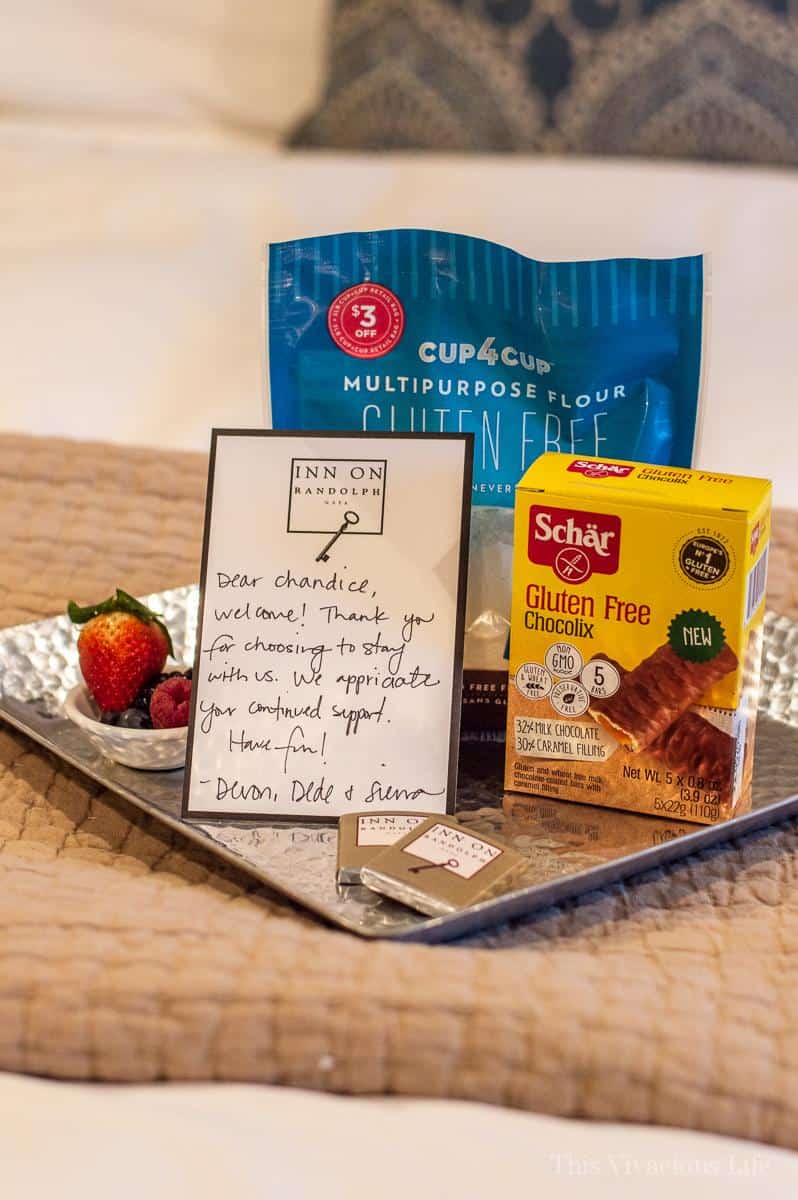 All meals they serve are made gluten-free. The great thing is that they are so delicious, even your non-GF guests will love everything. It was a nice touch that they had daily treats in the main house that are gluten-free too!
Subscribe to This Vivacious Life
Receive a free e-book of Instant Pot recipes!
We enjoyed fresh fruit with a homemade gluten-free granola and from scratch rice pudding. Both were made with care by a talented chef who truly understands the needs of those with celiac disease.
Pro Tip: Be sure to call ahead to the Inn on Randolph to let them know your needs. They can also accommodate dairy-free and vegetarian in addition to gluten-free. You can also make special requests from menu items you've seen here. 
Some other great items that were made for us each morning included this delicious corn tortilla Mexican dish, homemade zucchini bread muffins and a fresh veggie egg scramble. They also made a delicious bread pudding using our sponsor, Canyon Bakehouse's bread.
As you can see, we were all happy campers! Although, it's more like glampers because of how pampered we were and how gorgeous everything was at Inn on Randolph. 
Where's the best place to eat gluten-free in Napa, California?
The highlight of this trip for me was a dinner at French Laundry with my blogger bestie Erin of Meaningful Eats. It was hands down, the greatest food I have ever eaten. Painted Pony was definitely close as was the gluten-free NYC food we had, but this was the best.
Chef Tomas Keller created French Laundry and it has been awarded time and time again for the exquisite food and kitchen. Every little detail was perfection.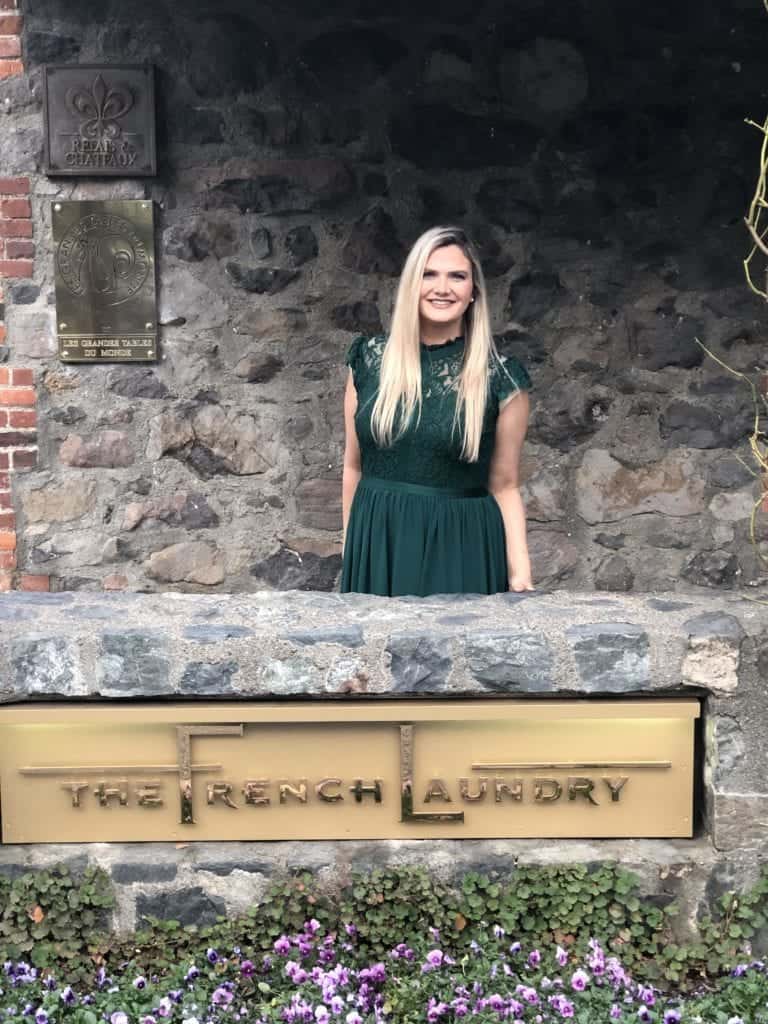 What's on the menu at French Laundry?
This first item served or amuse bouche was my absolute favorite. It is their famous crisp cornet filled with a smoked salmon and creme fraiche.
They made it gluten-free for us using Chef Kellers Cup4Cup flour. Gruyere cheese Gougeres were also served on the side.
Many will enjoy different wines with each course, we chose to do non-alcoholic drinks. This Leitz Ein's Zwei Zero was the absolutely best drink EVER!

We also enjoyed the famous "Oysters and Pearls." Which is a Sabayon of pearl tapioca with Island Creek oysters and white sturgeon caviar. This dish was my favorite and truly unforgettable. 
Also on the menu for us was a nice Alaskan king crab a la plancha, duck, slow roasted beet salad, delicious fish, gluten-free cornbread and lots of fantastic desserts.
The best were the gluten-free donut holes and frozen cappuccino semifreddo. They were incredible! The caramel, macaroons, candied macadamia nuts and gluten-free shortbread cookies were great too.

How long does dinner at French Laundry take?
Our dinner took almost three and a half hours. I am sure for others it could go quicker but we wanted to truly take things slow and enjoy everything.
I've heard of others taking even longer, over four hours. Be sure to enjoy everything this wonderful restaurant has to offer. We finished the experience with herbal tea with fresh herbs from their own garden.
How much does it all cost?
Everything on the basic menu costs $350.00 per person. If you decide to upgrade with additional courses or drink alcoholic beverages, it will cost more. It can cost upwards of $1,000. 
What are some more affordable places to eat gluten-free in Napa?
Bouchon is another Thomas Keller restaurant but it is much, much more affordable than French Laundry. It is a great place to enjoy gluten-free Napa.
We loved the deviled egg appetizer, salad lyonnaise, gluten-free crackers and perfectly cooked scallops. 
If you'd like something a bit more casual, C Casa is a dedicated gluten-free Mexican restaurant that will knock your socks off! They had the best nachos that were perfect for sharing.
I also loved their loaded tacos. The Dungeness crab and duck tacos were especially delicious.
What are the best wineries to visit for non-alcoholic drinks?
Domaine Carneros was absolutely gorgeous and they had three great non-alcoholic options. The Vignette wine country sodas came in Rose, Pinot Noir and Chardonnay varieties.
They were quite sweet but still a lovely option for those who don't drink. Nothing compares to the Leitz non-alcoholic wine served at French Laundry though.
Mumm was also nice. They had the same Vignette sodas but only in two varieties and we did have to ask for glass wine cups as they wanted to serve them to us in plastic cups. We aren't kids thank you.

Pro Tip: Make sure to call ahead to the wineries you visit to make sure there is a non-alcoholic option. Many of the ones we called didn't have anything for us. 
One of our Napa gluten-free dinners was a charcuterie and cheeseboard at the Inn. It was nice to be able to sit back and relax in our jammies while enjoying some tasty treats from our sponsors.
We also made sure to pick up a variety of meats, cheeses and produce. Dried fruit and nuts were also great additions.
What else can I do while gluten-free in Napa?
I highly recommend a cooking class while visiting wine country. We had the great opportunity of getting in the kitchen with the wonderful folks at Cup4Cup. 
They taught us how to make delicious gluten-free pizzas and gave us a tour of their facility. We also enjoyed gluten-free pineapple upside down cake and the BEST bread using their wholesome mix. It was so soft!
You can use our Instant Pot pineapple upside down cake recipe and use their yellow gluten-free cake mix to recreate it for yourself at home.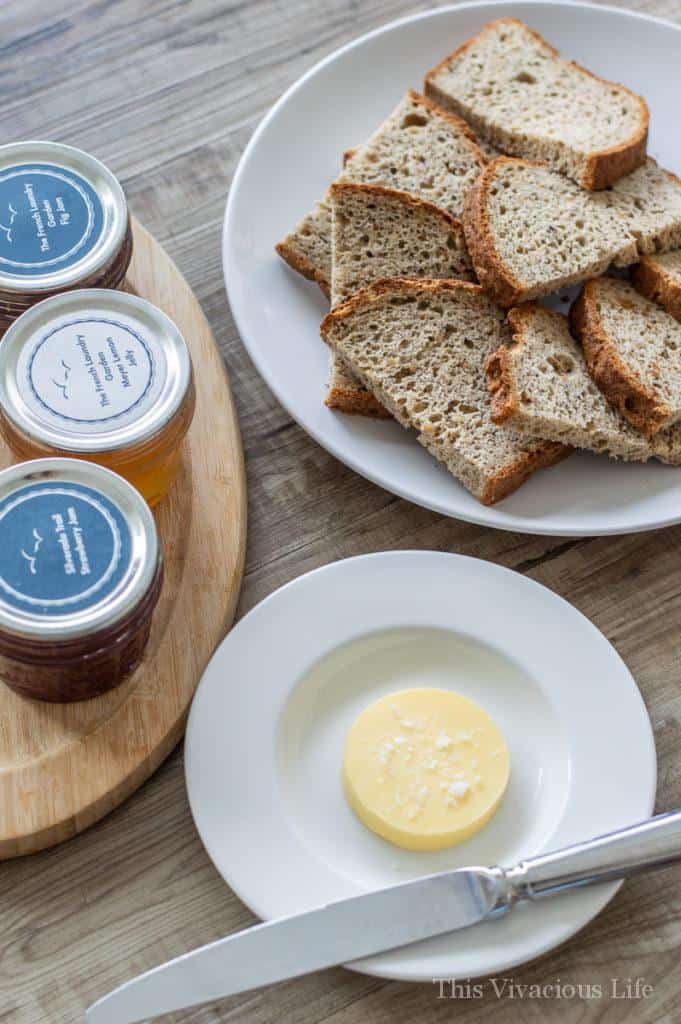 I hope you enjoyed my journey through gluten-free Napa and our dinner at The French Laundry! We have also found great success doing gluten-free Disneyland and Legoland.
We'd love to hear where else you have had success eating gluten-free in the comments below. Also, be sure to follow us on Instagram for all our gluten-free travel!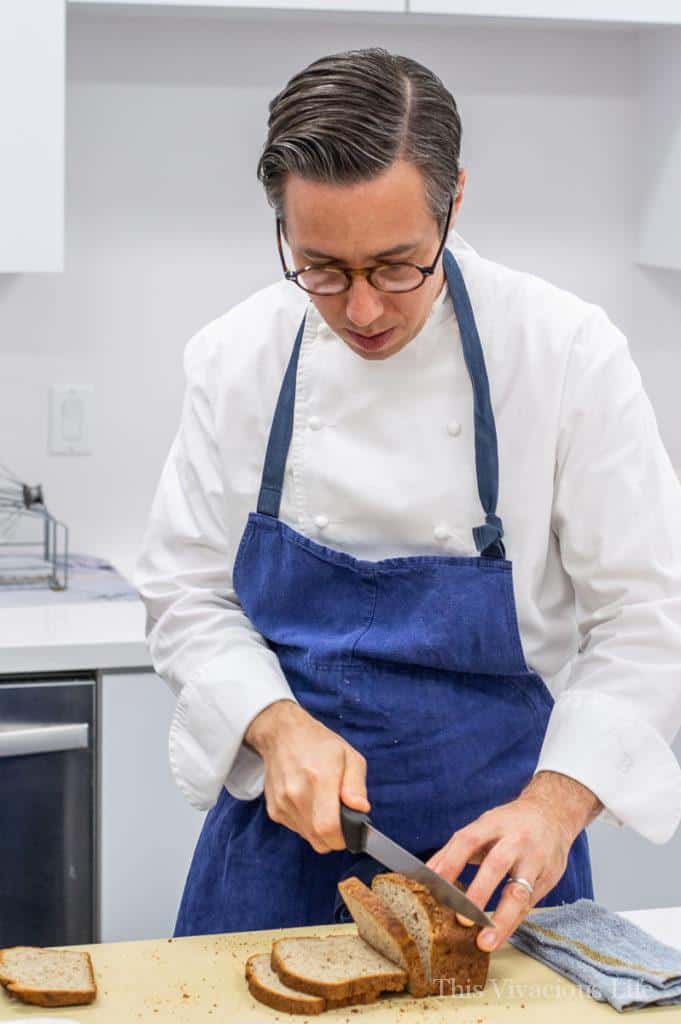 My friends who joined us on this trip have also written about their experience. Here are some to check out…