Disneyland gluten-free & California Adventure gluten-free were one of the most tasty vacations we have ever been on!
I absolutely love Disneyland gluten-free & California Adventure gluten-free. They make it both easy and delicious to eat safely in both parks.
The last time we did Disneyland gluten-free & California Adventure gluten-free was 5 years ago. We absolutely loved our experience! You can read all about our Disneyland 2005 gluten-free vacation then as well.
We also did Disneyworld gluten-free and Universal Studios & the Wizarding World of Harry Potter gluten-free a while back. Again, we were very pleased with the safe gluten-free offerings we were provided. We've even done Legoland gluten-free and enjoyed it but not quite as well.
Getting ready for this Disneyland gluten-free & California Adventure gluten-free trip had us bouncing with excitement (kind of like Tigger). We have only had pleasant experiences with Disney Parks and knew we would again.
I reached out to chefs as well as the folks in the media department before our trip. I find that both can answer questions I may have and really help guide us on what is best to order and where we might enjoy dining best.
Nicole in the media department was wonderful and really helped my family and I get ready for our Disneyland gluten-free & California Adventure gluten-free. She answered questions and provided us with a "must-do" list for the parks. They are also very helpful when it comes to making special requests.
The email they recommend using to connect is DLR.Special.Diets@disney.com. You can also get more information on their website: https://disneyland.disney.go.com/guest-services/special-dietary-requests/.
Save yourself some money and time when booking your Disney vacation through our friends at GetAwayToday. You can save $10 by using the code: VIVACIOUS. Start building your package by clicking HERE. 
So are you ready for a magical culinary journey through Disneyland and California Adventure parks? Let's go! First, this Dole whip is the very freshest treat in the park. I love how yummy and lightly sweet it is.
This meal from Cafe Orleans was most definitely RICH! We had emailed ahead of time to see if they might be able to do some of their famous Monte Cristo sandwiches for us gluten-free. They accommodated by having gluten-free bread (Udi's) on hand as well as creating a new batter (using Cup4Cup flour) and fresh oil in a new fryer that was dedicated gluten-free for us.
I tell you what, the end result was fantastic! In fact, my dad who ordered the regular version bc he doesn't have to be gluten-free, said ours was much, MUCH better. He thought it was much lighter and more full of flavor.
The sandwich was served with fresh fruit and a delicious berry compote for dipping the sandwich. Yep, that's right, we enjoyed a sweet and savory Monte Cristo right in Disneyland park and not only did we enjoy that but we also enjoyed a hot bowl of gluten-free French onion soup as well!
Again, this was made gluten-free for us and was actually featured on the brand new allergen-free menu that had just arrived that day. I will say that both are very filling so think about sharing.
The sandwich was very rich and I could only eat half (at most) after enjoying the soup. My only suggestion with the soup would be to ask them to do half the cheese unless you REALLY love cheese because it had a lot.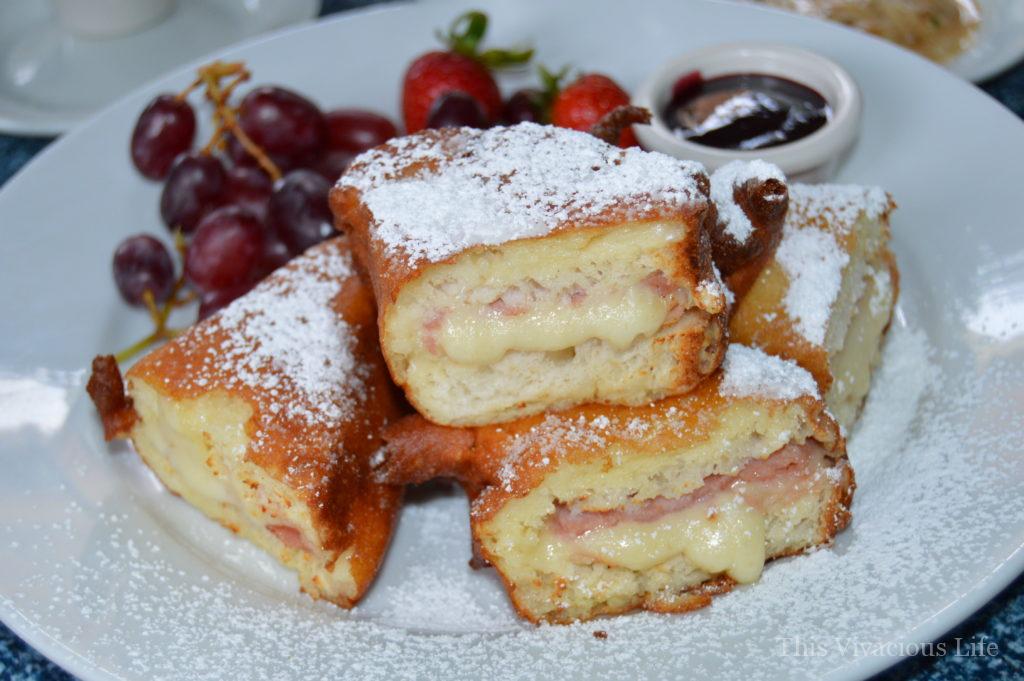 I don't know about you guys but Critter Country over by Splash Mountain is a place my family and I always enjoy relaxing. The kiddos absolutely adore the Winnie the Pooh ride and so do we since it is one everyone can go on, including the baby.
Since I knew we would for sure be over there during our trip, I called ahead and asked if Harbour Galley could make us their famous lobster roll gluten-free. They agreed and WOW, I am thankful they did!
The filling is made with real lobster meat and is always gluten-free but they made some special for us. They also had some gluten-free hotdog buns brought over from another location to serve it on as they don't normally keep them in stock.
I will say that the roll could have been a bit more tasty by adding some butter and heating it up rather than serving it at room temperature but I have no room for complaint because I was thoroughly satisfied with the delicious lobster salad filling. *2018 UPDATE: Harbour Galley no longer offers gluten-free bread.
They also made us a fresh batch of potato chips in dedicated gluten-free oil. They were fantastic! When I go back I think I will just enjoy the lobster salad with chips as I felt like the bread was just kind of meh compared to the rest of the plate. This was definitely one of my favorite lunches during our Disneyland gluten-free & California Adventure gluten-free trip…YUM!

My 30th birthday dinner was celebrated at Wine Country Trattoria in California Adventure. It was fantastic!! I don't know that I have ever seen my mom order pasta at a restaurant let alone eat it anywhere in the past 10 years and she actually loved it here!
She and I both enjoyed gluten-free pasta dishes, her the shrimp scampi and myself the herb roasted chicken that was served with fettuccine alfredo and broccolini.
The pasta was cooked to perfection and we could hardly believe it was gluten-free. It was definitely one of the best pastas I have ever enjoyed. In addition to our entrees, we were also provided with hot, soft gluten-free rolls that even the gluten eaters were stealing from us. The salads we chose for our appetizers were the caprese and the Italian insalata. Both were very good as well as fresh.
The portion was not too small but also not large enough for sharing. Our meal was completed by a surprise presentation of a warm, gooey gluten-free chocolate brownie with fresh berries on top and a berry coulis. What a kind gesture by the restaurant to make my birthday dinner even more magical!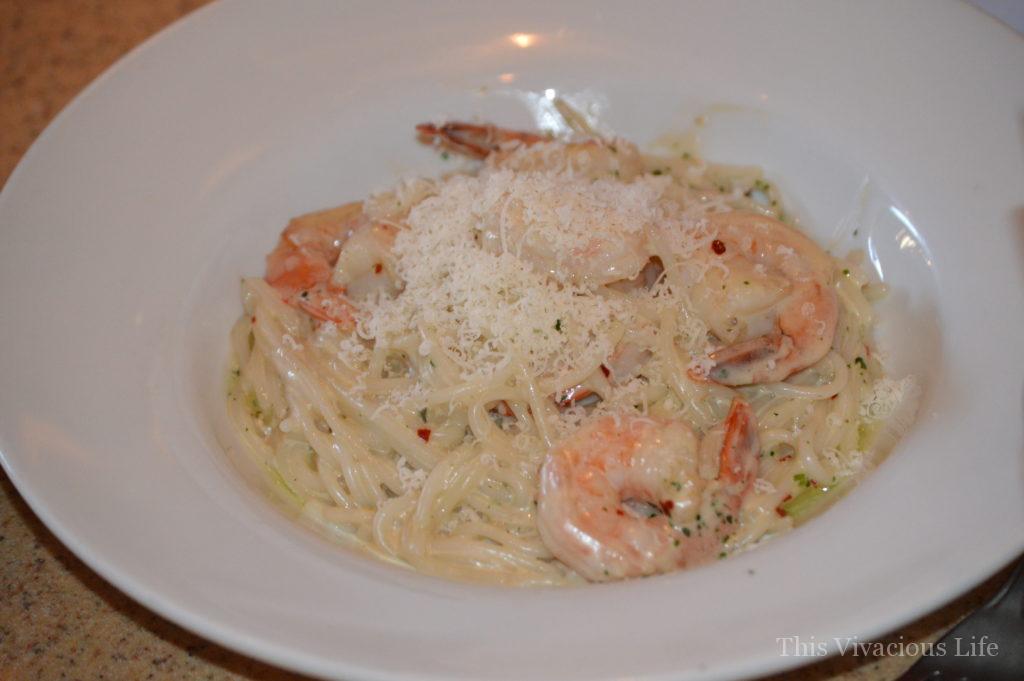 As you can see, my husband is quite the comedian. He had these shirts made for everyone including our little kids and new baby that said 30th birthday support staff. He chose the worst picture of me to use which he said made it even funnier.
People all day at Disneyland were saying, "That is awesome!". 😉 Oh boy, my hubby the comedian…
The new Cars Land in California Adventure was awesome!! I have to say that Disney truly went where nobody has gone before in creating the ultimate movie experience in a theme park. You immedietely feel like you walked into Radiator Springs when you step onto the asphalt.
From the decor to the music, they got it all right. We also LOVED the new Cars ride! I highly recommend riding it again and again. There are two different routes on it so make sure you get to enjoy both.
The Cozy Cone Motel features multiple cones that each serve different food and beverage items. While we couldn't enjoy the famous bread cones filled with chili or mac n' cheese, my hubby did and said it was good.
I enjoyed some buttered popcorn and the highly recommended Red's Apple Freeze. I hear the popcorn comes in many flavors including bacon cheddar and dill pickle but I opted for the classic.
Red's Apple Freeze was SO good! It was apple juice slushified with marshmallow cream and a creamy foam topping. We ended up coming back another time on our trip because we needed just one more. 😉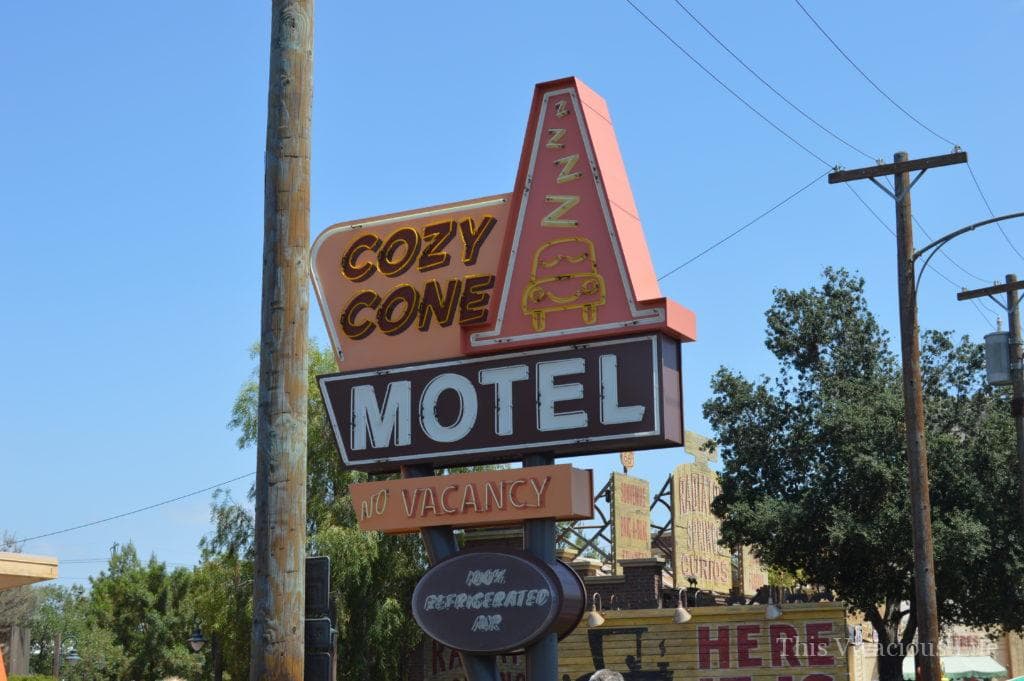 At Flo's V-8 Cafe we enjoyed the most talked about item on the menu, roast beef & cheddar sandwich with horseradish aioli and grilled onions. It was served with coleslaw and a gluten-free bun. I really enjoyed everything about this sandwich. I especially liked the heat of the horseradish sauce.
I chose to add a strawberry shake on and I am glad I did. It was delicious and simple just like a good shake should be. Who can beat that view right? I tell you, Disney knocked it out of the park with their new Cars Land.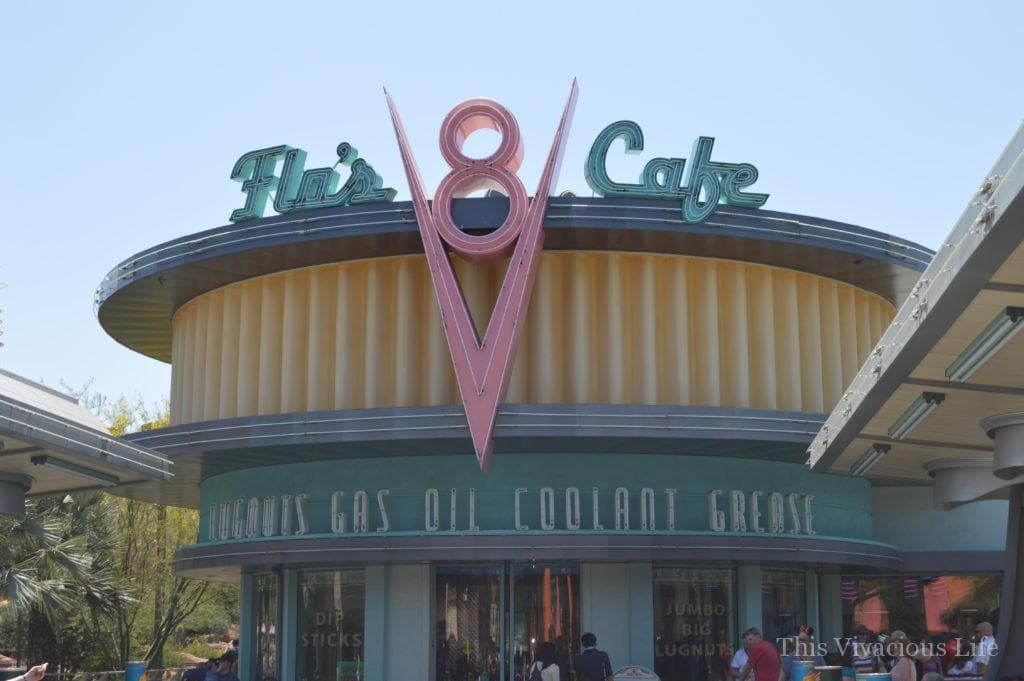 We visited the Ghirardelli store more times than anyone should in a week but the chocolate and treats were so delicious that we couldn't help ourselves! We were provided with an allergen list upon arrival to help us understand what we could safely enjoy.
Most things were gluten-free which was nice. While they do make one chocolate bar or two that contains gluten, they thoroughly clean their lines before producing the other products that are gluten-free. We enjoyed the root beer floats as well as banana splits and the gold rush treat that had creamy peanut butter. 
Disney just launched their new allergen-free menus and will be rolling those out in all restaurants throughout the parks and Downtown Disney through the end of this year.
We were honored to be some of the first people to see some of the new menus that had JUST been brought in hot off the presses. This new menu at Blue Bayou was one of them. Isn't that so great?!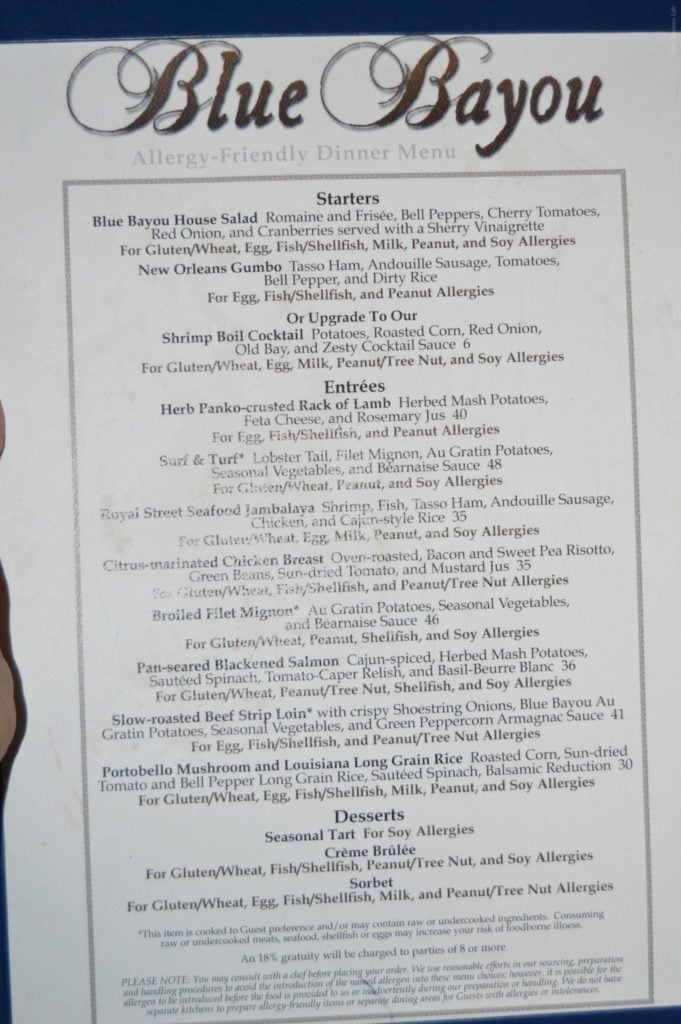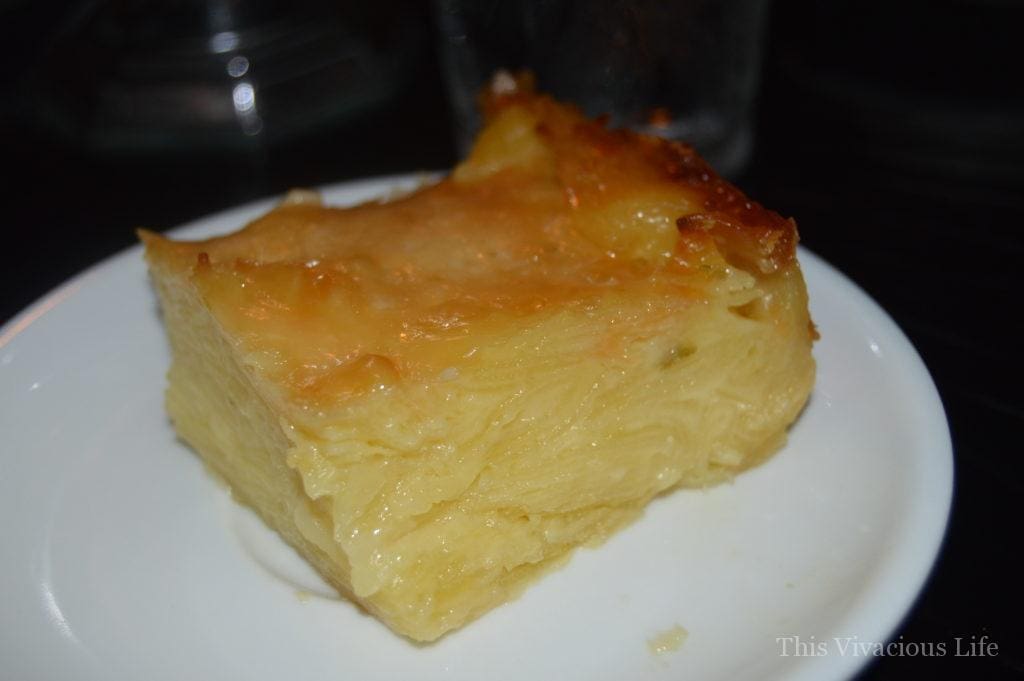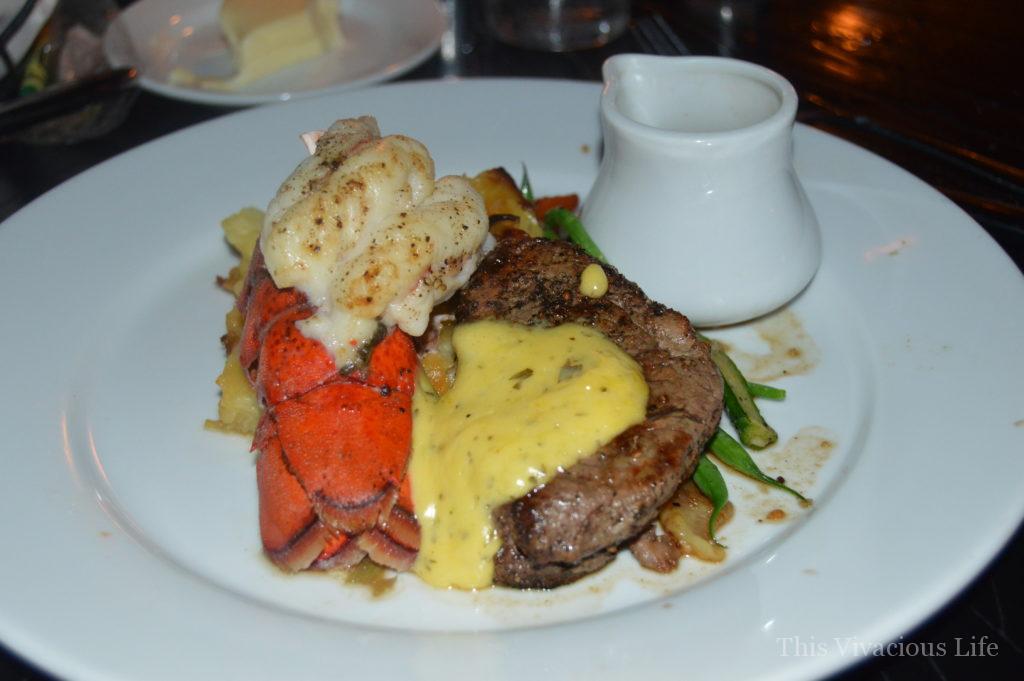 Some of you may remember that Blue Bayou was our favorite dining experience on our last Disneyland gluten-free & California Adventure gluten-free trip. This was in large part due to the gluten-free crab cakes and famous Blue Bayou potatoes the chef made especially for us. Unfortunately they no longer have crab cakes and have changed their potato recipe. This was a huge disappointment to us.
We started with warm gluten-free rolls and the Blue Bayou house salad. Both were very good. My mom chose the Surf and Turf while I opted for the Royal Street Seafood Jambalaya for our main course. Both were again, very tasty but not outstanding like on our last visit.
They brought us out the new Blue Bayou potatoes to try and sadly they weren't something I would ever order again. The ones on our last visit were creamy and unique. They were full of flavor and almost addicting.
These were more dry and really had no distinct flavor other than potato with a touch of cheese. We finished off our meal with creme brulee. It was very good and was a nice sharing size portion.
The cost of dinner here is quite a lot so I don't know if I would recommend it. The service I will say was impeccable. Our servers were fun and very kind. They brought my boys their water with a fun light up cube that made water an exciting drink for them. 🙂
When doing Disneyland gluten-free & California Adventure gluten-free, Goofy's Kitchen is a must. It was another experience we really enjoyed on our last trip and wanted to try again. We always choose one character dining experience for our little ones and I am glad we do.
It allows them to get more one-on-one time with characters as well as get autographs for their books without waiting in line after line. The additional cost of this meal was worth my time saved not standing in as many character lines.
Goofy's Kitchen is just that, goofy! All the food is totally kid friendly and a fun way to start the day. The executive chef is very helpful in navigating what we could enjoy gluten-free. He let us know that he could make us anything we wanted in the back because most of the buffet items could be a cross-contamination risk.
For example, the bacon is placed on bread to soak up the grease. Scary! Don't fret though, they will make you fresh bacon in the back and bring it right out to your table.
I personally love salad so I also enjoyed a fresh green salad with my breakfast. The chef made my mom and I our own gluten-free pepperoni pizza, eggs Benedict (minus the English muffin) and plate of warm chocolate chip cookies and brownies.
The pizza was awesome! The crust was filled with tasty herbs which I didn't think about when I ordered the famous PB&J pizza gluten-free. It was not as good with a savory crust. 😉
The Mickey waffle was divine! In fact, my dad said it was much better than the regular gluten-filled waffles. Nice!! It was crispy on the outside and soft in the center. It was very big so I only recommend one unless you have a very big appetite. It is made in a dedicated gluten-free waffle iron and is created using Bob's Red Mill gluten-free flour.
Lastly, I couldn't resist the urge to have them make me the gluten-free pancakes banana foster. OH MY GOODNESS, they were the best! I had already eaten everything else so was thinking I might be able to eat a few bites but no, I had to eat the whole plate.
The pancakes were so fluffy and cooked just right. The bananas foster topping was buttery and super sweet. I will dream of these pancakes…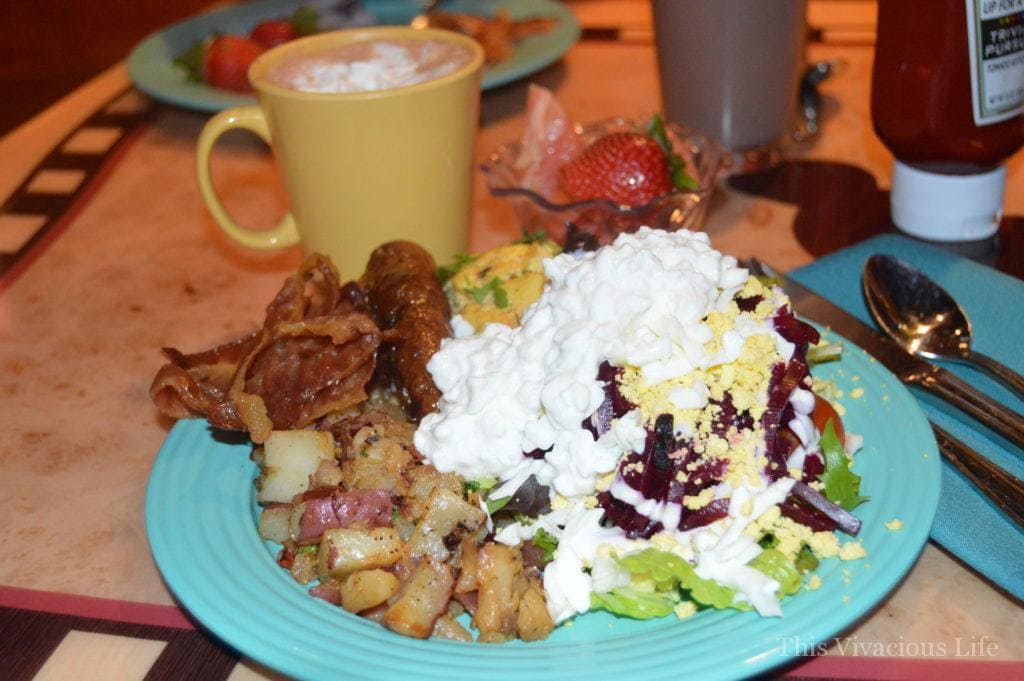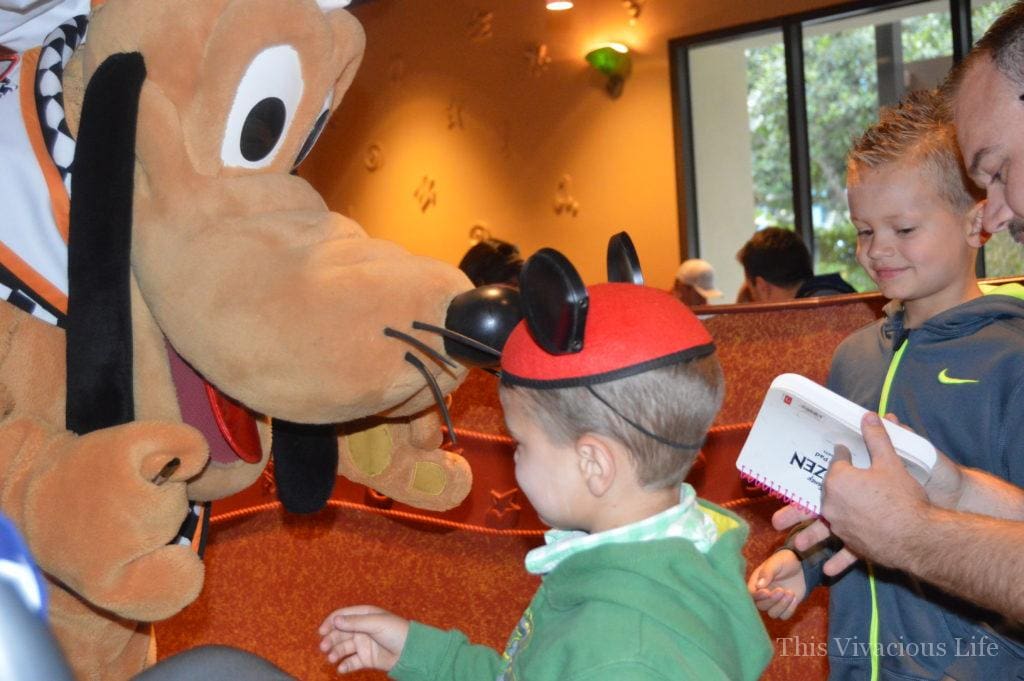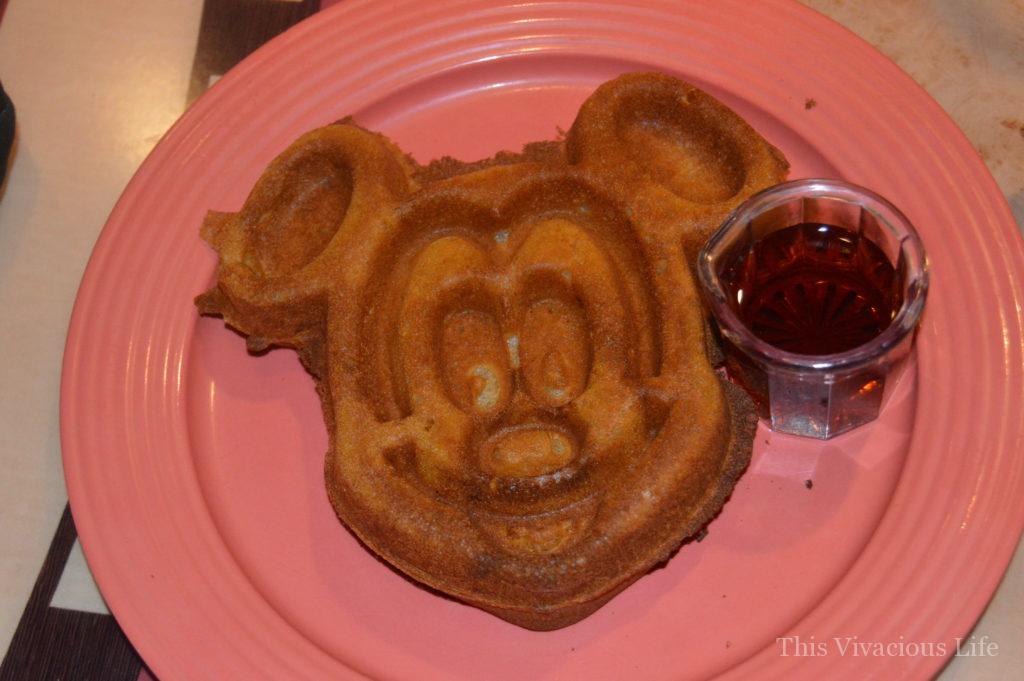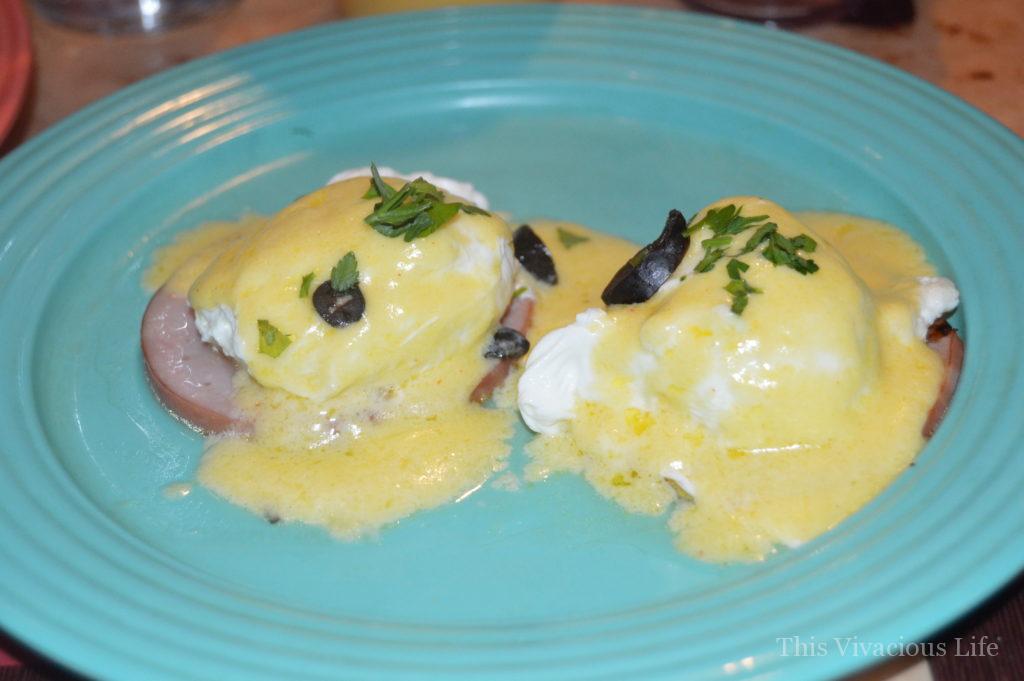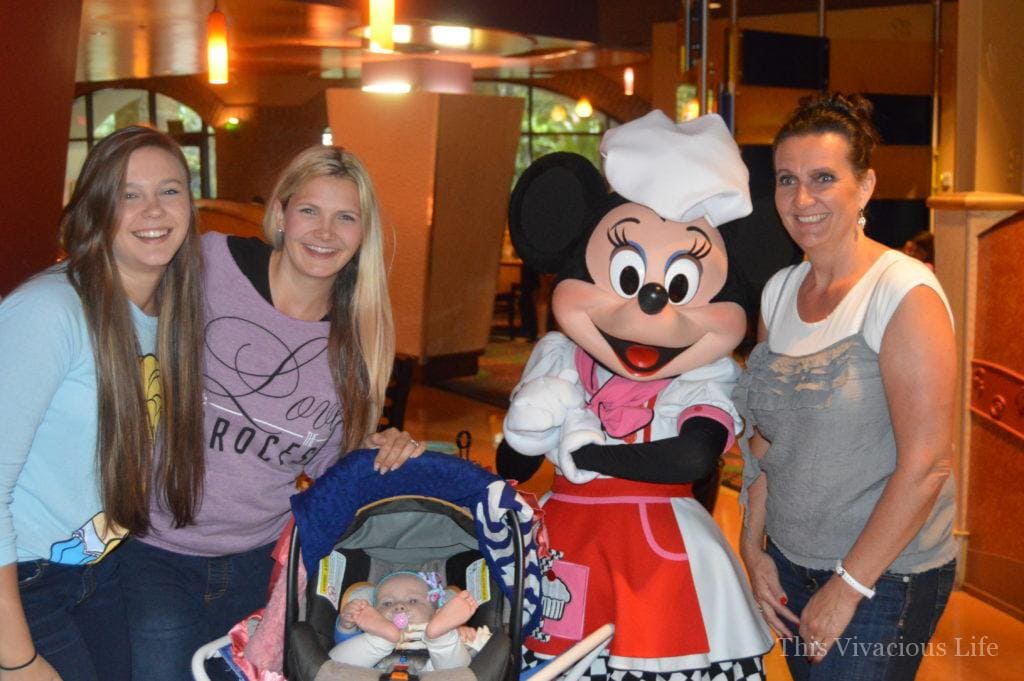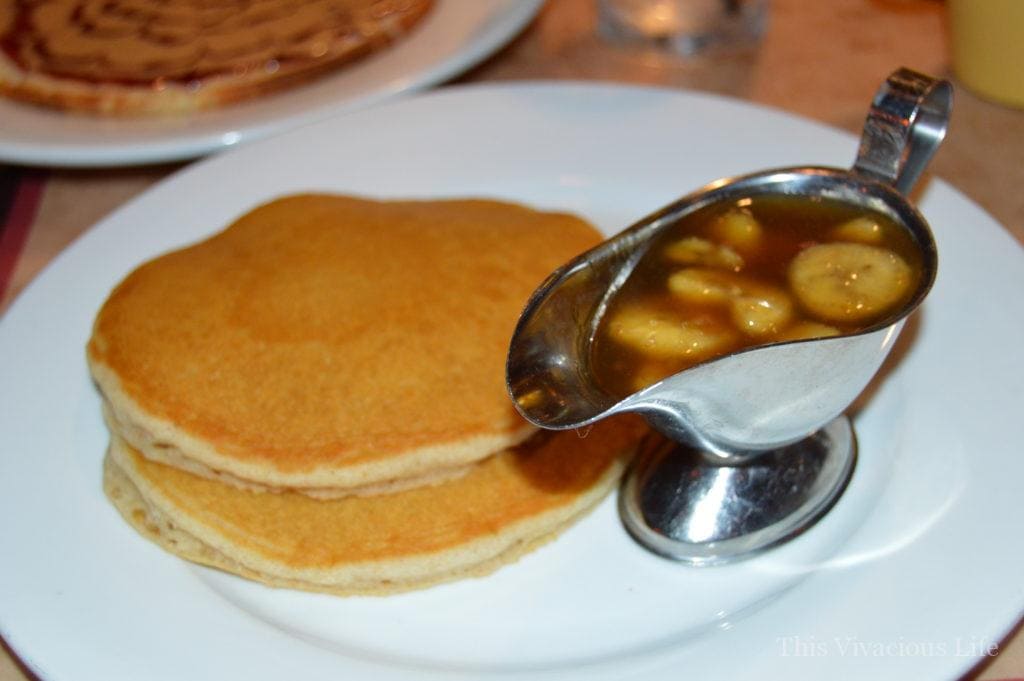 What used to be Taste Pilots in California Adventure next to Soarin' is now Smokejumpers Grill. After our last visit and the poor service at Taste Pilots, were were excited to give Smokejumpers a try. I am so glad we did! Nearly everything on the menu is gluten-free including the chili for the chili cheese fries!
They have a dedicated fryer and lots of great toppings for the burgers. While the meat patty wasn't huge, it was still filling enough especially once you add toppings like jalapeños, pickles, roasted red pepper, tomatoes, bacon and cheese. I definitely recommend this for a filling lunch that your whole party will enjoy.

In addition to the yummy food above, we also enjoyed a very tasty meal at Ralph Brennan's Jazz Kitchen in Downtown Disney. The ambiance was awesome and so reminiscent of what you would expect old New Orleans to be. With a live band dressed in old time jazz wear and playing the blues, it made for a fun dinner.
The steak was very delicious and seasoned to perfection. The shrimp and grits were SO good! I literally wanted to lick my plate clean. My family and I really enjoyed this dinner and recommend it for anyone but especially those who like a little creole in their life! 😉
There were two other things that we had to try while visiting the most magical place on Earth, the Sprite float and the Mediterranean plate from Paradise Garden Grill both in California Adventure. Neither knocked my socks off but they were good.
The Sprite float is just that, Sprite with ice cream to make it a float. Since I don't love root beer floats as much, this was a nice, refreshing treat.
The lemon-oregano chicken skewer was filling (although I would prefer white meat over dark meat) especially when served with plain rice and a yummy cucumber salad. The tzatziki and moroccan chili chimchurri sauces were great accompaniments.
As you can see, we dined very well while on vacation. Disneyland gluten-free & California Adventure gluten-free is not only possible, but oh-so-delicious! We had a wonderful time and I can't imagine a more magical 30th birthday celebration with the people I love most than this Disney vacation!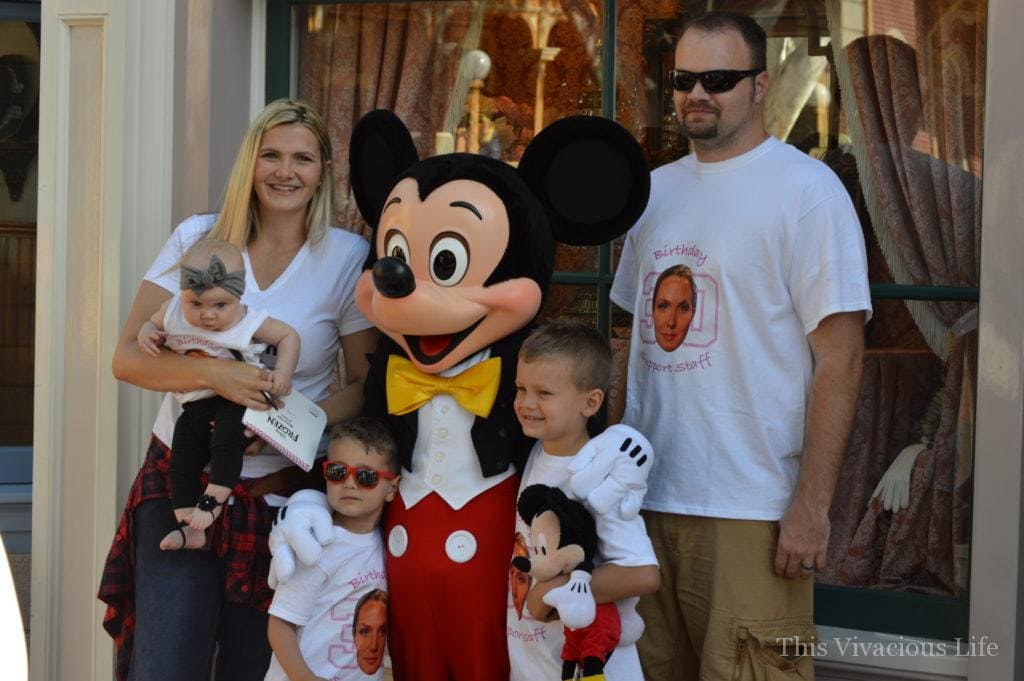 Learn more about the recently released allergen-free menus HERE.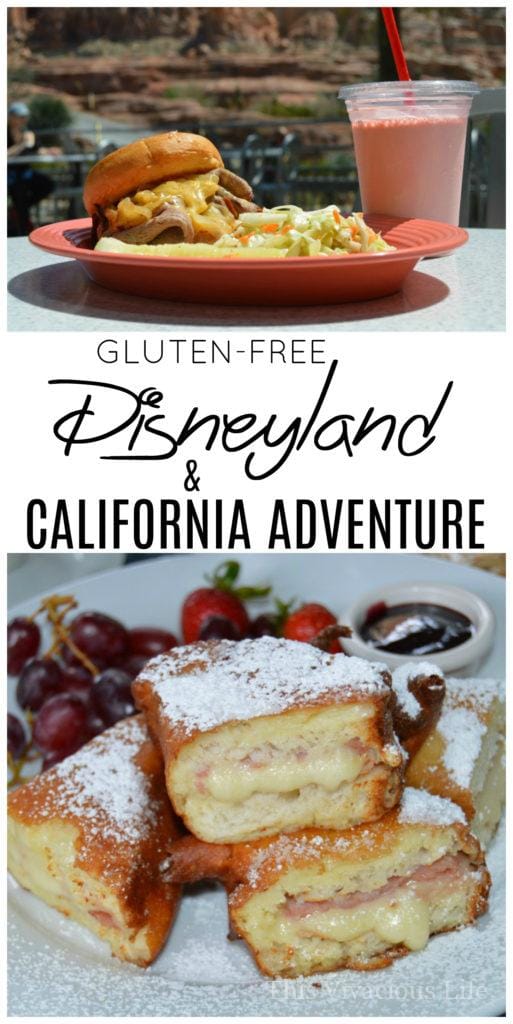 If you like this, you will love learning more about gluten-free in these other places…
Legoland Gluten-Free
Disneyland California Adventure Dairy-Free
Disneyland Dining Gluten-Free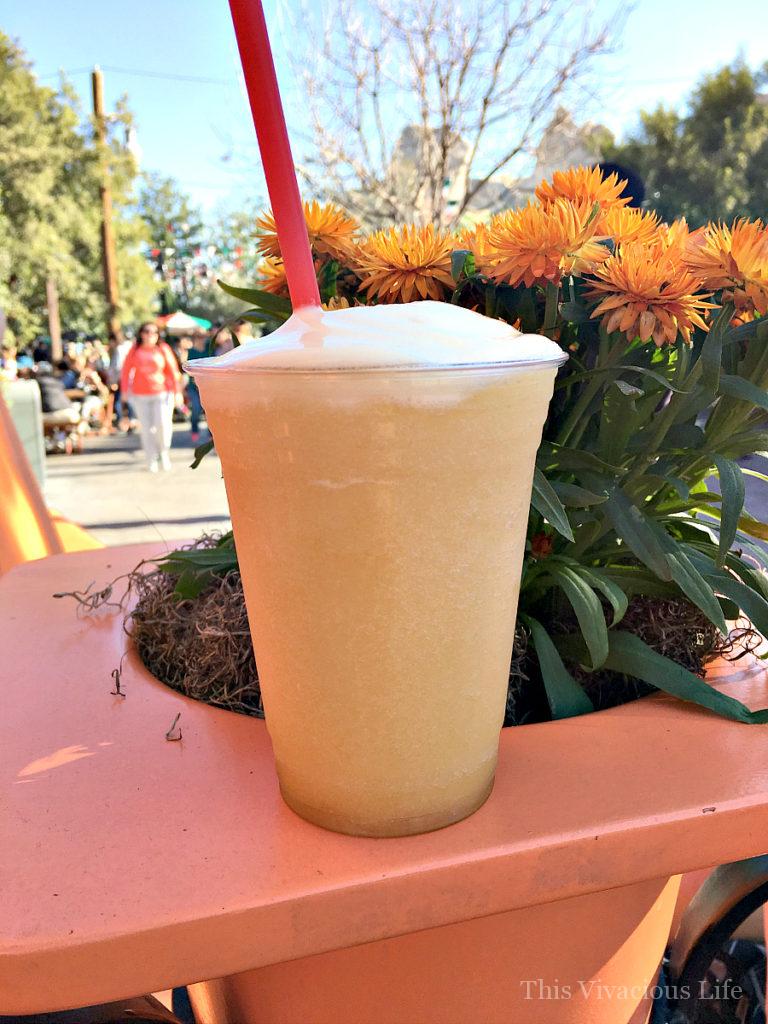 Disneyworld Gluten-Free

*I was provided with two one-day park hopper passes as a member of the media. We still bought the other 4 days we were there as well as our kids passes so rest assured that none of my reviews are biased. I loved the time we had in the park and all reviews are my own and 100% unbiased. I take no responsibility for the dining experience of others while at any of these restaurants. Always be your own advocate and ask lots of questions to ensure a safe dining experience.