This paleo no-oats fauxtmeal is so delicious and will have you so thankful you don't have to eat another savory breakfast for the 10th day in a row.You are going to love this paleo no-oats fauxtmeal. I love eggs and bacon as much as the next girl but I NEED some sweet to start my day once in awhile.
We've got your healthy sweet breakfast solution in this paleo no-oats fauxtmeal. I especially loved this after eating savory eggs everyday for two weeks straight while on Whole30. Don't get me wrong, I love some bacon and eggs with homemade hashbrowns but even a breakfast that delicious can get old.
I have used eggs in other ways like in our Dos Repollos Huevos but I can only eat so many savory egg dishes. That's why I created this slightly sweet breakfast cereal.
Have you been missing traditional oatmeal since starting a paleo or primal diet? Do you enjoy oatmeal but want something with more protein for breakfast? Then this recipe is for you!
I have been trying to be more conscious of what and how I eat and decided this would be a fun recipe to create. It was delicious and my little ones even liked it. The flax adds great color and nutrient density to this high protein breakfast cereal.
The riper your banana, the sweeter this fauxtmeal will be. So if you want it minimally sweet, use a slightly green banana. If you want it really sweet than use a brown spotted banana.
If you like this, than be sure to try our strawberries and cream paleo fauxtmeal. It is a sweeter, fruitier version of this delicious recipe.

Paleo, No-Oats "Fauxtmeal" (Whole30 compliant, gluten-free)
Ingredients
4 organic eggs
1 C. full-fat coconut milk
1 very ripe banana
2 T flax meal (I like Bob's Red Mill)
1 tsp. allspice
Optional: chopped pitted dates, pecans and/or fresh fruit
Instructions
Whisk all ingredients together until well combined. In a pot over medium heat, cook whisking often so big lumps don't form. Cook 8-10 minutes or until the consistency of traditional oatmeal and eggs are cooked. Top with your favorite fruits, nuts and even a splash more coconut milk.
https://www.thisvivaciouslife.com/paleo-no-oats-fauxtmeal-whole30/
If you love this recipe, be sure to try these…
Strawberries and Cream Fauxtmeal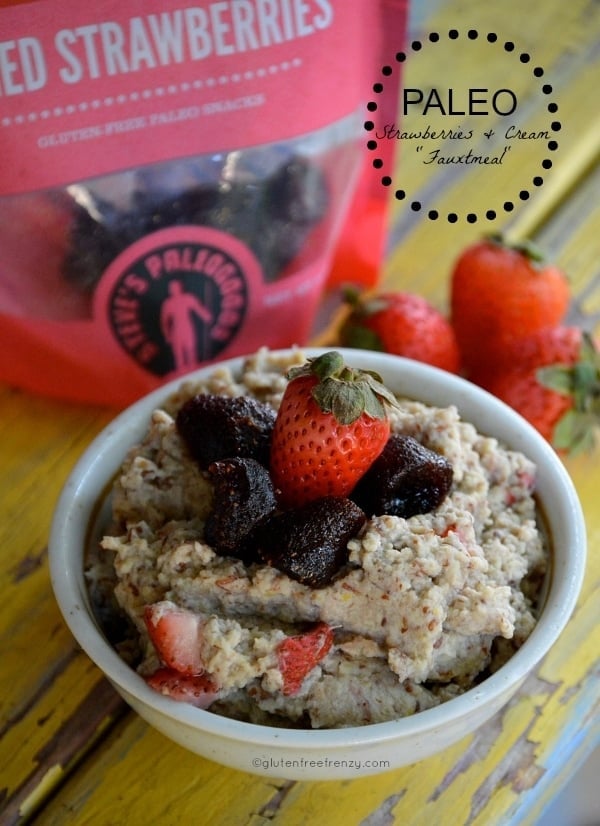 Whole30 Crab Cakes
Whole30 Paleo Roasted Butternut Squash Soup