These witches finger cookies are super cute, delicious and the perfect spooky addition to your next Halloween party! Homemade spooky treats elevate any Halloween gathering and these edible witches finger cookies are sure to wow your crowd.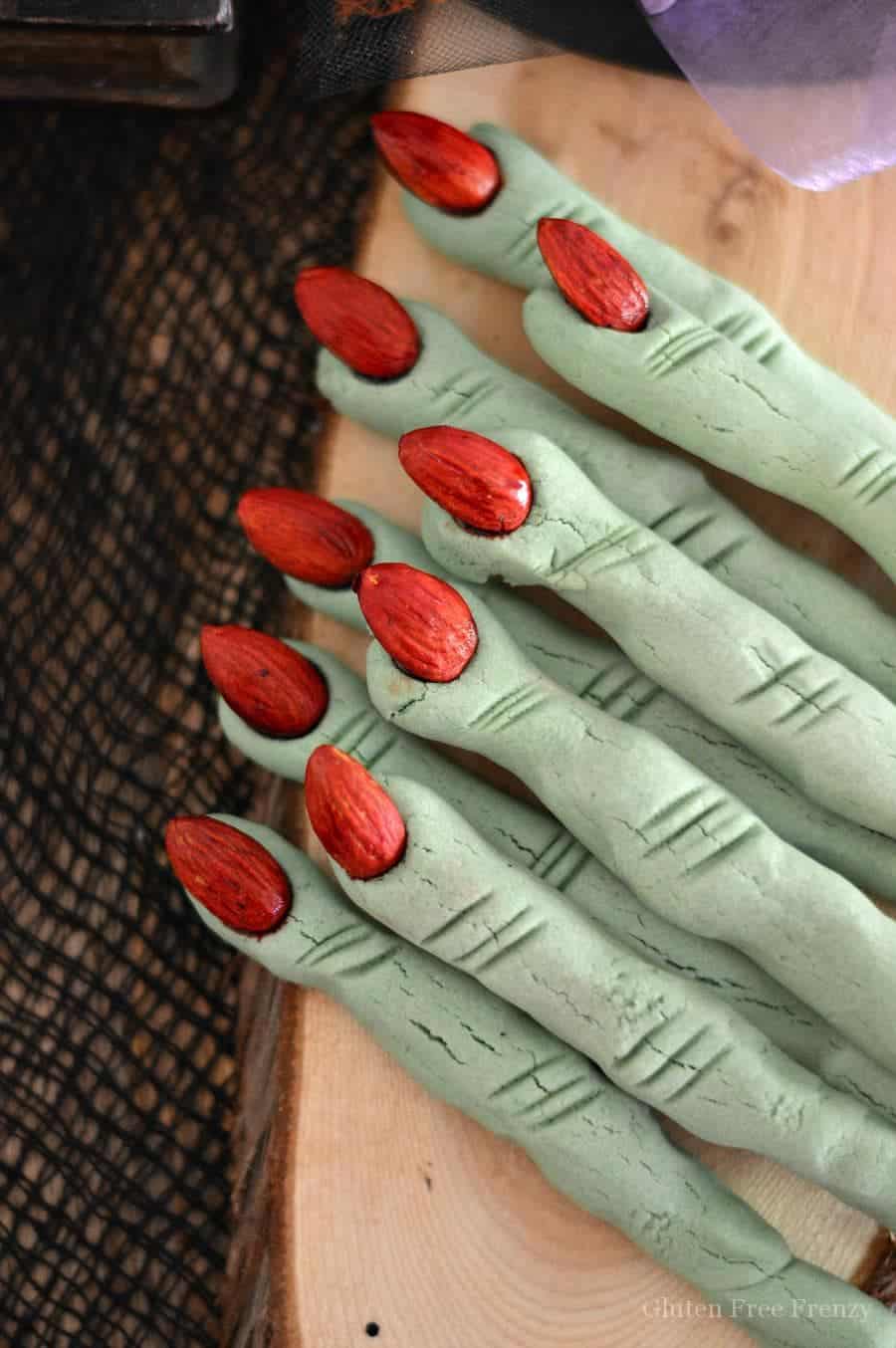 I always love coming up with fun and spooky desserts each Halloween. Last year we made spider chocolate chip cookies and they were a hit. This year I wanted to take up the creepy factor just a bit since my boys are getting older and love it. Edible witches finger cookies complete with red painted "fingernails" seemed like a great way to go. Can I just say, the boys LOVED them!
The best part about these cookies is that perfection goes out the window so they are great for kids to help with. Each witches finger cookie should look unique just like real fingers do. It's so fun for the kids to roll the dough and essentially play with it like playdough to create these creepy little cookies.

These cookies are surprisingly easy to make and they couldn't be cuter on a Halloween tablescape. They are only slightly sweet like regular sugar cookies which I think is nice considering all the candy we eat on Halloween. However, if you like them a bit sweeter, I have a secret for you. They are really yummy dipped in hot cocoa but don't tell anyone I told you…
While you can likely use any gluten-free all-purpose flour, we used Glutino brand here. It is super easy to work with, tastes mild (no yucky bean flour tastes) and produces great results like regular flour does. I personally love that it can be used as a 1 to 1 replacement to traditional flour making it so easy to transform your favorite non gluten-free recipes to gluten-free.
Need an EASY and delicious breakfast, lunch, dinner or dessert?
Take a look at my Sheet Pan Meals and More!
Subscribe to This Vivacious Life
Receive a free e-book of Instant Pot recipes!
NEED MORE GOODNESS? Follow me on Facebook, Instagram, Pinterest, and Twitter for great recipes, entertaining ideas and more!
Edible Witches Finger Cookies {Gluten-Free}
These yummy spooky cookies are the perfect Halloween treat
Instructions
Preheat oven to 350 degrees

Beat the butter then add sugars and mix well

Add egg, vanilla and green food coloring or chlorophyll and continue mixing

In another bowl, combine flour, baking powder and baking soda

Slowly add flour mixture to butter mixture and mix, adding more a little at a time and mixing

Knead dough until pliable and easy to break pieces off to work with

Break off 1-2 inch balls and roll between hands to make a long finger shape (make them skinnier than you'd think as they expand a bit)

Add knots where needed and indent where the "nail" will go with your pinky or an almond

Using a knife, slice three times just under where the nail will go and in the middle of the cookie.

Place on a silicone mat lined baking sheet then refrigerate for 30 minutes

Remove from fridge and bake at 350° for 9-11 minutes or until the bottom is golden brown.

Meanwhile, "paint" the almond nails using red food coloring or red koolaide mixed just slightly with water OR add them to a bowl and cover with red coloring then remove with a spoon to a paper towel lined plate to dry

Once removed from the oven, use frosting as an adhesive and add a small dot to the cookie and lay almond "nail" on top
Nutrition
Serving:
1
cookie
|
Calories:
128
kcal
|
Carbohydrates:
16
g
|
Protein:
2
g
|
Fat:
7
g
|
Saturated Fat:
4
g
|
Polyunsaturated Fat:
0.4
g
|
Monounsaturated Fat:
2
g
|
Trans Fat:
0.2
g
|
Cholesterol:
22
mg
|
Sodium:
88
mg
|
Potassium:
39
mg
|
Fiber:
2
g
|
Sugar:
5
g
|
Vitamin A:
204
IU
|
Vitamin C:
0.1
mg
|
Calcium:
31
mg
|
Iron:
1
mg