this post may contain affiliate links
Blueberry lovers, this post is for you! We have everything from blueberry syrup to blueberry cornbread streusel. These 30+ blueberry Thanksgiving desserts are perfect for the holidays or for any other special occasion.
I love using blueberries for thanksgiving recipes because it's the best transition from summer to fall. Nothing better than switching from a blueberry smoothie to a warm blueberry cobbler.
Other helpful information: Here's what we recommend for reheating Thanksgiving sides. You can also use our Thanksgiving non perishable foods list to help you with shelf stable cooking.
1. Easy Razzleberry Pie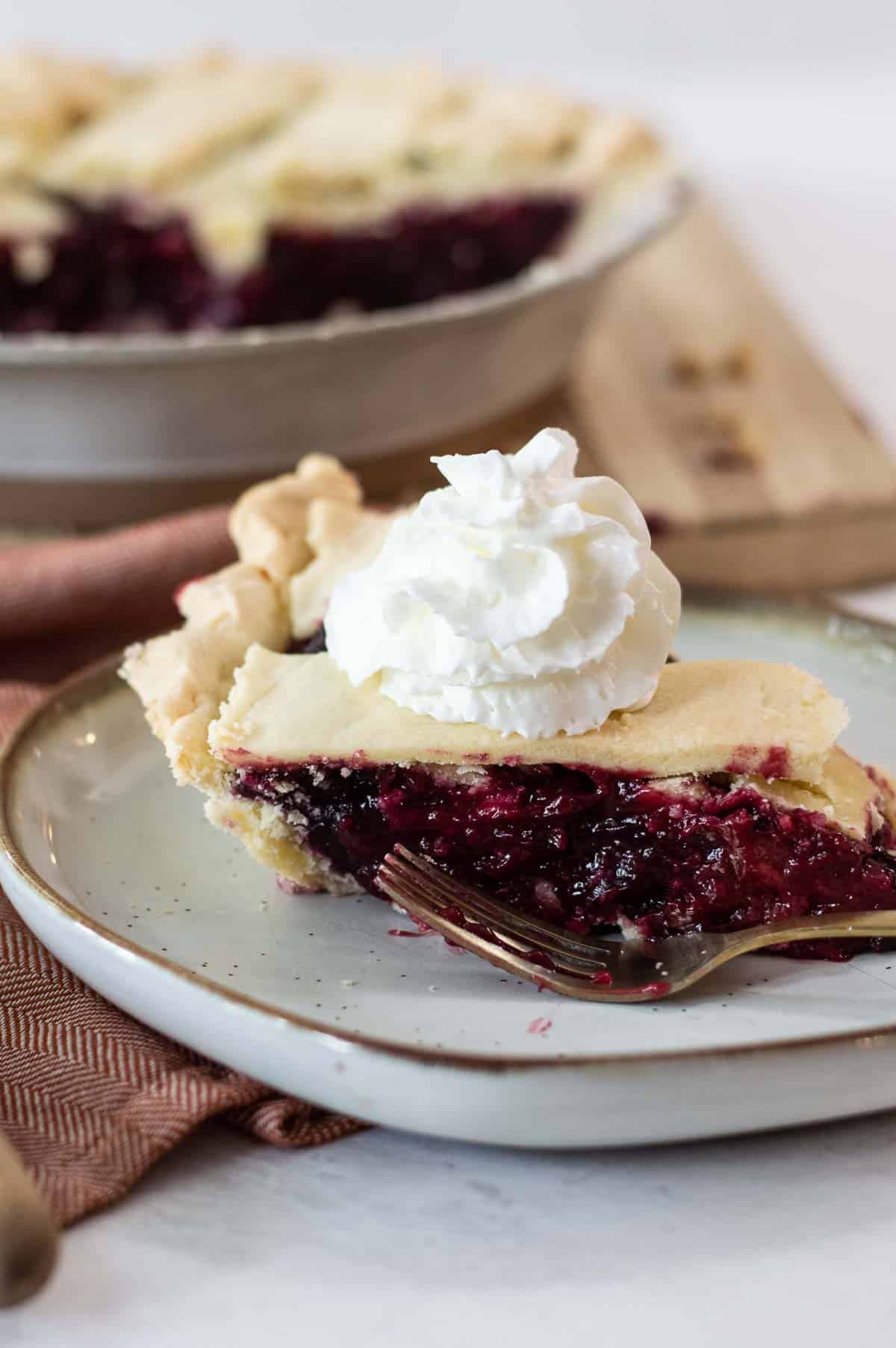 Our scrumptious razzleberry pie is the perfect fall dessert! It can be made with a gluten-free crust or traditional. The combination of berries dances on your taste buds and will get you rave reviews.
2. Blueberry Simple Syrup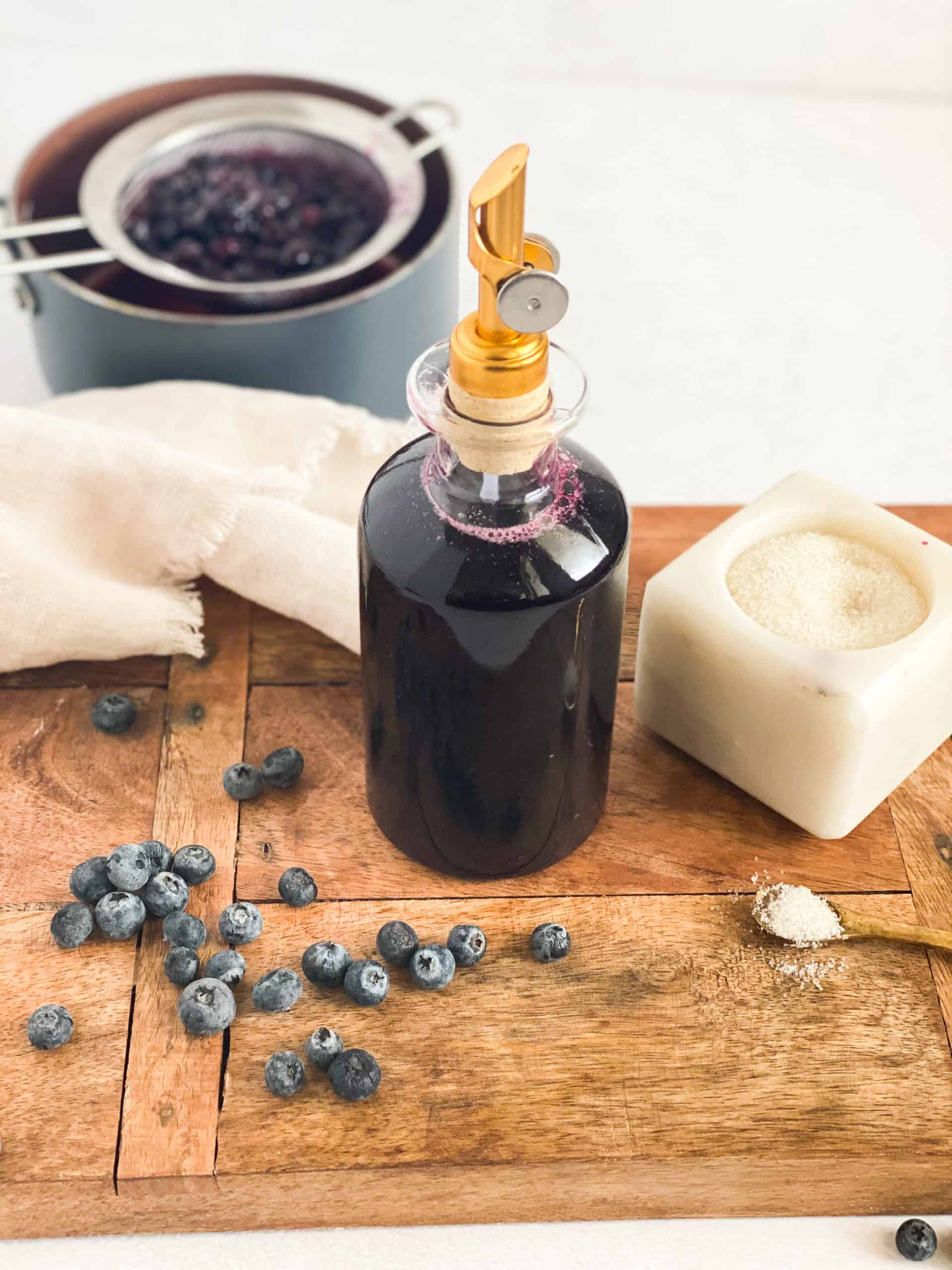 Blueberry simple syrup is so easy to make and gives a fruity sweet touch to any drink or cake. Plus it only takes 45 minutes to make. It's the best thing topped on pancakes, waffles, or other fresh blueberry desserts.
Subscribe to This Vivacious Life
Receive a free e-book of Instant Pot recipes!
3. Blueberry Mocktail
This blueberry mocktail made with fresh lime, lemon juice, and simple syrup makes a refreshing drink for any type of family events. Everyone can enjoy this delicious drink without the booze!
4. Dairy Free Muffins
Our gluten-free and dairy-free muffins aren't technically a dessert, but they are are a delicious breakfast, snack, and everything in between. If you don't like corn bread make a great swap for it!
5. Blueberry Crumble Pie
Blueberry crumble pie is made with fresh or frozen blueberries and topped with a simple yet flavorful oat crumb topping. This is a great recipe for any special occasions.
6. No Bake Blueberry Cheesecake Pie
Use up your fresh blueberries in this No Bake Blueberry Cheesecake Pie made with homemade blueberry pie filling and graham cracker crust. Made without Cool Whip.
7. Small Coffee Cake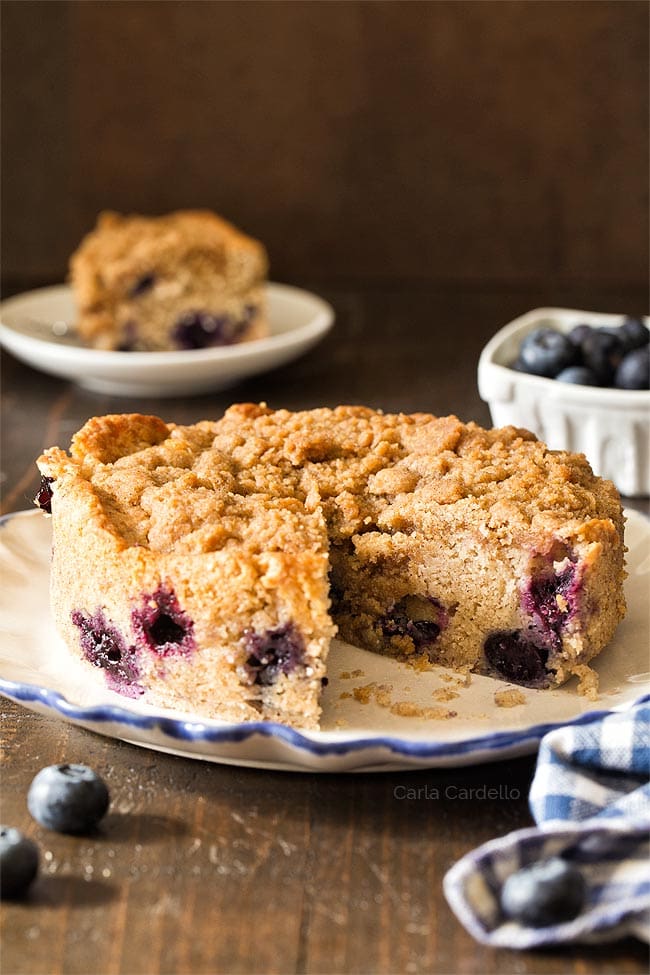 This Small Coffee Cake recipe without sour cream is light and fluffy with fresh blueberries and a buttery streusel crumble topping. Serve as a breakfast for two with your morning coffee.
8. Blueberry Basque Burnt Cheesecake
Blueberry Basque burnt cheesecake is the easiest and perfect for any occasion dessert you will ever make. It is super creamy, soft, and tasty with a lot of flavor.
9. Blueberry Cornbread Streusel Bars
Irresistible Blueberry Cornbread Streusel Bars have a sweet Jiffy cornbread base, a jammy blueberry center, a crunchy streusel topping, and a sweet lemon glaze — a perfect end to your Thanksgiving dinner. Top with whipped cream or a big scoop of vanilla ice cream.
10. Blueberry Crumble Bars
These delicious vegan and gluten-free blueberry crumble bars are easy to make with just a few ingredients for one of the best blueberry desserts. Blueberry pie bars also are perfect for a sunday brunch.
11. Blueberry Crisp
This gluten-free and vegan blueberry crisp features an oil-free crumble piled on top of sweet, gooey blueberries. This is the ultimate crowd pleaser.
12. No-Bake Blueberry Cheesecake
This no-bake blueberry cheesecake is one of my favorite blueberry recipes that's sure to impress yet easy to make with just a few simple ingredients – no finicky baking required! Top with fresh berries, lemon zest, or mint leaves for a beautiful presentation.
13. Blueberry Pound Cake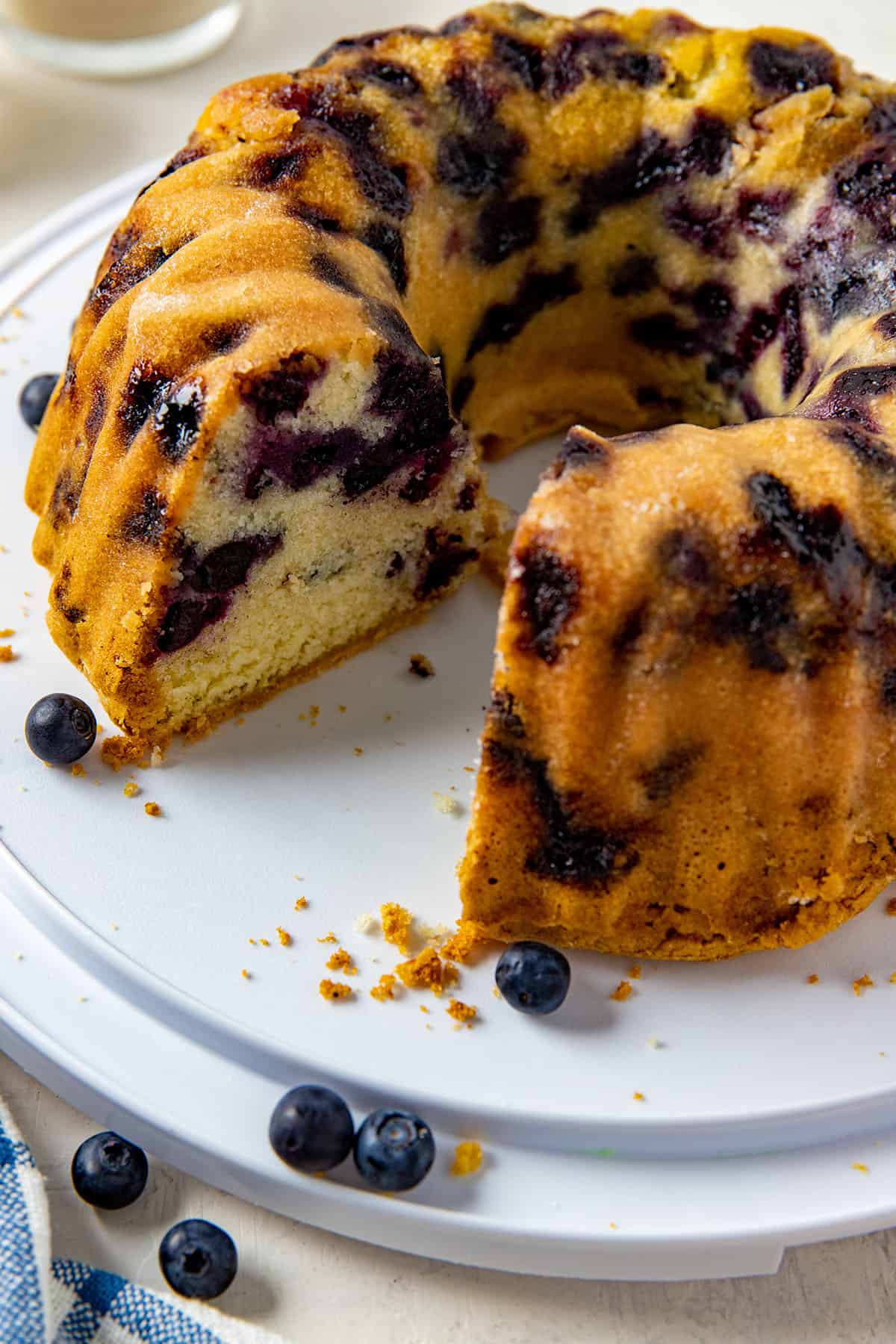 Homemade Blueberry Pound Cake is packed with sweet and juicy blueberries! It's baked in a sugar-coated bundt pan for a crispy outer crust. Moist and fluffy on the inside.
14. Keto No Bake Blueberry Cheesecake
This delicious easy no bake blueberry cheesecake is silky and smooth with a rich no bake dessert crust. The wild blueberries in this recipe are to die for.
15. Blueberry Crumble Pie
When blueberries are in season, make this pie. A fresh blueberry crumble pie with a hint of lemon topped with a brown sugar butter streusel on top!
16. Blueberry German Cake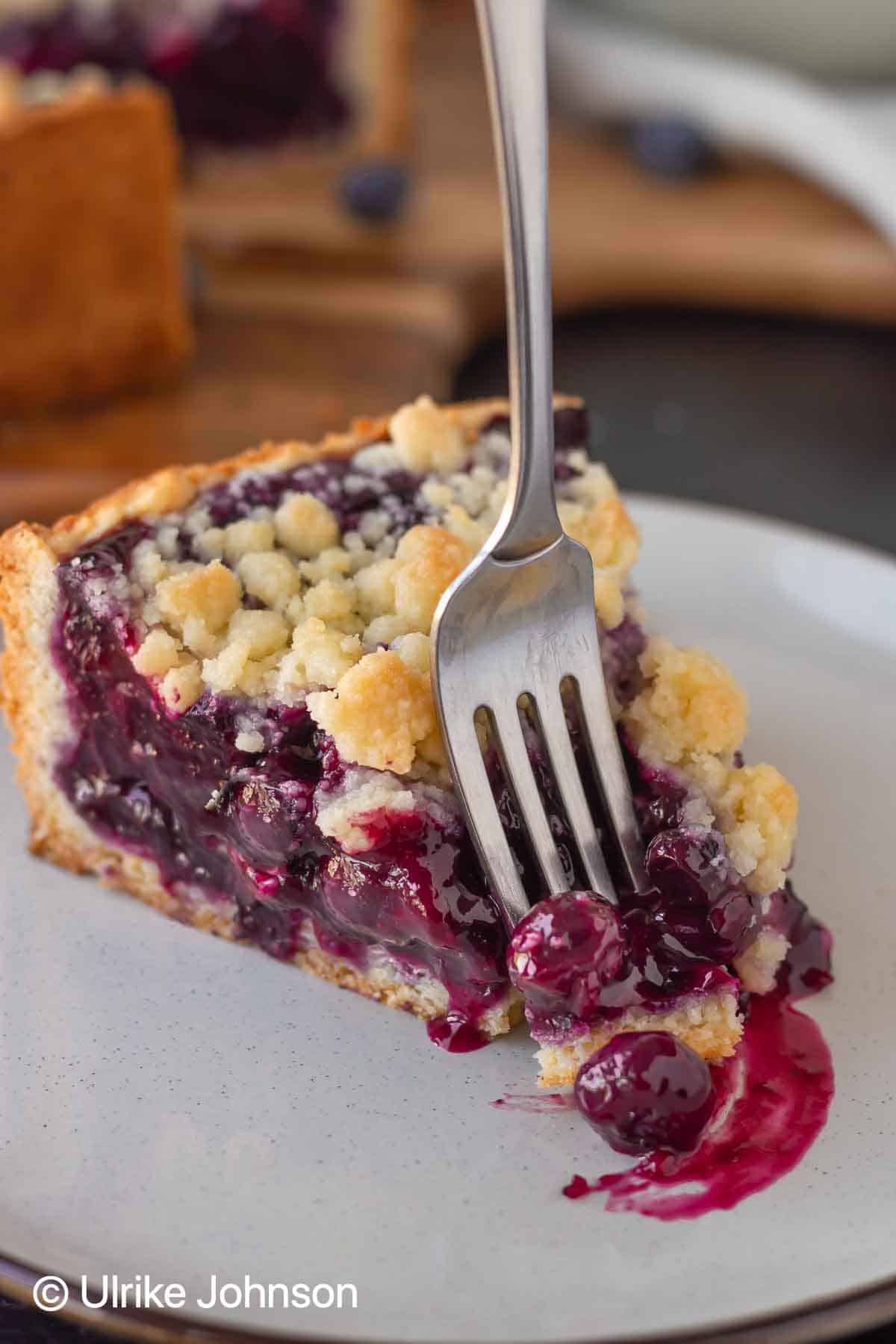 An easy Traditional German Blueberry Cake Recipe with Homemade Blueberry Pie Filling and Streusel Topping! This Blueberry Kuchen Recipe is a keeper.
17. Vegan Gluten-Free Blueberry Galette
An easy recipe for rustic vegan gluten-free blueberry galette everyone will love! Sweet juicy berries wrapped up in a simple, homemade flaky pie crust…it's the perfect Thanksgiving dessert.
18. Gluten Free Blueberry Pie Recipe
If you are looking for the best gluten free blueberry pie, you are going to love this easy recipe. This pie has an incredibly flaky crust and it is filled with the perfect balance of juiciest blueberry to pie filling!
19. Vegan Blueberry Cheesecake
This vegan blueberry cheesecake is so easy to make and requires no baking. It's got an intense blueberry flavor and color thanks to a homemade blueberry sauce.
20. Nova Scotia Blueberry Grunt
Nova Scotia blueberry grunt is a classic East Coast fruit dessert! This is a very simple, traditional recipe which makes the most of seasonal wild blueberries.
21. Easy Blueberry Crisp
This gluten-free Blueberry Crisp has maple syrup, cinnamon, allspice, and other basic ingredients for a fall flair. Perfect dessert for a large crowd because it's easy to scale.
22. Vegan Blueberry Cobbler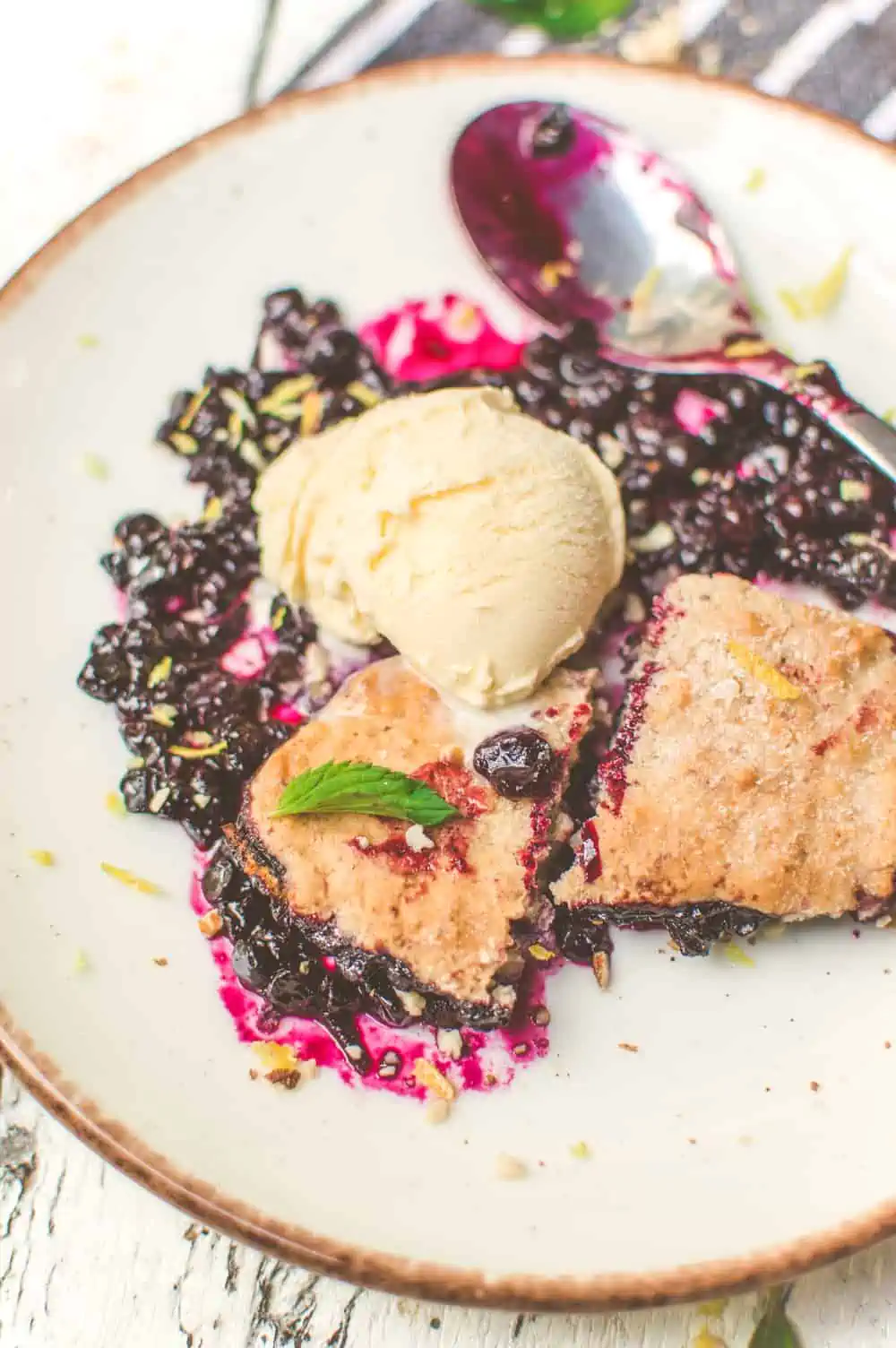 This classic blueberry cobbler recipe made vegan is super easy to make! It's also easily made gluten-free by swapping in an all-purpose gluten-free flour. You only need 10 minutes of active prep time, the rest is baking, making it great for busy holidays like Thanksgiving!
23. Gluten free blueberry pie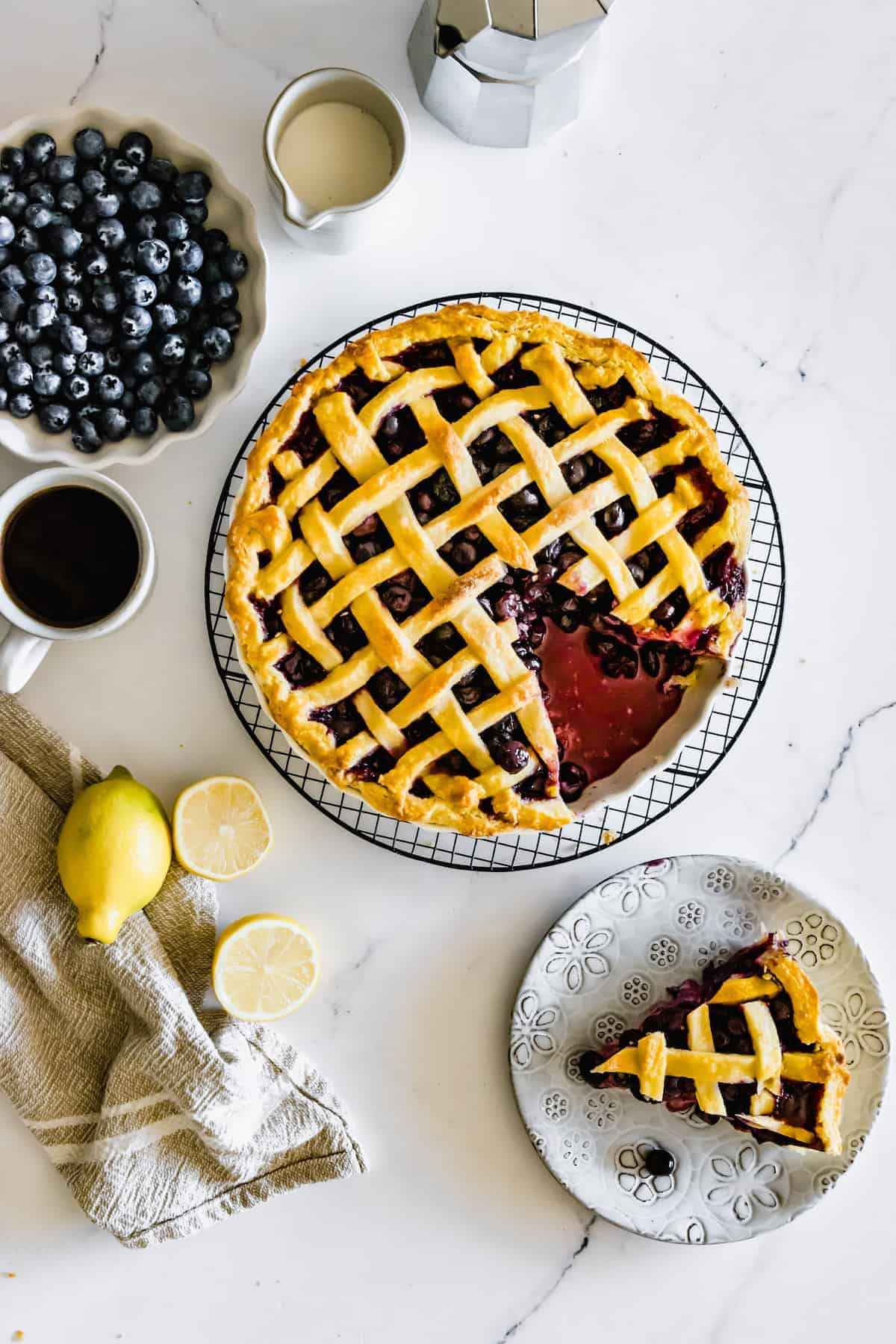 This Gluten Free Blueberry Pie is a classic dessert filled with juicy blueberries baked into a flaky gluten free crust with a lovely lattice topping. Sure to be an impressive addition to your holiday desserts!
24. Easy Homemade Blueberry Pie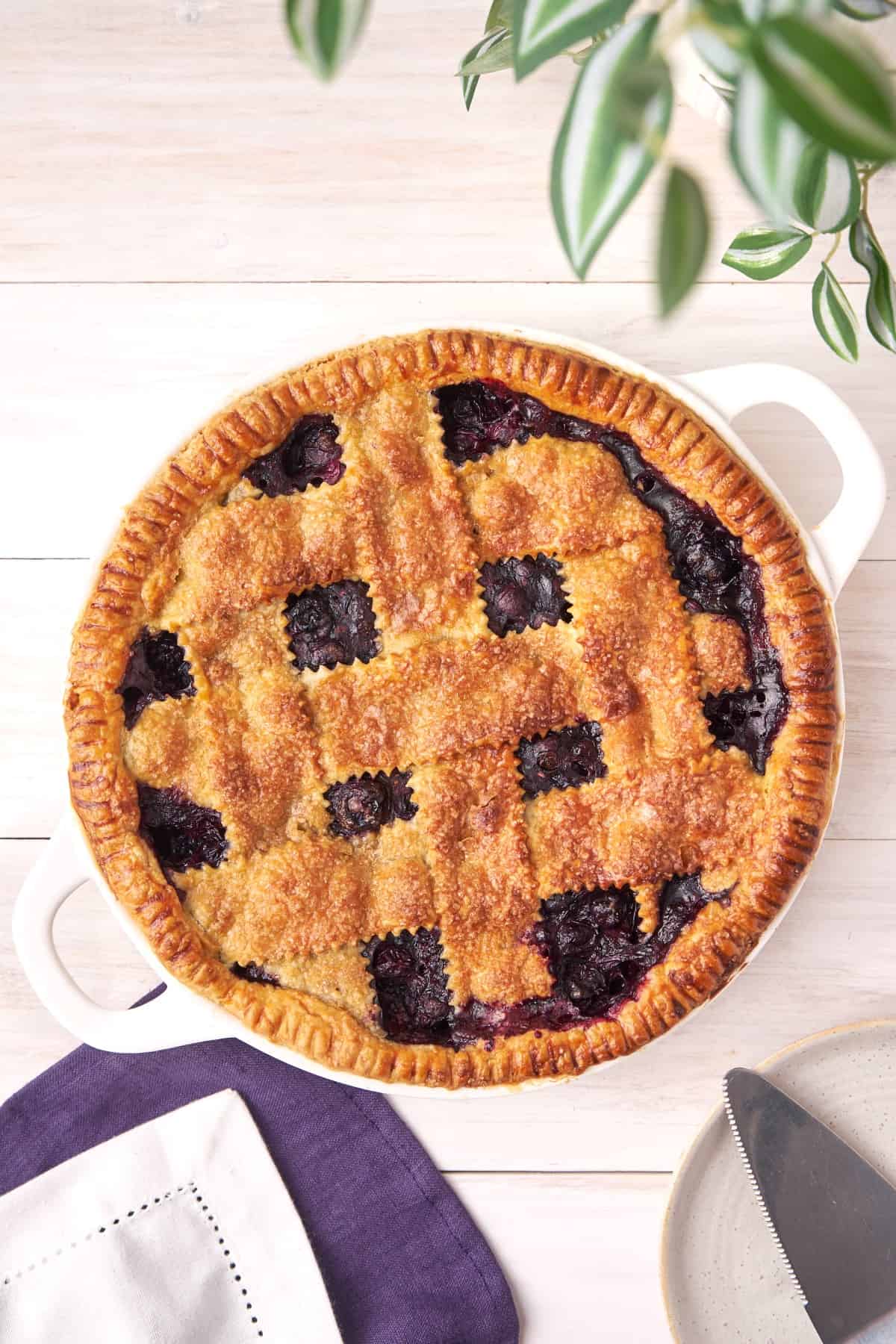 The most perfect Blueberry Pie with a tender, flaky crust and a gorgeous juicy pie filling. The lattice is worked in larger strips so that even a beginner will have great success.
25. Blueberry Delight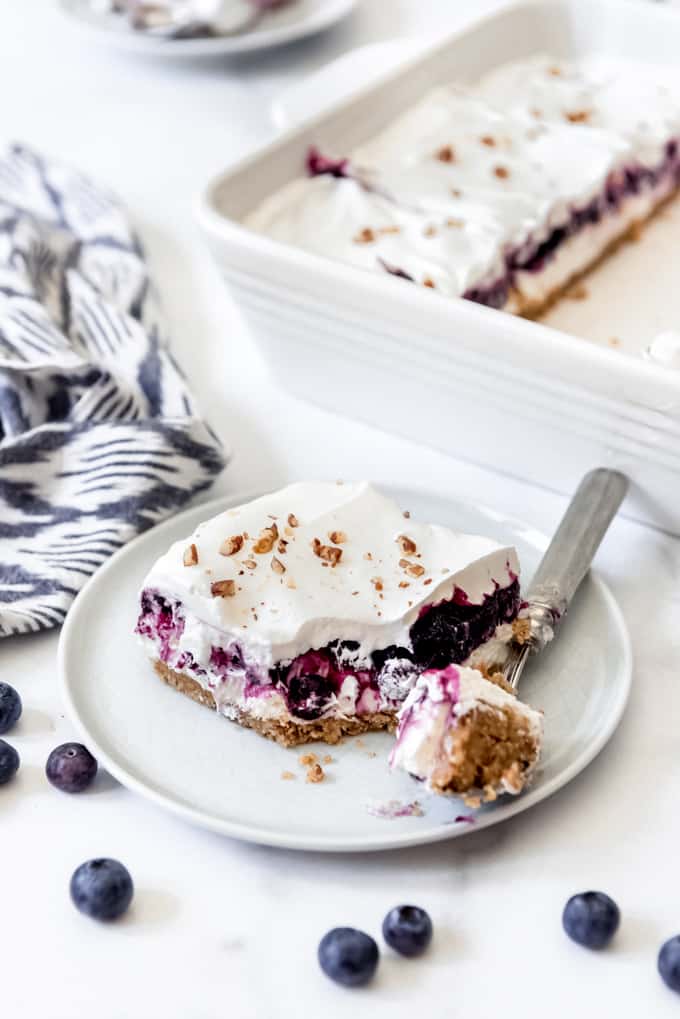 Blueberry Delight (aka Blueberry Lush Dessert) has layers of rich cream cheese filling, nutty graham cracker pecan crust, Cool Whip, and deliciously sweet blueberry pie filling.
26. Blueberry Pie with Lemon Crumble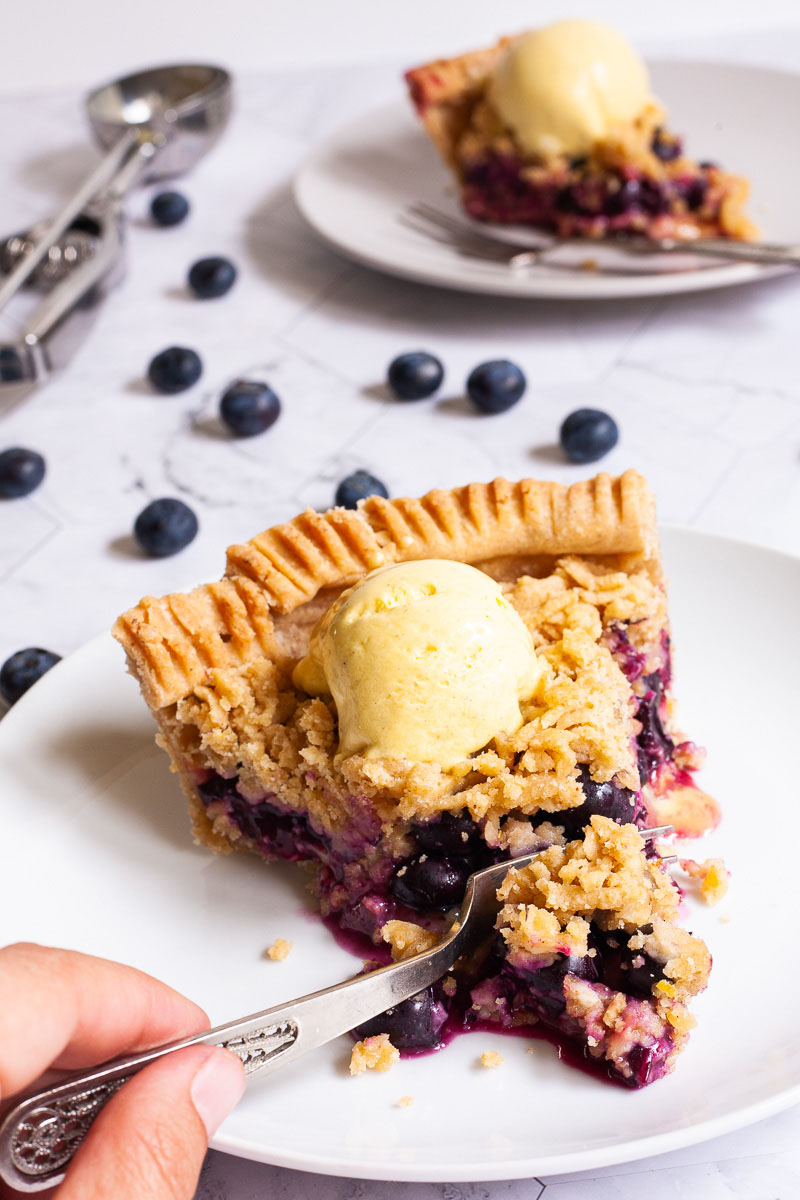 Sweet juicy blueberry filling meets with tangy lemony crumbles are the perfect combination for a celebratory pie. This Blueberry Pie with Lemon Crumble is easy, delicious not to mention gluten-free and vegan.
27. Blueberry Panna Cotta Tart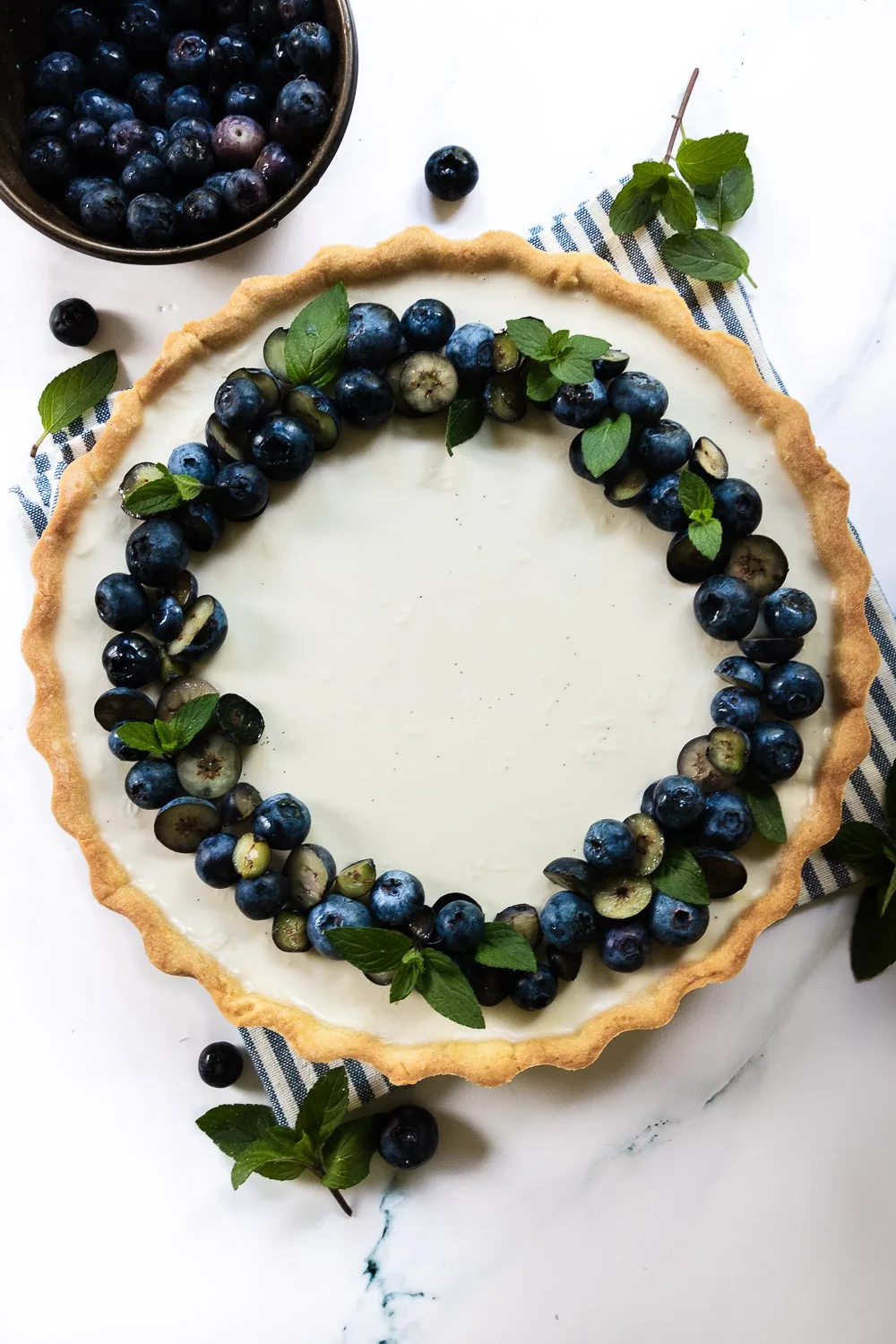 With it's layers of blueberry filling and creamy panna cotta, this blueberry tart is a elegant, refreshing choice for a festive dessert. You can use fresh or frozen blueberries, which means it can be made any time of year.
28. Blueberry Tart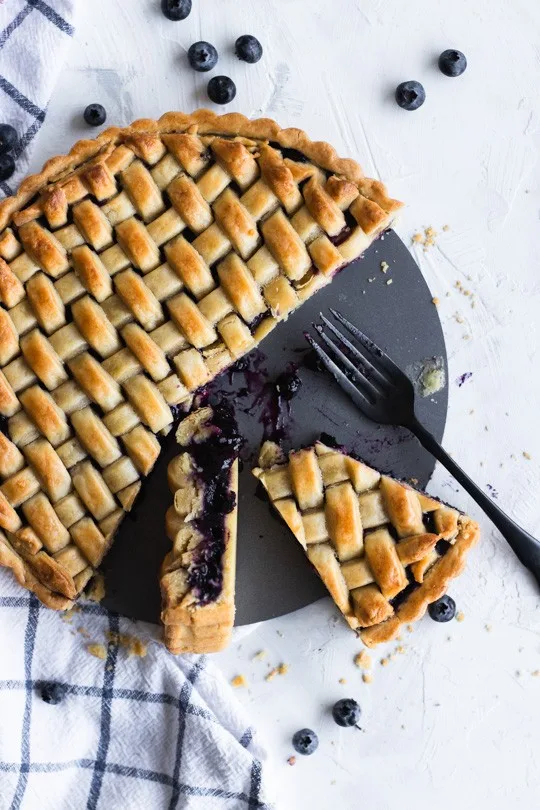 This Blueberry Tart recipe features a lightly sweet pastry crust bursting with a blueberry filling with a hint of lemon. Beautiful and delicious, you can use fresh or frozen berries for this tart.
29. Blueberry Syrup
This Shockingly Simple Sugar-free Blueberry Syrup is a surprising, yet oh so delicious way to top your Thanksgiving Pumpkin Pie (or other desserts). (GF)
If you love this roundup, you will also like our 40+ Thanksgiving foods that start with "S"!