this post may contain affiliate links
Options are pretty much endless when it comes to the Thanksgiving cooking marathon. There's everything from stuffing to sweet potato casserole in this post so you're guaranteed to find the perfect Thanksgiving foods that start with "S".
Thanksgiving is such a fun time of year because of the family, friends, and food of course. All the simple recipes below start with the letter S and are absolutely delicious.
Other helpful information: Here is what we recommend for how early can you make Thanksgiving sides. You can also use our Thanksgiving non perishable foods list to help you with shelf stable cooking.
If you are wondering how to reheat your Thanksgiving sides, we've got you covered. We have a whole post dedicated to the best way to reheat those fantastic sides.
1. Stuffing with Apples and Sausage
This gluten free stuffing recipe with apples and sausage is so flavorful and delicious! Apples make an excellent addition to golden brown stuffing which is why it has all the flavors you love. But this stuffing requires very little effort in the kitchen.
Subscribe to This Vivacious Life
Receive a free e-book of Instant Pot recipes!
2. Sweet Potato Casserole
This gluten free sweet potato casserole has a sugared pecan topping that is absolutely addicting! It is pretty simple to make and so filling. It's sure to become a family and especially, Thanksgiving dinner favorite.
3. Slow Cooker Ham and Bean Soup
This slow cooker ham and bean soup is hearty, delicious, and cooks up in record time. It's the perfect way to use up leftover ham for a quick and easy Thanksgiving meal.
4. Smoking Mocktails
Our smoking Halloween mocktails are sure to WOW & definitely creates an eerie effect! This is the best non-alcoholic fall drink for special occasions.
5. Spicy Rolled Tacos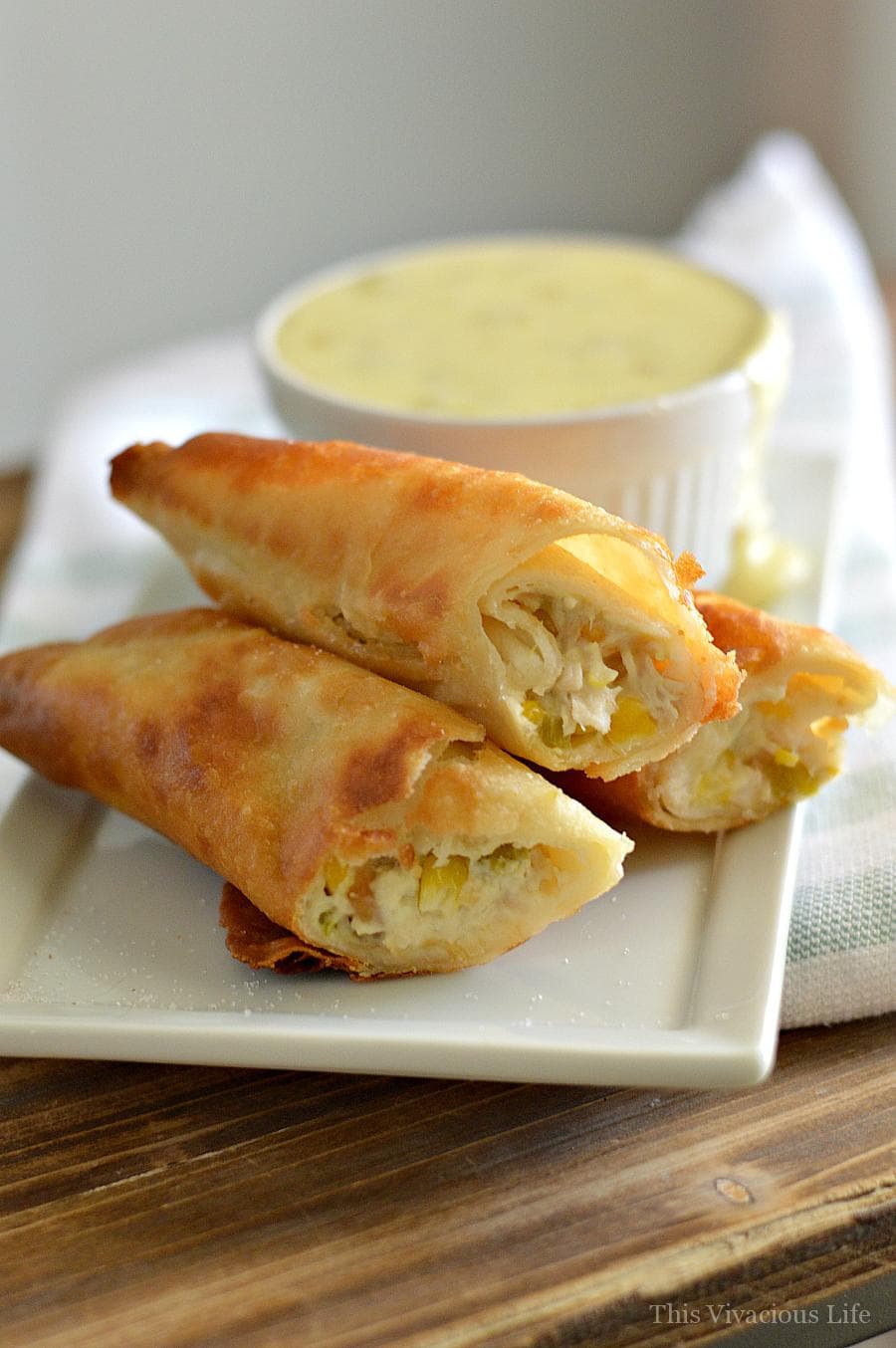 These spicy rolled tacos couldn't be easier and they are so delicious! Ready in under 30 minutes and they make the perfect meal or appetizer that uses turkey!
6. Small Charcuterie Board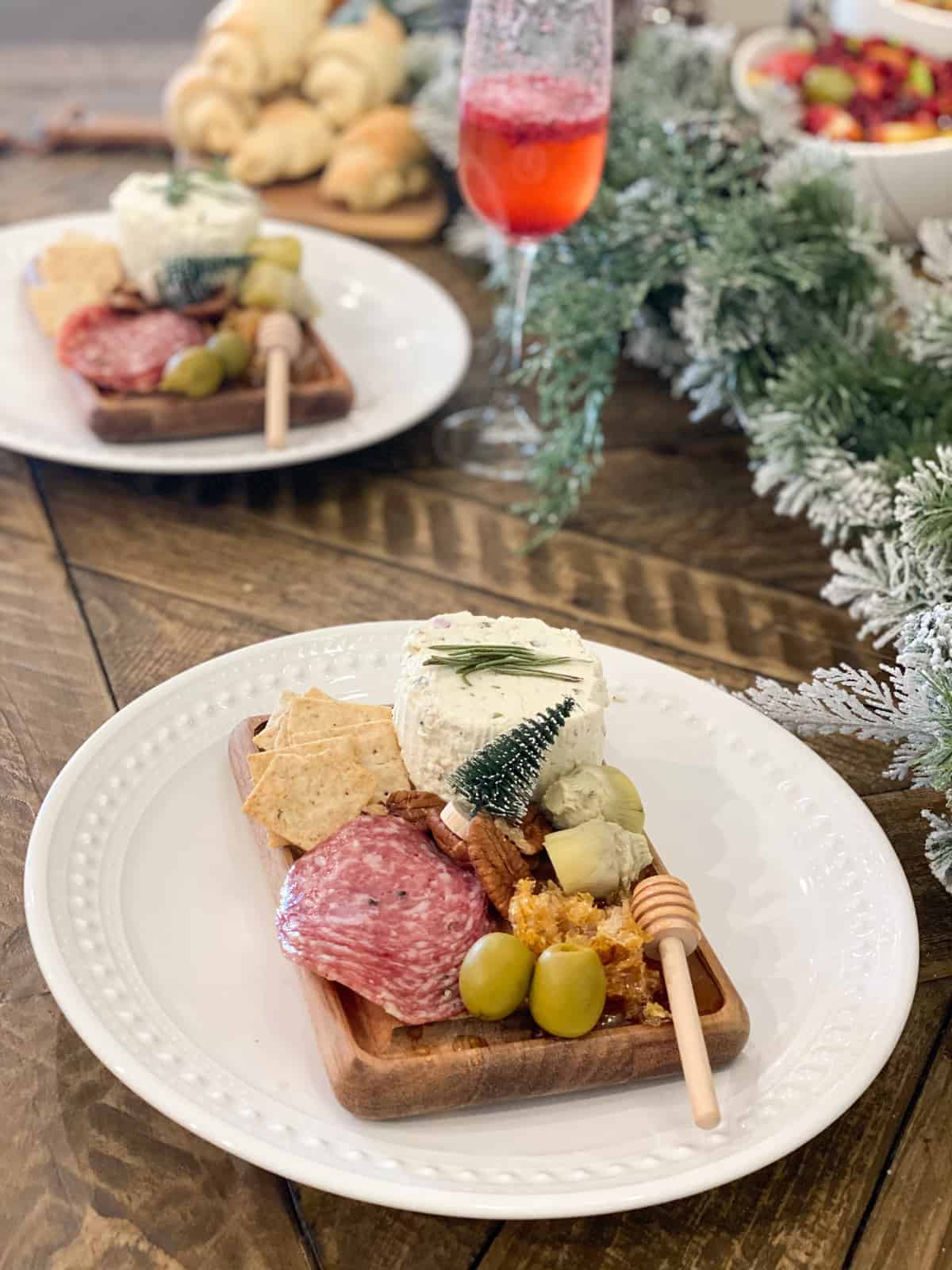 A small charcuterie board surprisingly makes a BIG statement at any family event! The are darling and all your guests will love seeing them in their spot. Plus, charcuterie boards complement any main course so well.
7. Sour Cream Chip Dip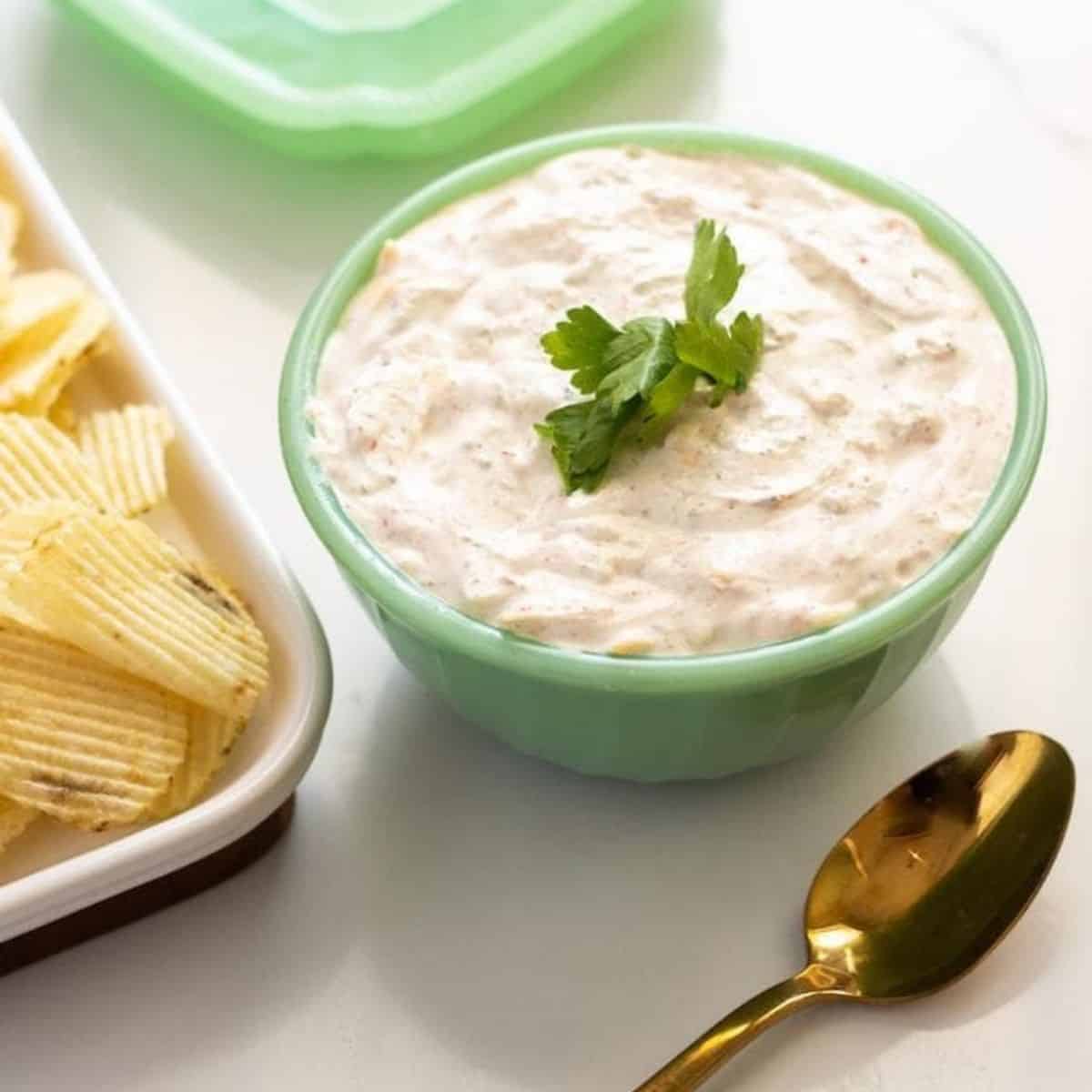 Our sour cream chip dip is the easiest, tastiest dip you will ever find. It's creamy taste makes it a great side dish that pairs well with pretty much anything. A great alternative to spinach dip for your Thanksgiving appetizer spread.
8. Sourdough Crescent Rolls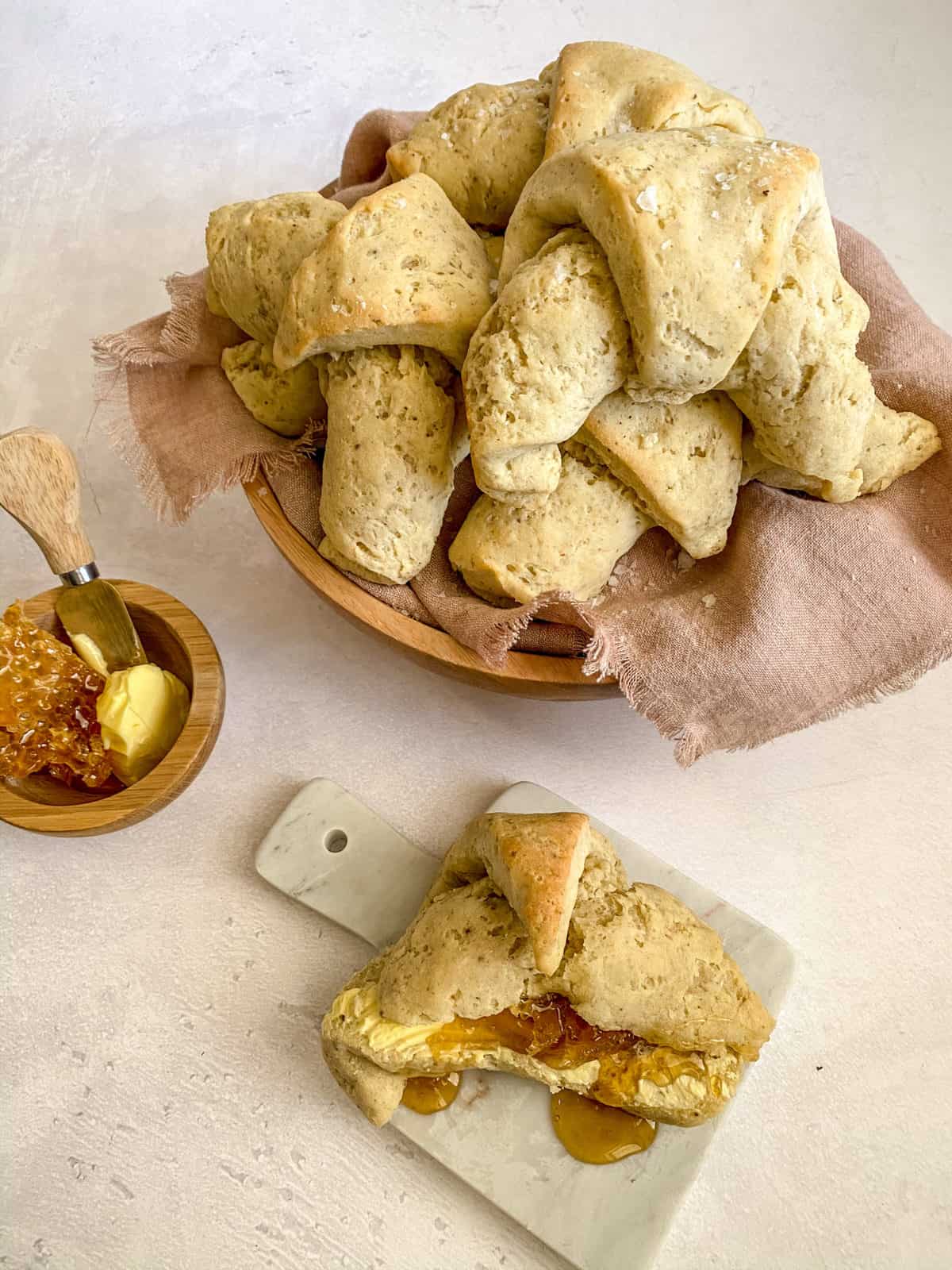 These gluten-free sourdough crescent rolls are literally the BEST you have ever tasted! Thanks to a special blend of gluten-free flour, they are flaky, fluffy and so delicious. I love dipping mine in olive oil and Italian spices.
9. Slow Cooker Brown Sugar Acorn Squash
This sweet and savory acorn squash recipe is a fabulous side dish for your Thanksgiving table. The slow cooker results in tender squash that's perfectly seasoned with brown sugar & cinnamon for a sweet flavor.
10. Sweet Potato Casserole for Two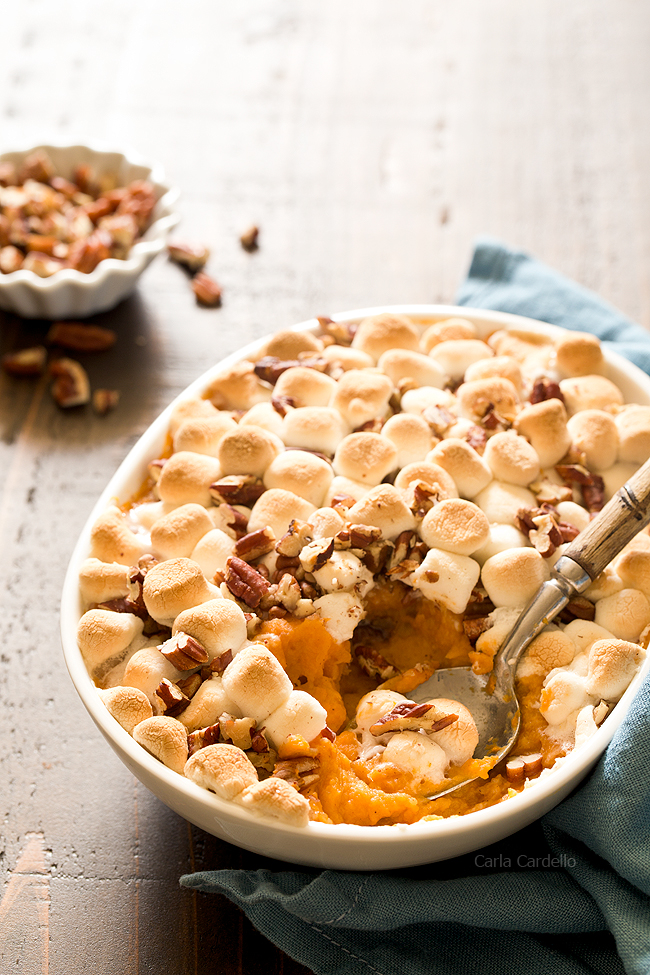 Hosting Thanksgiving For Two this year? You can still serve up your favorite traditional side dishes, like Sweet Potato Casserole For Two with mini marshmallows and chopped pecans on top. I love this option over green bean casserole.
11. Stuffed Butternut Squash
Looking for a hearty vegetarian main dish? Roast up these Vegan Stuffed Butternut Squash filled with cranberry rice, pecans, and chickpeas. Serve as a main dish for Thanksgiving!
12. Sour Cream Sugar Cookies
These Thanksgiving sour cream sugar cookies are a great way to keep kids busy while you bake. The cream cheese frosting and cookie cutters make them a great Thanksgiving activity!
13. Sourdough Stuffing
This sourdough stuffing with sage and thyme is an easy win on Thanksgiving day. It's a simple recipe that will go great with any main dish.
14. Sweet Potato Pocket Pies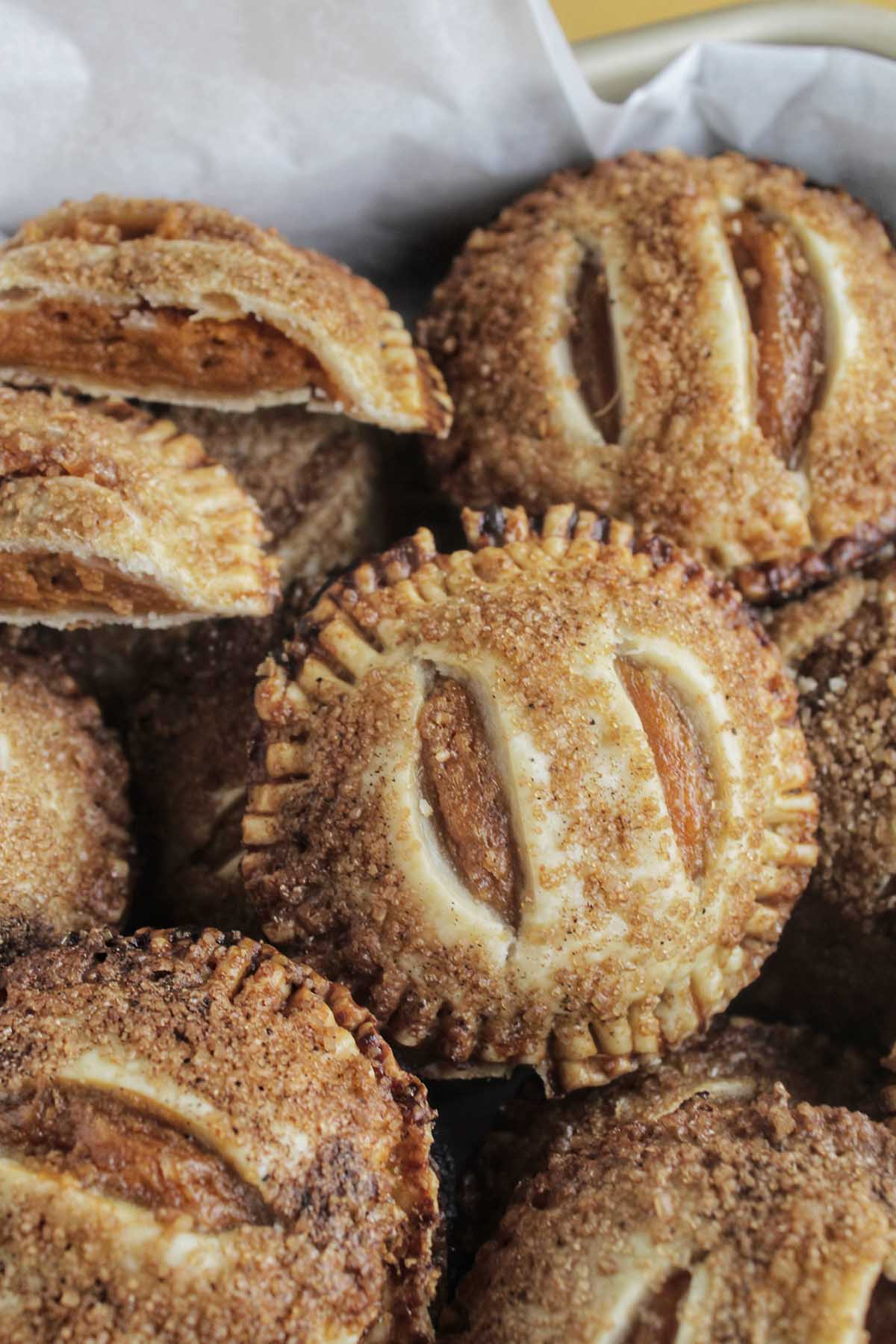 Sweet potato pocket pies are the perfect handheld dessert. These pies are filled with fresh sweet potato and chai spices, all surrounded by a flaky pie dough topped with small amounts of turbinado sugar.
15. Shepherd's Pie
Holiday leftovers are just as good the second time around. This Thanksgiving Leftovers Turkey Shepherd's Pie makes use of everything you have in one dish.
16. Sweet Potato Casserole with Marshmallows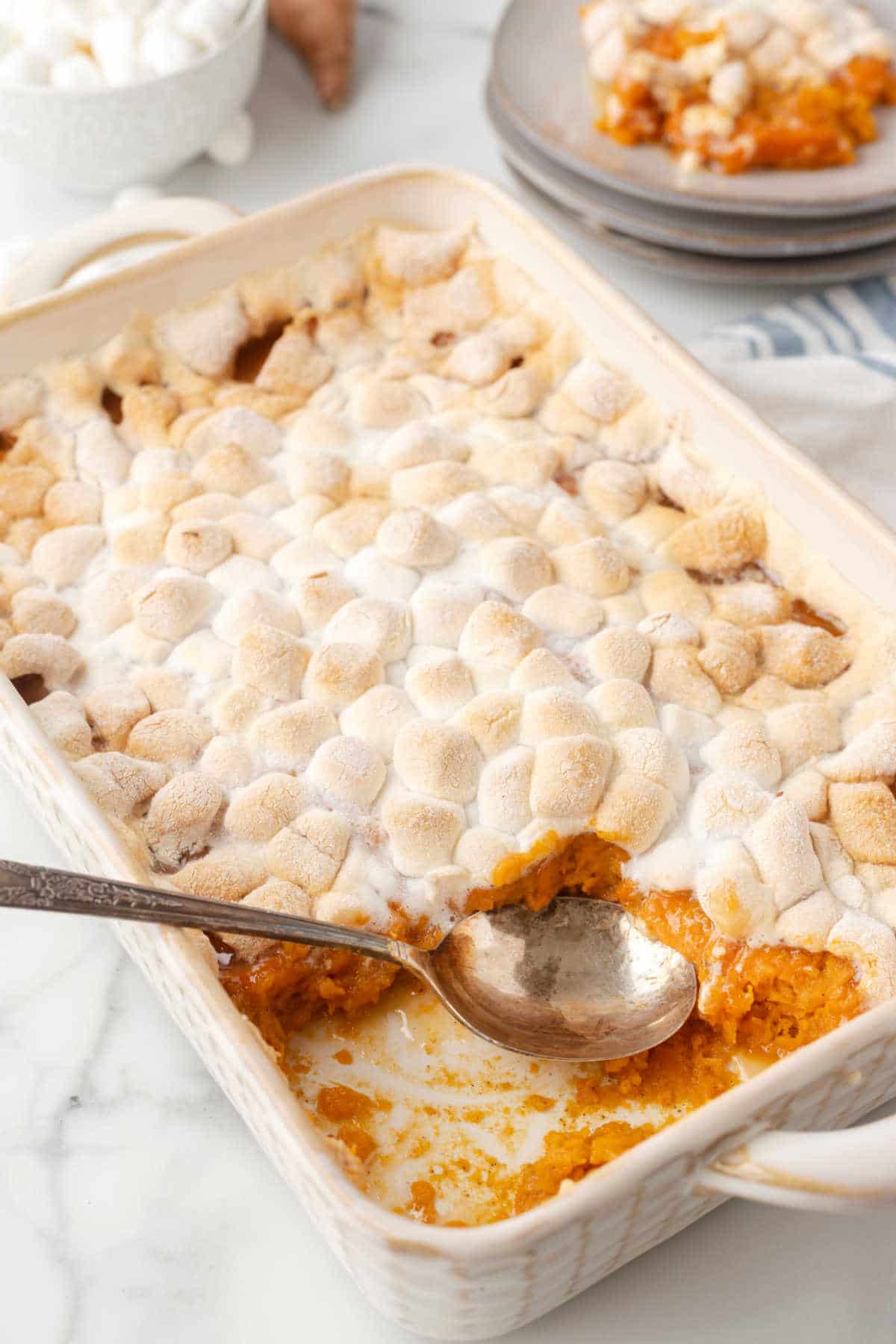 Sweet potato casserole with marshmallows is a popular Thanksgiving side dish that combines creamy mashed potatoes with toasted marshmallows for an easy but delightfully delicious dish!
17. Strawberry Apple Crisp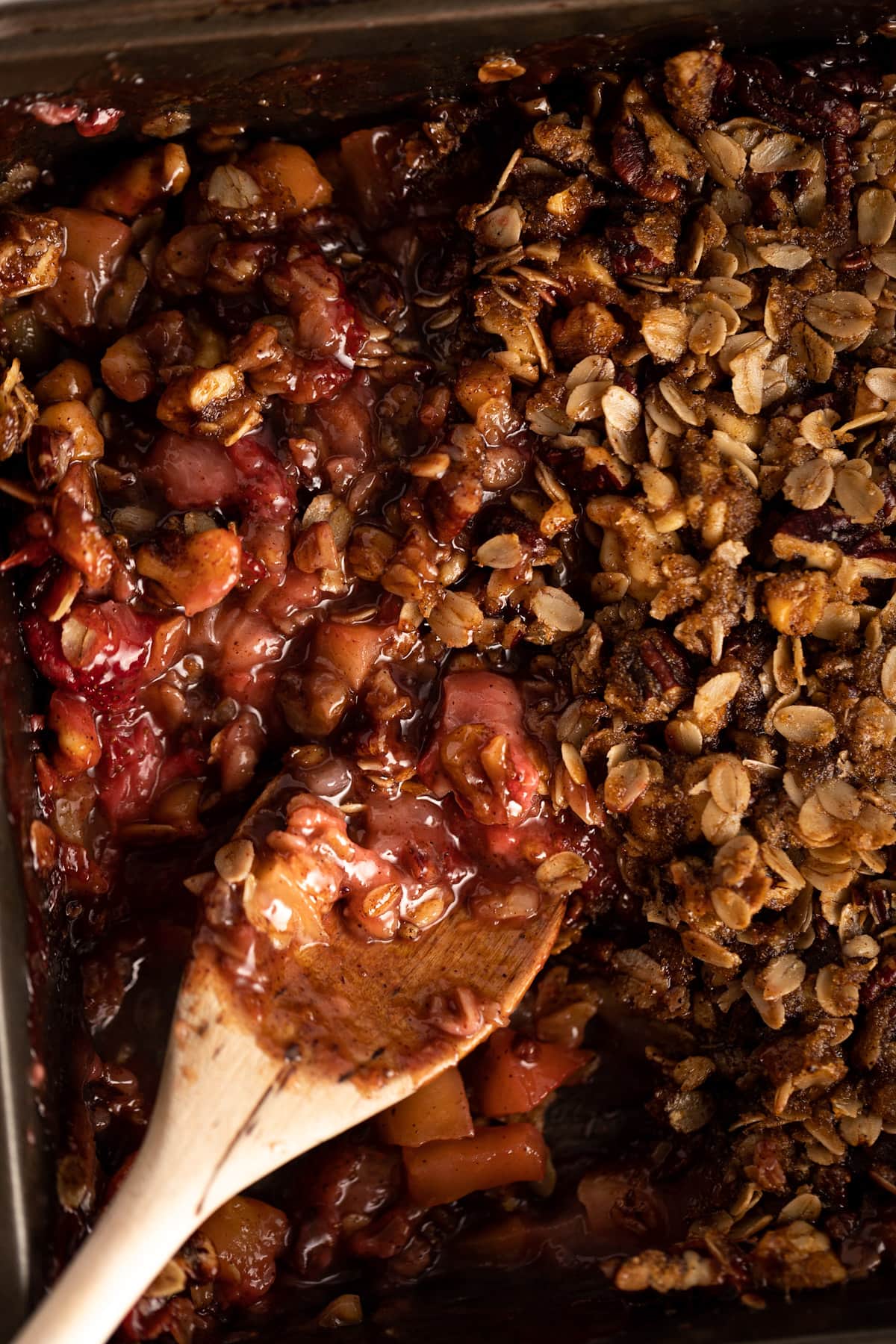 This strawberry apple crisp recipe is a simple and tasty sweet treat. Made with an apple and strawberry fruit base, with a crispy brown sugar, oat, pecan and walnut topping for a nutty flavor. Serve fresh out of the oven with a scoop of vanilla ice cream.
18. Smoked Turkey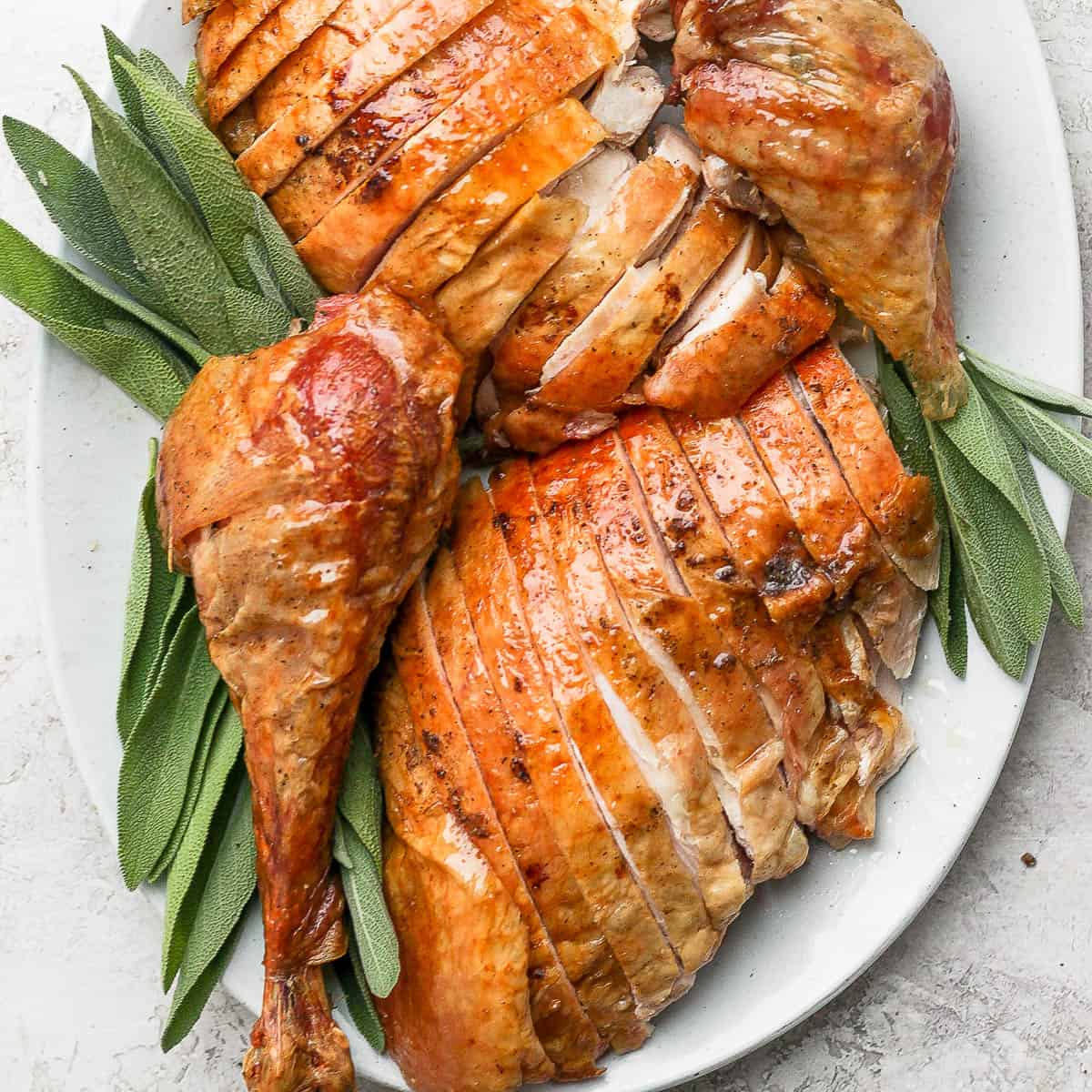 This Easy Smoked Turkey Recipe is incredibly flavorful, juicy and so moist! Is there really any debate that smoked turkey is better than roasted turkey? Learn how to make the best whole smoked turkey recipe that you are going to want to make year after year!
19. Slow Cooker Cranberry Turkey Meatballs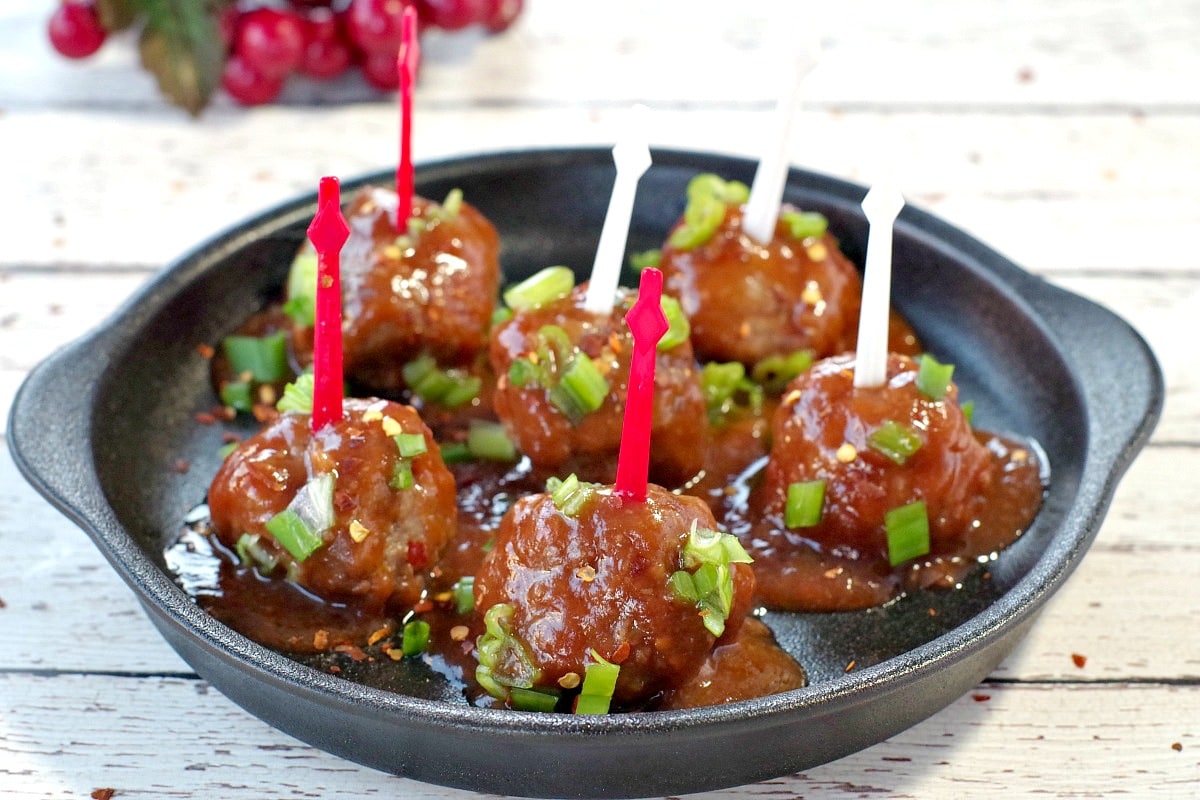 These Slow Cooker Cranberry Turkey Meatballs are the perfect holiday appetizer for your next holiday party. I love a delicious appetizer recipe that's both easy to make and healthy.
20. Smoked Spatchcock Turkey
Smoked Spatchcock Turkey is one of the best Thanksgiving foods! Learn how to spatchcock a turkey and cook it on your smoker (we used a Traeger). This smoked spatchcock turkey recipe is easy to make, delicious and packed with flavor.
21. Sour Cream Apple Pie
Sweet and tart sliced apples are tucked into a simple custard then topped with a crumbly brown sugar streusel in this Sour Cream Apple Pie. In my opinion it's much better than the classic pumpkin pie.
22. Southern Collard Greens
Silky, smoky Southern Collard Greens are a classic side dish that taste amazing with a big chunk of cornbread! They are great delicious anytime, but are also a popular and healthy addition to your Thanksgiving menu! Everyone could use extra leafy greens on their plate.
23. Sweet Potato Pie with Marshmallows
I love recipes that make life easier and this Easy Sweet Potato Pie with Marshmallow Whipped Cream is one of those recipes. There is no peeling, chopping or cooking of sweet potatoes involved because I use pureed sweet potatoes and it works so well!
24. Stuffed Acorn Squash
This gluten-free, vegan stuffed acorn squash recipe is packed with fall flavors and get's rave reviews from my plant-based and meat-eaters alike! ! It's filled with delicious pumpkin seed, spinach, and tart cherry quinoa pilaf.
25. Sweet and Spicy Hasselback Butternut Squash
This butternut squash recipe emphasizes the natural sweetness of the squash while adding just a touch of heat. Jazz it up with a little sage for that quintessential Fall flavor. The hasselback technique is the best way to get an aesthetic dish without a lot of work.
Additional Recipes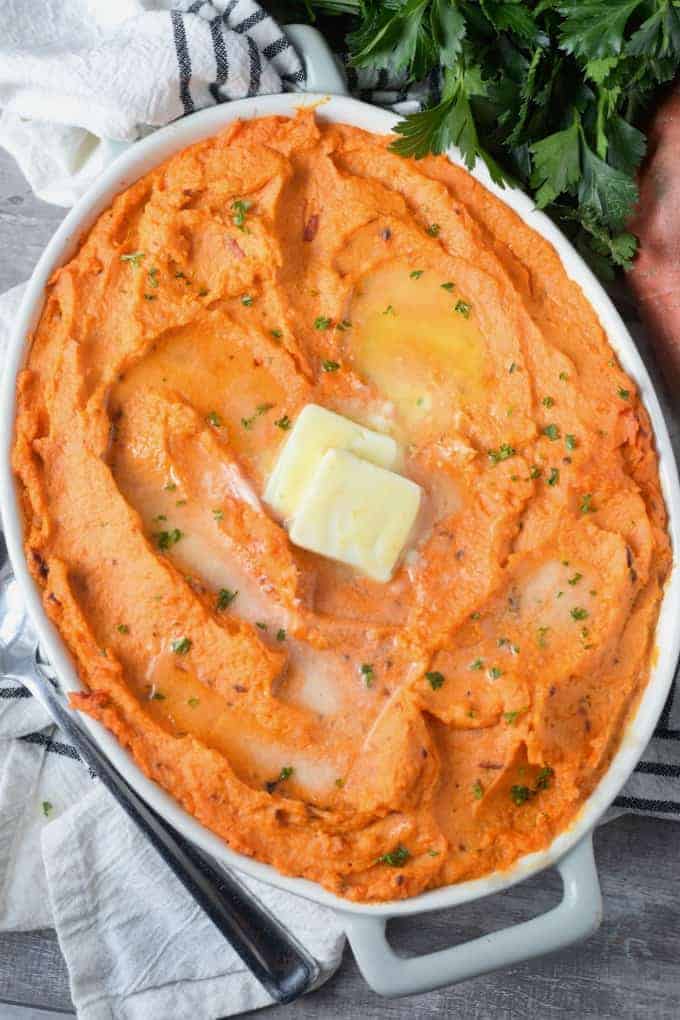 If you love this roundup, you will love our 30+ blueberry Thanksgiving desserts and our Thanksgiving mocktails! We also have roundup of the best sides for a honey baked ham.