I mean it when I say these truly are the best gluten-free cinnamon rolls! Soft, fluffy and so full of ooey, gooey deliciousness that nobody would every know. 
Let me show you how to make the best gluten-free cinnamon rolls that will wow anybody who tries them.
You guys, my mom has done it; she has truly achieved the best gluten-free cinnamon rolls ever! While it's hard to believe you could get a big, fluffy cinnamon roll like this gluten-free, it's now possible.
Let me just start by saying, that if you've come looking for the BEST gluten-free cinnamon roll, you have found it…yay! Now, if you were looking for an easy cinnamon roll, this is not it. As with all good things, they usually take more time and effort.
However, if you are like me then you really only make them twice a year on special occasions like Christmas morning and Easter. These are 110% worth every bit of time and effort.
Please note: IF YOU WANT THIS TRUE CINNAMON ROLL RESULT, YOU MUST NOT EXCHANGE OUT THE INGREDIENTS IN THE RECIPE FOR A GLUTEN-FREE FLOUR BLEND. These measurements have been tested over and over to get the cinnamon rolls just perfect.
As you all know my mom (Tana Besendorfer) is an incredibly talented baker. She's the one who brought you the flaky raspberry toaster pastry, decadent peanut butter bars and so much more.
Now she's achieved the impossible in creating what is truly the best gluten-free cinnamon roll, no the best gluten-free baked good, I've ever eaten. If you know me than you know this is saying a lot. Especially since I've tried many baked goods at bakeries across America over the last 8 years.
Her secret lies in the technique of making these special gluten-free cinnamon rolls. She figured out after many times of trial and error that she just couldn't get enough filling inside the rolls unless she first froze the brown sugar and butter into a block.
This then allowed her to grate it onto the prepared dough before rolling them and slicing. The result is ooey, gooey deliciousness and the best gluten-free cinnamon roll all the way through. What a genius right?! Well this is an extra step, it's the key and totally worth it. 
These rolls are fantastic right out of the oven nice and warm, but they are also good at room temperature the next day.
I can't say enough about how talented my mom is. In our cookbook, Gluten-Free on a Budget, she created 70% of the recipes. This includes her famous flaky pie crust that can be rolled out and sliced into a lattice piecrust.
She's already dreaming up more recipes to share here and I can't wait to give you all of the fun secrets over the next few months. But in the meantime I'm going to go enjoy the best gluten-free cinnamon roll and hope you will too…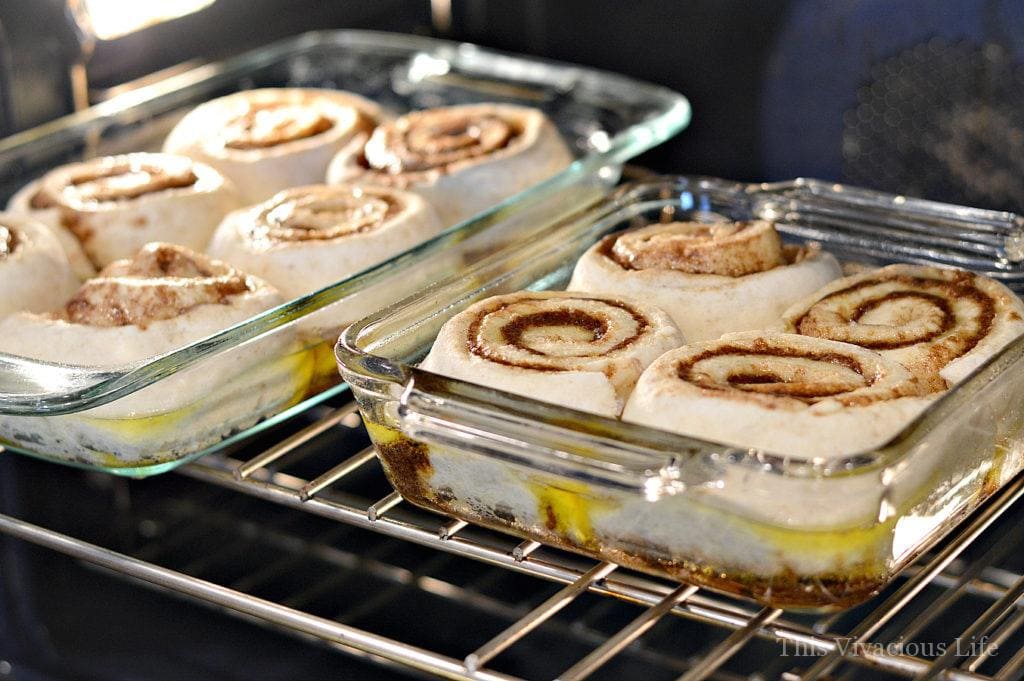 After frosting the cinnamon rolls, drizzle with the leftover brown sugar and butter sauce from the baking pan. This is of course optional but let me tell you, they make these best gluten-free cinnamon rolls extra incredible. 
If you want another incredible baked good recipe, I highly suggest this gluten-free maple syrup sweetened banana bread recipe from Erin at Meaningful Eats.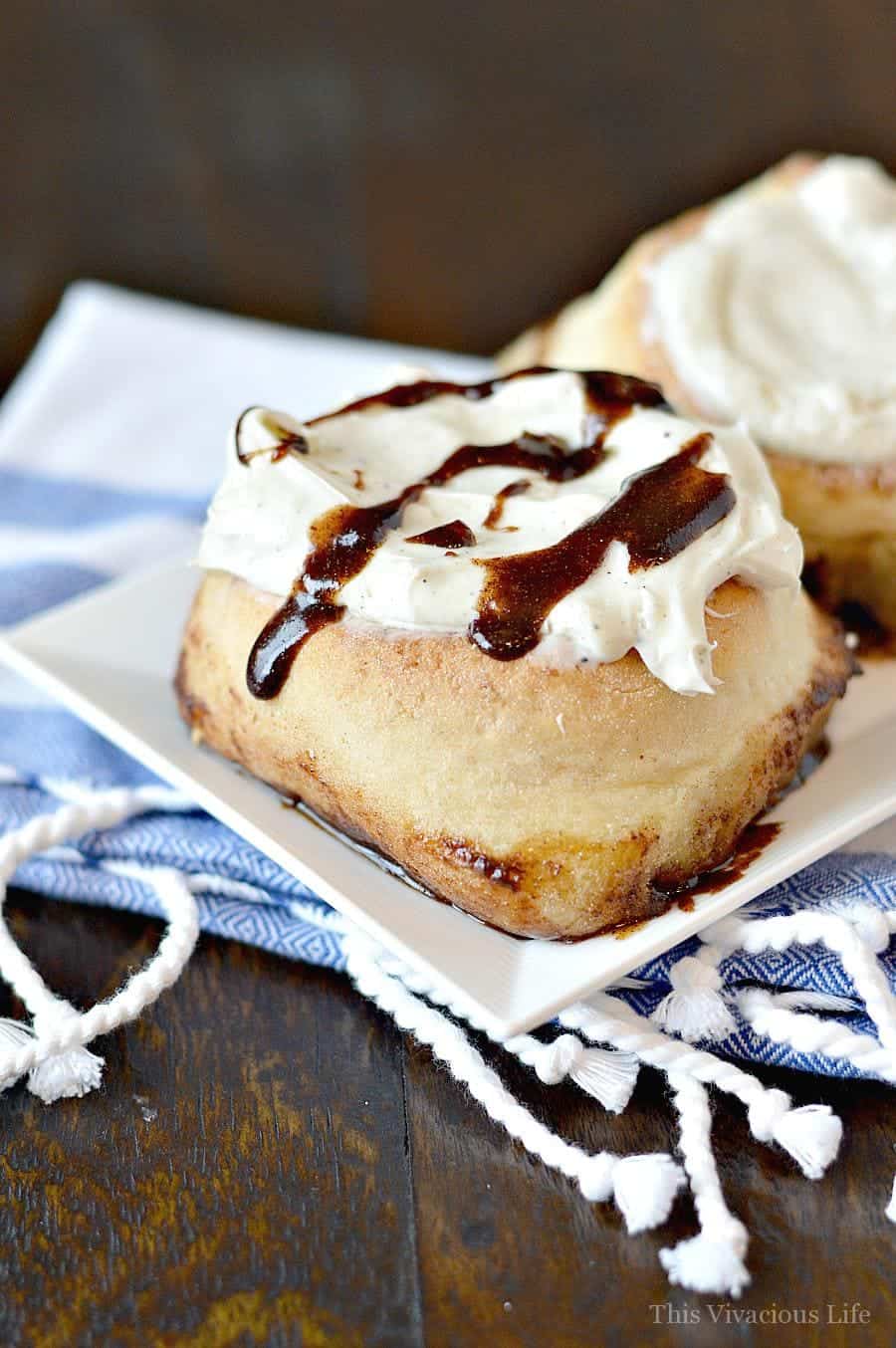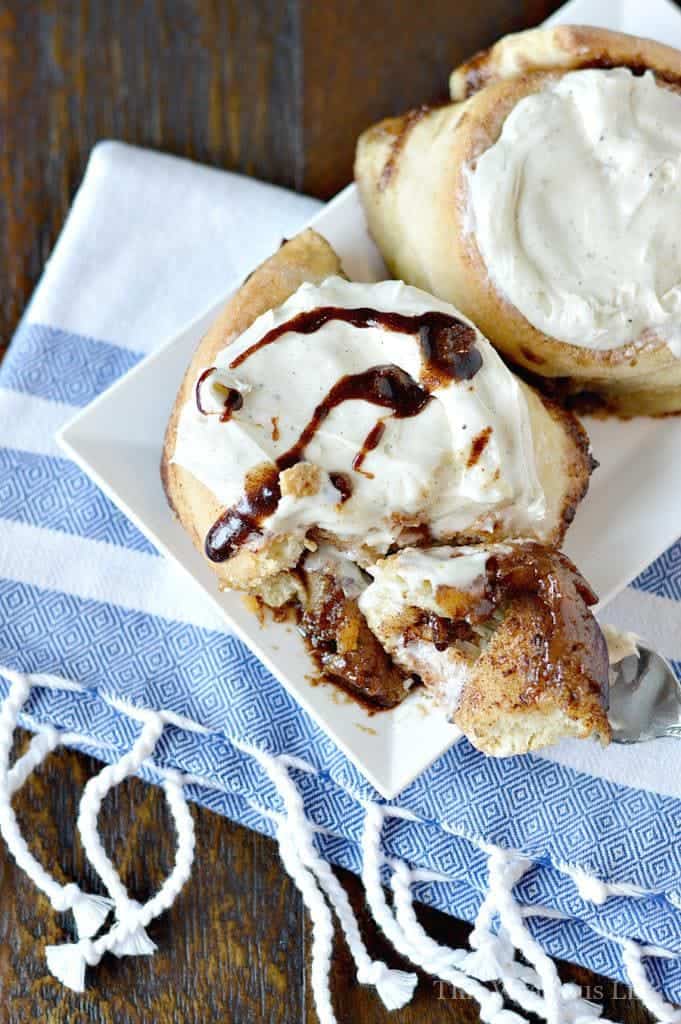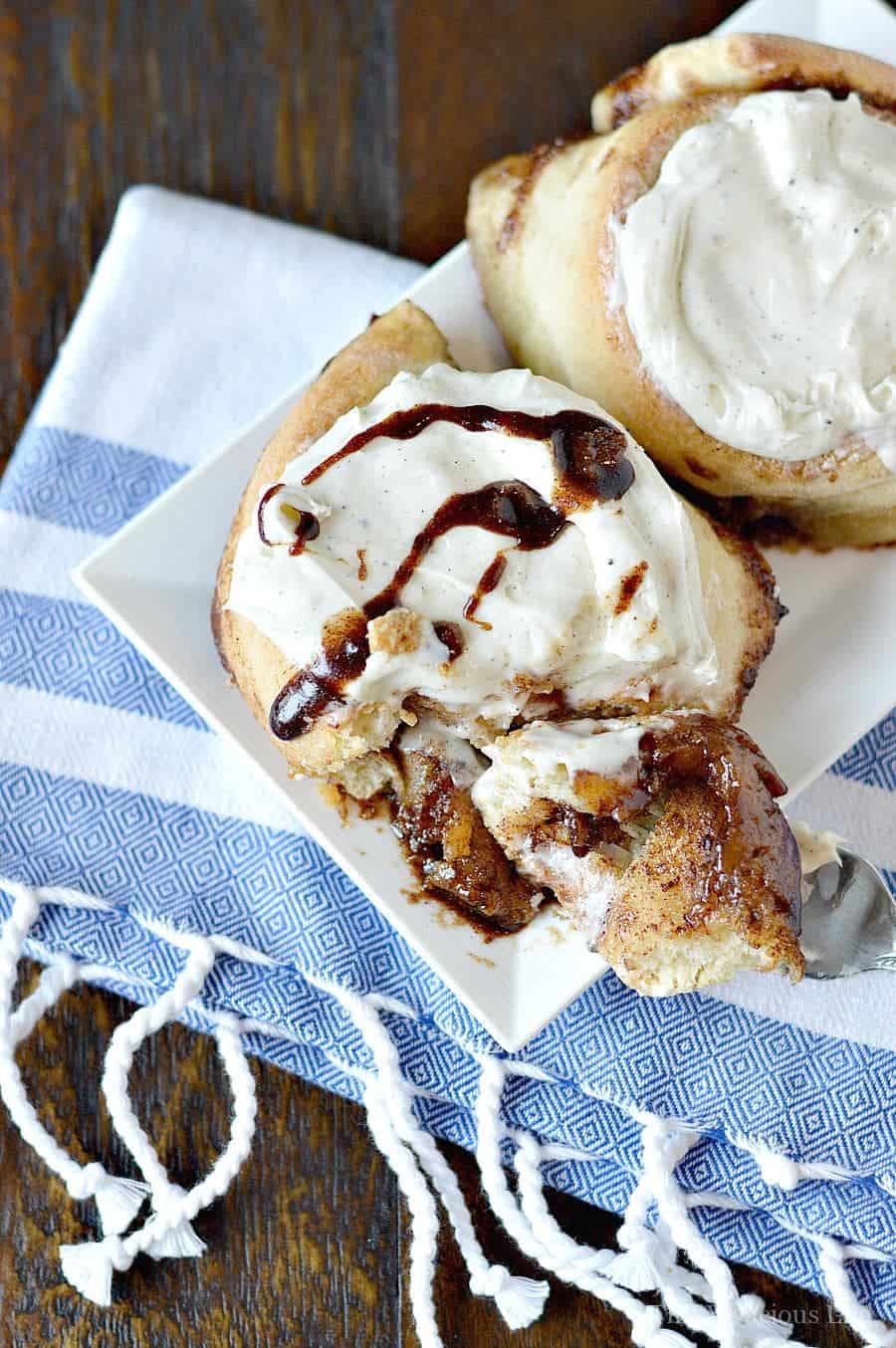 The BEST Gluten-Free Cinnamon Rolls
Ingredients
1 C brown rice flour
1 C white sticky flour (sweet rice flour)
1 C tapioca starch
1 C potato starch
1/2 C arrowroot powder
3 tsp. xanthan gum
2 tsp. baking powder
1 tsp. salt
1 C sugar, divided
1 tsp. gelatin
1 T yeast
1 T sugar
1 C warm milk (or 1 C water and 3 T buttermilk powder)
2 eggs
1 tsp. apple cider vinegar
1/2 C coconut oil
1/2 C butter
2 T ground or milled chia
1/2 C warm water
1 lb butter
2 C brown sugar
4 T cinnamon
Frosting: 2 (8 oz.) packages cream cheese, soft
1/2 C butter, soft
2 C powdered sugar
1 tsp. gluten-free vanilla
Instructions
The day before combine 1 lb butter, 2 C brown sugar and 4 T cinnamon well then shape into a block that can be frozen and grated
Freeze that block for at least 12 hours but it can be longer
Place 2 T milled chia and 1/2 C warm water in a cup, let soak 2 minutes
Meanwhile, dissolve yeast and 1 T sugar in warm milk, let sit to proof
Using a stand mixer with the paddle attachment, combine all flours, starches, xanthan gum, baking powder, salt, sugar and gelatin
In another bowl, mix the soaked milled chia and yeast mixture together with eggs, coconut oil, butter and apple cider vinegar
Slowly add that mixture to the flour mixture in stand and combine until well blended
Roll the dough out to a rectangle shape about 18x24 inches on plastic wrap that is heavily sprinkled with white rice flour
Grate the frozen butter brown sugar mixture onto the dough evenly, it will be a large pile
Starting at one end, roll the dough into a cylinder and as you go, tuck the edges in with your hands so it stays even. This will keep from dough hanging out on the ends and gives you an even roll
Slice into 10 equally sized pieces
Place 6 in a greased 9x13 pan and 4 in a 8x8 pan
Let rise for 1 hour on bread proof or 100 degrees
Bake at 350 degrees for 22-24 minutes
Meanwhile, prepare the frosting
Remove from oven and frost what you plan to eat immediately
https://www.thisvivaciouslife.com/best-gluten-free-cinnamon-rolls/
If you love these, you are going to really enjoy these delicious recipes as well…
Gluten-Free Buttermilk Biscuits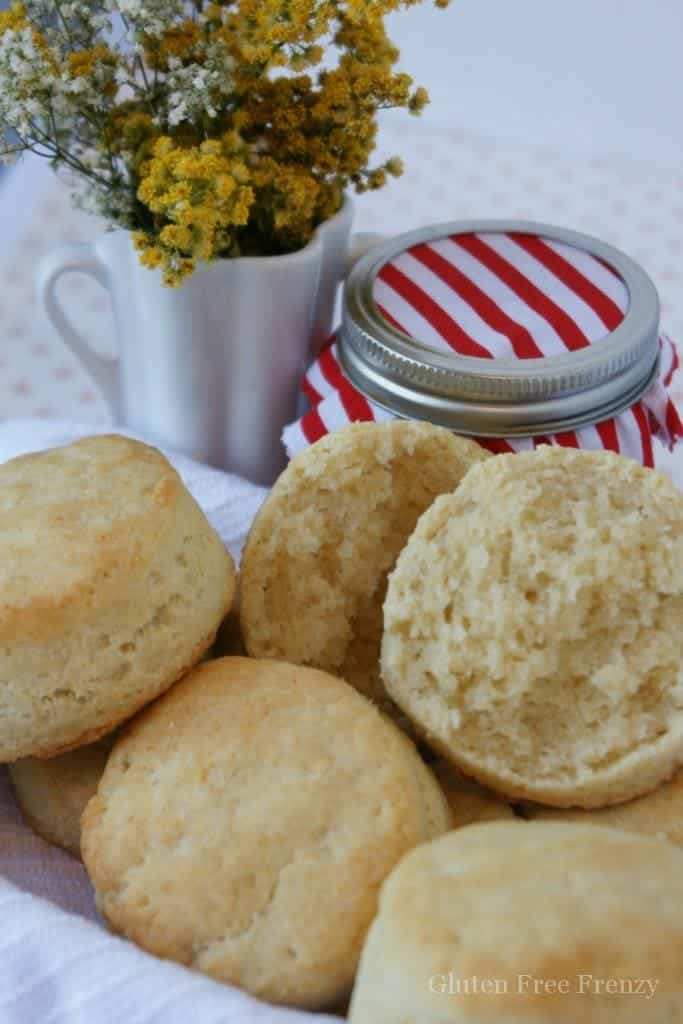 Gluten-Free Belgian Waffles
Yummy Gluten-Free Raspberry Toaster Pastries