this post may contain affiliate links
These homemade lunchables and rainy day sandwiches have been given two enthusiastic thumbs up by my boys.It is so much fun to create these homemade lunchables and rainy day sandwiches if only to see the smile on my kids faces.
I sure do love creating a simple bento box lunch like this homemade lunchable or rainy day sandwich for my kiddos. While this isn't something I can feasibly do everyday, I love how excited my kids gets when I surprise them with a little lunch surprise like this.
For the first one (above) I was inspired to create a homemade lunchable after many, many pleadings to buy the store bought version while grocery shopping. While they are super cheap and my kids don't have to eat gluten-free like mama does, I can rarely bring myself to buying them for them. The ingredient list is a mile long and full of things I can barely pronounce.
While I kept with the classic cheese, turkey and crackers here, I chose brands that I trust. I used one of our favorite cheeses from Tillamook, cheddar and Kirkland gluten-free turkey slices. For the crackers and cookies I went with Glutino brand, one of my favorite. I added an organic applesauce squeeze pouch for more nutrients and a water bottle on the side. Using a mini circle cookie cutter, I cut out rounds of cheese and turkey. Place them in the bento box along with the remaining items and there you have it, a super easy, homemade lunchable.
We love Planetbox (pictured above) for packing our lunches but there are also some other amazing brands like Go Green Lunchboxes, U-Konserve and Easy Lunchboxes (pictured below). We wrote about each in detail HERE. You can also watch our tv segment with fun bento box lunch ideas and more HERE.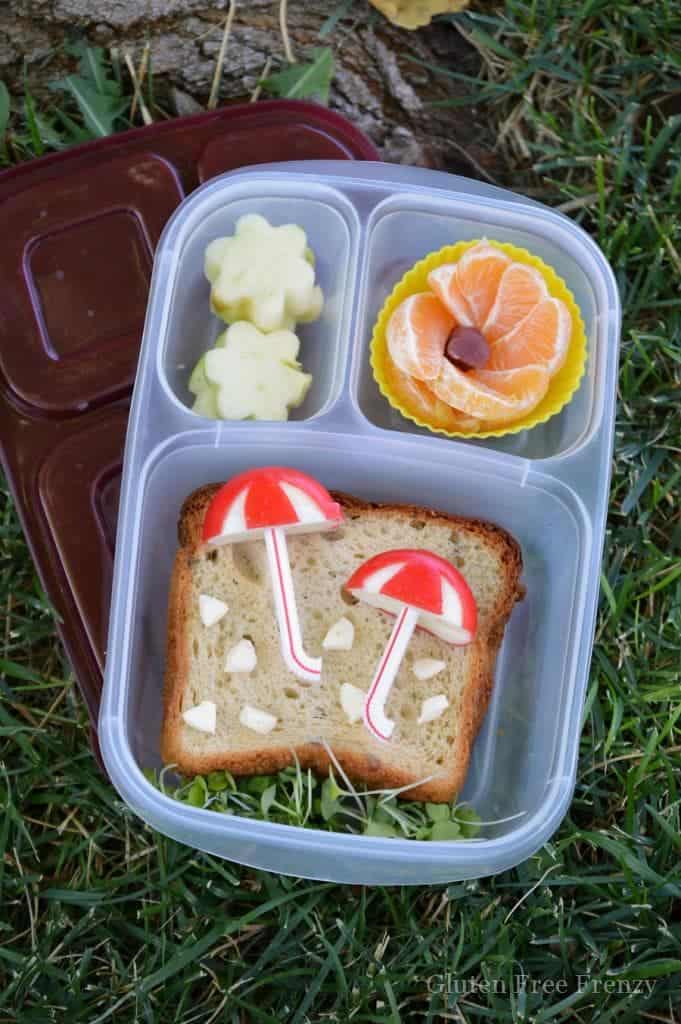 This rainy day lunch is another super easy bento. I made up a gluten-free peanut butter and jelly sandwich using Glutino bread. I then added some edible microgreens for "grass" in the container. For the umbrella, I cut a Babybel cheese in half and used a pairing knife to cut out stripes. I then cut straws at the part where it bends and stuck the straight side into the cheese to create a handle.
For the "rain" I broke off extra pieces of cheese and used them as the raindrops. For the flower I took orange segments and arranged them in a classic flower shape. I stuck a purple grape into the center to complete our little bloom. I also used a mini flower cookie cutter to make apple blossoms.
The possibilities are truly endless with bento box lunches. Be sure to check out my Pinterest board dedicated to fun food! What do you like to make for a special school lunch? 
If you love this lunch, be sure to check out these other kid friendly ideas…
Spider Sandwich Gluten-Free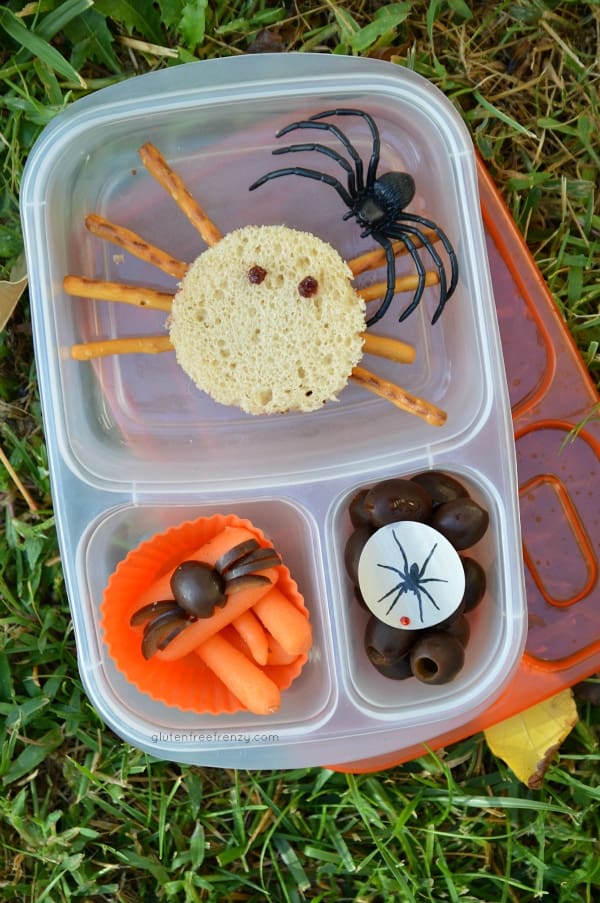 Top 8 Allergen-Free Cookie Butter
Harry Potter Halloween Snacks
*This post contains affiliate links. This simply means that I receive a portion of any purchases made using my links. It doesn't cost you anything extra but it does help me pay for site maintenance costs.