I love this Instant Pot shredded beef taco soup because it is so easy to make with leftovers and tastes delicious.
Our Instant Pot shredded beef taco soup makes weeknight dinners even easier. Pair it with some homemade crispy tortilla strips for the ultimate meal.
This Instant Pot shredded beef taco soup is a go to for our family after cooking a Sunday roast. We always have leftovers and I love it because I then have meat ready for weeknight dinners.
Often times I make our shredded beef enchiladas with it but I also enjoy making this soup. It is especially delicious topped with our homemade fried tortilla strips.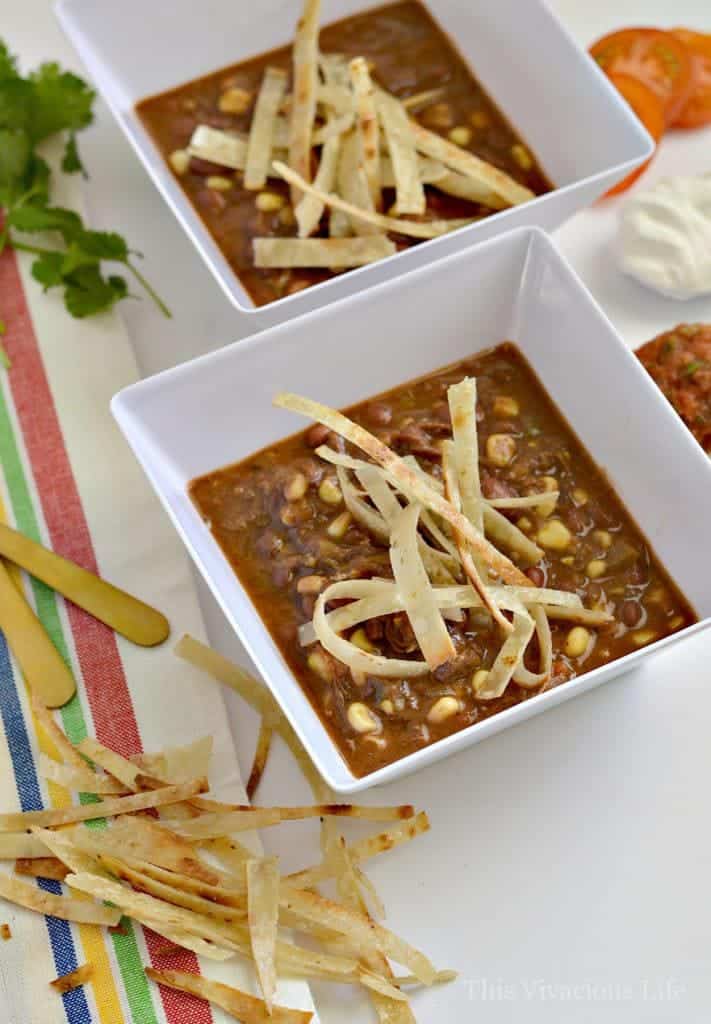 I don't know about you guys but the last thing I have time to do on busy weeknights is to make a big dinner. I like to default to my Instant Pot (and crockpot sometimes too) during the week to help me out.
With this recipe, you can either cook up your roast the day before or you can do it the same day as making the soup. In addition to being easy to make, it is also very budget friendly.
If you want to really save money, soak red beans overnight then cook them up for 10-12 hours so you have them ready for using in the soup.
You can top the soup off with fresh cilantro, lime juice, sour cream and homemade tortilla strips. We also like to make up the shredded beef taco soup layer it over tortilla strips and smother with cheese. They make for some delicious shredded beef nachos.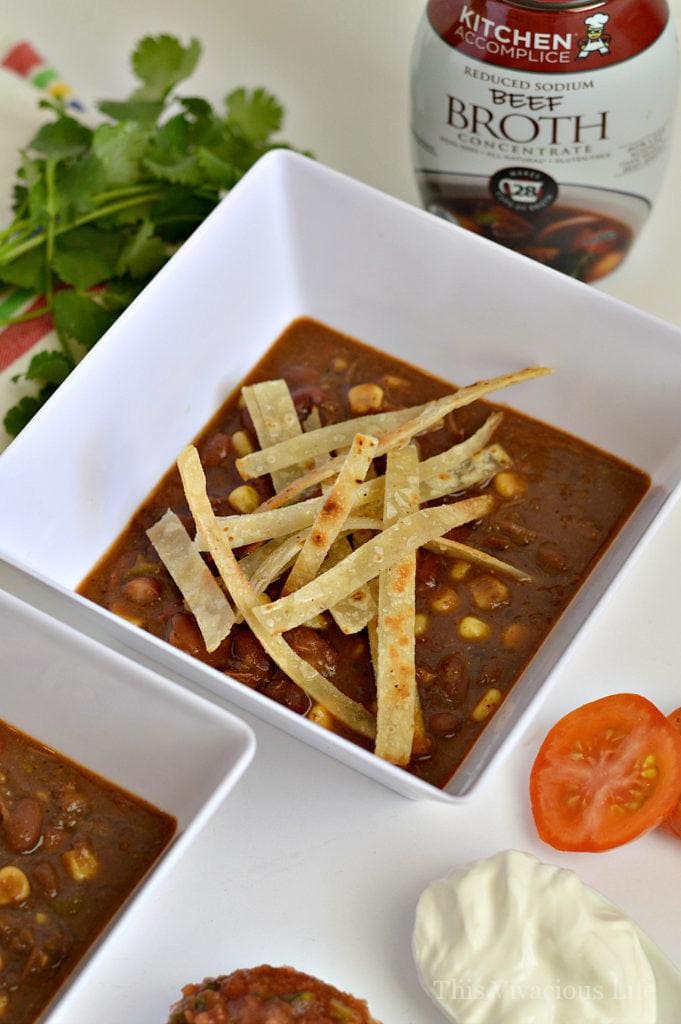 The bold flavor from this soup comes from rich beef broth. Since you may not always have homemade beef broth on hand, Kitchen Accomplice beef broth concentrate comes in handy.
From one small bottle, you can make 28 cups of broth (which you won't need for this soup). If I open a box of my favorite beef broth for a recipe, almost always half the box goes to waste. I like this beef broth concentrate because you can keep it in the fridge and use it again and again.
For our vegetarian friends, they have a veggie broth concentrate for making your favorite soups and recipes.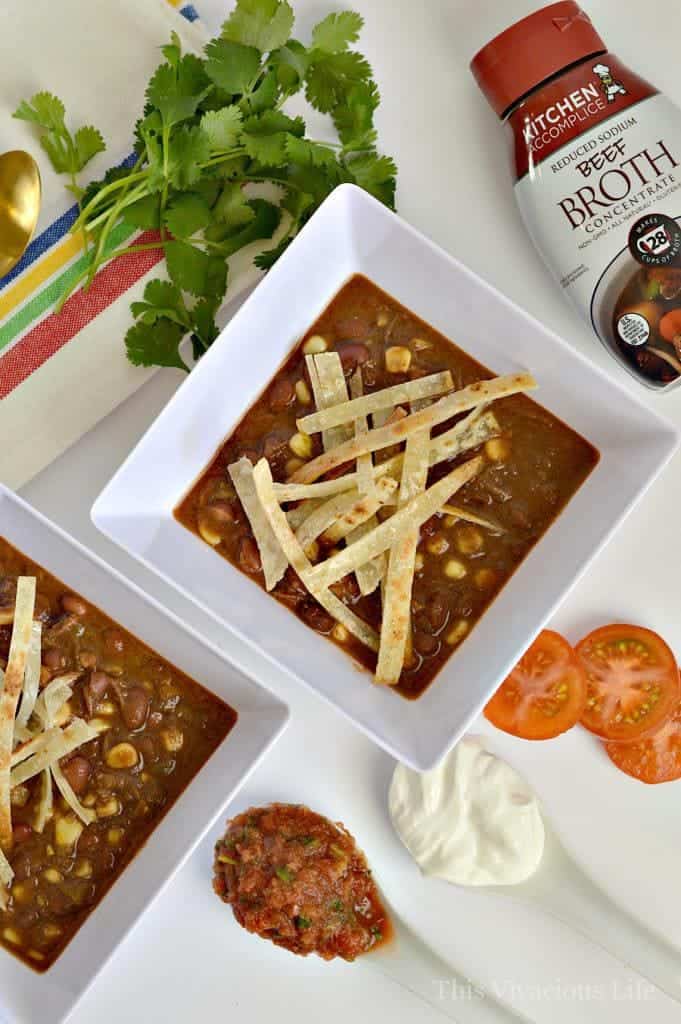 Kitchen Accomplice makes more than just beef broth, they also make organic chicken and beef bone broth concentrate. My husband especially liked their wicked juicy burger stock concentrate for making extra tasty hamburgers. They have them for both beef and turkey in a variety of flavors.
Mesquite smoke
Roasted garlic
Original beef
Applewood smoke
Chipotle
Original turkey


Instant Pot Shredded Beef Taco Soup (with Crockpot variation)

Ingredients

2-3 C leftover shredded top round roast
2 C corn
3 cans red beans, drained
1 can diced tomatoes, drained
1 can green chilies (only if you like spicy)
2 C gluten free beef broth made from Kitchen Accomplice beef concentrate
1 T chili powder
1 T cumin
1 tsp. salt
1 tsp. garlic salt
2 T dried onion
1 tsp. paprika

Instructions

Combine all ingredients in the Instant Pot or crockpot
Cook on manual or slow cook in the Instant Pot for 15 minutes then quick release (if using your crockpot, cook on low 2 hours)
Serve with fresh cilantro, gluten free tortilla chips, raw cheese and organic sour cream

https://www.thisvivaciouslife.com/instant-pot-shredded-beef-taco-soup/


*Thanks to Kitchen Accomplice for sponsoring this post.