this post may contain affiliate links
This is hands down the BEST gluten-free sourdough bread! It is soft, fluffy and full of gluten-free whole grains that nourish the body. The honey adds just a touch of sweetness that make this bread perfect for everything from sandwiches to gluten-free French toast!
Gluten-Free Sourdough Bread
A good gluten-free sourdough bread was the top of everyones list for things I needed to make with my gluten-free sourdough starter. I get it, bread is a great canvas for sandwiches like our big, buff and cheesy gluten-free sandwich or pizza grilled cheese.
You can also use it to make fantastic breadcrumbs for our gluten-free fried ravioli or gluten-free meatloaf. We even use it to make pecan pie bread pudding!
But, I decided to first master BIG buttery & fluffy gluten-free sourdough crescent rolls because I know that recipe from our regular gluten-free crescent rolls so well. They turned out so great that I couldn't wait to get started on a bread recipe for you guys using nourishing sourdough!
This recipe is one my mom and I have been making for years and we already knew it was good so making it with sourdough just made sense. Truly, this bread is fluffy, soft and full of flavor!
Serve it up with delicious soups like our Instant Pot hamburger soup, gluten-free cream of chicken soup, gluten-free chicken noodle soup or this minestrone soup. If low carb is your thing, try these soups with keto bread as well.
We started this journey over on our Instagram page where we share our entire journey as we made THREE different gluten-free sourdough starters. Each was very different in consistency and yielded a slightly different end product.
One of the starters was extra tangy and sour. I now know it was because in that one, the hooch collected at the bottom and rarely got dumped out but rather stirred in. The other two starters made excellent rolls as well and neither even tasted of sourdough!
But starting one is very simple. We've tried with brown rice only, a mix of my gluten-free flour and a Bob's Red Mill 1-1 GF flour and all worked great but my family's favorite was the brown rice starter.
"Feed" your starter every 24 hours for the first seven days. We show you exactly how to take care of your gluten-free sourdough starter here.
What kind of sourdough bread is gluten-free?
The answer is simply, only those made with a gluten-free sourdough starter AND with entirely gluten-free ingredients. While regular sourdough bread does have significantly less gluten than regular bread, it is still NOT gluten-free as it does contain gluten.
Gluten-Free Oats
Some people with celiac disease are not able to tolerate oats. The best thing to ensure your oats are truly gluten-free is to buy them certified gluten-free. We like and trust Gluten-Free Prairie oats because they are grown in dedicated gluten-free fields in gorgeous Bid Sky, Montana.
We use the oats whole on top of the bread and ground as flour in the bread. You can also buy oat flour but its so easy to grind it in your blender or Nutrimill.
Their oats are amazing in so many recipes including our chocolate oatmeal cake, gluten-free meatloaf and gluten-free oatmeal cream pies.
How to make this bread…
Using a sturdy mixer (we used our Bosch mixer, combine all dry ingredients from oat flour to psyllium husk powder

Add the eggs, milk, honey and vinegar and mix until combined

Add the butter, Chia seeds and sourdough starter making sure to scrape down the sides as needed. Mix for an additional 3 to 4 minutes. Dough will be thick but still sticky. Cover and let rest for 2 hours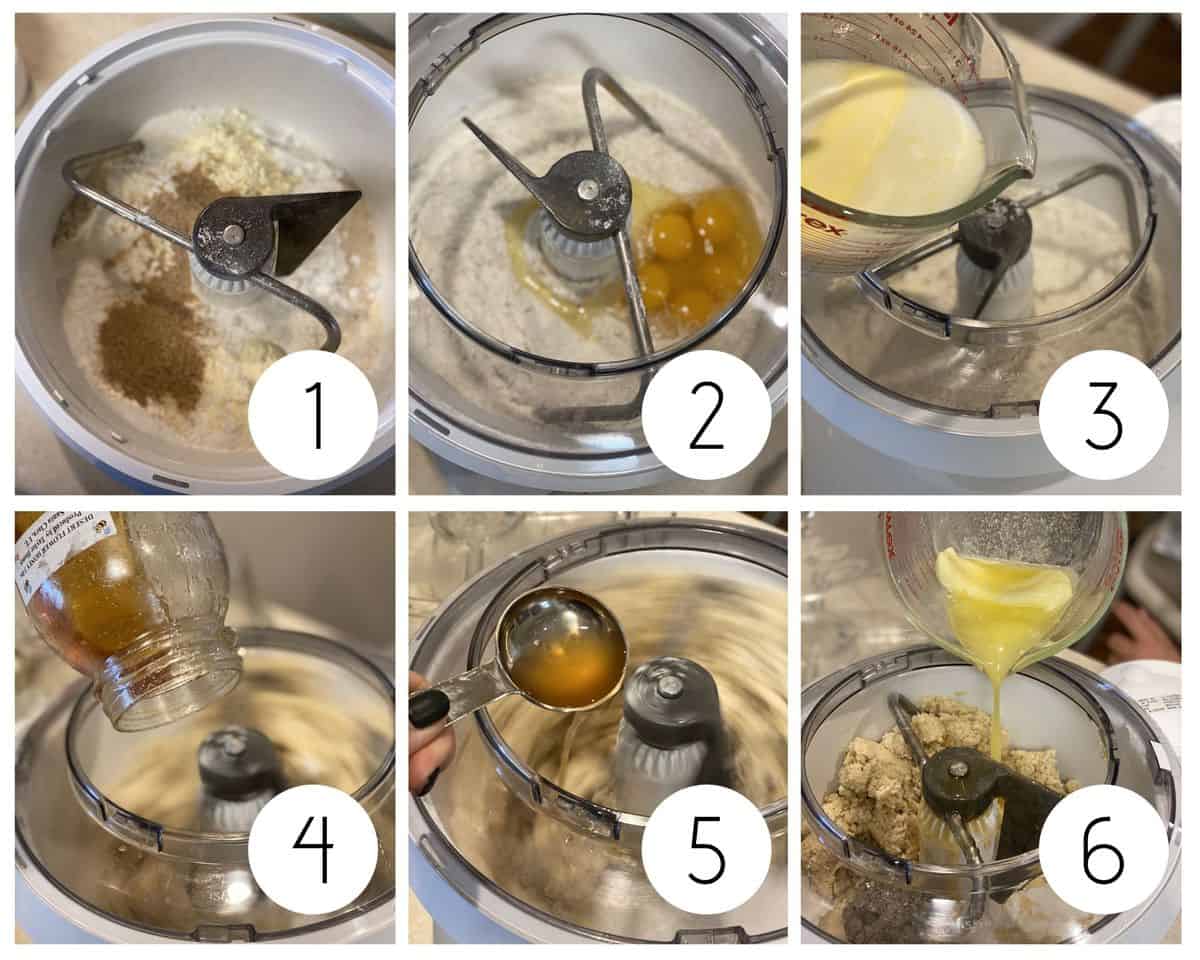 Grease a loaf pan liberally with oil then transfer the dough into the pan. Use your hands or a spatula to smooth the top and edges. Place the dough in a warm place and let rise for 5 to 6 hours until the dough is about 2 inches above the pan

Heat oven to 350°. Brush loaf top with beaten egg (ONLY IF YOU WANT A CRISP TOP!) & sprinkle w/ gluten-free oats & course sea salt. Bake for 60 to 70 minutes.

Cool bread on a wire rack for 10 minutes before removing from pan. The bottom of the bread will sound hollow when you tap it. Let bread cool as long as you can handle (preferably 1 hour, I know, sorry) before slicing and enjoying
How do I make sourdough more mild or stronger in flavor?
To make sourdough baked goods stronger in flavor, stir in the hooch or liquid that has collected on top. When you go to feed it you will see this on top. The more often you stir in the hooch each time you feed your starter, the stronger sourdough flavor you will get.
If you want a more mild sourdough flavor that you can hardly taste, pour out the hooch before feeding and using the starter. The more you pour it off before feeding, the more mild tasting your sourdough starter will be.
How do I store this gluten-free sourdough bread?
This bread is fantastic right out of the oven nice and warm, but also good at room temperature the next day.
Once cooled, you should store the loaf in an airtight container. It is best within the first 3 days.
Does it freeze well?
You can make this bread and freeze it once baked. I like to slice it before freezing so I can pull out one slice as needed. Unthaw in the refrigerator or toast to unthaw.
What else can I use this bread for?
You can use this bread for our gluten-free French toast bites or gluten-free stuffing. Both are fantastic!
NEED MORE GOODNESS? Follow me on Facebook, Instagram, Pinterest, and Twitter for great recipes, entertaining ideas and more!
Gluten-Free Sourdough Bread (Honey Whole Grain)
This is hands down the BEST gluten-free sourdough bread! It is soft, fluffy and full of gluten-free whole grains that nourish the body. The honey adds just a touch of sweetness that make this bread perfect for everything from sandwiches to gluten-free French toast!
Instructions
Using a sturdy mixer (we used our Bosch mixer, combine all dry ingredients from oat flour to psyllium husk powder

Add the eggs, milk, honey and vinegar and mix until combined

Add the butter, Chia seeds and sourdough starter making sure to scrape down the sides as needed. Mix for an additional 3 to 4 minutes. Dough will be thick but still sticky. Cover and let rest for 2 hours

Grease a loaf pan liberally with oil then transfer the dough into the pan. Use your hands or a spatula to smooth the top and edges. Place the dough in a warm place and let rise for 5 to 6 hours until the dough is about 2 inches above the pan

Heat oven to 350°. Brush loaf top with beaten egg (ONLY IF YOU WANT A CRISP TOP!) & sprinkle w/ GF oats & course sea salt. Bake for 60 to 70 minutes.

Cool bread on a wire rack for 10 minutes before removing from pan. The bottom of the bread will sound hollow when you tap it. Let bread cool as long as you can handle (preferably 1 hour, I know, sorry) before slicing and enjoying
Nutrition
Serving:
1
slice
|
Calories:
389
kcal
|
Carbohydrates:
61
g
|
Protein:
9
g
|
Fat:
13
g
|
Saturated Fat:
6
g
|
Cholesterol:
78
mg
|
Sodium:
316
mg
|
Potassium:
380
mg
|
Fiber:
5
g
|
Sugar:
8
g
|
Vitamin A:
349
IU
|
Vitamin C:
1
mg
|
Calcium:
108
mg
|
Iron:
2
mg