this post may contain affiliate links
In just 5 minutes you can have this classic simple syrup recipe. It is perfect for making mocktails or adding some moistness to baked goods!
The simplicity of simple syrup makes it one of the best recipes. It has many uses and can easily be used as is or imparted with flavors like lavender, orange and strawberry.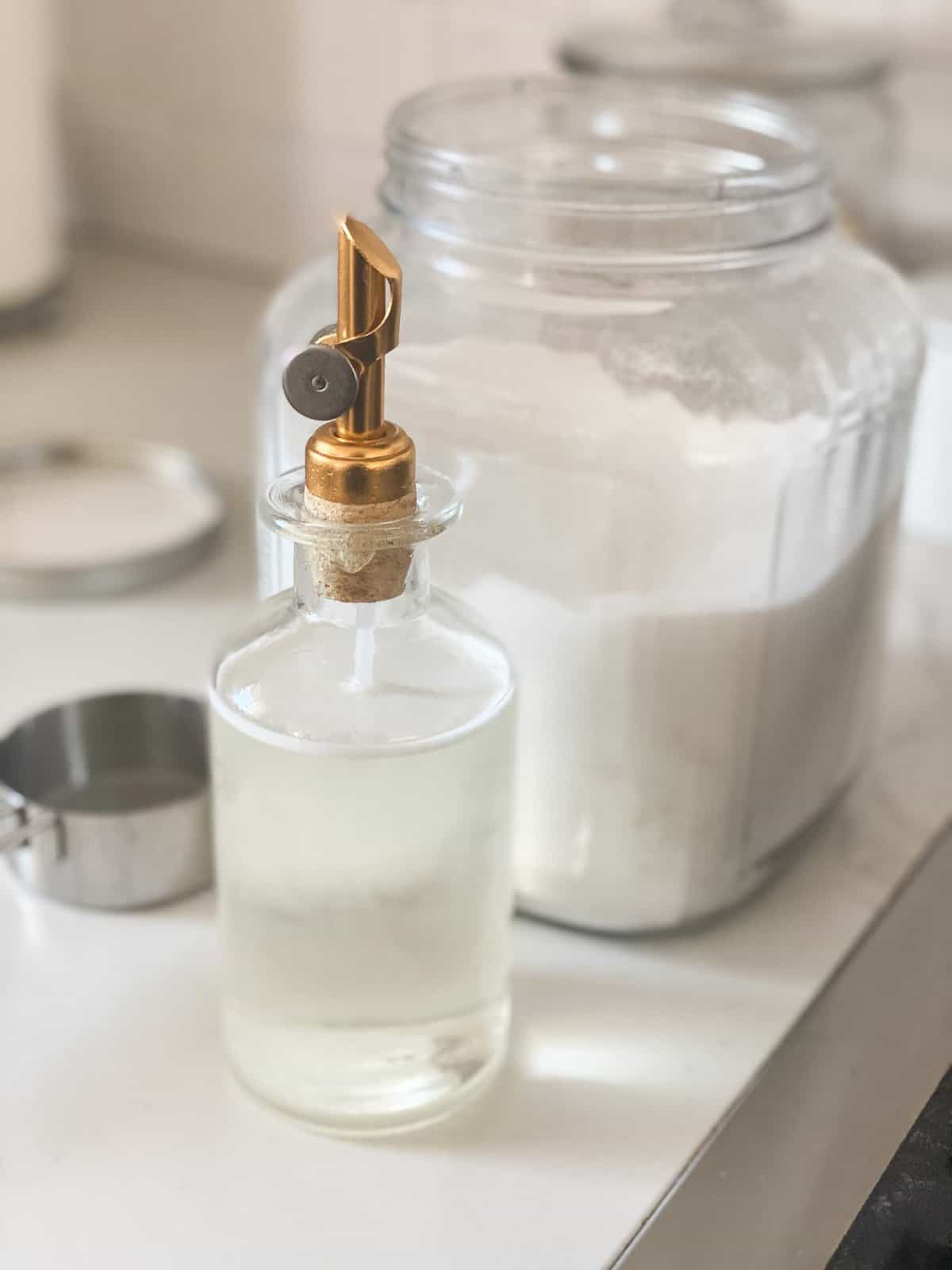 This sweetener is simple but perfectly sweet. It's a great addition to cocktail recipes, mocktails, iced coffee, and even baked treats! I love adding this rich syrup to these mocktail recipes…
Simple syrup is also a great topping on my gluten-free rhubarb crisp with peaches. It's a great substitute for maple syrup or honey syrups on sweet treats.
Honestly, this syrup tastes great in any hot or cold drinks! Iced tea, hot chocolate, iced coffee, cold brew, and even lemonade! It's such great way to sweeten drinks because all it takes is a couple tablespoons.
Subscribe to This Vivacious Life
Receive a free e-book of Instant Pot recipes!
What is simple syrup made of?
This simple syrup recipe is made from two basic ingredients you probably already have! One part sugar and one part water, that's it! There is equal parts water to sugar so it's super easy to make a double batch or half batch.
This recipe calls for white sugar and I wouldn't recommend substituting for brown sugar or an artificial sweetener. You won't get the same result or the same taste.
However, we have a GREAT Brown Sugar Simple Syrup recipe that has a more caramel flavor which I love for fall drinks especially.
Can you make flavored simple syrups?
Yes! It's actually super easy to make flavored syrups. I like adding flavored syrups to fun flavored mocktails! Here are a few of my favorite flavored simple syrup recipes…
What can be substituted for simple syrup?
There are a bunch of different sweeteners that can be substituted for simple syrup. Swap out maple syrup or honey syrup for this sugar water in coffees and other cold beverages.
Use this simple syrup to sweeten easy recipes or even drizzle on gluten-free pancakes!
Is simple syrup the same as liquid sugar?
Simple syrup is the same thing as liquid sugar. Sugar syrup is made with an equal ratio of sugar to water which allows it to easily dissolve in drinks. It's a must for any home bartender as it's needed for almost any type of cocktail or mocktail!
What you need to make it
Sugar
One cup sugar is perfect for this old fashioned simple syrup recipe. To keep this recipe simple, white or cane sugar works best.
Water
One cup water cooked with one cup of sugar is the perfect ratio for this rich simple syrup! Doesn't get any easier than that.
How to make it
Making rich syrup is surprisingly easy! All you have to do it whisk together equal parts water and sugar then boil. Sugar dissolves easily into hot water so another key step is allowing the sugar water to cool.
How do you store simple syrup?
You can store simple syrups in a mason jar, glass bottle, or another airtight container at room temperature or in the refrigerator. Your simple syrup will last up to 2 weeks at room temperature or 1 month refrigerated. Once it starts to get cloudy or discolored, it is no longer good.
NEED MORE GOODNESS? Follow me on Facebook, Instagram, Pinterest, and Twitter for great recipes, entertaining ideas and more!
Simple Syrup Recipe (Classic & Easy)
Instructions
Add 1 cup of water and 1 cup of sugar to a pan and whisk well

Bring to a boil whisking occasionally then remove from heat and let steep for 10 minutes

Pour syrup into a glass bottle and store at room temperature
Notes
Simple syrup can be stored at room temperature or in the refrigerator, whichever you prefer. You can use a glass or plastic container just be sure the simple syrup is cooled before pouring in if you are going to use plastic. 
It does not need to be refrigerated. It handles well at room temperature.
You can keep simple syrup for 1-2 weeks art room temperature or about 1 month in the refrigerator. Once it starts to get cloudy or discolored, it is no longer good.
Nutrition
Serving:
1
T
|
Calories:
52
kcal
|
Carbohydrates:
13
g
|
Protein:
1
g
|
Sodium:
5
mg
|
Potassium:
18
mg
|
Sugar:
13
g
|
Calcium:
12
mg
|
Iron:
1
mg