this post may contain affiliate links
This decadent Dr Pepper Cake is rich, delicious, and so easy to make! The chocolate frosting on top completes the dessert with rich perfection…
If you are looking for a super easy, yet unique dessert, you have to try this Dr Pepper Cake. It is a fun recipe to spice up any party, event, or even for a midnight snack.
One of my favorite things about baking is trying new things. I am all about yummy recipes like classic chocolate cakes, vanilla cupcakes, etc., but there is something magical about coming up with a new recipe, especially easy recipes like our drip cake, cakesicles, bento cake and gluten free apple cake.
There was one time I made a gluten-free Chocolate Orange Cake, which sounds a little strange, but boy it is yummy! It is so nostalgic and reminds me of eating orange sticks with my grandpa…
So when I was thinking of new recipes and the thought crossed my mind to make a soda cake, I had to do it. I didn't know how it would turn out but I wanted to try.
Subscribe to This Vivacious Life
Receive a free e-book of Instant Pot recipes!
Not only did this cake turn out great, it has quickly become one of my favorites! This decadent dessert has a unique flavor that everyone has to try. I also made Dr Pepper Cupcakes if you are interested in cupcakes rather than cake from the same recipe.
If you are a fan of Dr. Pepper, you definitely need to try this new recipe. And if you aren't a fan of Dr Pepper? You can change this recipe to match any soda you like! One I really want to try is a chocolate cherry Dr Pepper cake or using this base in an ice cream cake.
So, if you are looking for an easy cake recipe, this is for you. And what is better than a warm cake that is delicious and easy?
Does cake mix and soda work?
Together, they are perfection! It is almost like a magic trick. Mixing them together will make a moist cake that will be more flavorful than a usual cake.
The sugar in the soda and the bubbles work together to make a great cake that is fluffy. It creates a light texture with an extra pizzaz added to the flavor.
There is also some research out there that using soda in a cake mix can actually cut down the calories in your cake. Since you are using less ingredients, the cake actually is healthier. I call that a win, win.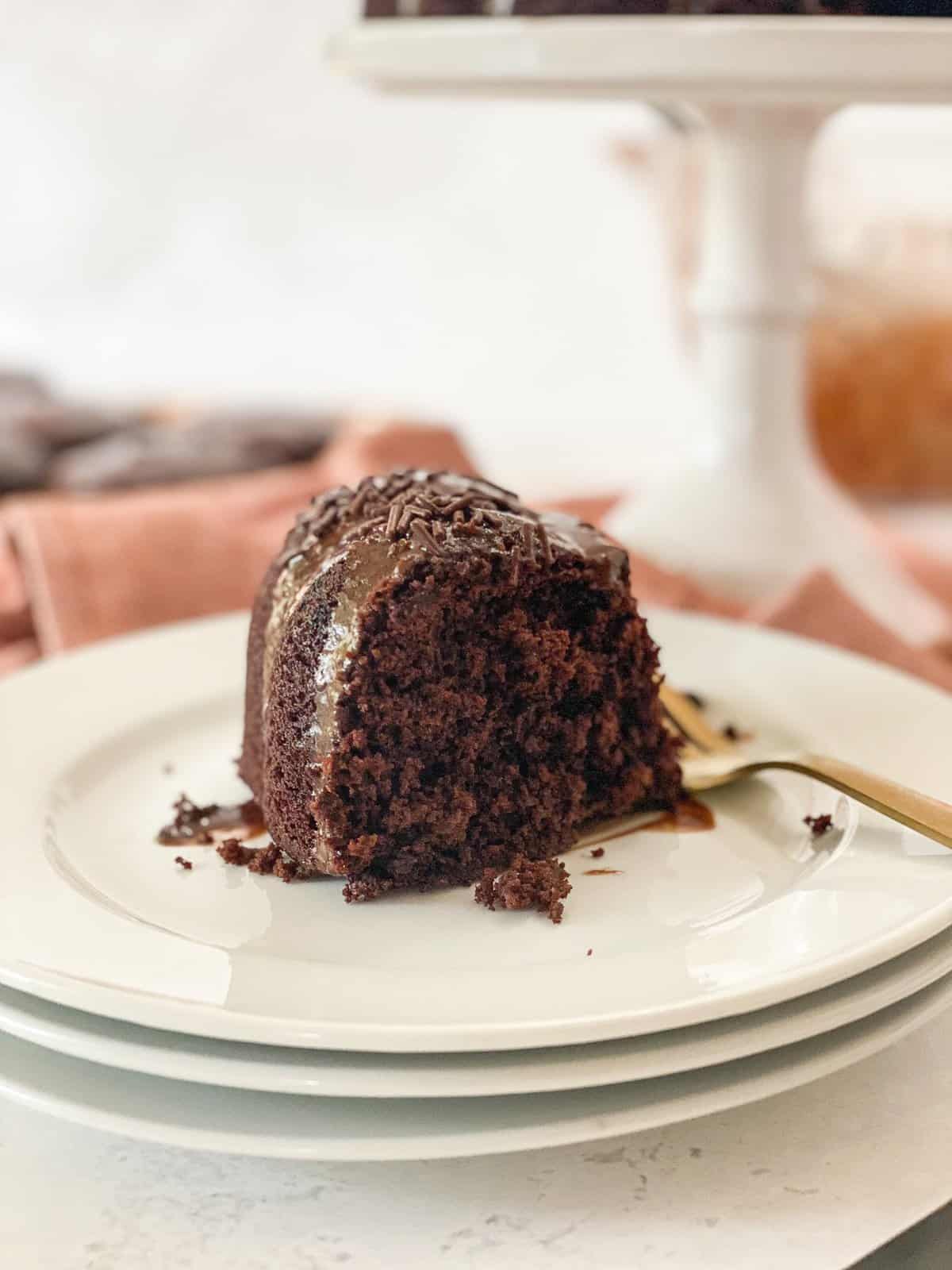 What you need to make it
This is a super easy recipe that only uses a few ingredients! The most important one of course, is the Dr Pepper.
Gluten-free chocolate cake mix
One of the dry ingredients in our Dr Pepper Cake is gluten-free chocolate cake mix. You can use any gluten-free chocolate cake mix that you like or even a regular box chocolate cake mix if you prefer.
If you are curious about how to bake with gluten-free mixes/flours, you should check out this all you need to know blog post called Gluten-Free Flour and Starches: A Resource Guide + Recipe.
Dr Pepper
The recipe only calls for 1 1/3 C of Dr Pepper, but let's be real. I am going to buy a twelve pack anyways because my husband always wants a ice cold DP.
You can also swap the Dr Pepper with any soda of your choice if you aren't a Dr. Pepper fan.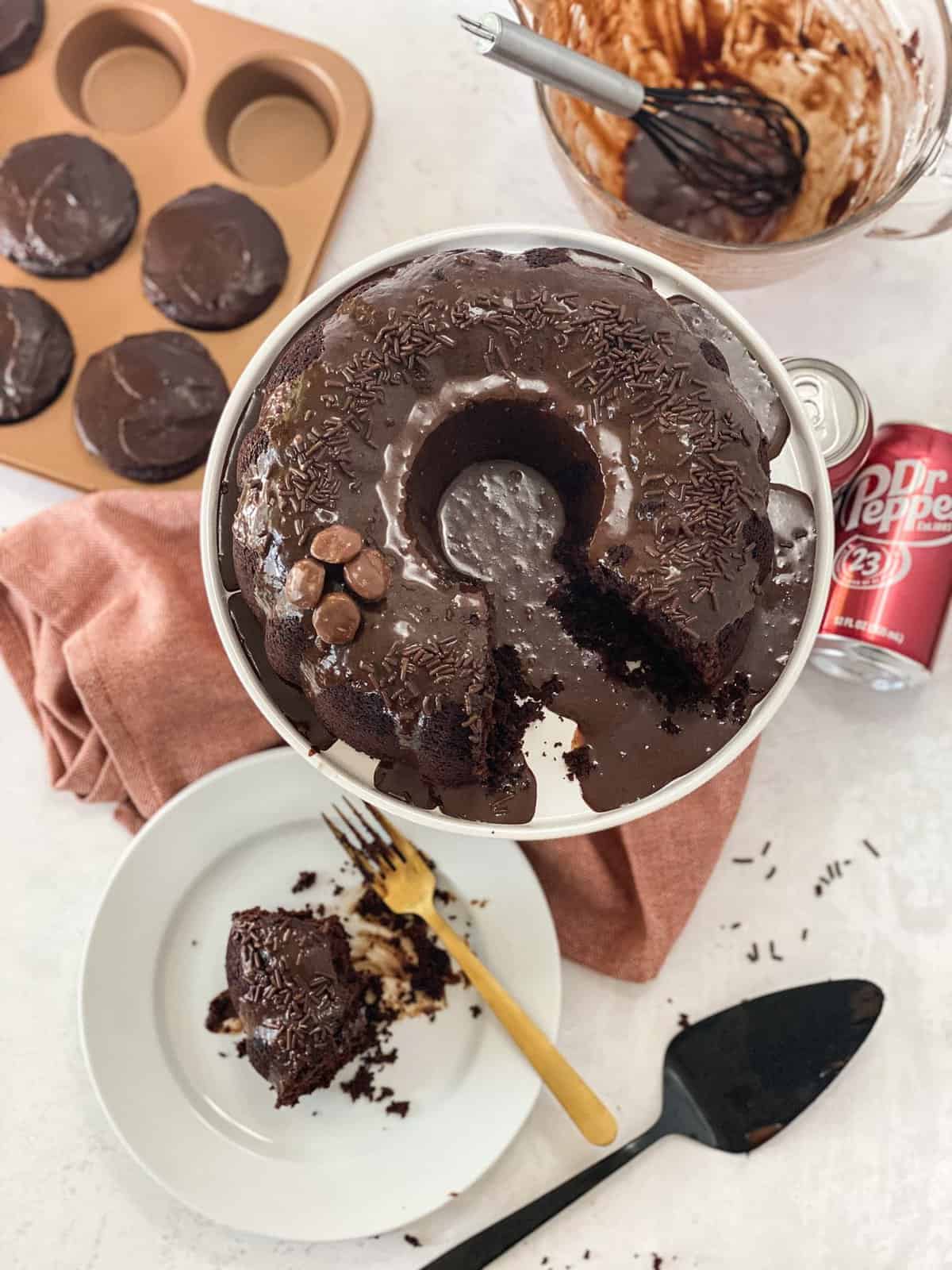 Semi-sweet baking chocolate
For the truffle balls on the top of the cake, you will need two bars of semi-sweet baking chocolate and some cream cheese. They are fun to make too!
Cocoa powder
For the chocolatey flavor in the frosting, you will need cocoa powder. I talk more about cocoa powder in my Gluten Free Brownie Recipe, so check that out if you are interested.
How to make Dr Pepper cake
This cake is simple, has simple ingredients, and is easy because it starts from a cake mix. You can use any cake mix you like but we chose a gluten-free variety.
Preheat oven to 350°
In a large mixing bowl bowl, mix the wet ingredients together: eggs, 1 cup of Dr Pepper, and 1/2 C melted butter
Add the cake mix and combine until well mixed
Pour the cake batter into a bundt cake pan
Bake at 350 degree for 12-15 min.
To make sure it is fully cooked, try the toothpick test, in which you insert a toothpick into the center of the cake to ensure it is fully cooked through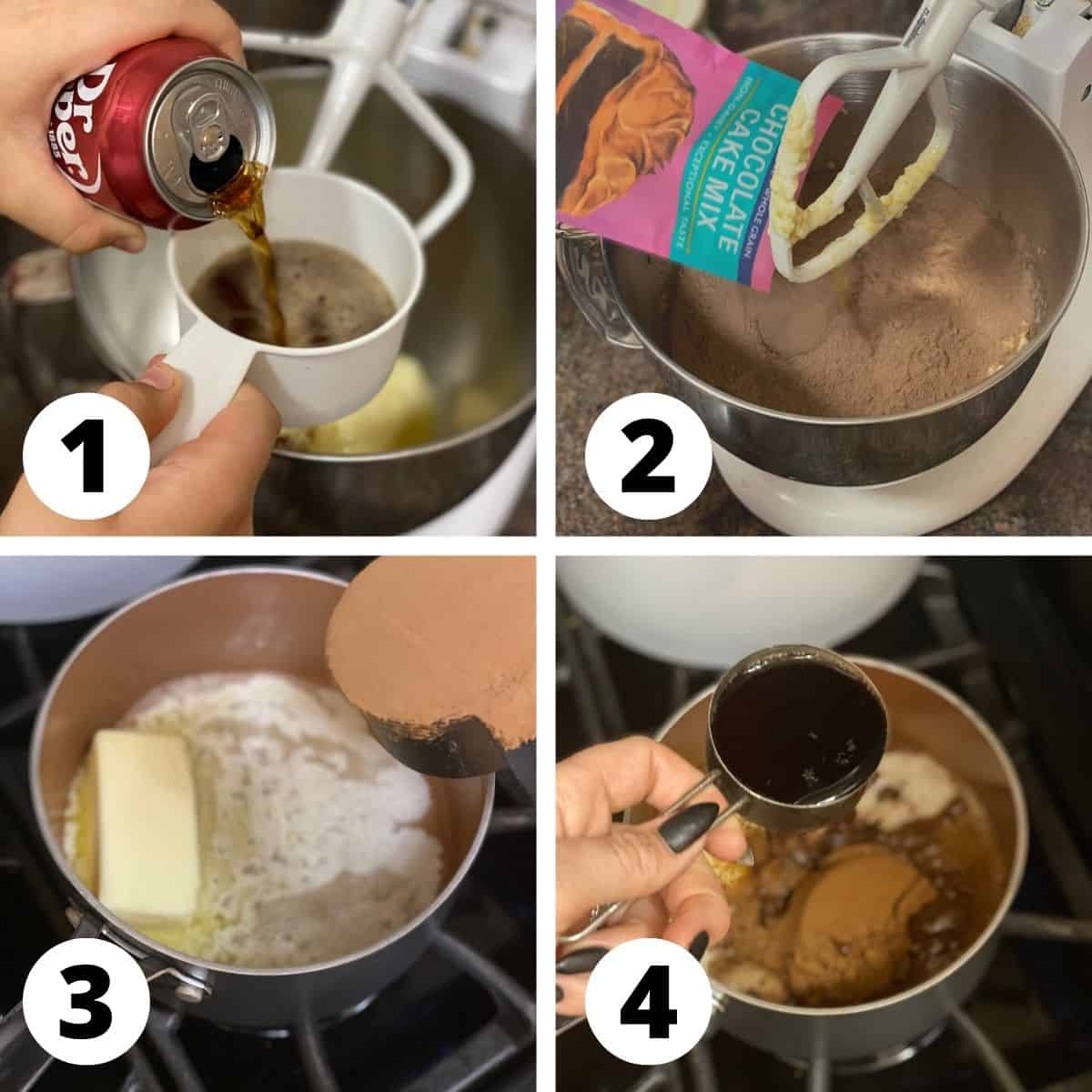 To make the homemade frosting…
Bring 1/3 C Dr. Pepper, 1/2 C butter, and 6 T cocoa to a boil
Pour the hot mixture over the powdered sugar and mix well on medium speed with either an electric mixer or hand mixer
Add a little bit of Dr Pepper to thin frosting as needed. Use paddle attachment on low speed to evenly mix
Pour the frosting over cooled cake
Can you make it dairy-free?
Yes you can make this cake dairy free! Swap classic cake mix for dairy-free cake mix and butter for vegan-butter.
I also came up with a post called Dairy-Free Snacks For Kids to add to your dairy-free foods list. It can be hard to find good options, I've got it covered.
Can you make it with other sodas?
Absolutely. The great thing about soda cake is you have a variety of flavors and options. You can pick root beer, coke, diet soda, or whatever you want!
If you want to use Sprite, which I highly encourage, I would recommend using a vanilla cake mix rather than a chocolate cake mix. Since Sprite is a lighter flavor, it will pair better with a vanilla or yellow cake mix.
How to store frosted cake
If you are lucky enough to have leftovers, you will want to put the cake in the fridge for 15 minutes for the frosting to harden before wrapping it up.
Once the frosting hardens, cover the entire cake with plastic wrap. It can last up to 3-4 days in the fridge, but it is so delicious I'm sure it won't last that long. I know I want to eat the entire thing in one sitting.
Before serving, allow the cake to get to room temperature if desired.
Can you freeze this cake?
Yes, this tasty cake can last up to 3 months in the freezer. Be sure to wrap it in plastic wrap tightly twice to ensure it will not get freezer burn.
NEED MORE GOODNESS? Follow me on Facebook, Instagram, Pinterest, and Twitter for great recipes, entertaining ideas and more!
Dr Pepper Cake (Easy and Delicious!)
This decadent Dr Pepper Cake is rich, delicious, and so easy to make! The chocolate frosting on top completes the dessert with rich perfection...
Ingredients
For Dr Pepper cake
1

16-21 oz. chocolate cake mix

(we use gluten-free)

3

eggs

1

C

Dr. Pepper

1/2

C

melted butter
Instructions
For the cake
Preheat oven to 350°

Mix cake mix, eggs, 1 C Dr Pepper and 1/2 C melted butter together

Pour into a greased bundt pan

Bake at 350 degree for 50-60 minutes or until a toothpick inserted into the center comes out clean (start checking at 45 minutes)

Once cooled, frost with Dr Pepper frosting below
For the frosting
Bring 1/3 C Dr. Pepper, 1/2 C butter, 6 T cocoa to a boil

Pour the hot mixture over the powdered sugar and mix well

Add Dr Pepper to thin frosting as needed
Notes
Pro tip: Set your cake on a wire rack for faster cooling!
Can you make it dairy-free?
Yes you can make it dairy free! Swap classic cake mix for gluten-free cake mix and butter for vegan-butter.
Can I use different sodas to make it?
Yes you can use root beer, sprite, coke, etc. in these soda cakes! Follow the same directions but for light soda like sprite, I would recommend using vanilla cake mix.
Nutrition
Serving:
1
slice of cake
|
Calories:
731
kcal
|
Carbohydrates:
110
g
|
Protein:
7
g
|
Fat:
32
g
|
Saturated Fat:
18
g
|
Cholesterol:
83
mg
|
Sodium:
435
mg
|
Potassium:
198
mg
|
Fiber:
4
g
|
Sugar:
89
g
|
Vitamin A:
545
IU
|
Calcium:
63
mg
|
Iron:
3.9
mg