These gluten-free gingerbread men are quit the hit. They are perfect for decorating on Christmas Eve to put out for Santa. Because, even Santa would love these yummy gluten-free cookies!
The warm scents of Christmas will fill the air of your home. Whip up a batch of these gluten-free gingerbread men and watch the family flock to the kitchen.
We love to pair these sweet and spiced gluten-free gingerbread men with homemade eggnog and hot cocoa for a truly delectable treat. They will no doubt have you dreaming of sugarplums!
Making and decorating gingerbread men on Christmas Eve is a tradition that many families enjoy, including ours. It's so much fun to decorate them with whatever candies you have lying around. Let the entire family get in on the fun and see what creative designs everyone comes up with. The kids cookies are always priceless.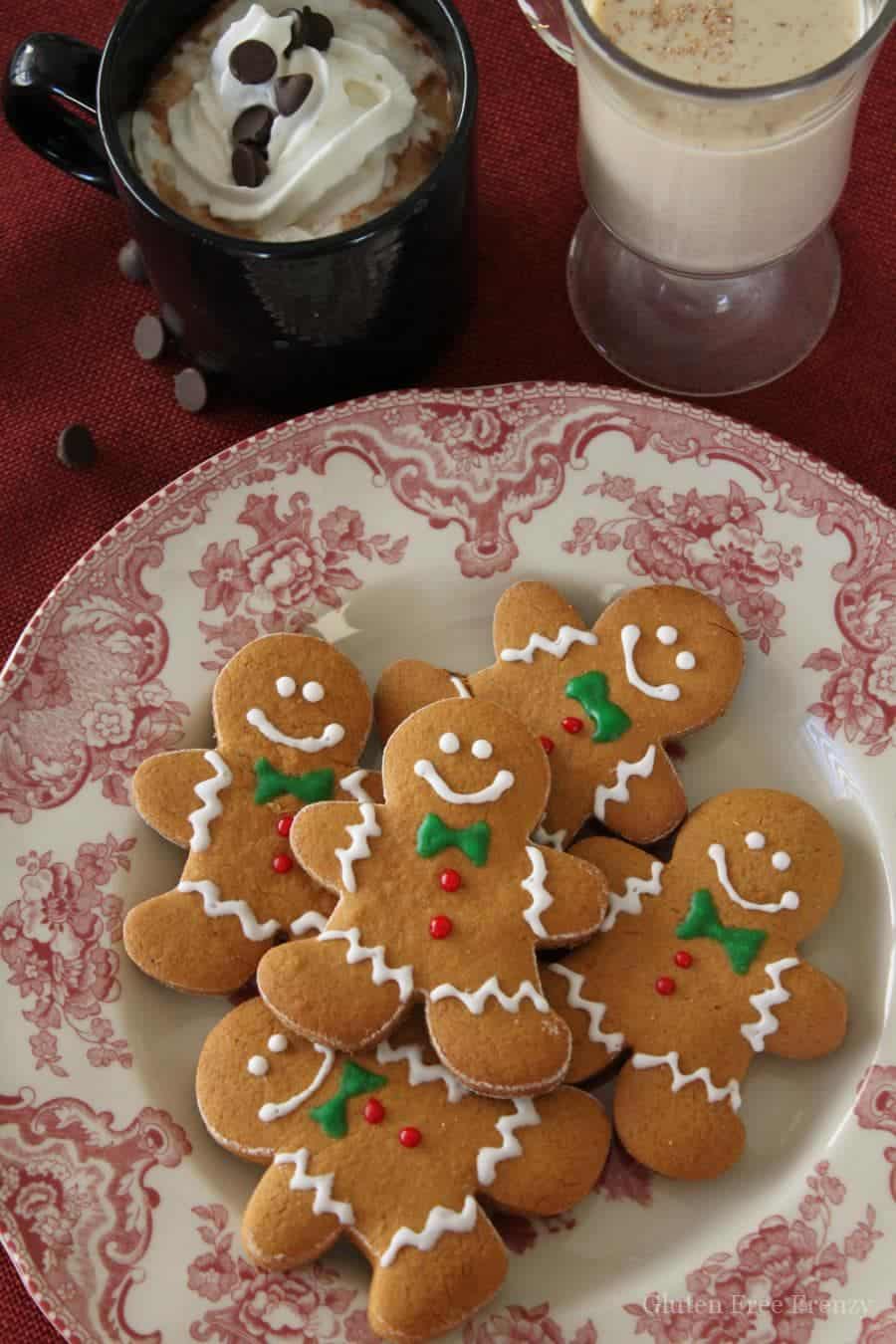 Growing up I had many traditions with my family. Making gingerbread cookies is one I remember vividly at my dad and step-mama's house. Sheila, my second mama, was always so sweet to make sure she made up gingerbread dough. Even though sugar cookies were the rest of the family's favorite cookie, she made me feel so loved by not only making me gingerbread but sitting down and making dozens of cookies with me. I remember the smell and the feel of the thick molasses filled dough under my rolling pin.
Now as a mama, I can't go without sharing the fun tradition of making gluten-free gingerbread men with my own little ones. I hope you and your family love this cookie recipe as much as our family does. Merry Christmas cooking to you all!
Gluten-Free Gingerbread Men
Ingredients
2/3 C brown rice flour
2/3 C sorghum flour
2/3 C almond flour
1 C tapioca starch
1 C potato starch
2 T coconut flour
1/2 tsp. cream of tartar
6 T butter
1 egg
1 C molasses
1 C sugar
1 tsp. white vinegar
2 tsp. ground ginger
1 1/2 tsp. xanthan gum OR baking powder
1 1/4 tsp. baking soda
1 T allspice
1/4 tsp. Real Salt
Instructions
Preheat oven to 375°
In a bowl, beat butter and sugar
Mix in molasses, egg, and vinegar
In another bowl, combine dry ingredients
Gradually add the dry mixture to the creamed mixture
Cover and refrigerate for a minimum of 4 hours and up to overnight
On a white rice or gluten-free starch floured surface, roll the dough out to 1/4 inch thick
Dust your gingerbread cookie cutters with gluten-free flour or starch
Cut the cookies into shapes
Using a gluten-free floured or starched metal spatula, gently place the cookies on a silicone mat lined or greased baking sheet at least 1 inch apart
Bake at 375 degrees for 12-14 minutes
https://www.thisvivaciouslife.com/gluten-free-gingerbread-men/
Do you need some other great cookie recipes? Be sure to check out our chewy molasses or our peanut butter reindeer cookies. Both are full of holiday flavors and the reindeer cookies are super festive.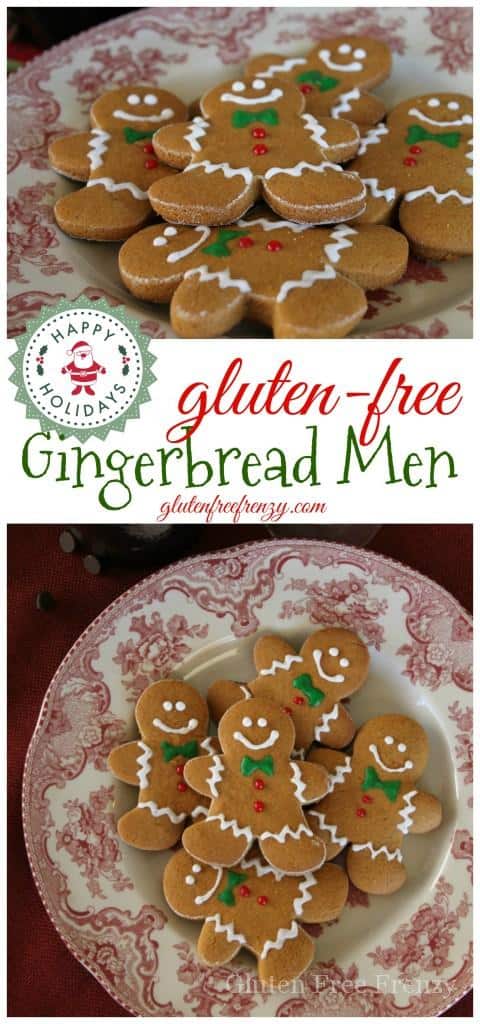 If you like this recipe, you are going to love these!
Gluten-Free Gingerbread Pancakes with Sugared Cranberries and Buttermilk Syrup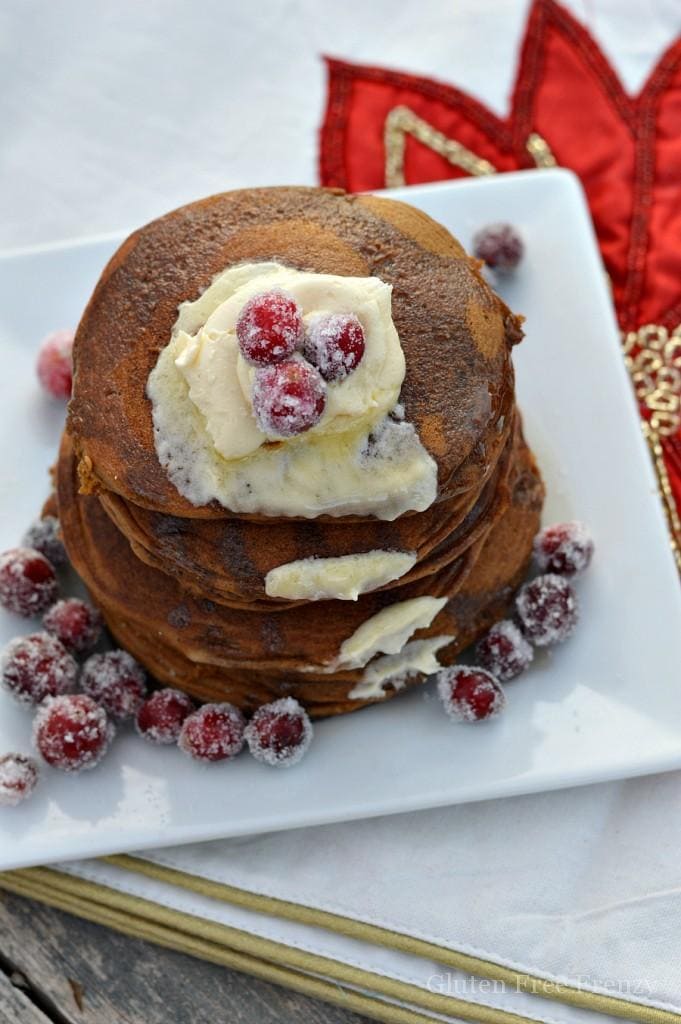 BEST Gluten-Free Christmas Treats
Gluten-Free Soft Frosted Sugar Cookies