this post may contain affiliate links
Our gluten-free meal prep will help you get on track for healthy eating without sacrificing any flavor. 
Gluten-free meal prep can be easier than you think. We will give you ideas and recipes that will set you up for fit food success.
For me, gluten-free meal prep has been what helps me eat healthy while not missing out on my favorite flavors and foods. If you are like me though, than your new year is also a bit overwhelming when it comes to eating.
I always want to eat healthy but I love food so much that it makes it tough. Thankfully though, once you find some healthy recipes that also make your tastebuds dance, you can eat clean and enjoy every minute of it.
The most important thing is not to go extreme and cut whole food groups out like my friend Clean Monday Meals always says. I have done that…many times and I can tell you, it never ends well.
Have you tried taking out all sugars at once including fruit? How about all carbs including healthy grains that can be good for your body? I have done both and while they are good for awhile, I can never stick to them. So here are some of my favorite recipes for clean eating. The great thing is that they are all easy to prep ahead and store as well. We also love to take our prep up a notch with healthy gluten-free meal prep.
Oaty chicken nuggets with cauliflower mash and sliced cucumbers
Shredded chicken tacos with non-GMO corn tortillas and fresh salsa
Paleo fauxtmeal and strawberries and cream fauxtmeal (for those days when you want something sweet but not as many grains)
Chicken apple sausage with 3-1 (3 egg whites and 1 whole egg) scrambled eggs & red roasted potatoes
Lean ground beef spaghetti over zucchini noodles
Kombucha cherry chili with lean ground beef and added veggies
When doing gluten-free meal prep, it's important to make sure to have all your ingredients ready. Once I have my ingredients ready for prep, I set out all my portion sized containers. These Freshware 15-Piece 3-Compartments Bento Lunch Box with Lids Set, 32 oz
 are a great price. I like the small rectangle ones but these Prep Naturals 30 Round Meal Prep Containers with Leakproof Lids and Plastic Cutlery Sets
circle ones are great too. They are especially great for breakfast gluten-free meal prep.
Subscribe to This Vivacious Life
Receive a free e-book of Instant Pot recipes!
I have found that the best way to cook everything in a decent time frame is to cook as much as you can on baking sheets. Wash and slice your red potatoes then quarter them and place them on a baking sheet. Toss them with a bit of olive oil, salt and smoked paprika. On another baking sheet, prepare and cook your oaty chicken nuggets and chicken apple sausage.
Meanwhile, boil chicken breasts and cauliflower in two separate pots. Remove the cauliflower from the pot and drain. Place in a vitamix with a touch of milk, salt and pepper then pulse until made into a cauliflower mash. Remove chicken breast, shred and season with cumin, chili powder and onion salt.
Scramble whole eggs with additional egg whites to make a high protein breakfast side. Assemble your breakfasts with the chicken apple sausage, red potatoes & scrambled eggs. Assemble lunches by adding the shredded chicken to corn tortillas and place a side of fresh salsa in the container. For dinners, assemble by placing oaty chicken nuggets and cauliflower mash in a container. Place a side of sliced cucumbers and mustard in the container and viola! You are done with gluten-free meal prep for the next few days.
Need more variety? Just make less of one or two recipes and add in a few more from the above list of my favorites. I hope you all enjoy these meals as much as we do. Just be patient with yourself and remember that size doesn't equal happiness. Eat healthy because you want to be healthier.
And if you are ready to do some gluten-free emergency prep, these gluten-free 72 hr kits are a great start.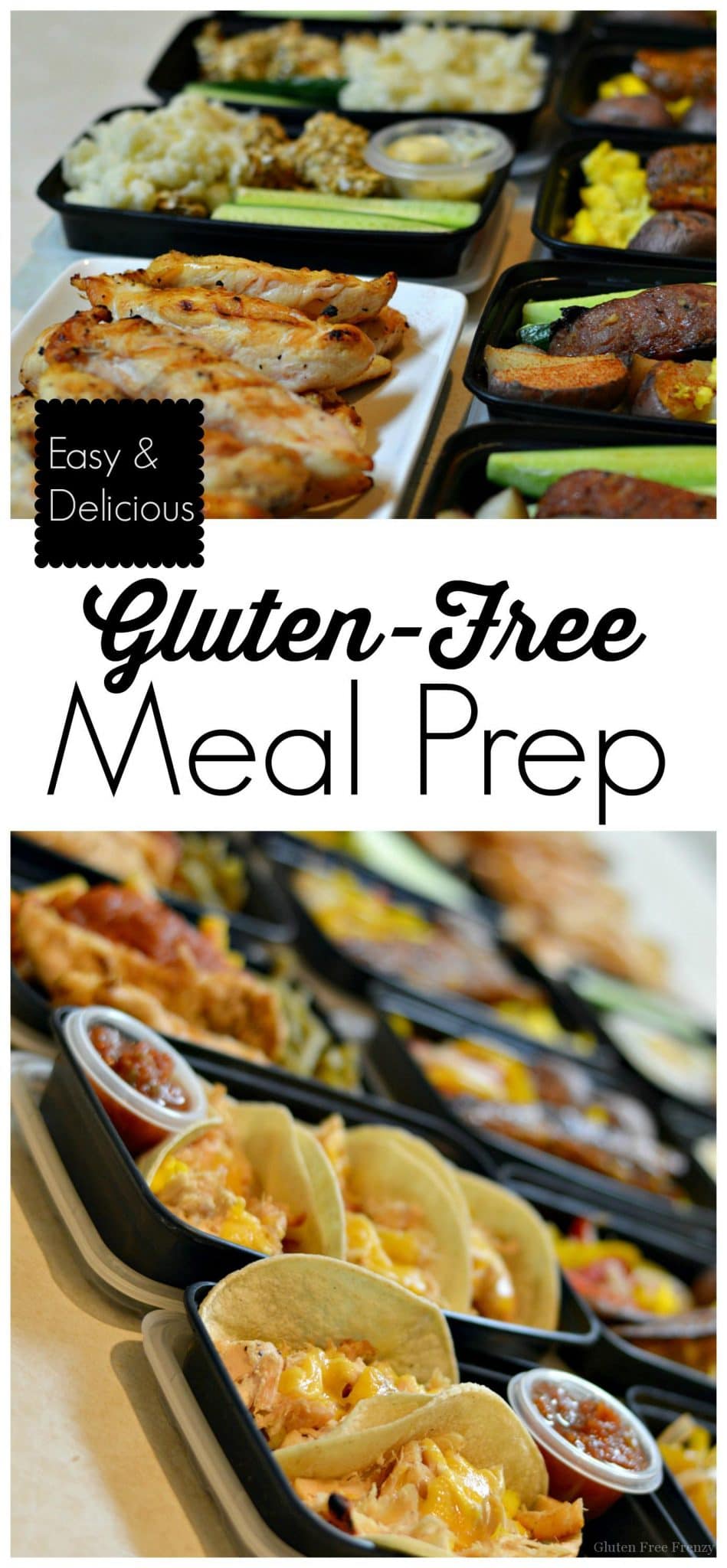 *This post contains affiliate links