this post may contain affiliate links
This gluten-free pumpkin pie cream delight is one of my new favorite fall recipes. It's bursting with harvest flavors that everyone will love!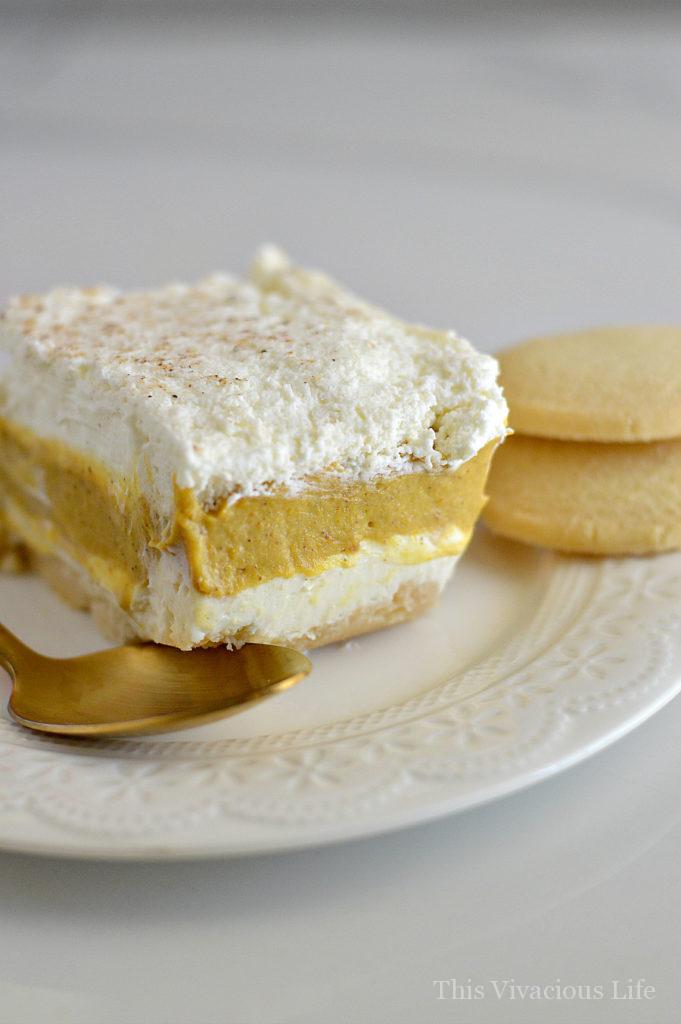 Gluten-Free Pumpkin Pie Cream Delight
If you're looking for the perfect fall dessert this gluten-free pumpkin pie cream delight is a great choice. It has all the best warm culinary flavors like allspice, cinnamon & pumpkin.
I personally love that you can make it with very few pans making clean up a snap. And since fall means lots of family and friends gatherings, this dessert is great to take in one pan with just a spatula for serving.

Homemade Pudding
As a kid pistachio cream delight was one of my favorite desserts. I requested it often and have loved the different varieties my mom has made over the years. She's done everything from lemon to banana simply by changing up her homemade pudding recipe.
You've never had homemade gluten-free pudding you say? It truly is incredible and so easy to make! The store-bought just won't cut it once you've tried our recipe.
Subscribe to This Vivacious Life
Receive a free e-book of Instant Pot recipes!
With this easy pumpkin puree, you can easily make your homemade pudding pumpkin flavor!
Gluten-Free Pie Crust
A really good gluten-free pie crust means it is buttery, flaky and fork tender. However, you should still be able to work with it for things like a lattice crust.
My mom started baking pies at a local restaurant and age 11 so when she nailed her gluten-free pie crust, she was ecstatic! You can find our perfect pie crust recipe in our cookbook, Gluten-Free on a Budget.
My friend Chrystal also has a gluten-free pie crust recipe I've heard great things about. One of the sweetest people I know, my friend Megan from Allergy Free Alaska also has a gluten-free pie crust that is egg, corn, soy and nut free. Fearless Dining also has a great post on how to make a homemade gluten-free pie crust.
For this gluten-free pumpkin pie cream delight I changed up the crust which is traditionally made completely from scratch. I wanted to save you guys a few steps and decided to use Walkers gluten-free butter shortbread but you can also make homemade gluten-free shortbread cookies.
These rounds are perfect for making this dessert. Both the rich buttery taste and the nice crunch make the recipe much easier.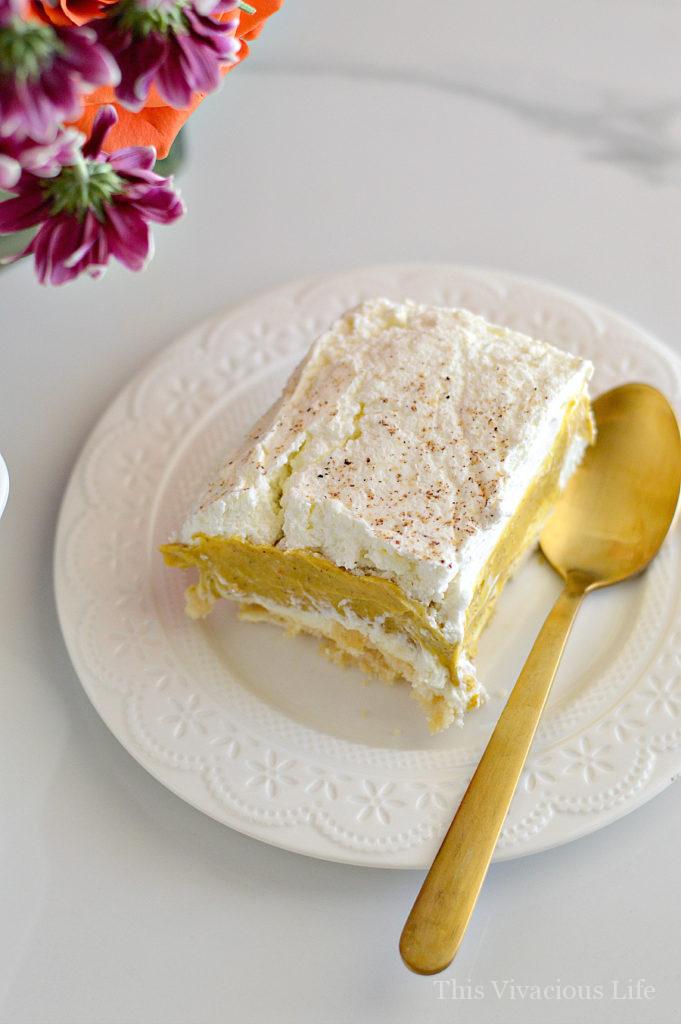 Does pumpkin pie filling contain gluten?
Since fall always reminds me of pumpkin, I love thinking of new and fresh desserts using fresh or canned pumpkin. Most pumpkin pie fillings are gluten-free.
However, I recommend making it from scratch or looking at all ingredients when you purchase store bought varieties.
Is pumpkin spice gluten-free?
You can purchase pumpkin spice from the grocery store and while they are not made with gluten ingredients, you may want to look forward to make sure they are not cross contaminated.
Of course, I love to use my favorite spices like cinnamon and allspice to make homemade pumpkin spice.
Gluten-Free Shortbread
Walkers gluten-free shortbread is the only brand out there that is truly authentic in my opinion. Other brands have tried to make a gluten-free shortbread but it just doesn't have that crisp texture and real buttery flavor that Scotland shortbread has.
They have three gluten-free varieties including chocolate chip, traditional butter and ginger lemon. We've made a lot of great recipes using all three. Some of my favorite include our pecan pie bars, eggnog tart with chocolate chip shortbread crust and gluten-free almond cherry cheesecake.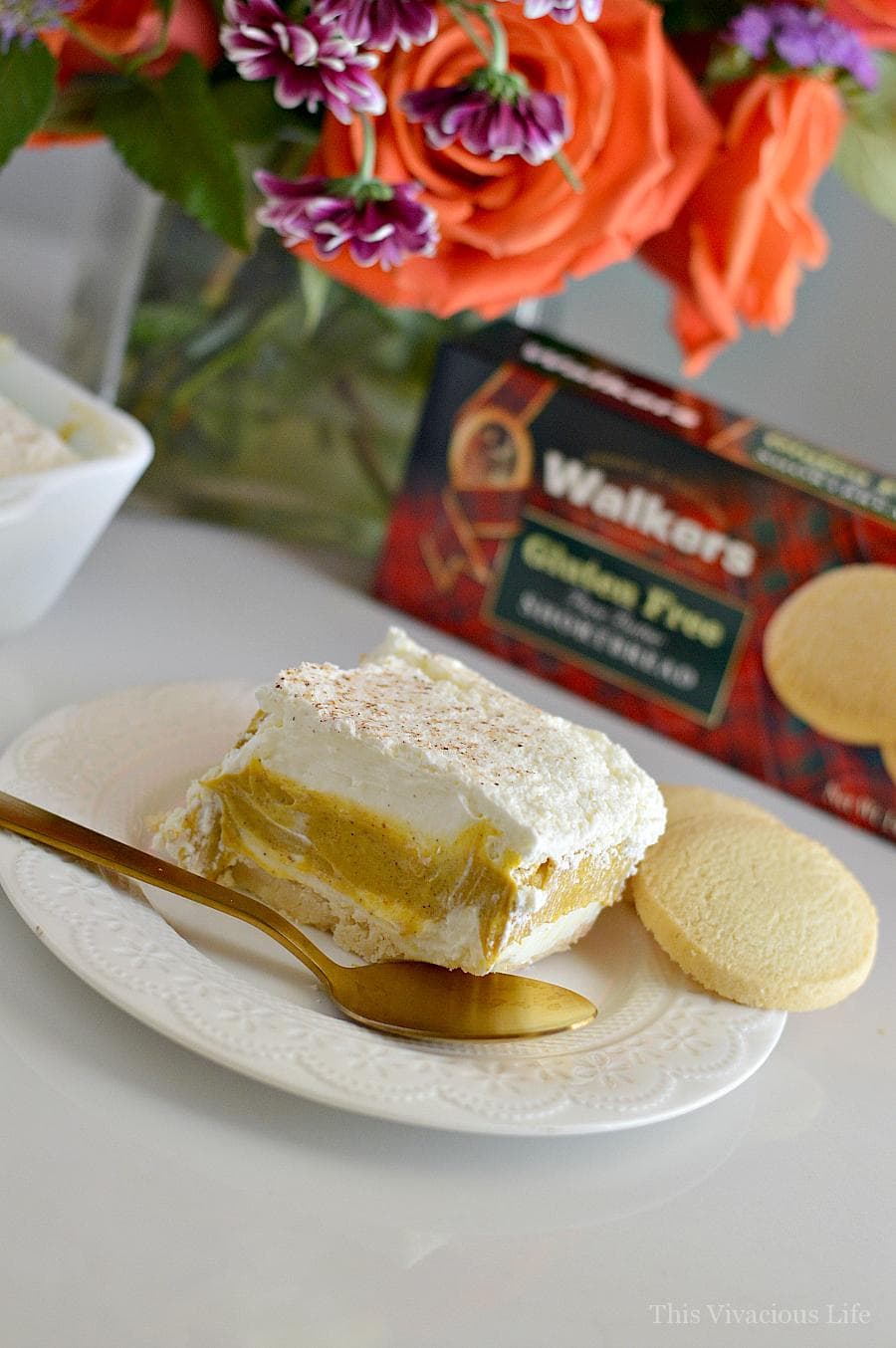 If you love this pumpkin dessert, why not give these a try…
Maple Pumpkin Pudding Parfaits

Chocolate Dipped Pumpkin Spice Donuts

Gluten-Free Pumpkin Spice Donuts

NEED MORE GOODNESS? Follow me on Facebook, Instagram, Pinterest, and Twitter for great recipes, entertaining ideas and more!
Gluten-Free Pumpkin Pie Cream Delight
This dessert is so delicious and creamy, plus it's gluten free!
Ingredients
2

boxes Walkers gluten-free pure butter shortbread

6

T

butter

2

C

heavy cream

2

C

whole milk

3/4

C

brown sugar

2

T

butter

1

C

pure canned pumpkin

1/2

C

sugar

4

egg yolks

6

T

cornstarch

1

T

cinnamon

1

tsp.

allspice

2

8 oz. packages cream cheese, softened

1

pint

heavy whipping cream

1/2

C

powdered sugar
Instructions
*Be sure to make your pudding layer first so it has time to cool.

Preheat oven to 350°

In a medium sauce pan combine 2 cups cream, 1 cup milk, 3/4 cup brown sugar, butter, pumpkin, cinnamon and allspice

Heat until butter is melted and milk a slightly scalded

In another bowl, whisk together egg yolks and 1/3 cup sugar

Slowly add this mixture to the hot mixture, whisking lightly

Continue cooking for 10 to 15 minutes on a low heat until mixture starts to thicken a bit

Mix reserved milk and corn starch together

Add to the hot milk mixture, whisking constantly

Intermittently whisk as mixture continues to cook for the next 5 to 10 minutes

When pudding has thickened, remove from heat

Cover with plastic wrap to avoid skimming and place in refrigerator to cool what you were making the other layers

When cooled, pour over the cream cheese layer

Place all the butter shortbread cookies in a food processor and pulse until crumbs are made

Combine 6 tablespoons melted butter with cookie crumbs then press into a 9 x 13 pan

Bake for 15 minutes then remove from oven and let cool

In your stand mixer or a large bowl, whip 1 pint of heavy cream with half cup powdered sugar until stiff peaks form

Remove one cup to use in the cream cheese layer

Reserve the remainder to top the dessert

Cut the cream cheese into small pieces

Add powdered sugar a little at a time into the cream cheese while you were mixing

When powdered sugar and cream cheese are blended smooth, fold in 1 cup of whipped cream

Spread this layer on top of the cool crust

Next spread the cooled pumpkin pudding over the cream cheese layer and refrigerate for a minimum of 2 to 3 hours

When you're ready to serve, top with reserved whip cream then sprinkle the whole thing with cinnamon or nutmeg
Nutrition
Calories:
669
kcal
|
Carbohydrates:
60
g
|
Protein:
10
g
|
Fat:
44
g
|
Saturated Fat:
27
g
|
Cholesterol:
204
mg
|
Sodium:
454
mg
|
Potassium:
248
mg
|
Fiber:
2
g
|
Sugar:
37
g
|
Vitamin A:
4070
IU
|
Vitamin C:
1.3
mg
|
Calcium:
228
mg
|
Iron:
0.6
mg


*Thank you to Walkers we're sponsoring this post. I was provided with monetary and product compensation. It was originally posted on October 16, 2017 and has been updated October 2019 with new information.