this post may contain affiliate links
We are sharing this cute Halloween activities printable so you can have a fun, festive Halloween! It's great for Halloween parties, family game night, and any other time of Halloween celebrations.
So to get in the Halloween spirit, download this fun Halloween activity sheet. You can get your printable copy at the end of this post…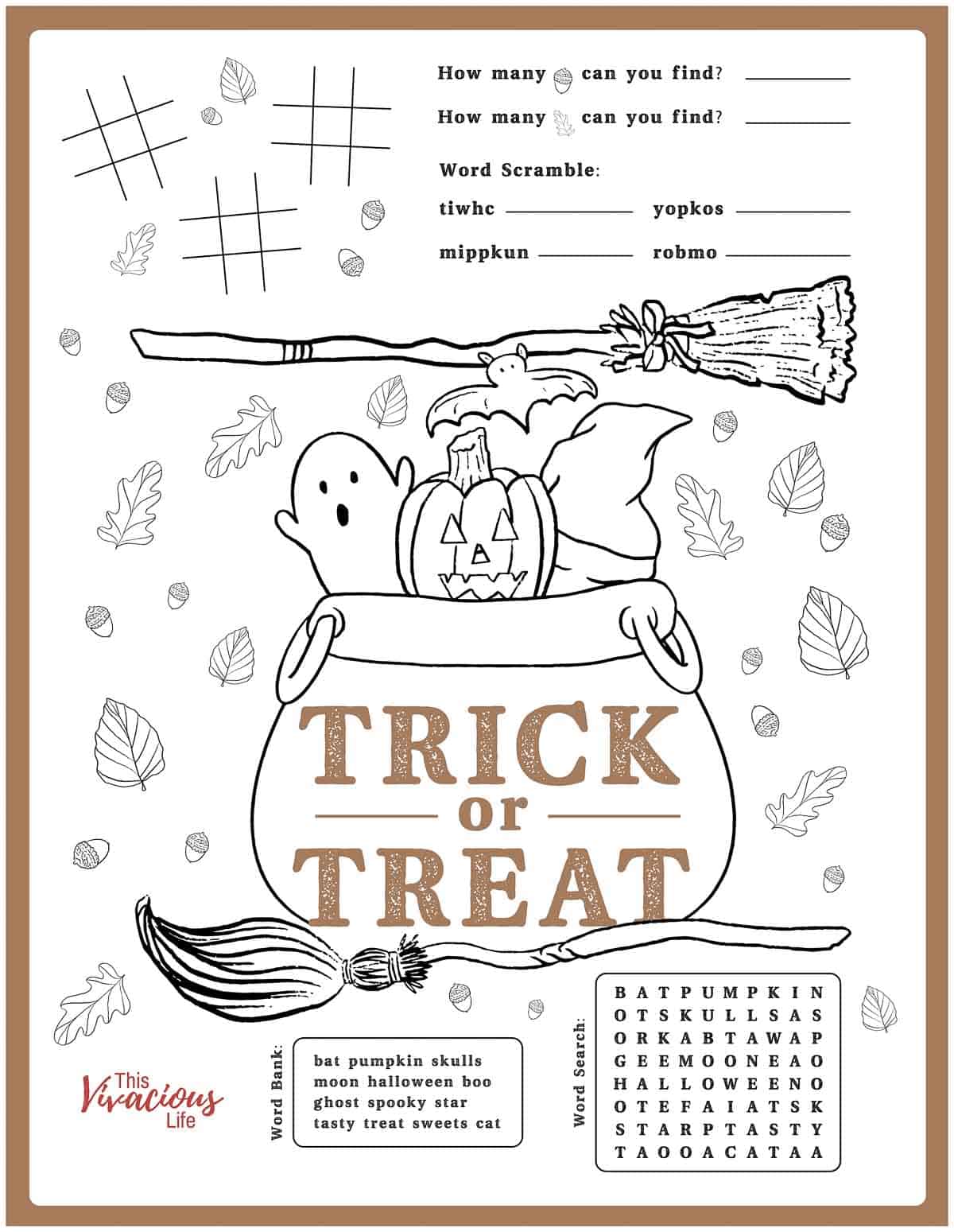 Halloween Activities Printable
I am so excited to share this Halloween activities printable with you all! Halloween season is coming up (which is not one of my favorite holidays but the kids love it), so this is the perfect time to share these fun Halloween printables. It's perfect for the whole family, but especially young learners.
Our free printable games will help your kids learn while also having a lot of fun. I'm sure you all will have a spooky good time! Kids just love this fun time of year.
These Halloween worksheets are a great way for your kids to practice their fine motor skills. Your kids can practice writing their first names, do word searches, and color on the free Halloween coloring pages. With the word searches, it helps kids with their literacy skills as well!
Subscribe to This Vivacious Life
Receive a free e-book of Instant Pot recipes!
We also have word scrambles on the printable, which I love. It helps kids really think about the spelling of words, improve language learning, and they get to have fun with spooky words like ghosts or bats!
I also love the counting part of the printable because it gets the kids to work on their counting skills. And, you can color the acorns and fall leaves so it is double the fun. There are so many fun things with this printable.
Printables are perfect for classroom use because your kids will learn but also will be able to get into the holiday spirit. You can easily add it to your lesson plans any time during October. The kids will love all of the fun activities and you will love how the kids are learning.
You could also make a Halloween activity book with a bunch of coloring pages, word searches, and fun activities. Use our printable to get started and create a fun little book. The fun is endless!
Fun activities for Halloween
There are so many fun things to do during the Halloween season. And it does not have to be just on October 31st. You can celebrate all month long!
Some fun Halloween activities: you should try having a scavenger hunt, making a sensory bin, creating Halloween crafts, and other exciting things. Making fun crafts like Halloween masks or spooky pumpkins gets the kids excited for Halloween and it makes for cute decorations around the house.
If you are thinking of throwing a Halloween party, you are in the right place. We have a lot of party ideas here, so definitely check them out. And, this printable should be a part of the fun.
How fun would it be to have a coloring table where this printable is and everyone can color and play! I'm not just talking about the kids either. I love to do these activity sheets and I know you will too.
Here are some fun Halloween activities and treats that you definitely should try out this spooky season…
This witches night out Halloween party was full of spooky fun! You can easily re-create it for your favorite girlfriends for a memorable night. We make our super tasty smoky Halloween mocktails that really help with the Halloween atmosphere.
This Halloween charcuterie board or charBOOterie, features a variety of sweets and savories that are sure to spook and delight!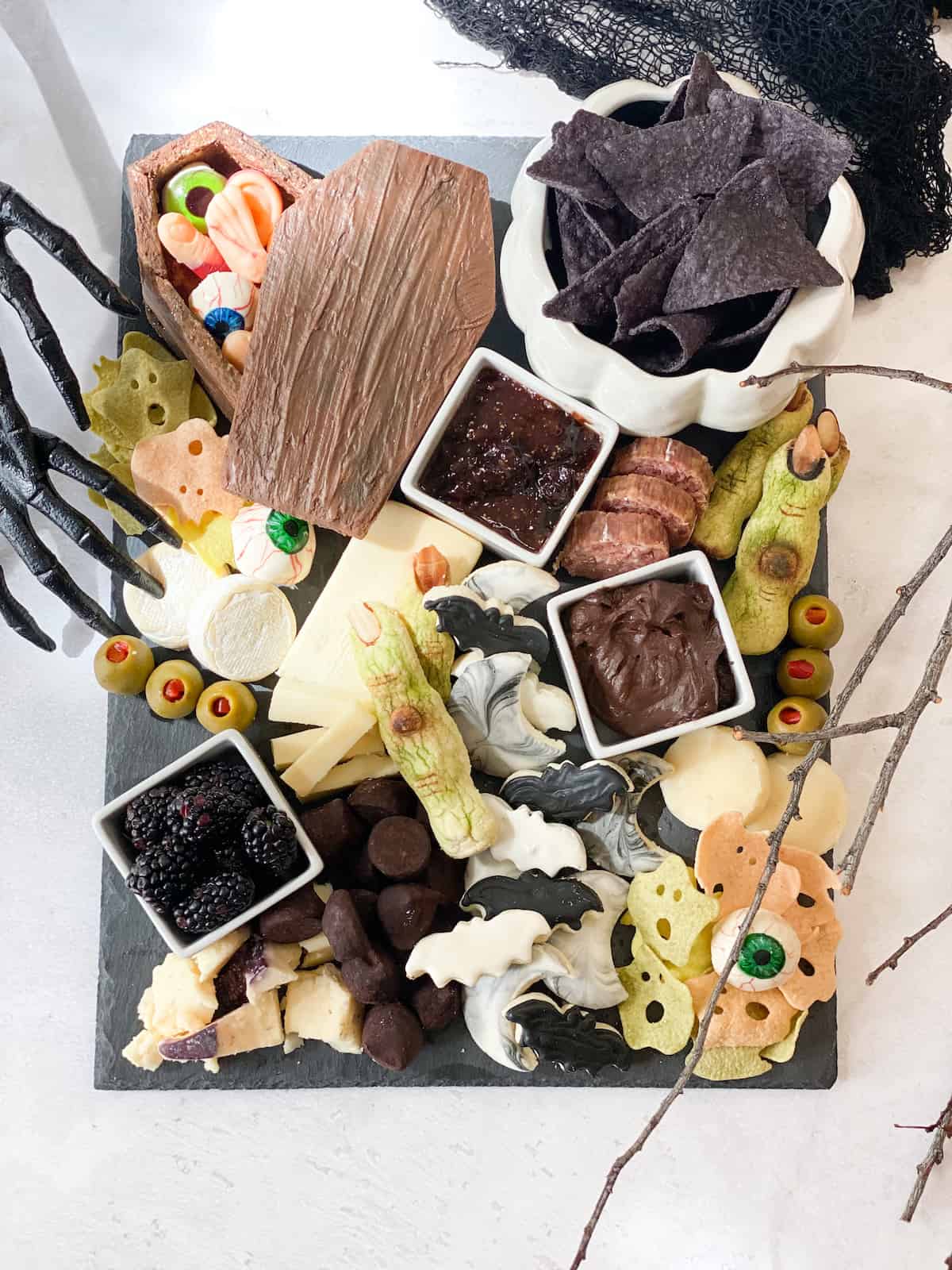 This Halloween cheese ball Frankenstein has to be the cutest themed party food ever! It surprisingly only takes 20 minutes to make and will be a show stopper at any party.
Serve up these Halloween sandwiches at your spooky backyard party with a few friends for some fun during October. Everyone will love the ghost sandwich, creepy snake sandwich and even the witches finger sandwiches!
This Halloween brunch is such a fun way to enjoy time with your little ones and your girlfriends at the same time. I love getting together with my girlfriends and this Halloween brunch is a great way to do that without the stress of having to find a sitter for our little ones. It is casual enough that kids can play and have fun.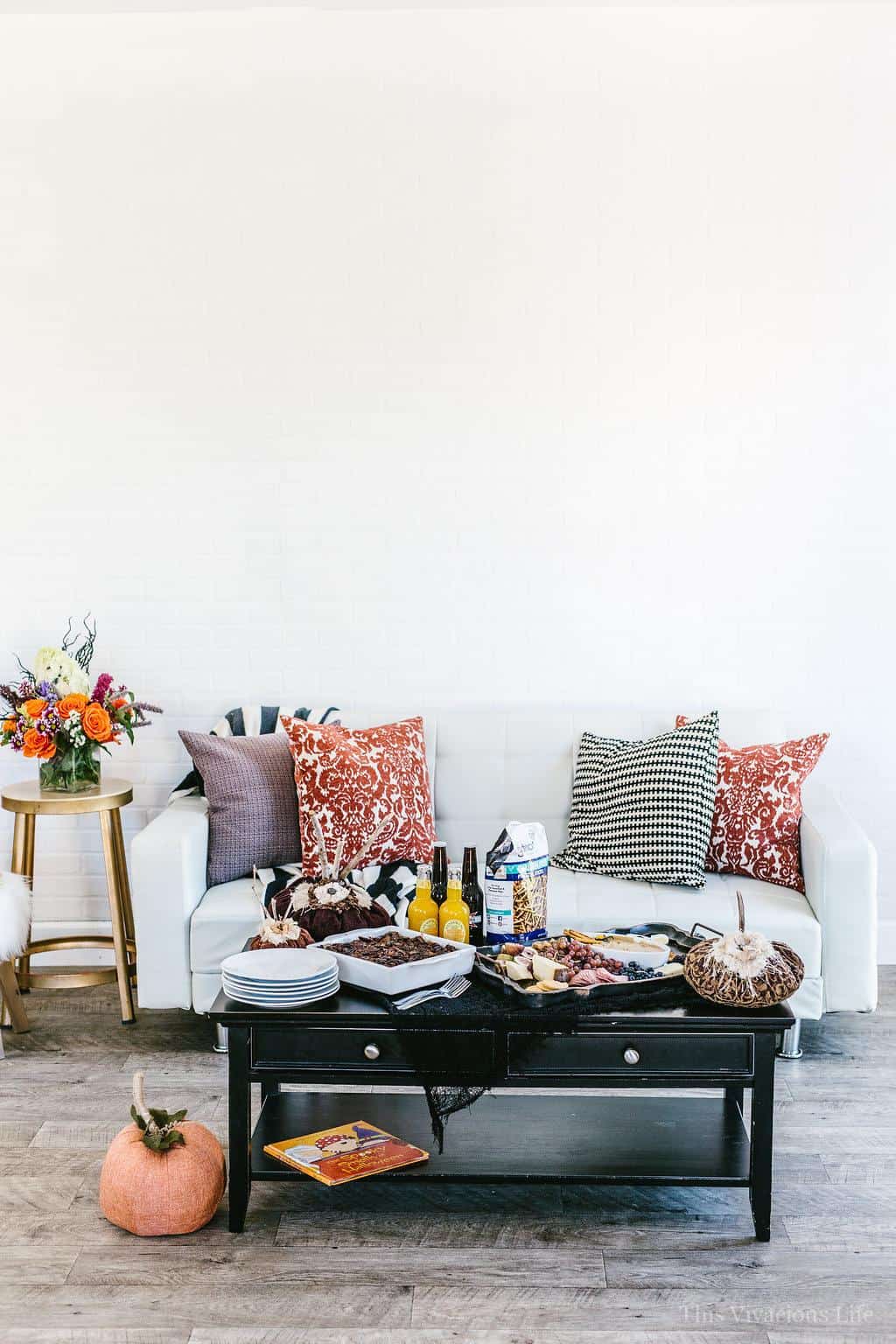 These no bake gluten-free ghost cookies are literally the easiest and most tasty Halloween treat you will ever make. They only take a few minutes to make and require no baking…win!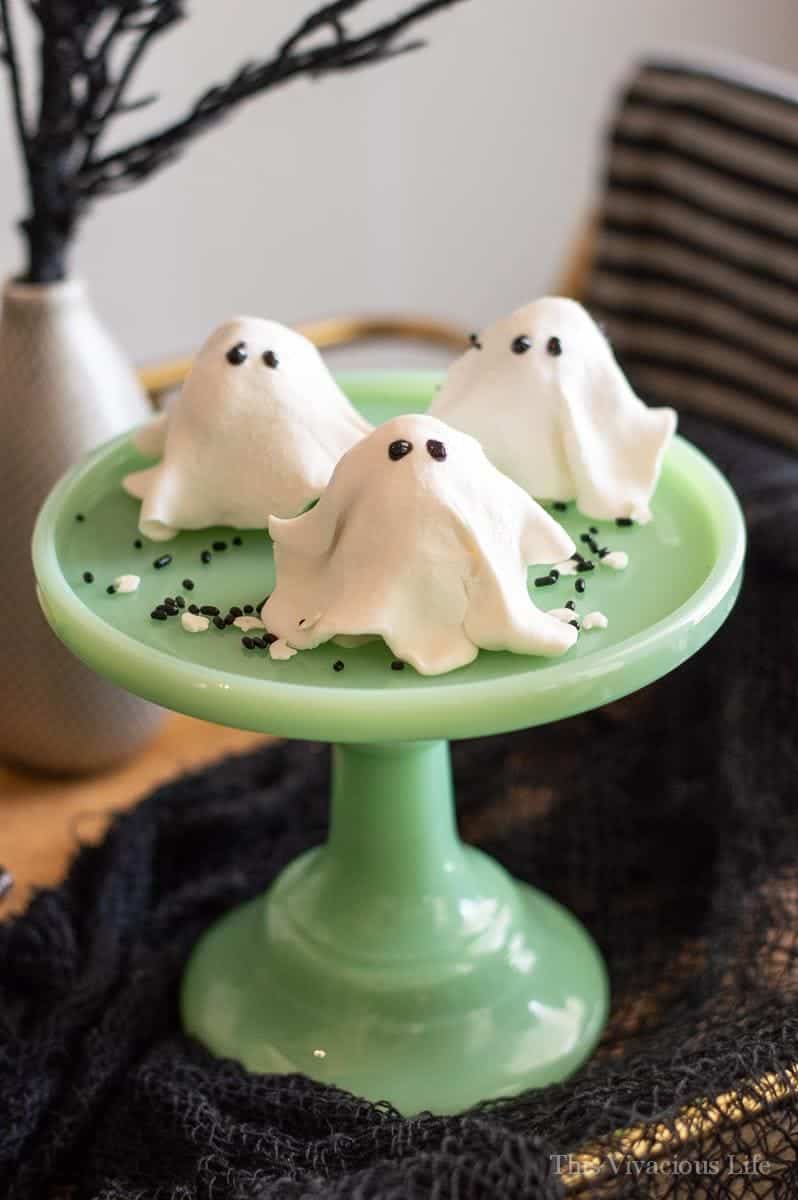 A mummy costume, like our family Halloween costumes, can be simple or elaborate. Combine it with our themed mummy's night out Halloween party and you will be the spookiest of the season! Here we share our tips and tricks for costumes, food and fun.
These spooky spider cookies with chocolate chips are gluten-free and perfect for Halloween! They are buttery rich, chewy soft, and the melted chocolate really hits the spot.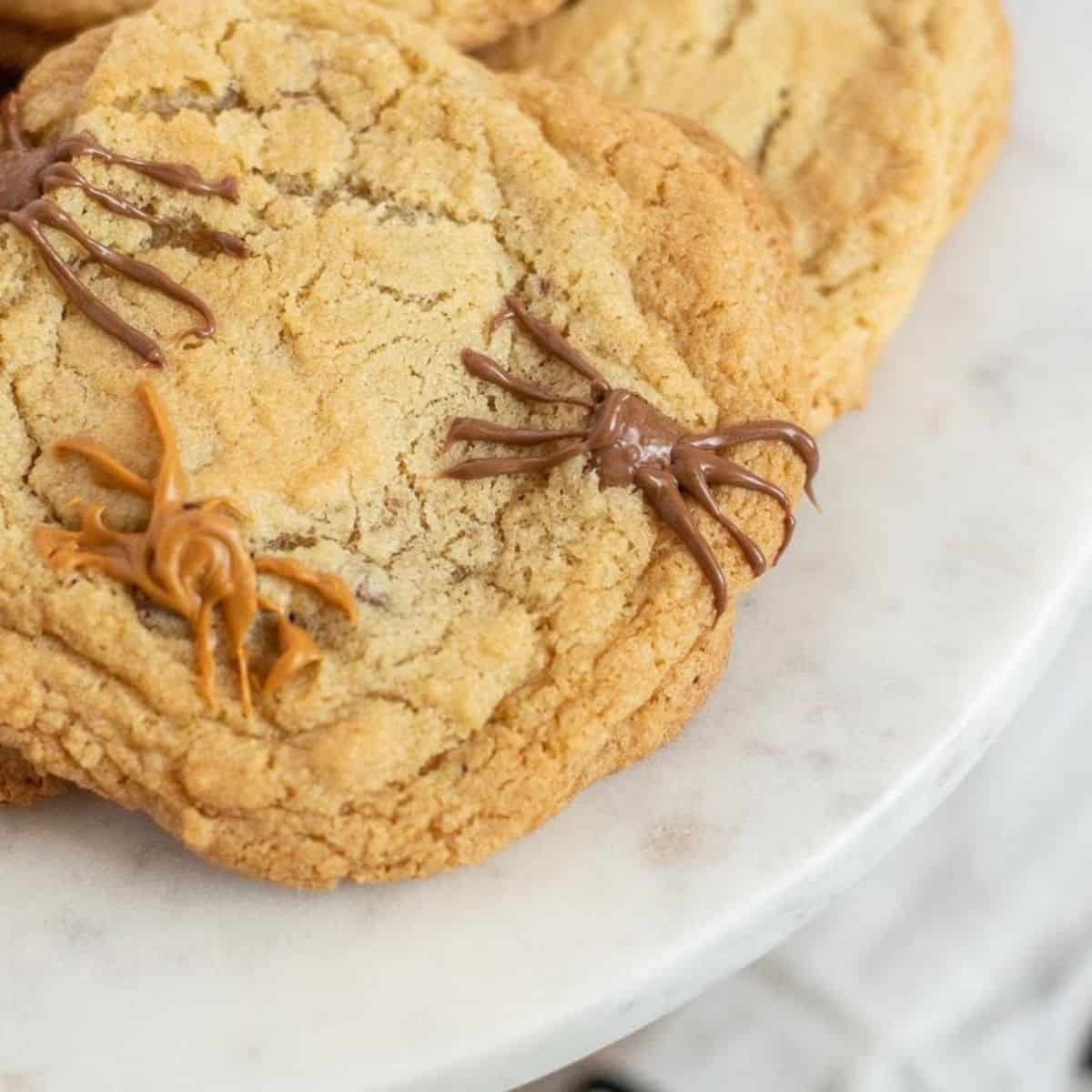 These edible witches finger cookies are super cute, delicious and the perfect spooky addition to your next Halloween party!
Family Halloween costumes are so fun, especially this Beetlejuice family costume! Get mom and dad involved or just go with a kids only theme. Either way, it's sure to be a fun filled October 31st!
We hope you have a Happy Halloween!