this post may contain affiliate links
A mummy costume, like our family Halloween costumes, can be simple or elaborate. Combine it with our themed mummy's night out Halloween party and you will be the spookiest of the season! Here we share our tips and tricks for costumes, food and fun.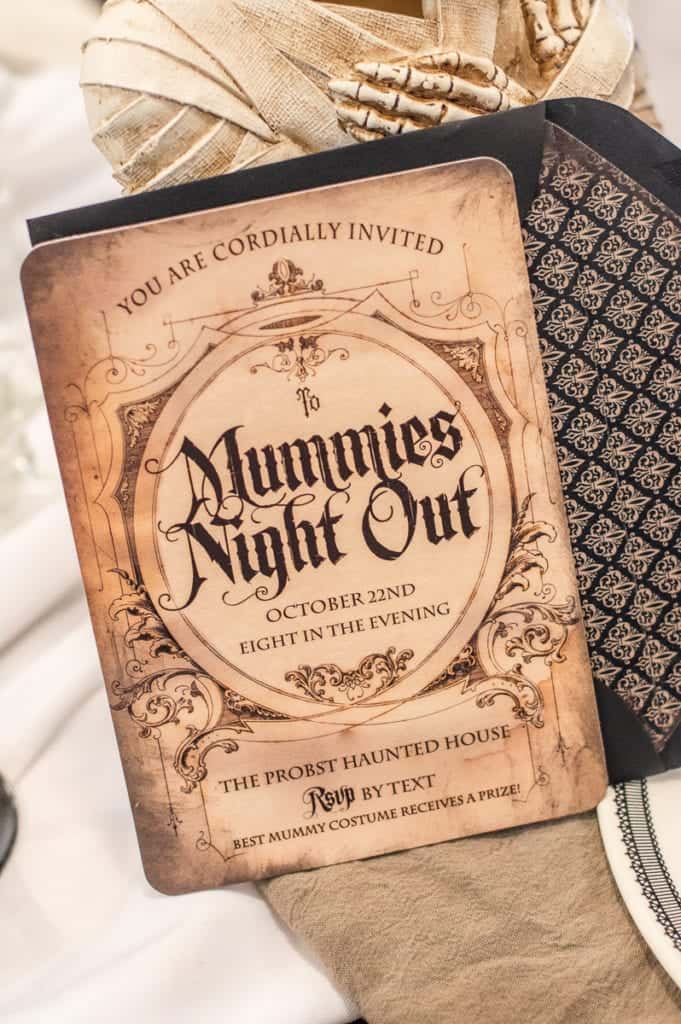 Mummy Costume Halloween Party aka "Mummy's Night Out"
I love hosting themed parties and I just knew a mummies night out Halloween party would be the perfect way to get my girlfriends together! Everyone was so great to come in full costume and really get into the festivities just like they did when we did our witches night out Halloween party.
We started with old fashioned mail invitations from Loralee Lewis. She always make such gorgeous and high quality products. My favorites are still the ones from our gingerbread decorating party.
On the evening of the party, we did a full mummy themed table and delicious dinner complete with three different Halloween Mocktails. Then we headed into the family room to relax and enjoy some mummy cookies and a Halloween cake.
It was such a great night of food, laughter and great company. We talked until the wee hours of the morning which in my mind, is always the sign of a successful party.
Subscribe to This Vivacious Life
Receive a free e-book of Instant Pot recipes!
Halloween Table Decor
I found this cute mummy at Kneaders of all places and just had to pick it up. Lots of candles always bring a spooky aspect to a Halloween dinner party.
I love using one with varying heights. Black candles can give an even more eerie effect.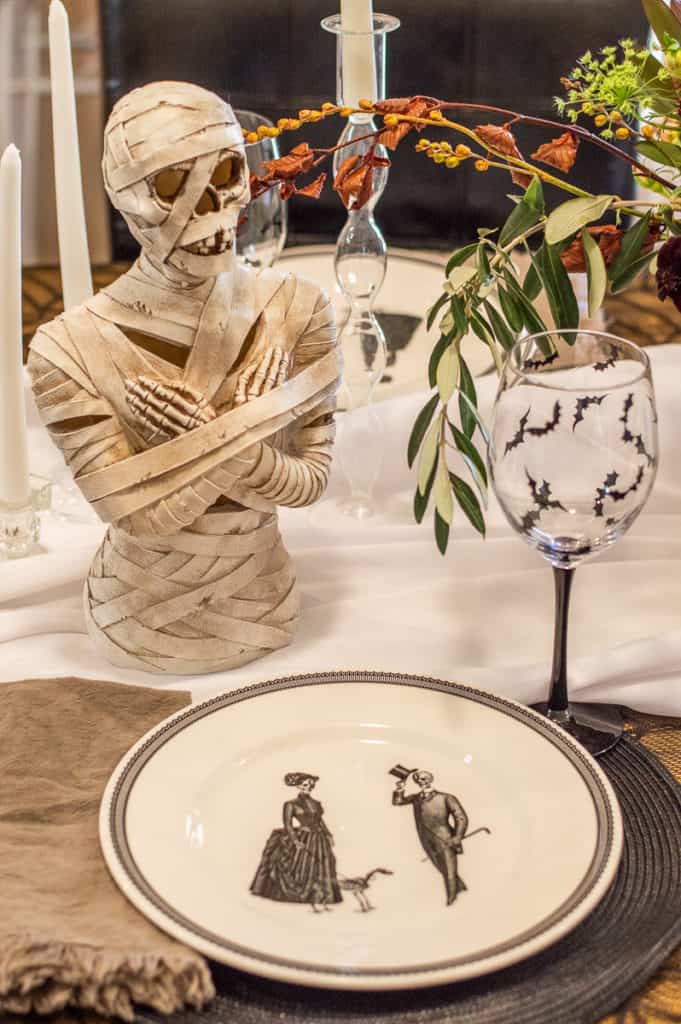 I couldn't resist the Halloween bat wine glasses and skeleton plates from TJ Maxx…they always get me! We also served Mocktails in skull glasses.
A spider tablecloth sets the table perfectly. Black circle placemats and grey cloth napkins also help bringing depth and eerie color to the table.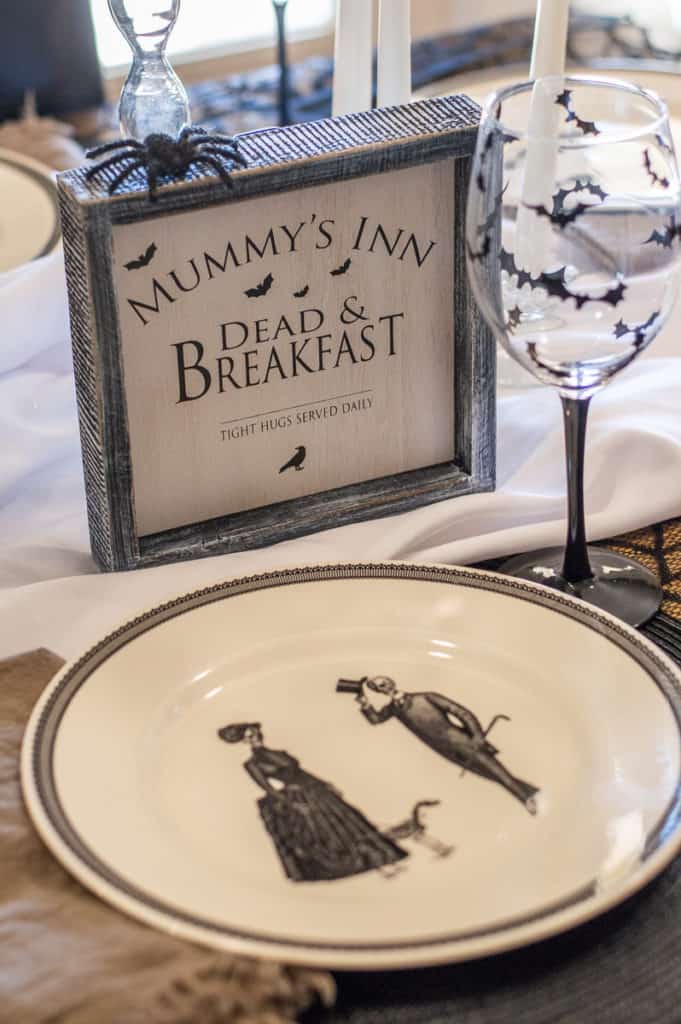 I recommend setting everything up earlier in the day of your party so that you can make sure you don't forget anything. It also allows you to focus on the food later in the evening closer to the party time.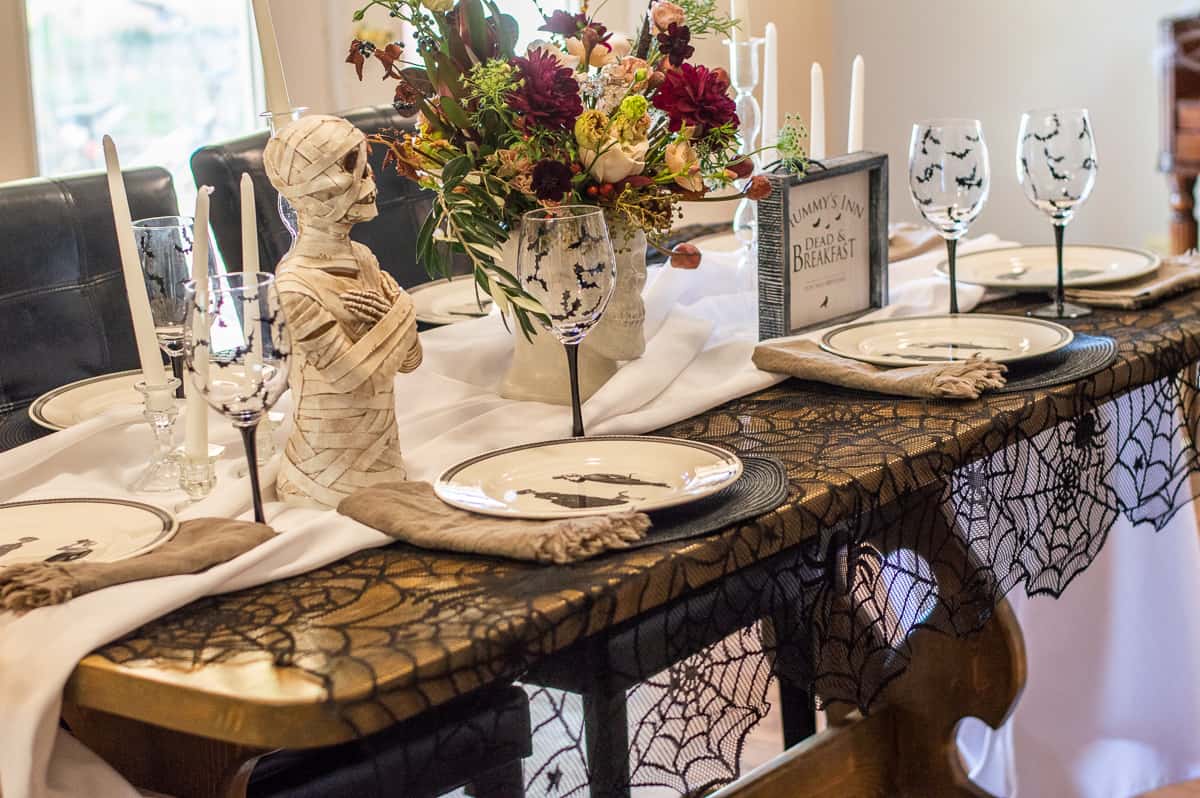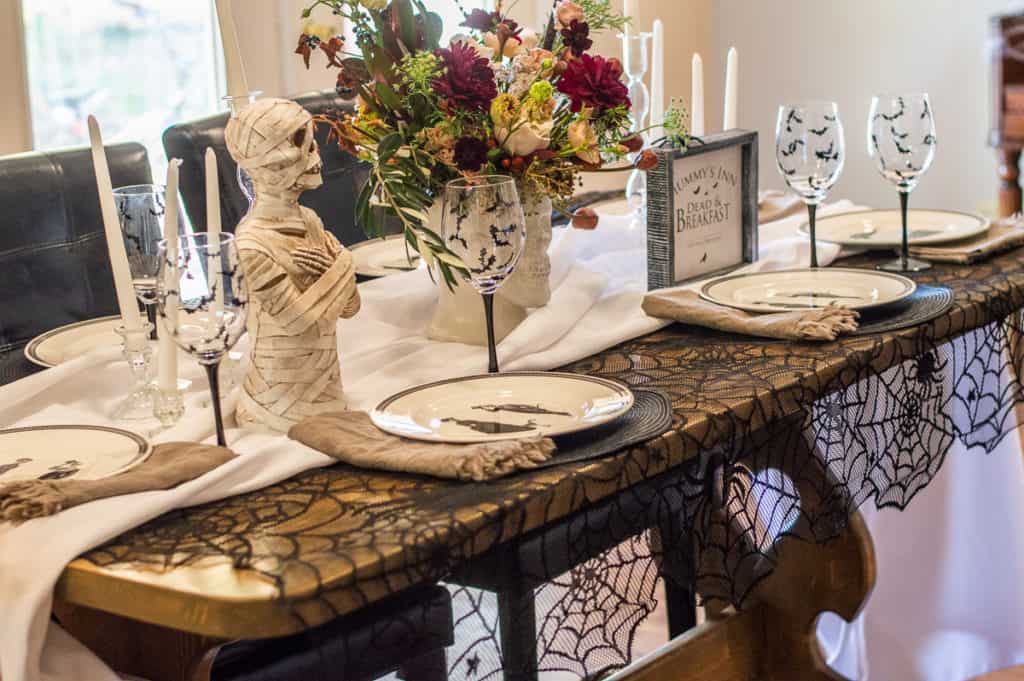 Halloween Flowers
As I mention with every party I do, live florals take everything to the next level. They add life to any event.
A cool vase really helps with your theme. For example, we used a themed vase in our Galentine's party and it really added to the florals!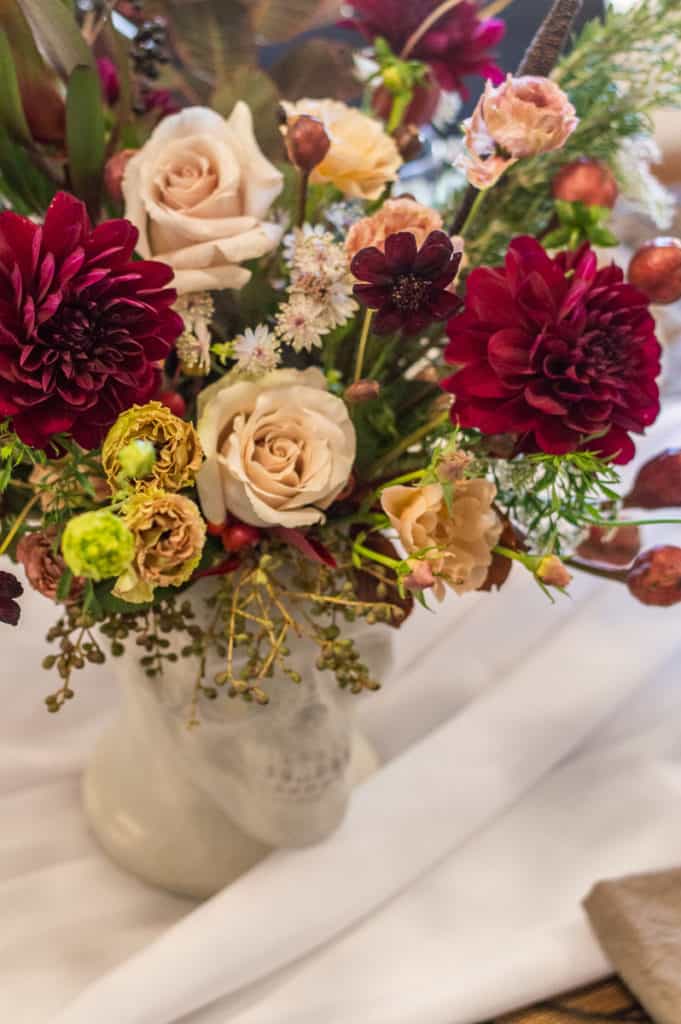 My favorite local florist, Kathy from By Bloomers put together this gorgeous dark and eerie arrangement and I couldn't have been more pleased. It was the perfect centerpiece to our table.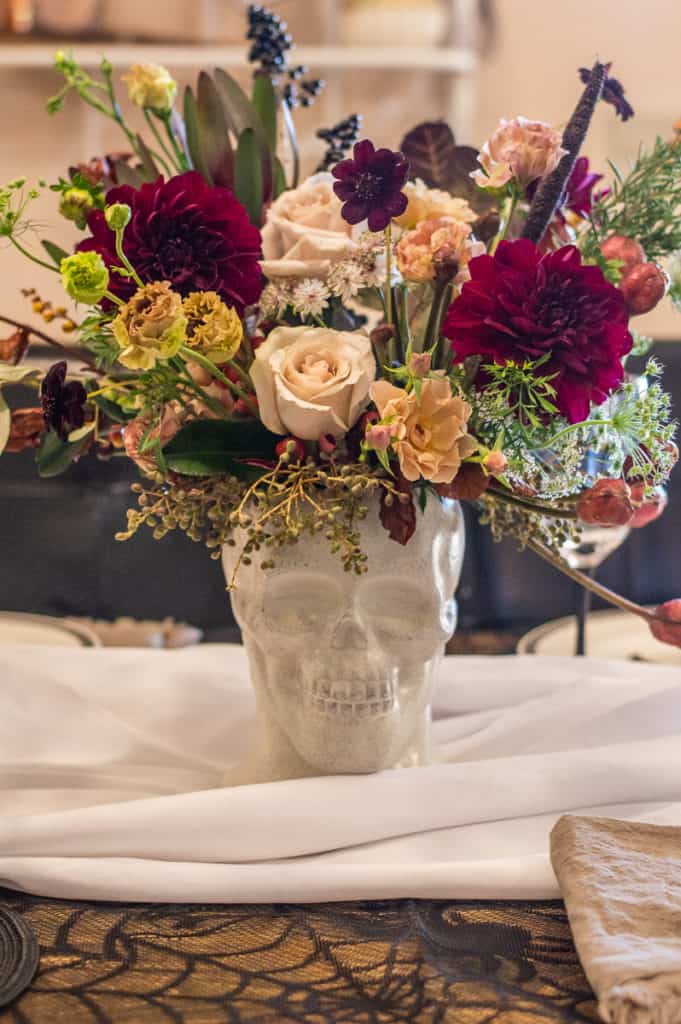 Halloween Cookies & Cake
I always love a good themed party cookie like our charcuterie cheeseboard cookies or our White Christmas dinner party snowflakes and sweater cookies.
These mummies night out Halloween cookies are so fun and definitely full of great detail! Shanan from Enchanted Cookie Boutique always sees my vision!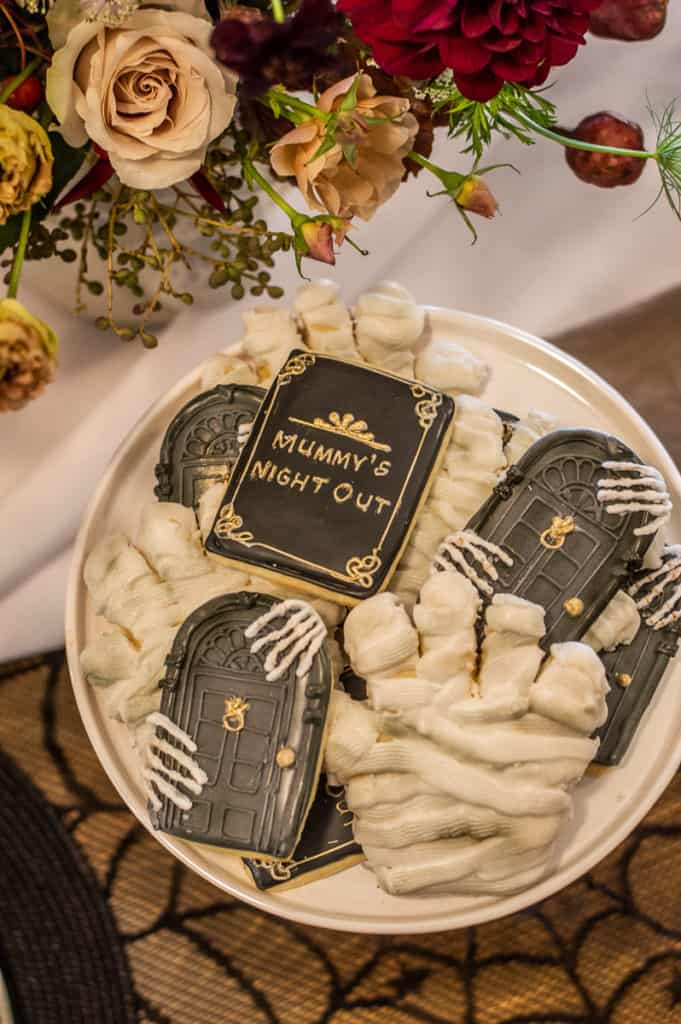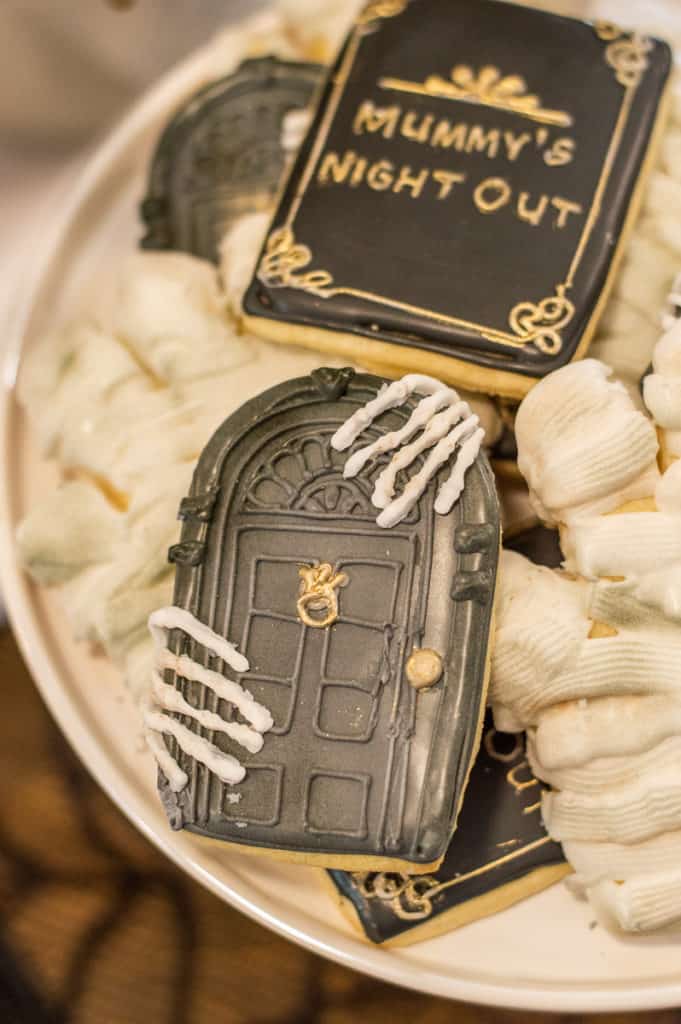 My friend Jill made this cute cake complete with caramel apples on top like this one my friend Jenny Keller did for her fall ladies lunch gathering. I just had to have it!
DIY Mummy Costume
When it comes to costumes for your mummies night out Halloween party, it doesn't have to be complicated. You can absolutely go all out and buy one like I did on Amazon or you can get scrappy.
Medical gauze works great when wrapped around thermals like my friend did here.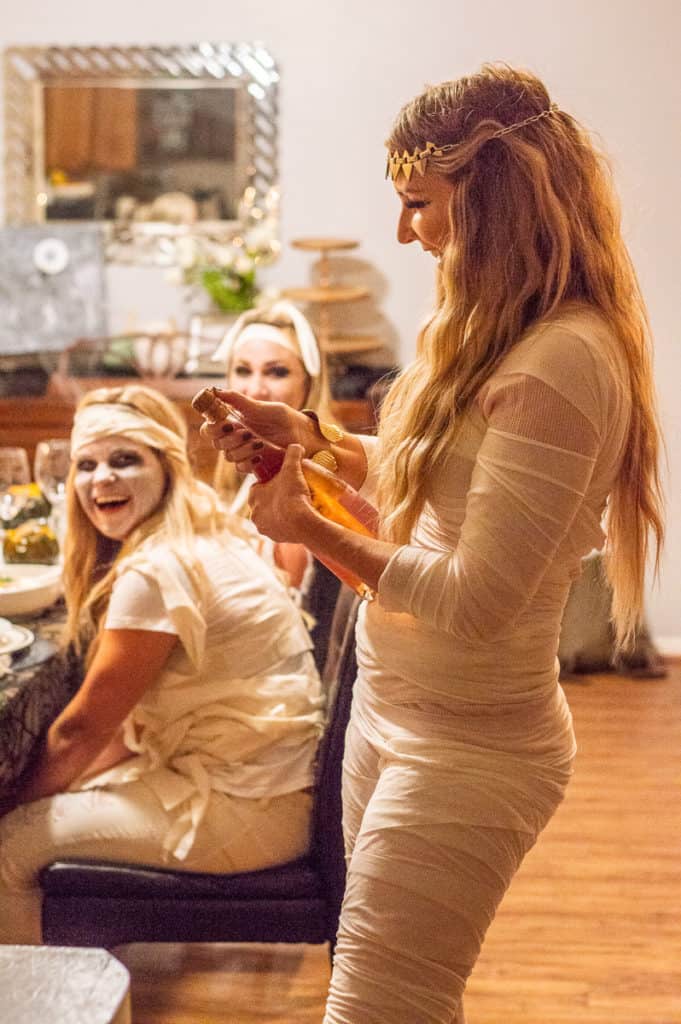 Lots of my friends just took a white sheet and tore it apart and tied it around them…Such a great idea that is very cost effective too!
Spooky makeup and black lipstick complete the mummy ensemble. Really you can go as simple or as elaborate as you like with your mummy costume. 
Halloween Party Food & Drinks
When I saw this skeleton rat and little mouse, I KNEW I had to use them on a Halloween charcuterie and cheeseboard! They are so perfect…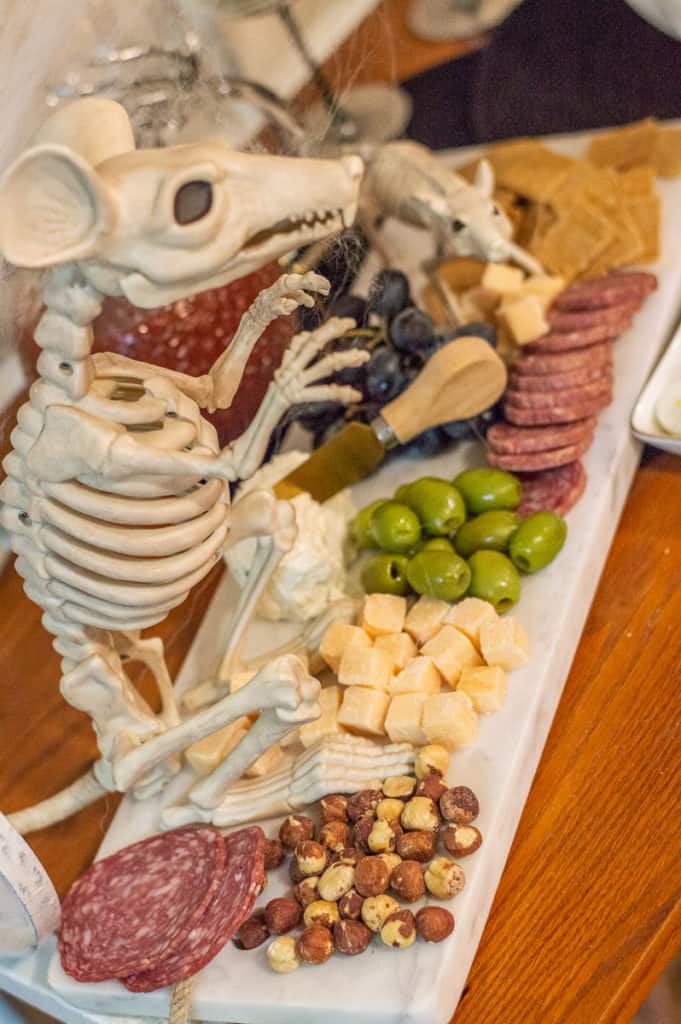 If putting one together feels overwhelming to you, just follow our simple steps (video included) for putting together a gluten-free charcuterie and cheese board. You won't go wrong.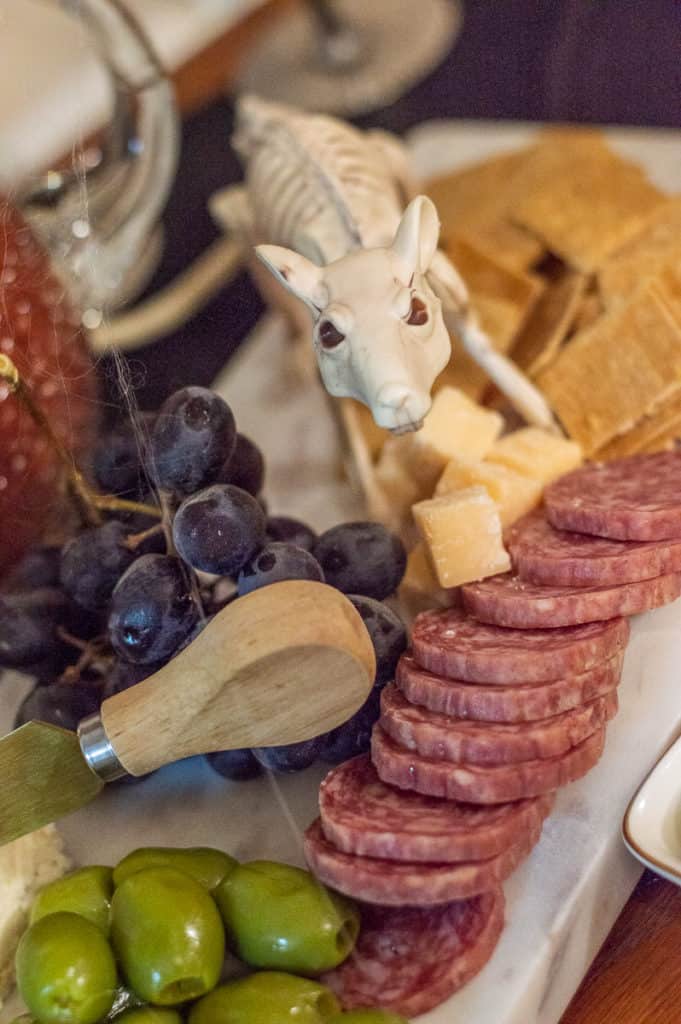 I always like to have mocktails at any gathering I host. This time, I thought a bloody mummy would be just the right one! I used our non-alcoholic Bloody Mary mocktail mix as inspiration for this drink then added in some strips of string cheese to give it that mummy effect. 
Roasted acorn squash soup bowls with course salt on top and yummy paleo butternut squash soup inside made for a great starter that wasn't too heavy. 
Lastly, when I came upon this persimmon and burrata salad from Half Baked Harvest, I couldn't resist making it myself. It was so easy and looked absolutely gorgeous as well!
I have to say, it was definitely the hit of the evening. It was completely eaten right up and the girl raved about how good it was.

The whole evening was a huge success and I was thrilled the girls had such a wonderful time. I always want my home to be a place where people feel like they can stay as long as they want.
If you like this Halloween party, you are going to love these ideas and recipes for a spooky night in our out…
Spooky Sandwich Halloween Party