Instant pot chicken wings! They are super sticky thanks to the delicious cola sauce.
I love making these instant pot chicken wings! They are a crowd pleasing appetizer that takes very little time to make.
Honestly you guys, these Instant Pot chicken wings were some of the best I have ever eaten! These are an easy appetizer that everyone will love.
The sticky cola sauce using the NEW Dry Zero Soda really makes these wings the best! It has much less sugar than traditional cola sticky sauce. 
I've always been a chicken wings fan. They are messy and saucy which I love! Personally, I lean towards a sticky chicken wing myself. I like the combination of sweet and salty.
The problem though, is that most recipes want you to bake them for hours or deep fry them. I like that baking them makes them healthier but I certainly don't want to be in the kitchen baking these for hours.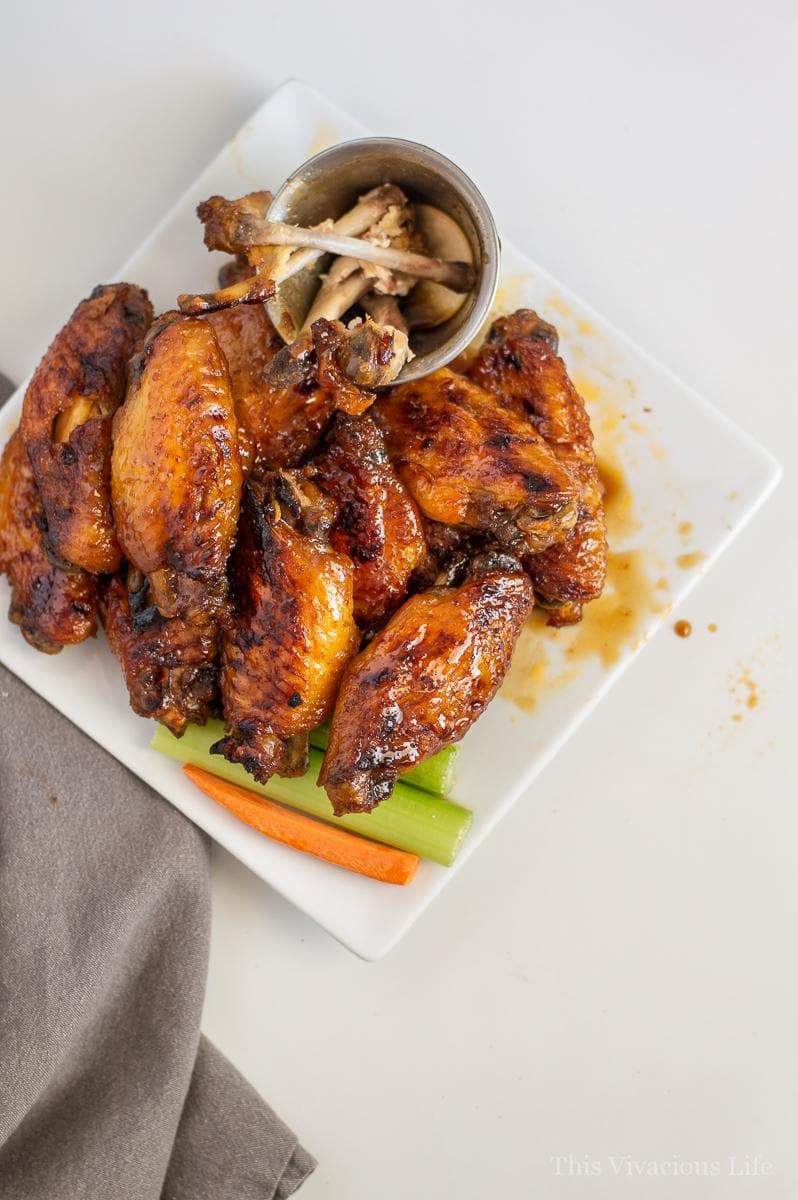 That's where the Instant Pot comes into play. I'm sure you already know this but, I LOVE my instant pot!
I have used it to make everything from creamy Italian chicken to gluten-free pineapple upside down cake. I also have a delicious 10 minute gluten-free Mac n' cheese that we make a few times a month.
My friend Erin of Meaningful Eats has a great Instant Pot Southwest chicken and rice recipe that everyone raves about as well.
Needless to say, the Instant Pot is a cooking dream come true. You can make things so much faster than you can without it. 
Rather than taking three hours to bake these bad boys, you can whip them up in under 30 minutes. They are best served with a bit extra sticky sauce.
You guys know I love Dry Sparkling soda. We've used it to make Instant Pot pork with cinnamon apples and Instant Pot lavender cremes brûlée.
They now have NEW Dry Zero Soda. It comes in a variety of flavors including peach tea, mountain berry, island fruit and cola.
We love treating the kiddos with the mountain berry and island fruit in their themed berry and island lunchboxes. All the sodas are great to serve with our cheesecake stuffed strawberries and sour cream chip dip as well.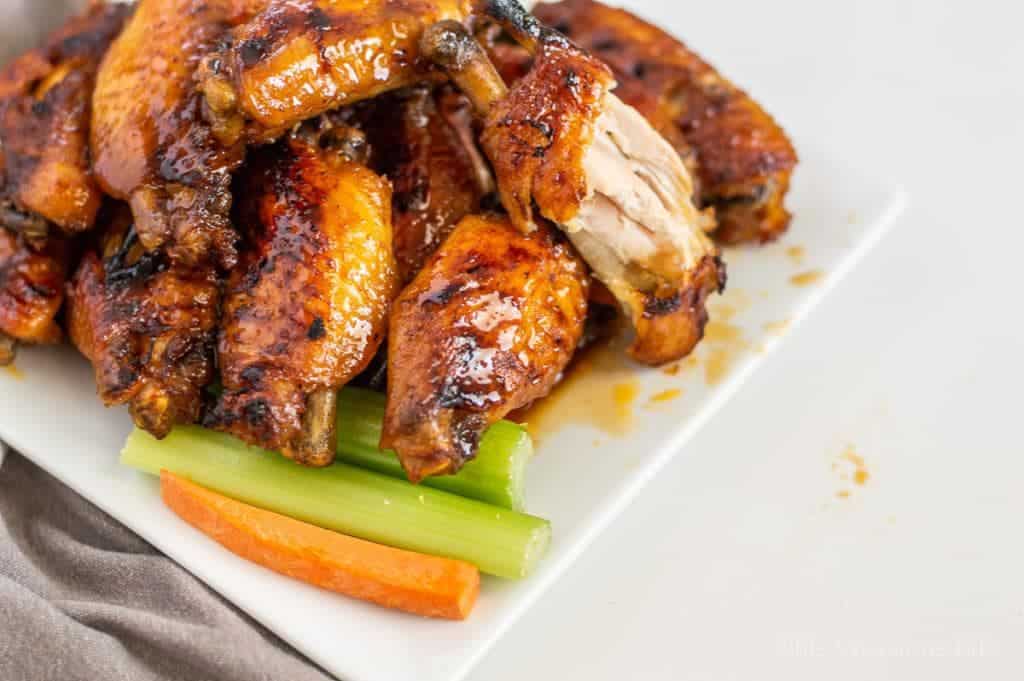 The new sodas are free of added colors, sugars and GMO's. These Dry Zero Sodas are available nationwide as well as on Amazon.
Be sure to have a cold one on hand to enjoy alongside these Instant Pot chicken wings with sticky cola sauce.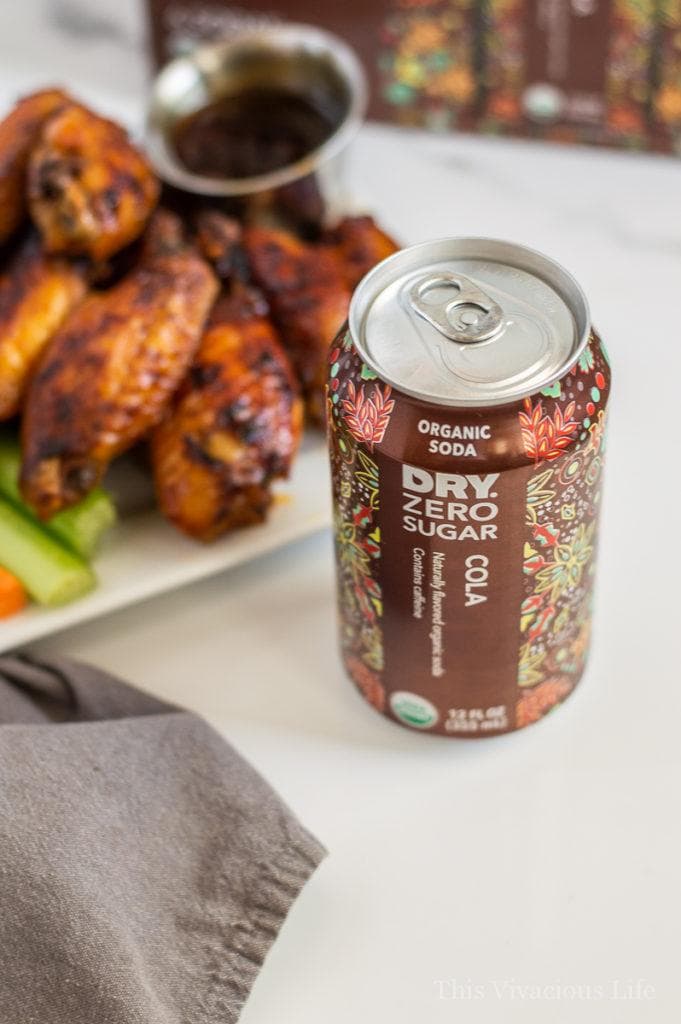 Balance these yummy wings with cold, crisp celery and carrots. I also love to serve up cool ranch or bleu cheese sauce. 
Instant Pot Chicken Wings with Sticky Cola Sauce
Ingredients
3 lb. chicken wings
1 can Dry Zero Soda cola variety
2/3 C brown sugar, divided
2 T gluten-free soy sauce
1/2 tsp. smoked paprika
Instructions
Pat dry the chicken wings with paper towels
Place the chicken wings in the Instant Pot
Pour the can of Dry Soda and gluten-free soy sauce over the wings
Sprinkle with 1/3 C brown sugar and smoked paprika
Seal the lid and pressure cook for 8 minutes on high
Once the time is up, let it naturally release for 10 minutes
Meanwhile, preheat the oven to broil
Do a quick release on the Instant Pot
Remove the chicken wings and place them on a greased baking sheet
Press the saute button on the Instant Pot and reduce the liquid by 2/3
Add 1/3 C brown sugar and continue reducing until sticky and syrupy
Pour the sauce over chicken wings and broil 5-7 minutes or until crispy
Remove and serve with additional sticky sauce
Notes
These chicken wings are best served crisp and hot right from the oven.
https://www.thisvivaciouslife.com/instant-pot-chicken-wings-sticky-cola-sauce/
*Thank you to Dry Sparkling for sponsoring this post. I was provided with monetary and product compensation.