this post may contain affiliate links
This Super Bowl charcuterie board is the perfect mix of sweet and savory. It only takes 20 minutes to make and is the perfect grazing board for the big game and Super bowl Sunday!
It is full of lots of yummy goodness including a football summer sausage and smoked cheese. We pair it with soft pretzels and chocolate cookies for a whole brown themed board. You can even go BIG and make a sports grazing table for a crowd!
I love Super Bowl mostly for the food (it's the best part of football games for me) but I don't want to be in the kitchen all day while everyone else is relaxing and watching the game. That's why this board is so great during football season!
It is full of rich cheeses and cured meats (even in a football shape for that next level presentation) that will keep people satisfied for hours.
Consider adding our best cheese ball, our beef cheeseball or pineapple cheeseball with tortilla chips or our favorite dip and a few sweet treats. All of this will be perfect for your game day charcuterie board.
Subscribe to This Vivacious Life
Receive a free e-book of Instant Pot recipes!
You can get creative with what you add to the board or your individual charcuterie boxes but I personally love the muted browns and greens. That way, no matter who you are cheering for, it is a win!
Adding herbs to your charcuterie board gives it life and color. I love fresh rosemary because it gives the board but fresh sage is also great because it looks like leaves.
We have used them on almost all our boards including our Valentines charcuterie board and Christmas charcuterie board. Even our small charcuterie board can feature tiny little fake trees or a sprig of rosemary.
You can also add herbs to our charcuterie cones to add to the visual aspect of them. I love making these cones look gorgeous because they make for a great picture and they are incredibly delicious.
Some don't need it especially when they are on the sweeter side like our Halloween charcuterie board or Thanksgiving charcuterie board.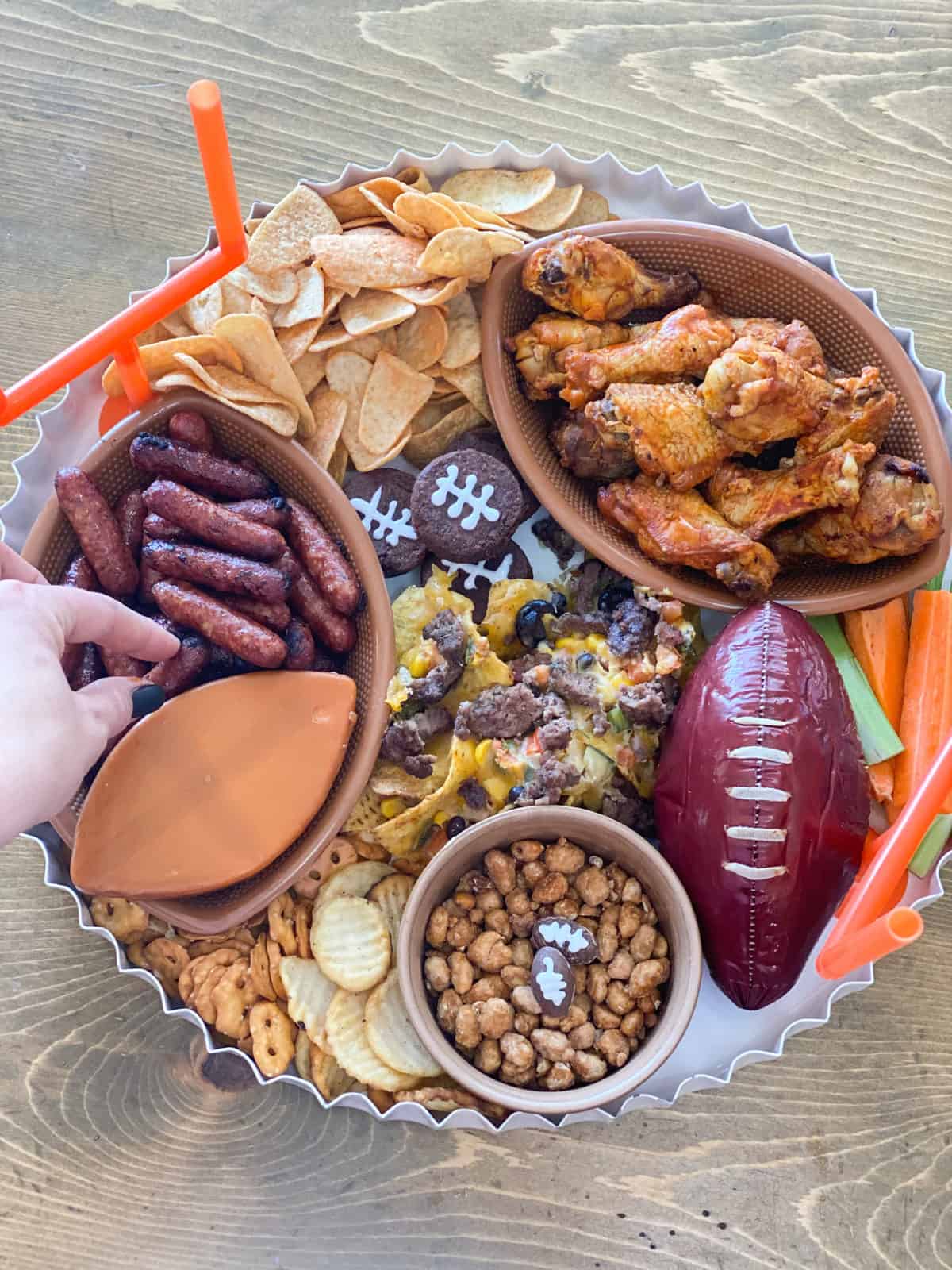 What usually goes on a charcuterie board
Charcuterie boards are a great way to enjoy snacks on game day. They typically include meats, cheeses, crackers and fresh veggies like celery sticks. You can also add fun foods depending on the theme of the board, like our Mexican charcuterie board.
You can even add chocolates and nuts in a small bowls on the board or fill in empty spaces with fresh greenery. They also go great on our pancake charcuterie board.
What you'll need for this super bowl party board
Chicken wings
Gluten-free pretzels and chips
Chocolate eggs with iced laces on them
Chocolate brownie bites with iced laces on them
Novelty items like a football summer sausage or football shaped cheese
Nuts
Fresh veggies
Nachos, French fries and anything else your heart desires
No matter what you choose, the whole family will love this Super Bowl charcuterie board even if they only get it on special occasions. It's a great way to get even the least of sports fans excited for the big game.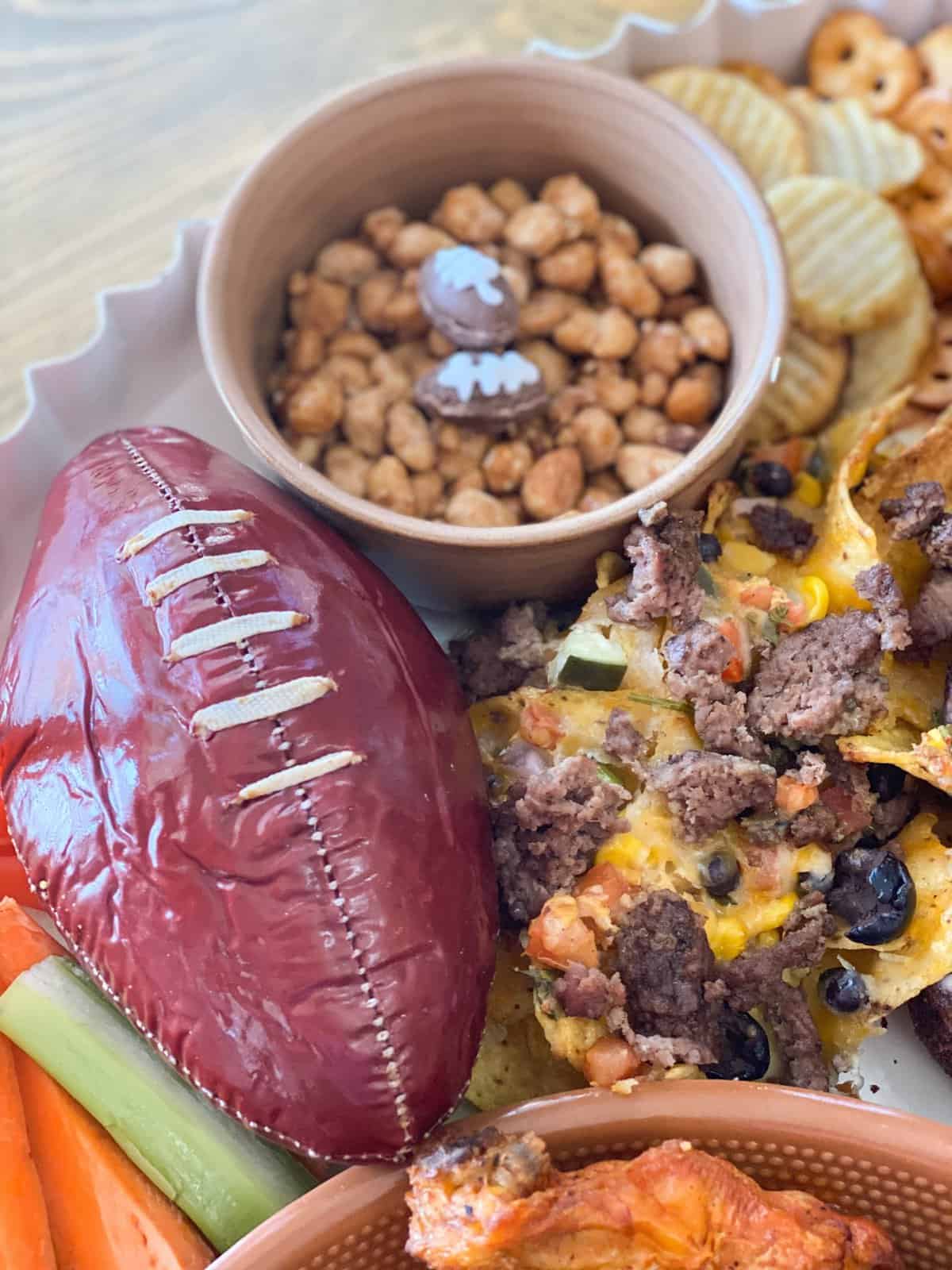 Best meats for a football charcuterie board
When it comes to what meats to include on your cheese board, it comes down to personal preference. Like it spicy? Get that hot chorizo salami and slice it right onto the marble or wooden board.
Not everyone can find the summer sausage shaped like a football so here are some of my other personal favorite cured meats to include on your board…
sopressata
Italian dry salami
prosciutto di Parma
wagyu beef salame
Although I will say the latter is hard to find at a really good quality. Get creative in what you choose though and go with what your taste buds prefer.
Pro Tip: You can estimate about 2 ounces of each cheese and meat for each guest.
What else can I put on my Super Bowl charcuterie board?
This board is very hearty and can include all your favorite game day foods. We chose to add little smokies, nuts, potato chips and fries, wings and pretzels.
Get creative and add slices of pizza and anything else you usually like to have on Super Bowl. The skies the limit when it comes to this Super Bowl charcuterie board!
Need some more dips for your chips? This 4 ingredient gaucamole, healthy buffalo chicken dip or avocado feta dip are great options!
How to make it
Step 1: Get a board and place a couple little bowls where you would like them then add the football summer sausage
Step 2: Add some little smokies and saucy chicken wings in the little bowls as well as things like pickles which are wet and can make a mess
Step 3: Ice laces onto chocolate eggs for a football look
Step 4: Ice laces on brownie bites for another football themed sweet treat
Step 5: Add football shaped cheese, crackers and veggies
Step 6: Add all the yummy treats! Chocolate covered pretzels, chocolates, cookies and whatever else you want including mini goal posts
What are the best sweets to put on the board?
I love including lots of chocolate on this board since it gives the board that brown leather football color motif. Chocolate covered pretzels, unwrapped chocolates and chocolate covered almonds are great.
I also love icing laces on little brownie bites (gluten-free for me) and chocolate eggs because they are the shape of a football.
How far in advance can you put it together?
Grazing and gluten-free cheese and charcuterie boards are fantastic for gatherings because they are so easy to put out and then let everyone nibble on at their own pleasure. As a host, you couldn't ask for a better set up.
No more running in and out of the kitchen, you can now sit down and relax with everyone else! Don't feel like you have to keep it only savory, you can add in the sweets as well for an all inclusive board.
What's the best way to store leftovers?
Leftovers deli meat, cheeses and veggies can be stored in airtight containers in the refrigerator. Crackers and cookies can be places into bags or containers and kept at room temperature.
NEED MORE GOODNESS? Follow me on Facebook, Instagram, Pinterest, and Twitter for great recipes, entertaining ideas and more!
Super Bowl Charcuterie Board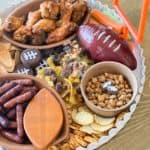 This Super Bowl charcuterie board is the perfect mix of sweet and savory. It only takes 20 minutes to make and is the perfect grazing board for the big game!
Ingredients
24

ounces

Cheese in varied flavors and sizes

24

ounces

Cured meats (I love using football shaped summer sausage)

8

ounces

gluten-free cookies or brownie bites

8

ounces

Chocolates made into mini footballs

8

ounces

gluten-free pretzels

12

Chicken wings

1

small plate

Nachos

6

ounces

French fries
Instructions
Step 1: Get a board and place a couple little bowls where you would like them then add the football summer sausage

Step 2: Add some little smokies and saucy chicken wings in the little bowls as well as things like pickles which are wet and can make a mess

Step 3: Ice laces onto chocolate eggs for a football look

Step 4: Ice laces on brownie bites for another football themed sweet treat

Step 5: Add football shaped cheese, crackers and veggies 

Step 6: Add all the yummy treats! Chocolate covered pretzels, chocolates, cookies and whatever else you want including mini goal posts
Nutrition
Serving:
1
serving
|
Calories:
681
kcal
|
Carbohydrates:
56
g
|
Protein:
21
g
|
Fat:
41
g
|
Saturated Fat:
21
g
|
Polyunsaturated Fat:
2
g
|
Monounsaturated Fat:
12
g
|
Cholesterol:
78
mg
|
Sodium:
1853
mg
|
Potassium:
259
mg
|
Fiber:
3
g
|
Sugar:
15
g
|
Vitamin A:
439
IU
|
Vitamin C:
1
mg
|
Calcium:
329
mg
|
Iron:
2
mg