this post may contain affiliate links
If you need a substitute for maple syrup, it can be tricky to replace the rich sweet flavor of authentic syrup. But, you can use some kitchen staple sweeteners to get pretty close to the taste of pure maple syrup.
Whether you need pancake syrup or a recipe swap, I've got you covered. There are the classic swaps for maple syrup like honey, agave nectar, etc. but I'll throw a few more ideas out there for you that make a great alternative.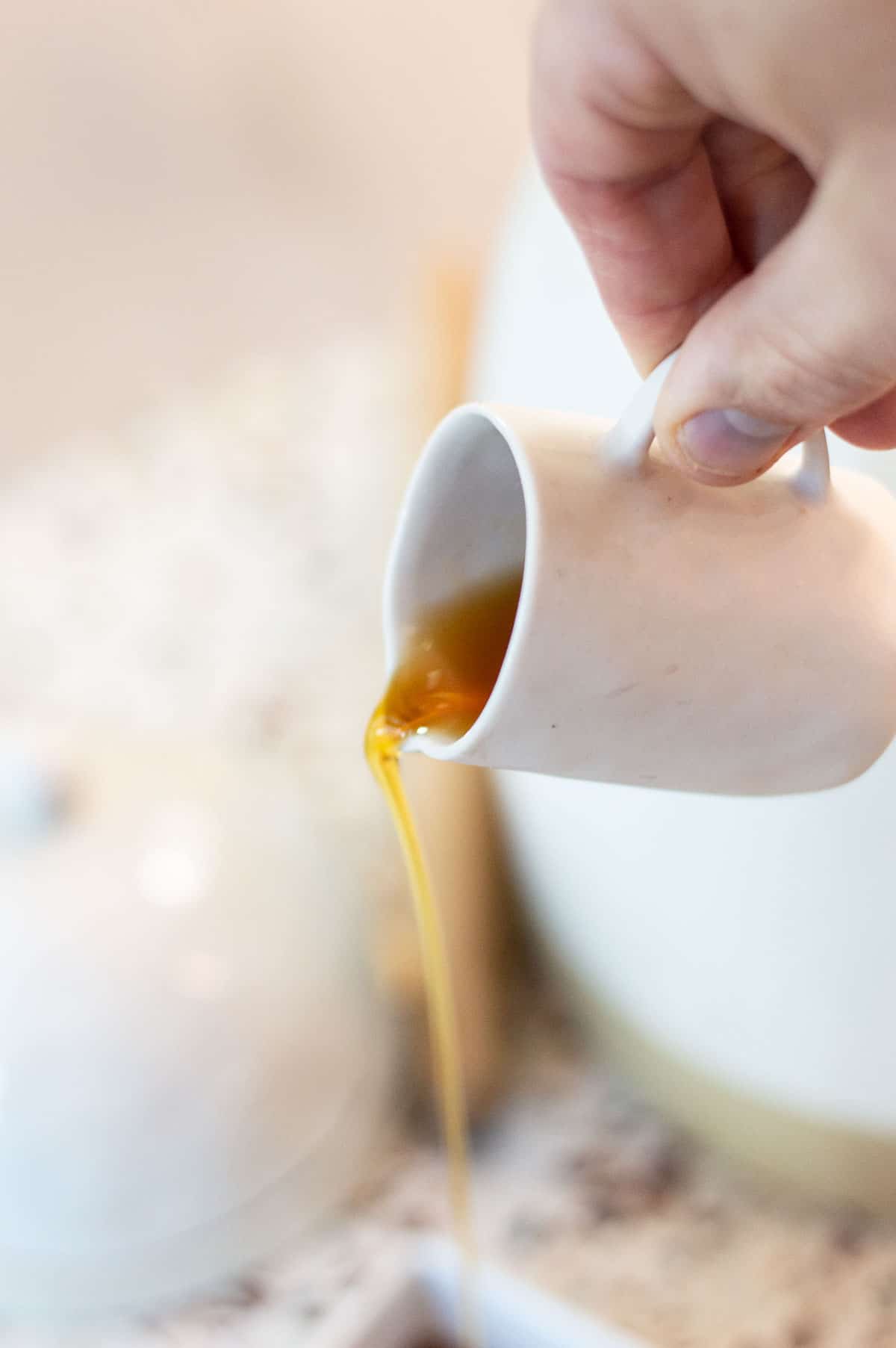 Maple syrup goes great on gluten-free pancakes, air fryer sausage patties, and is a key ingredient in recipes like this gluten-free pecan pie bread. I love using maple syrup because it's a natural sweetener with tons of flavor.
Real maple syrup can be pricey at times and the cheap (not real) maple syrup, like Aunt Jemima, is made with high fructose corn syrup and cane sugar. Using the real maple syrup is not only a healthier alternative, it also tastes much better.
Whether you're looking for a more affordable alternative to maple syrup or you're simply our of syrup, keep reading for more ideas.
Subscribe to This Vivacious Life
Receive a free e-book of Instant Pot recipes!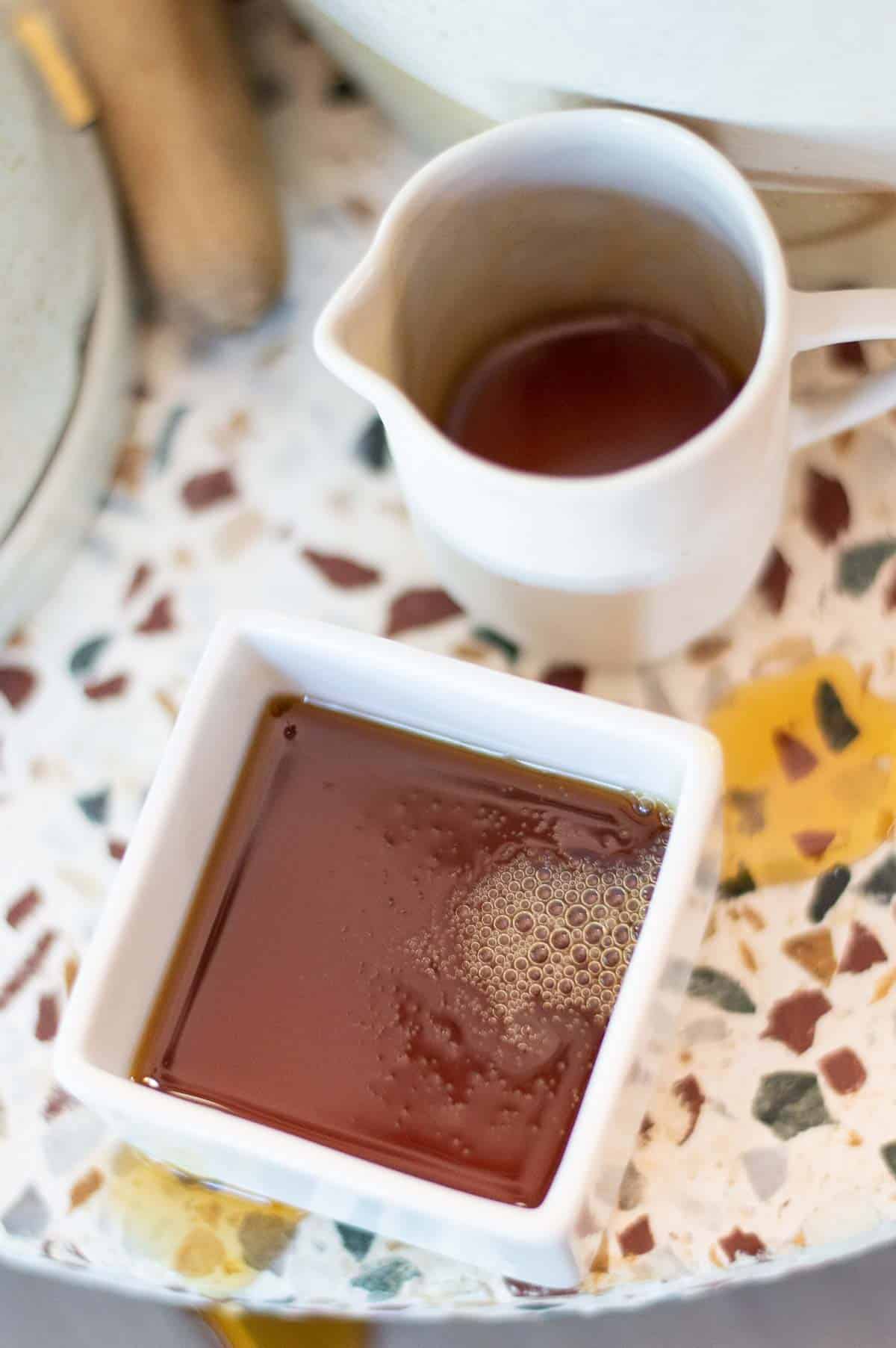 What can you do with maple syrup?
I like using maple syrup or a substitute in tons of different recipes. The obvious options are pancakes, french toast, waffles, etc. but here are a few more ways to use maple syrup.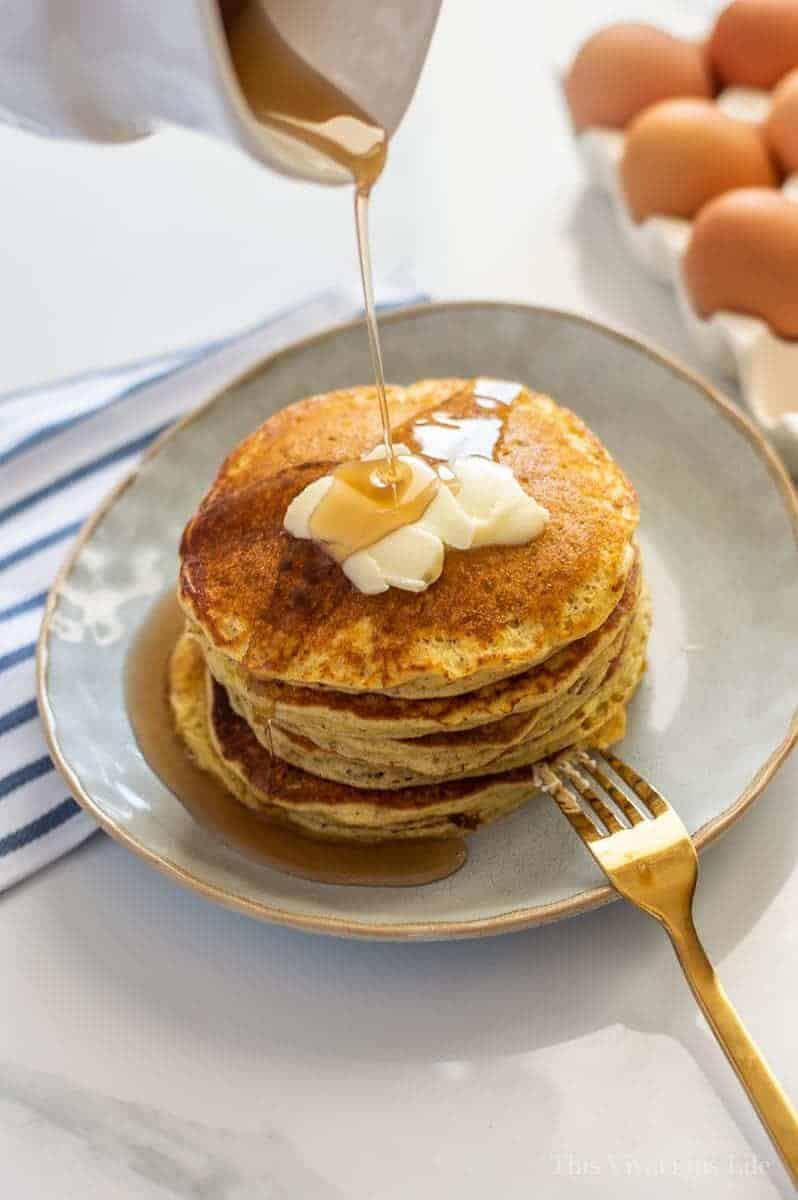 What can I do if I don't have maple syrup?
If you're serving pancakes or have a recipe that calls for maple syrup and you don't have it, here are my favorite substitutions. Simply pick the best one that fits your recipe.
Honey
You can use a cup of honey for one cup of maple syrup in any recipe. Honey is also great to drizzle on pancakes, waffles, french toast, or other breakfast foods. This is probably the best maple syrup substitute.
Buttermilk Syrup
This delicious buttermilk syrup is a creamy, sweet syrup that can be made with just a few ingredients.
Brown sugar syrup
Brown sugar simple syrup is probably one of the best substitutes because it has such a similar flavor profile. Brown sugar syrup is made with equal parts water and brown sugar.
Simple syrup
Simple syrup is another easy swap for maple syrup. It's a liquid sweetener made with equal parts water and sugar. You can use classic simple syrup or a flavored syrup like strawberry simple syrup.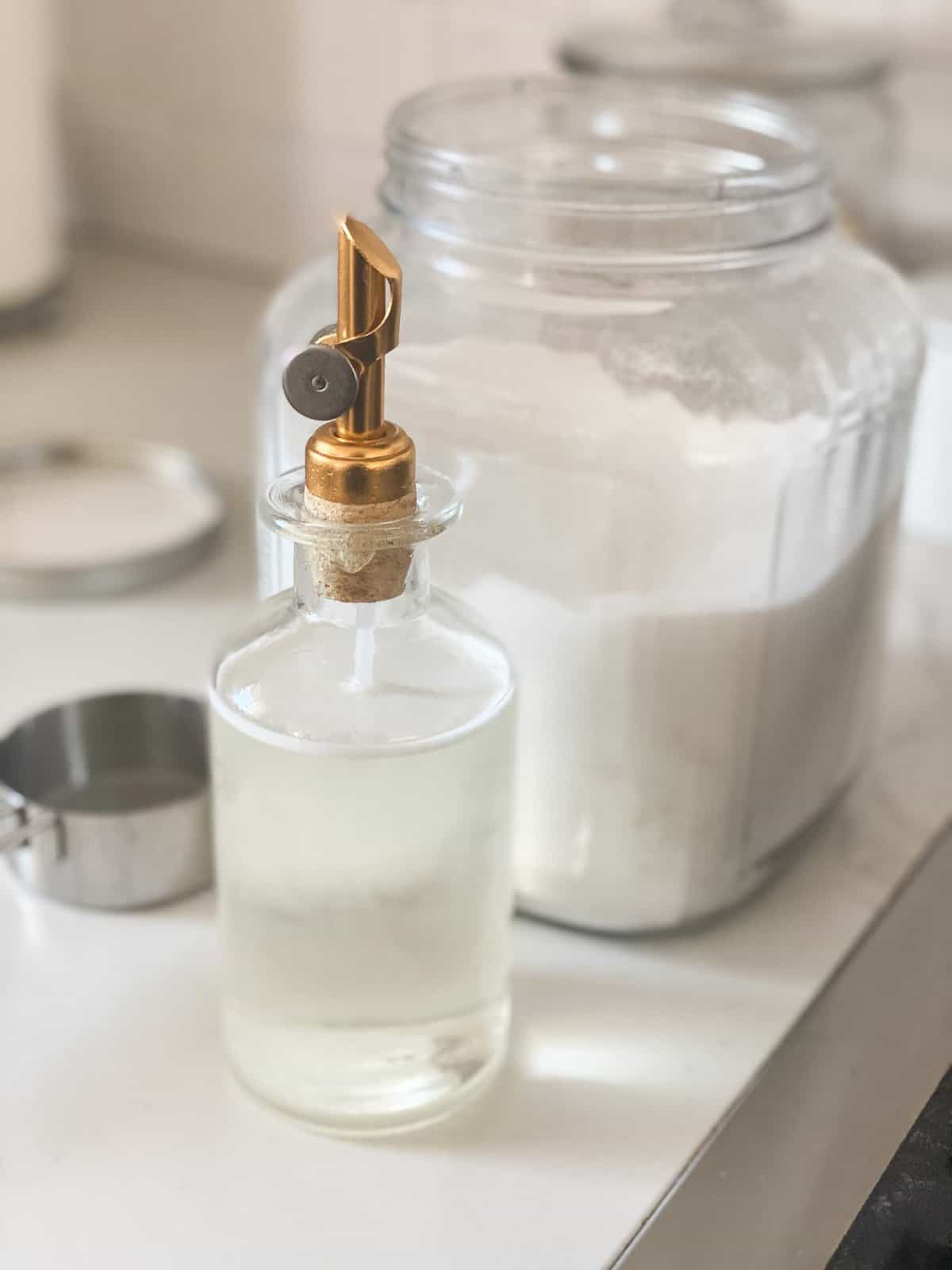 Agave nectar
Agave syrup is another great option because it's similar to maple syrup in terms of sweetness. Agave nectar is another all natural liquid sweetener making it easy to spread on pancakes and 1-1 swap for maple syrup.
Coconut sugar
Similar to brown sugar, you can make simple syrup using coconut sugar. Coconut syrup will make a perfect golden syrup that has a similar texture to maple syrup.
Molasses
Light molasses isn't as sweet as maple syrup but it will still taste great in recipes. It has a similar consistency so you can use it in place of maple syrup. Light or dark molasses is delicious on pancakes as well.
Caramel syrup and Chocolate syrup
Although caramel syrup and chocolate syrup won't make great recipe substitutions, they're great on pancakes and french toast. Add some blueberries, whipped cream, and your other favorite toppings for a sweet breakfast.
Corn syrup
Corn syrup is sweet and there are lighter and darker versions you can use. You can use it in a 1:1 ratio when cooking or baking. It's also is a great substitute in mixed drinks.
Powdered sugar
Light and fluffy powdered sugar is great on pancakes and other breakfast foods but is not a good swap in recipes. It's not as sweet as maple syrup and it has a different texture.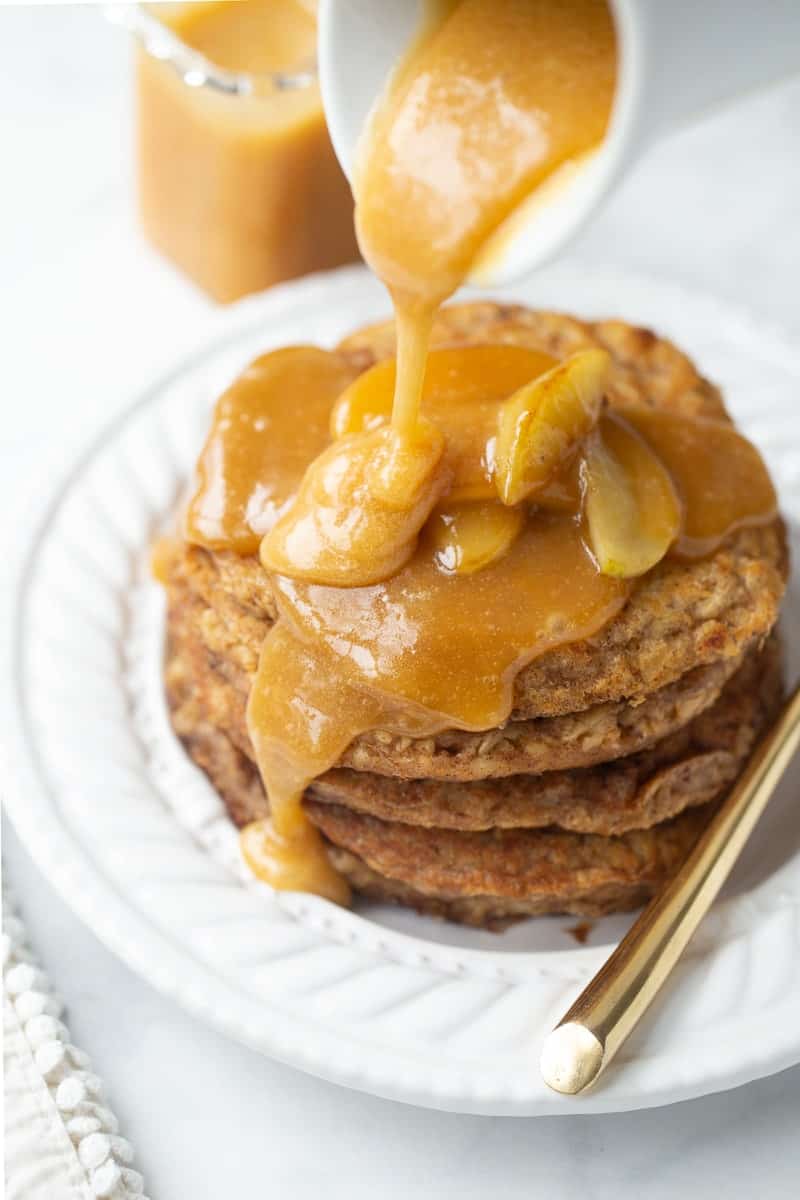 Expert tips and FAQs
Is honey the same as maple syrup?
Honey and maple syrup are similar in the sense that they're both natural sweeteners. But, pure maple syrup is produced from the sap of maple trees while honey is produced by honey bees. Honey is also slightly higher in calories, sugar, and carbs but has less fat than maple syrup. Also, maple syrup has more micronutrients like calcium and magnesium.
How is maple syrup produced?
The sap of a sugar maple tree contains about 2% sugar which provides a delicious sweetener. To make one gallon of maple syrup, you need roughly 40 gallons of sap. Which is why pure maple syrup comes with a hefty price tag. To make the syrup, you have to boil down the sap to remove the water.
Which is healthier coconut sugar or maple syrup?
Even though the flavor profile of coconut sugar and maple syrup, coconut sugar has a lower glycemic index and a lower calorie content. However, maple syrup has more health benefits from the vitamins and minerals it contains. Both sweeteners have their benefits and are pretty similar so choose whichever one you have handy or which one you prefer.