this post may contain affiliate links
We had so much fun at this farm to table dinner party! It is an easy way to gather your friends and family around amazing food.
Thanks to BRIANNAS Fine Salad Dressings for sponsoring this post and party. We love their products!
What does farm to table mean?
For me personally, buying local as much as possible and bringing it right to my table is what farm to table means.
However, on a more broad spectrum, knowing where our food comes from is the start of the farm to table movement. Doing our best to eat food produced locally and dining out at indigenous local restaurants that do the same really puts the practice into action.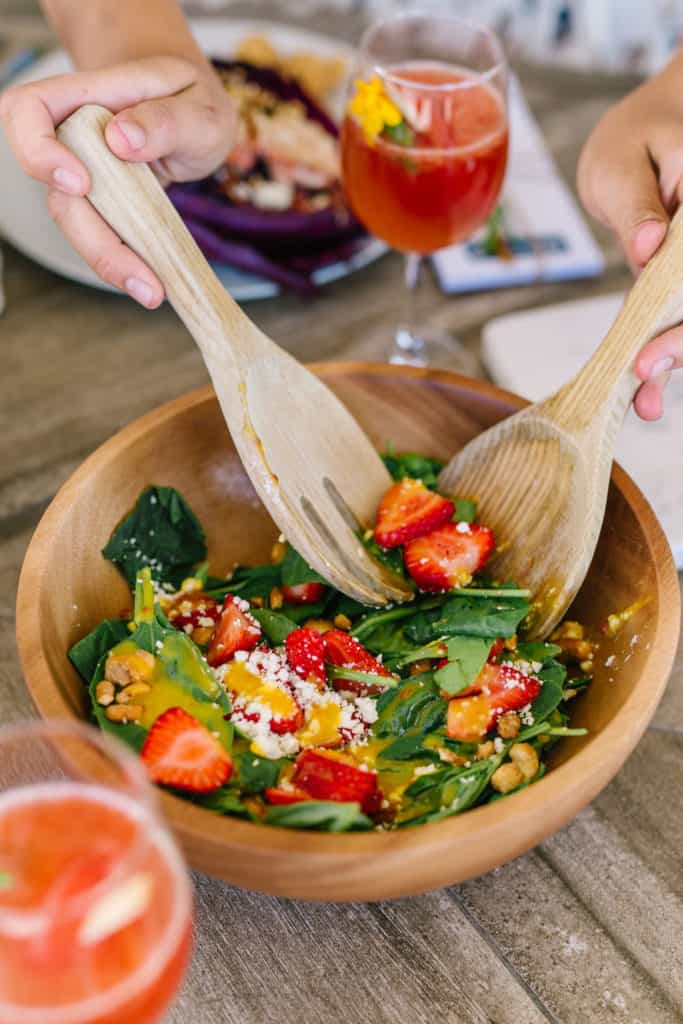 Subscribe to This Vivacious Life
Receive a free e-book of Instant Pot recipes!
While not everything that we eat and enjoy can be locally grown and produced, there are wonderful brands out there that we can support. BRIANNAS Fine Salad Dressings new organic dressings are some wonderful additions to your farm to table dinner!

The five new organic flavors include Rich Poppy Seed, Real French Vinaigrette, Red Wine Vinaigrette, Honey Ginger Vinaigrette and Mango Vinaigrette. You can trust the same great taste you've loved and trusted BRIANNAS to deliver over the past 37 years in their new organic dressings.
I love using them over local salad greens. It's also great to drizzle over recipes like our Whole30 gluten-free crab cakes, oaty gluten-free chicken nuggets or Meaningful Eats summer corn salad.
For me, a party is never complete without a themed cookie. This farm to table dinner party called for a more untraditional cookie and Enchanted Cookie Boutique couldn't have delivered a better tray of them!
I told her I was thinking a cookie veggie platter with a 3D dip and she got right on it! They were almost as unbelievable as our charcuterie and cheese board cookies for my sisters Bohemian wedding.
I mean, just look how cute those radishes, cucumbers and cauliflower florets are…
Why is farm to table important?
After living through the 70's and 80's full of processed foods and easy microwave meals, I feel like our country really started getting concerned with what's in our food.
More restaurants started popping up that use local and sustainable ingredients. Using these things in our own homes and supporting restaurants who do it also will help our local farmers thrive and ensure that we KNOW better what's in our food.
For our farm to table dinner, we kept decor simple. In doing this, it lets the food shine! I love when the food doubles as the prettiness of the table itself.
You can use pretty trays, cake stands or even a vintage food scales like we did with our rolls here. This elevates the presentation.
Farm to table party favors
I like party favors that can really be used once taken home. That's why I went with these cute grocery lists with fresh rosemary and honey sticks tied to them.
I also did cute linen bags that said, "From one foodie to another", filled with BRIANNAS new organic dressings. This is an especially great take home gift because guests tasted and loved the dishes featuring them already!

What should you serve at your dinner party?
I always like serving local fruits and vegetables first and foremost. These heirloom tomatoes are topped with aged balsamic drizzle, sea salt and served with fresh basil. I also put a round of Boursin in the middle to enjoy with them.
These red cabbage honey ginger salmon cups are going to be a new favorite summer meal. This salad is surprisingly easy to make yet it comes out so fancy, especially when served in cabbage cups with marinated honey ginger salmon on top.
Both presentation and taste are a 10! You can find the full recipe using BRIANNAS Organic Honey Ginger Vinaigrette below.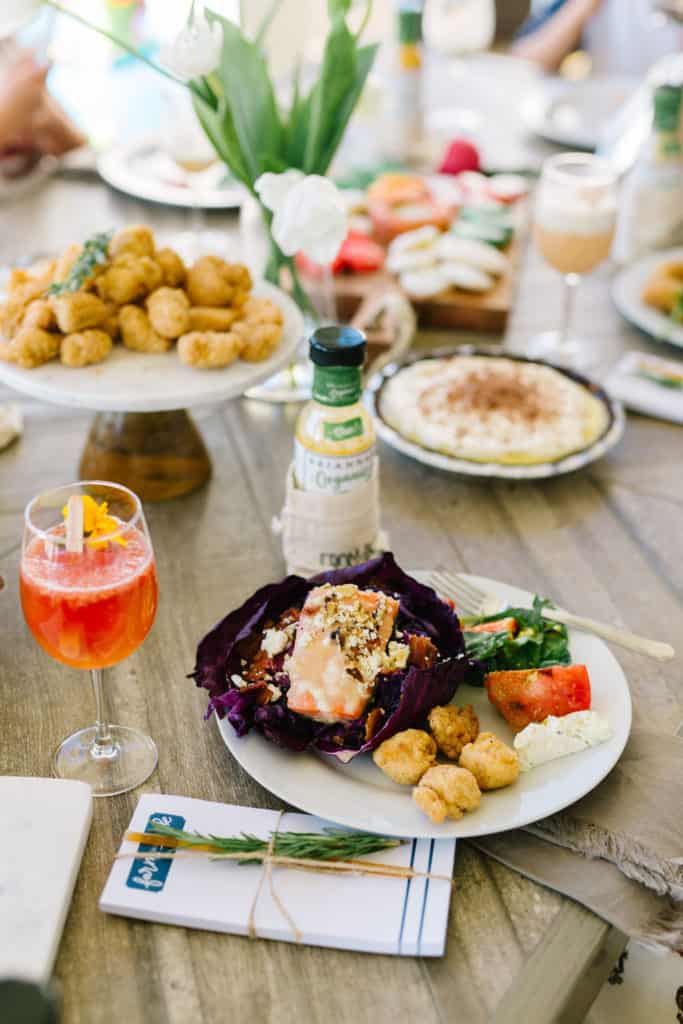 Something with more sustenance that will fill bellies like rolls is always a good idea in my mind. You can buy them from your local bakery or give our gluten-free crescent rolls a go. They are buttery, fluffy and unforgettable!
A pie is always a great idea for dessert. You can go all out and make it from scratch or go semi-homemade buying the crust and filling it with your favorite ingredients.
My mom's famous banana black bottom pie is my absolute favorite and it can easily be made with a store bought chocolate cookie crust to save on time.
Summer Mocktails
You guys know that I love serving a signature mocktail at any gathering I host. For this dinner, I decided that a non-alcoholic drink with all fruit popsicles would be most fitting since we had so many kids.
We went super easy by pouring Martinellis new blush juice. You could easily make this same mocktail using our blackberry lemonade with sage or grapefruit mocktail with rosemary and honey.

I recommend putting the popsicle in right before serving then pouring the drink over it. They melt quickly in the summer heat but it adds some extra sweetness that the kids love.
Farm to table experience for kids
I wanted to bring the farm to table mentality to life for our kids and our friends kids. Building a fresh farm stand complete with fruits and vegetables made for both a fun experience and a vibrant display!
My friends little girl the cutest vintage basket to go "shopping" with and we gave all the other kids darling linen totes for them to fill.
I even had cute little baskets filled with summer fresh cherries and strawberries for easy eating while they were shopping at the little farmers market. They loved them!
Sayings like Oh Kale Yeah and Turnip the Beet made for darling farmers market totes!
What is the farm to school program?
According to Wikipedia, Farm to School is a program in the United States through which schools buy and feature locally produced, farm-fresh foods such as fruits and vegetables, eggs, honey, meat, and beans on their menus…
Farmers are also able to participate in programs designed to educate kids about local food and agriculture.
I absolutely love the idea of getting our kids educated early on the importance of eating local foods and supporting our local farmers.
So is farm to table organic?
According to Redwoodbark.org, organic produce is the basis for farm to table restaurants, providing market incentives for farms around the US to produce larger ranges of products that includeorganic offerings.
I love that our friends at BRIANNAS value the organic movement and have expanded their line for the first time in decades to include organic dressings.
There really is nothing quite like enjoying fresh food with friends and family. I hope this party helps you see how easy it is to recreate a farm to table dinner for your own loved ones.

Be sure to checkout BRIANNAS store locator to see where you can grab a bottle of their fantastic new organic dressings locally. You guys are going to love them as much as we do!

If you love this recipe, you are going to love these also…
Watermelon and Golden Beet Summer Salad
NEED MORE GOODNESS? Follow me on Facebook, Instagram, Pinterest, and Twitter for great recipes, entertaining ideas and more!
Honey Ginger Salmon and Cabbage Cups
These red cabbage honey ginger salmon cups are going to be a new favorite summer meal! This salad is surprisingly easy to make yet it comes out so fancy, especially when served in cabbage cups with marinated honey ginger salmon on top. Both presentation and taste are a 10!
Servings:
4
filled cabbage cups
Ingredients
4

(5 oz.)

salmon filets

1 1/2

(12 oz.) bottles

BRIANNAS Honey Ginger Vinaigrette

1

(16 oz.) package

nitrate-free, gluten-free bacon (I like Beelers)

1

head

purple cabbage, chopped into thin strips

1

head

purple cabbage

1/2

C

Feta cheese

1/2

C

raw walnuts, chopped

3

Tbls.

gluten-free balsamic vinegar

Real Salt and pepper to taste
Instructions
Place salmon filets in a dish and top with one full bottle of BRIANNAS Organic Honey Ginger Vinaigrette

Make sure the filets are covered in vinaigrette and marinate in the fridge for at least 30 minutes but up to 6 hours

When you are ready to cook everything, start by removing salmon from the fridge and let sit at room temperature for 20 minutes

Meanwhile, cook bacon in a large frying pan until crisp

Transfer bacon to a plate to cool

Remove HALF (only HALF) of the bacon grease from the panAdd cabbage to the bacon grease and cook until slightly tender (It should still be a bright purple. If you overcook it you will lose the vibrant color and be left with a dull purple cabbage)

Meanwhile, place salmon filets on a silicone mat lined baking sheet with a small spoonful of marinade and bake at 400 degrees for about 20 minutes or until cooked through and flaking easily

Add balsamic vinegar, chopped bacon and as many walnuts as you prefer to the cooked red cabbage and toss lightly

Gently remove cabbage leaves and use two to make one serving dish, repeat until you have four double cups serving bowls

Evenly distribute red cabbage salad to the salad cups and and top with Feta cheese, a sprinkling of sea salt and hot honey ginger salmon