this post may contain affiliate links
These charcuterie cheese board cookies are so realistic and fun! They make a wonderful dessert after a delicious cheese and charcuterie board spread.
Truly, anyone will go crazy for these charcuterie cheese board cookies. Each cookie has it's own sweet personality!
Guys, these charcuterie cheese board cookies are hands down my favorite sugar cookies we've ever featured! That's saying a lot because Shanan from Enchanted Cookie Boutique has done SO many amazing cookies for us.
Remember the Two Legit to Quit party cookies? Or maybe you remember the cutest cactus succulent baby shower cookies. The most detailed gingerbread party cookies are another amazing cookie Shanan did for us.
Even will all of these cute cookies, these charcuterie cheese board cookies are still the most exciting to me!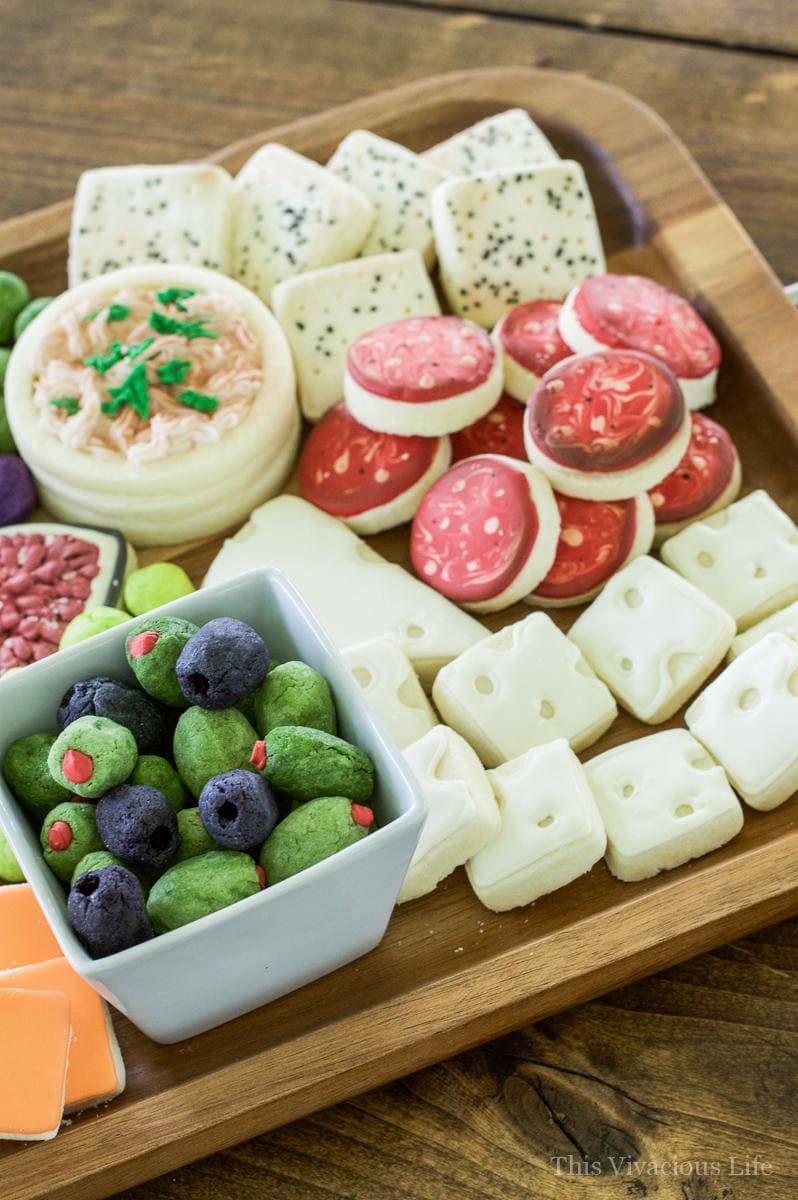 I mean really, just look how detailed these black and green pimento stuffed olive cookies are! She even made these 3D…Shanan is truly a cookie genius.
So I wanted a variety of things for our charcuterie cheese board cookies and that is certainly what we got! I love that there are meats, cheeses and fruits too.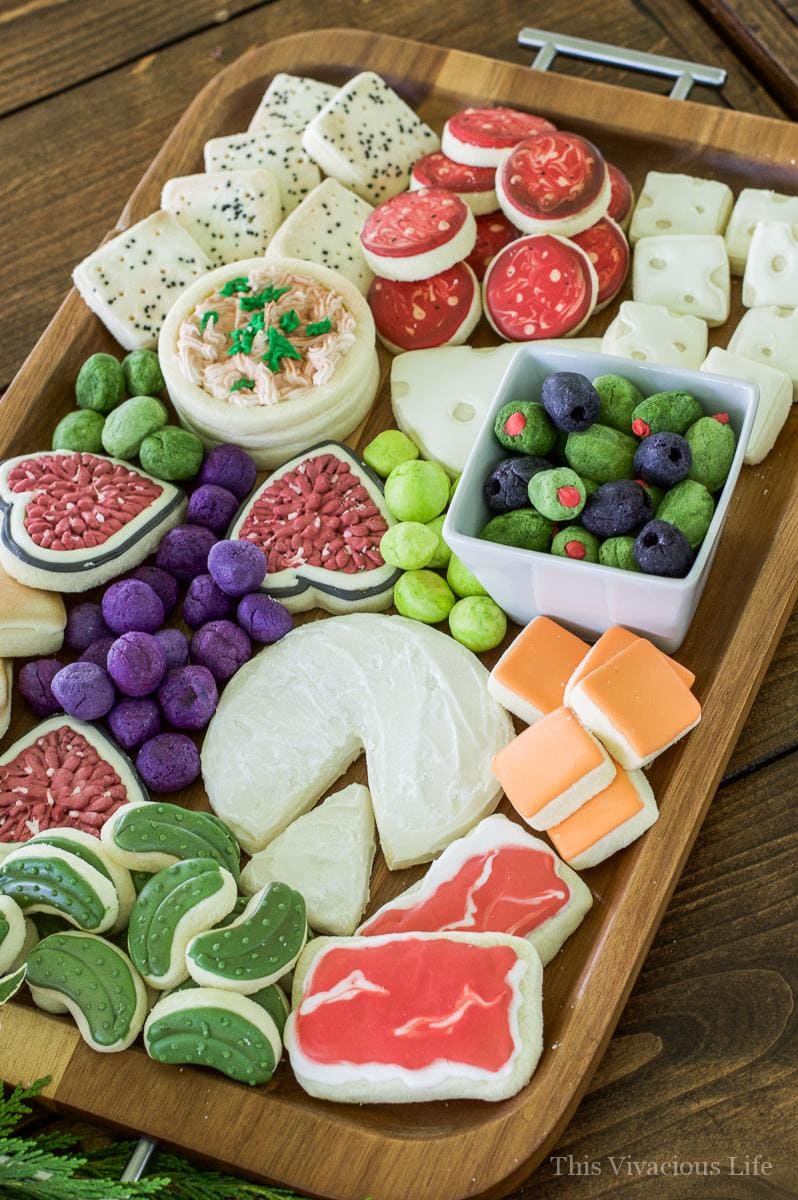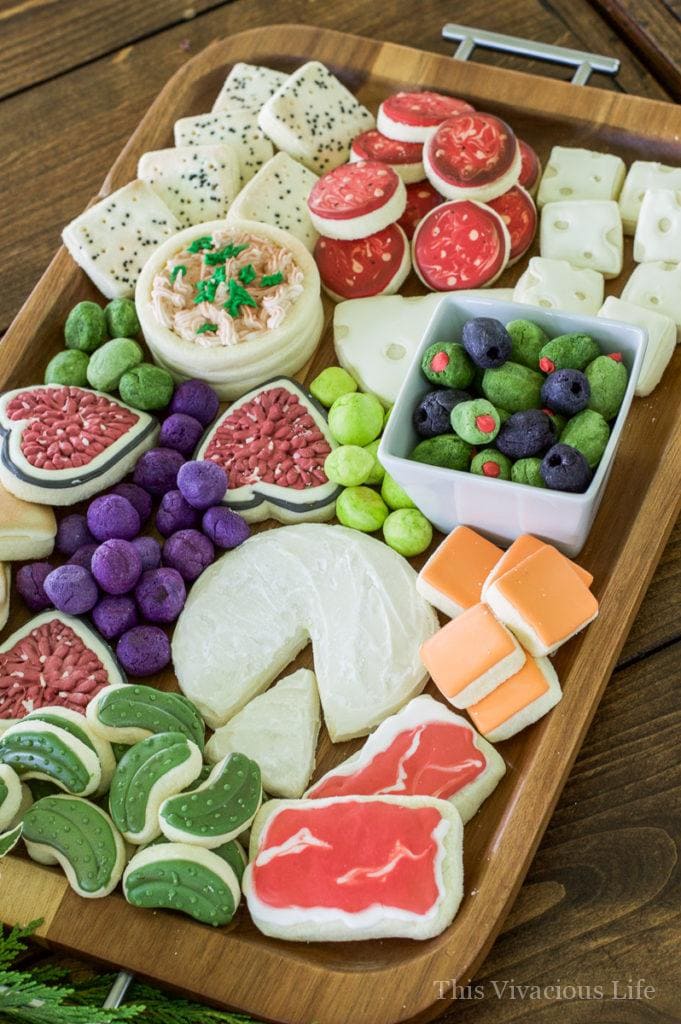 I LOVED the detail and texture on these cracker cookies! The black "pepper" sprinkles and toasty look of each cookie just looks so authentic. It was fun to see the little holes in the cookies too giving them a real cracker look.
They are served along side this 3D tapenade dip. That is THREE round sugar cookies stacked on top of each other to make a "dish". It is then filled with frosting tapenade dip for the cracker cookies…seriously the cutest!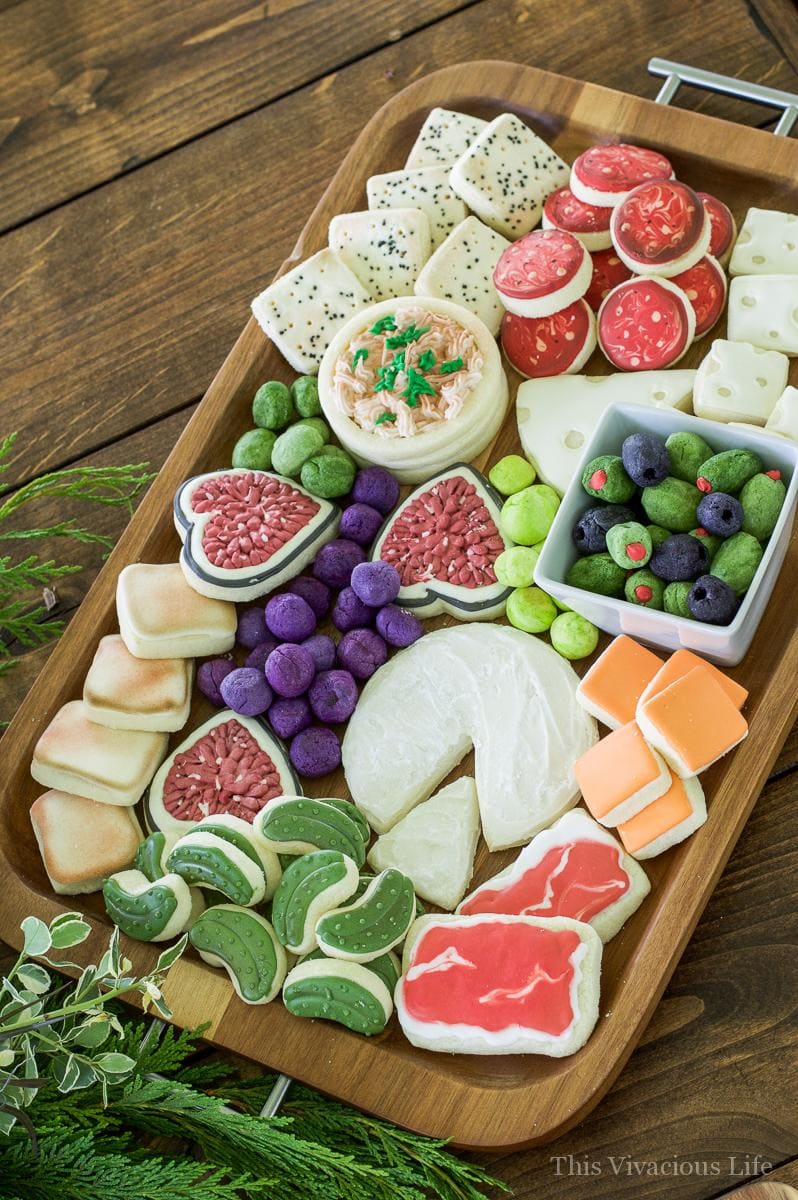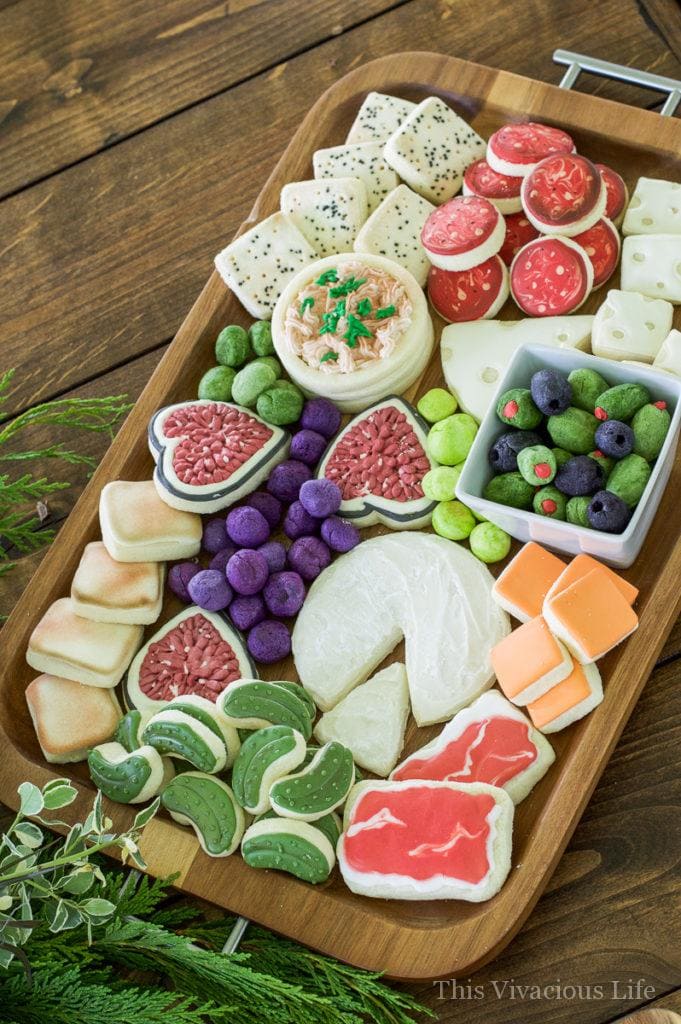 Cheeses & Meats Featured
Brie wheel and wedge
Swiss cheese wedge and slices
Cheddar cheese squares
Proscuitto
Salami
The salami was one of my favorites! I loved the details and depth of the fat to meat in traditional salami slices. The cute rounded discs make for the perfect accompaniment on this cheese board.
I loved serving everything on one big platter like a traditional charcuterie board. I also wanted to do a smaller wood cheese board with only the cheeses and little toasts. They made a great pair!
Other Charcuterie Cheese Board Cookies
Cornichons
Light green grapes
Purple grapes
Dark green grapes
Fig halves
Crackers
Mini toasts
Tapenade dip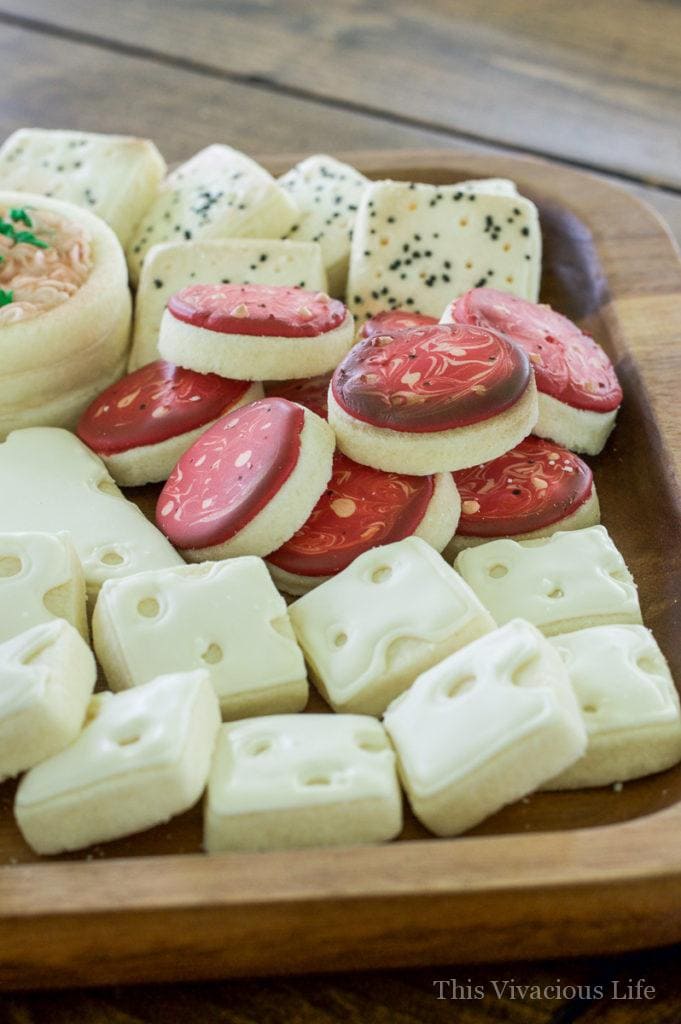 Served all up on a big wooden platter and it was a lovely dessert to serve at my sisters wedding. She featured five six-foot wooden charcuterie board tables full of delicious eats like Italian meats, crackers, fresh and dried fruit, nuts and dips.
We loved keeping dessert within the theme and surprising guests with these charcuterie cheese board cookies! Be sure to watch for our HUGE feature of the wedding featuring everything. It's coming soon!
In the meantime, you can check out our easy gluten-free charcuterie and cheese board. My friend Cindy of Vegetarian Mamma also has a fun vegetarian charcuterie board if you don't do meat.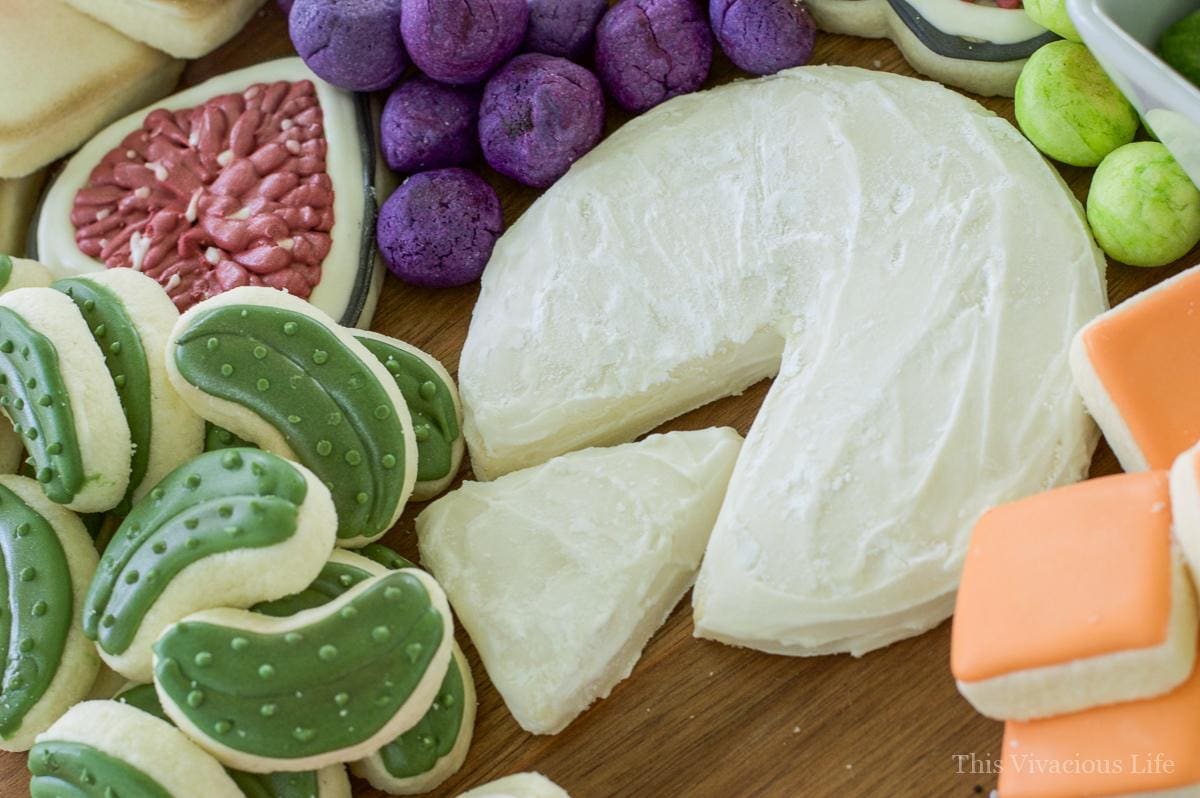 Tips for Choosing Your Cookies
Like building any charcuterie or cheese board, you want to start with choosing 2-3 cured meats and 2-3 different cheeses. We did a variety here like cheddar, swiss and brie cheeses and salami and prosciutto.
Next, be sure to choose some different crackers, olives and nuts or cornichons. I like serving both black and pimento stuffed green olives both on a real charcuterie and with this charcuterie and cheese board cookies.
Lastly, you want to include some fresh and dried fruits. Grapes are always a classic choice as are figs. They are just so pretty!
Alright, now it's time to reach out to Shanan from Enchanted Cookie Boutique. She will take great care of you! Her cookies can be ordered gluten-free or regular. She bakes in the same kitchen but uses separate utensils and doesn't bake or cook them at the same time.
Shanan also delivers her cookies nationwide! That's right, now even those of you not here locally, can enjoy the goodness that is cookies from Enchanted Cookie Boutique.
If you like this, be sure to check out these…
Gluten-Free Cheese and Charcuterie Board
BEST Charcuterie Board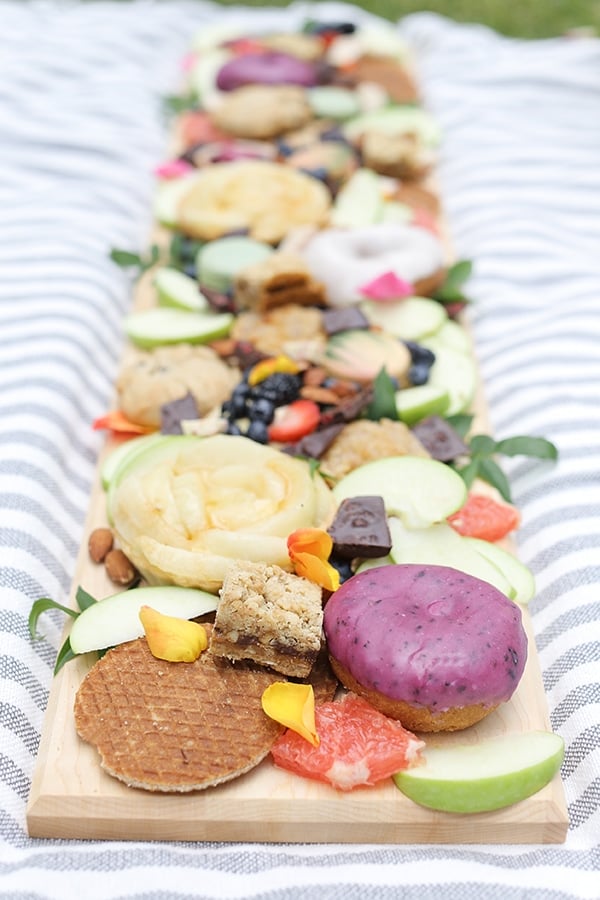 Lobster Boil