A good gluten-free tiramisu is both robust as well as delicate. This no coffee gluten-free tiramisu uses brewed cocoa beans & gluten-free ladyfingers to create an authentic Italian dish. Italians know food and it shows in delectable dishes like this no coffee gluten-free tiramisu. It's the perfect dessert to finish off a wonderful corn pasta dinner.
This no coffee gluten-free tiramisu has quickly become one of my favorite desserts. It is surprisingly simple to prepare and takes on most of it's flavor while soaking in the refrigerator. 
From the first time I tried tiramisu before being diagnosed with celiac disease, I was smitten. I love the punch of flavor this soft, delicate dessert provides. However, since being gluten-free I have had a really hard time finding a tiramisu that I can eat.
The fact that I don't drink coffee makes it even harder to find; since the ladyfingers are typically soaked in espresso or strong coffee. Luckily though, with this no coffee gluten-free tiramisu I can now enjoy one of my favorite sweet treats happily.
I am so grateful to have found Schar gluten-free ladyfingers that work so beautifully in this dish. Schar is Europe's #1 gluten-free brand. They make a variety of products like the ciabatta featured in our rustic Italian dinner party as well as many more great things.
I recently found an amazing coffee alternative in Crio Bru. These fresh ground cocoa beans taste lovely in our no coffee gluten free tiramisu. I love how using them finally gave me a reason to own a cute little french press too.
One of the best things about this dessert is that it is very easy to make. I used to be intimidated by the prospect of making tiramisu but not anymore.
This gluten-free tiramisu is a no bake sweet treat that is wonderful for summer when it's hot or when your oven is already in use. Keep in mind though that this no coffee gluten-free tiramisu does require a minimum 4 hour "soak". However, overnight is even better.
Brew up some cocoa beans and water then enjoy it along side your dessert for a truly authentic Italian experience. I have come to realize that much of the joy that comes in dessert is sitting back, relaxing and enjoying it to the fullest with the people you love.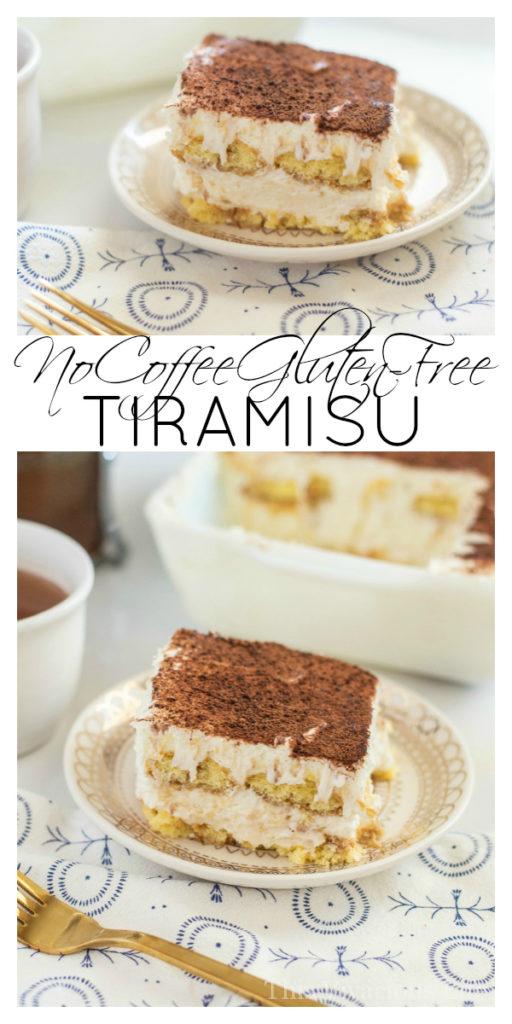 No Coffee Gluten-Free Tiramisu
Ingredients
2 packages of gluten-free ladyfingers (we love Schar brand)
1 C brewed Crio cocoa beans
16 oz. mascarpone
1 C powdered sugar
2 C whipping cream
Instructions
Make 1 cup liquid brewed cocoa beans (Crio Bru)
Whip mascarpone and powdered sugar until fluffy and well combined.
In another bowl, whip cream until stiff peaks form.
Fold cream into mascarpone. Split into three even amounts.
Spread 1/3 cream in the bottom of an 8x8 pan.
Dip half the ladyfingers into Crio brewed cocoa to soak just briefly.
Lay them out evenly over the cream.
Top with another 1/3 cream.
Repeat one more layer of soaked ladyfingers.
End with last 1/3 cream over the second layer of ladyfingers.
Cover with tinfoil and refrigerate a minimum of 4 hours. Overnight is better though.
Right before serving, sift more Crio cocoa beans on top of the tiramisu.
https://www.thisvivaciouslife.com/gluten-free-tiramisu-no-coffee/
*This is a sponsored post by Schar. I was provided with monetary compensation and products. Opinions are all my own and truly reflective of how we feel about these products. We love Schar brand and use their products often. Our original post was published on October 29, 2016. Here is one of the original photos.