These gluten-free vegan ice cream sandwich chocolate chip cookies are going to be your new favorite dessert… Nobody would ever know they are allergen-free!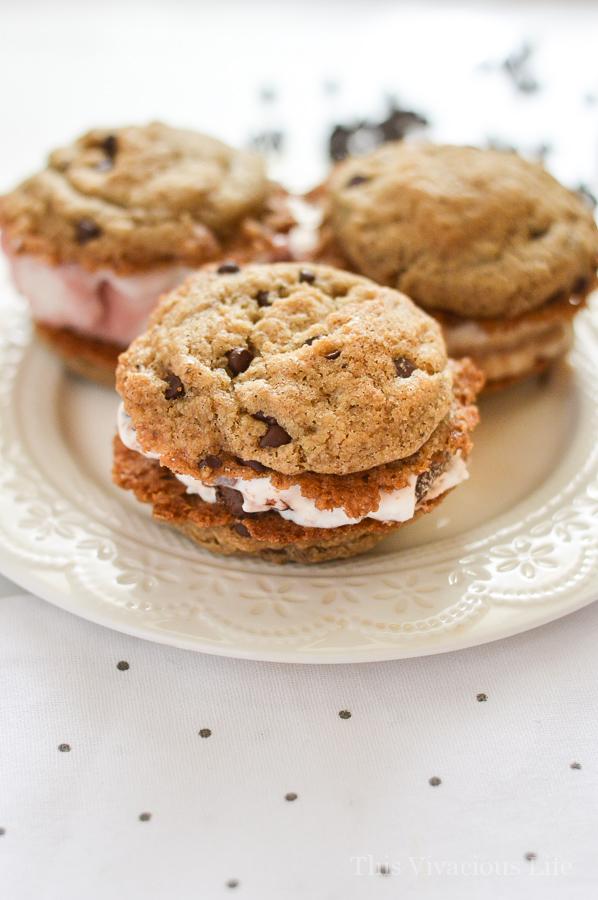 There is nothing quite like a chewy chocolate chip cookie with cold ice cream and these gluten-free vegan ice cream sandwich chocolate chip cookies fit the bill perfectly.
You guys, when I say these cookies are good I mean they are really good… My husband who can eat anything gave them his stamp of approval and even went back for seconds and thirds! The kids also love them and of course this cookie loving mama can't get enough.
I'm not vegan myself but I know many people who are. These gluten-free vegan ice cream sandwich chocolate chip cookies are something I wanted to create just for them. My sister and her little girl particularly because they are always going out of their way to feed me delicious gluten-free food when I see them.
Remember when she made me this instant pot gluten-free mac & cheese? It's now one of our go to dinners. I thought this would be a fun way to pay her back…

Typically I find that baking without eggs is tough. Thanks to one secret ingredient,  chia, I can now do it without losing flavor or texture. In fact, chia gives baked goods a beautiful chewy texture as well as keeping them moist.
I realize that using multiple gluten-free flours in these cookies might seem a bit intimidating. However, this is one of the reasons they taste so great. I highly recommend sticking to this if you want a truly authentic chocolate chip cookie taste.
There are lots of gluten-free flour mixtures out there, but none of them are as good as mixing flours yourself. In my humble opinion anyway.

We used Perfectly Free ice cream in between two chewy cookies because they have a great texture and taste. There are three different flavors of perfectly free ice cream including fudge swirl, strawberry sundae and caramel café.
I like to use all of them making a variety of choices for guests when enjoying these ice cream sandwiches. This allows them to get the flavors they like most in their own cookie sandwich. 
We've also used this fantastic ice cream to make a free from easy banana split bar. The kids loved building their own with everything from dairy free chocolate chips to bananas and strawberry sauce. 
Don't know where to find Perfectly Free near you? Check out there product finder HERE.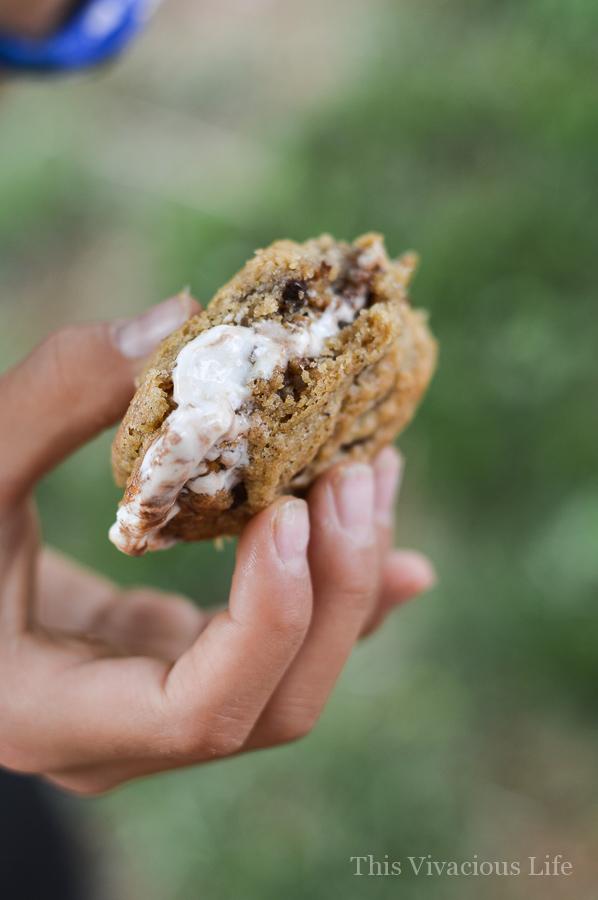 So whether you decide to make these cookies into delicious ice cream sandwiches as shown here or to be eaten on their own, I am sure you will love them!
Gluten-Free Vegan Ice Cream Sandwich Chocolate Chip Cookies Notes:
Do not eat up the butter alternative before adding it to the cookie dough
Use a small rounded tablespoon ice cream scoop to put little balls of dough onto a silicone baking mat
You do not need to flatten them
Be sure to give each cookie space in between the others to bake properly, 2 inches at least
Store cookies in an airtight container to ensure maximum softness
Let the cookies cool before assembling into ice cream sandwiches


Gluten-Free Vegan Ice Cream Sandwich Chocolate Chip Cookies

Ingredients

3/4 C brown rice flour
3/4 C white rice flour
1/2 C potato starch (not flour)
1/2 C tapioca starch
1 C vegan no-soy butter alternative (I like Earth Balance)
1 C brown sugar
1/2 C sugar
1 tsp. vegan xanthan gum
1 tsp. Real Salt
1 tsp. gluten-free vanilla extract
1/2 tsp. gluten-free almond extract
2 T ground chia plus 5 T water, mixed to make an egg like texture
3/4 C vegan chocolate chips (I like Enjoy Life)
1 pint vegan ice cream like Perfectly Free

Instructions

Combine all flours, starches, xanthan gum and salt in a bowl
In another bowl, whip butter alternative, sugars, vanilla and almond extracts until light and fluffy
Add the chia egg to the sugar mixture and combine
Slowly add in the dry ingredients and mix well
Fold in the chocolate chips
Place rounded T amounts of cookie dough on a silicone baking mat or wax paper lined baking sheet 2 inches apart
Bake 9-11 minutes or until golden brown with slightly crispy edges
Let cool then assemble ice cream sandwiches by placing ice cream in between two cookies

https://www.thisvivaciouslife.com/gluten-free-vegan-ice-cream-sandwich-chocolate-chip-cookies/
If you like these, be sure to check out our other dairy-free treats…
Chocolate Dipped Pumpkin Spice Donuts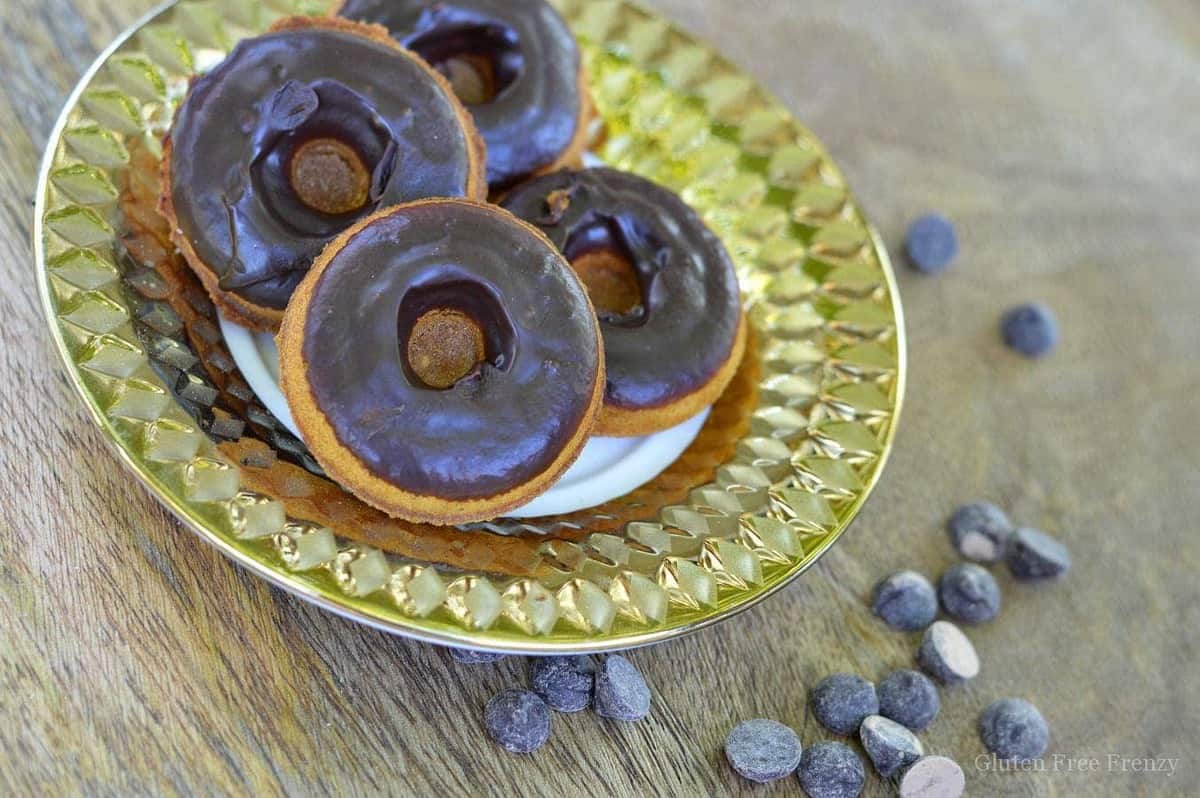 Gluten-Free Dairy-Free Power Muffins
Easy Vegan Snacks
This post was sponsored by Perfectly Free. We were provided with monetary a product compensation.