this post may contain affiliate links
Hygge Christmas…The word Hygge (pronounced hoo-guh) is a Danish word that symbolizes a feeling of coziness and warmth. A hygge lifestyle is one that's content with simple things like a warm blanket, fuzzy socks, and family time.
The holiday season is the perfect time to embrace the hygge lifestyle. During the cold months, there's nothing better than spending time with family members in a cozy home.
Hygge
Hygge (pronounced ˈho͝oɡə/) is basically the art of living cozy. It comes from the Danish culture and traditions of living a content and cozy life. Since my family is Danish, I have felt especially drawn to it…
This includes lots of candles, wool socks, sweet treats and just a general calm in our lives While hygge can be embraced any time of year, it is most easily achieved during cold winter months and the holidays especially when you add a hot cocoa bar to any gathering.
Hygge Christmas
I absolutely love this little book of hygge that lays of statistics of the joy that embracing this lifestyle can bring. All according to the happiness institute.
Subscribe to This Vivacious Life
Receive a free e-book of Instant Pot recipes!
Oh how I love to Hygge during Christmas time! It is my favorite time to embrace the elements of living a cozy life. A girls gathering during this time of year is especially rewarding.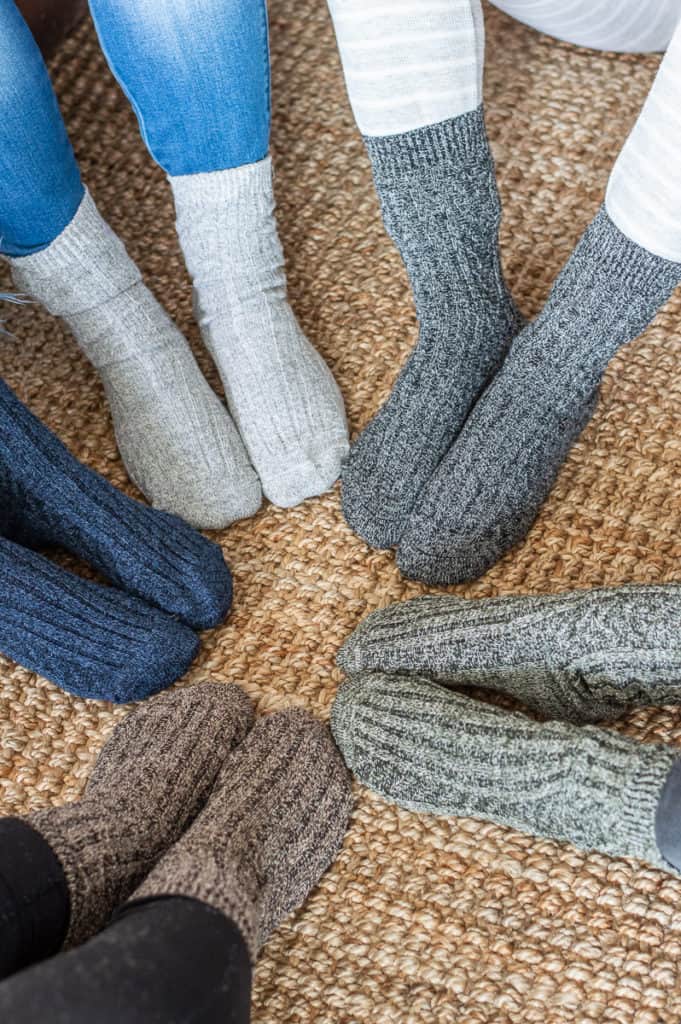 Things can be relaxed and unpretentious. Ask guests to come in comfy clothing like a warm sweater to set the tone for a casual evening with good food, good company and a relaxing night for all.
Hygge Food
Serving traditional Danish food is a great way to add natural elements of Danish culture. The perfect cosy christmas breakfast should be "melt in your mouth" delicious. My favorite hygge Christmas idea is using our favorite ebelskiver recipe to make these little Danish puff pancakes on Christmas morning!
Ebelskiver is something the whole family can help make because the process is so much fun! The morning is also the perfect time to start serving hot cocoa! Besides, the kids love hot cocoa on a cold day and it is the festive season!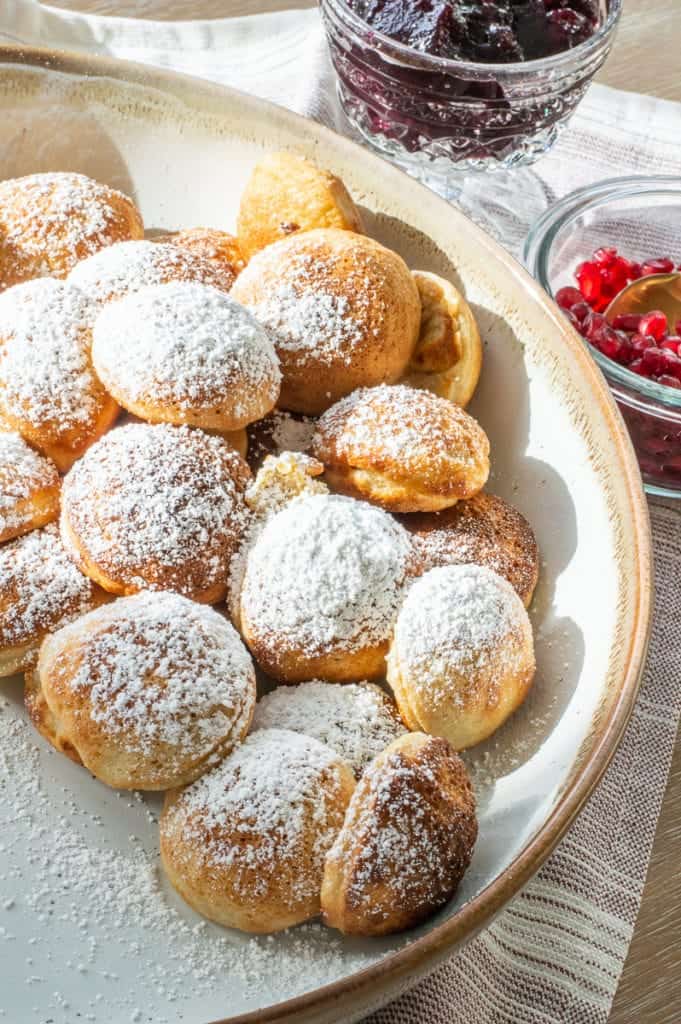 Along with ebelskiver and hot chocolate, I love making instant pot apple crisp. For chocolate lovers, this chocolate orange cake is for you! These dishes are perfectly sweet that creates such a cozy atmosphere which puts everyone in a good mood!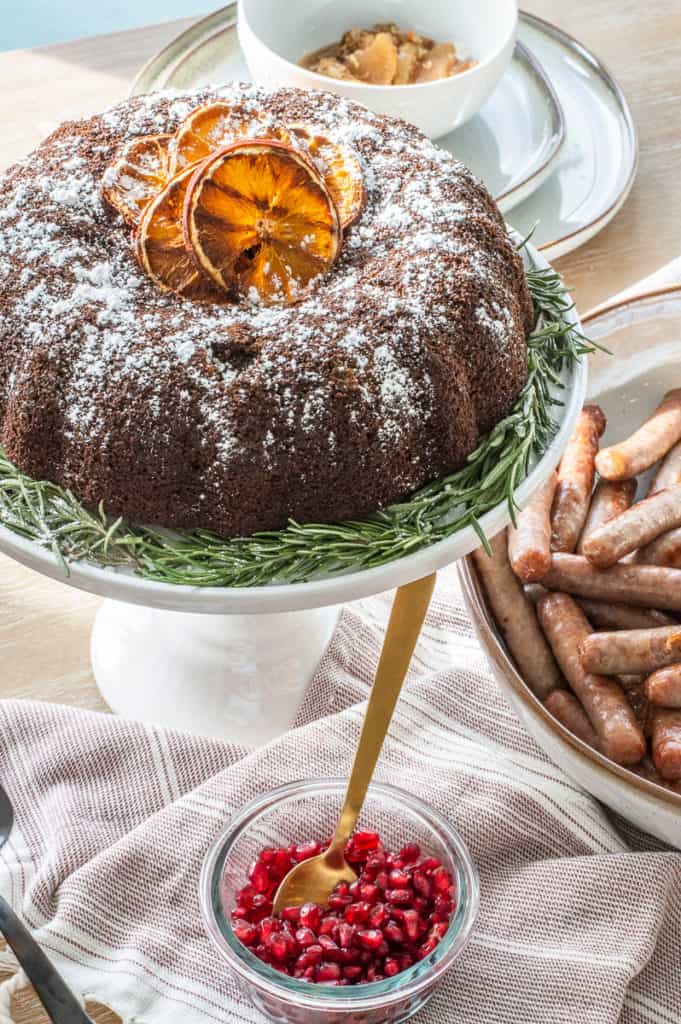 I find that crockpot apple cider or a candy cane Christmas mocktail washes these desserts down perfectly. If peppermint isn't your thing, you should try this gingerbread martini mocktail! My family and I think the best time to serve mocktails is on Christmas eve when the Christmas excitement is high.
Modern Christmas Gathering
Just a few things make any holiday get together a modern gathering. First, keep things simple. This includes simple decorations, attire, and even the menu.
A few simple dishes that you love will be wonderful. Keep your decor to a minimal with fresh greenery, a simple big christmas tree and even homemade, DIY Christmas ornaments.
Modern Christmas Decorations
Keeping it simple is key to modern Christmas decor. That's why I love these simple ceramic and wood houses. They have little tea lights in them and are so beautiful!
When decorating your minimalist mini Christmas tree, use natural decor like these wool ball garland or wood ball garland in natural colors. Fairy lights or classic Christmas lights are also a great addition for just a touch of sparkle.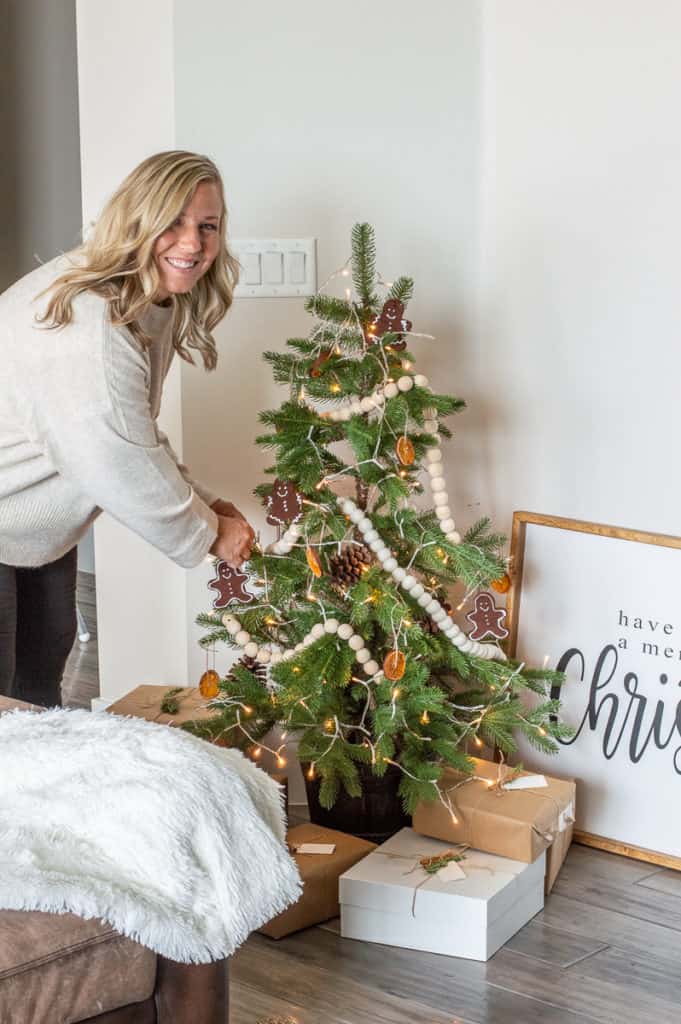 I love putting a big gorgeous sign like this custom one from Generation Farmhouse next to the tree for a great full modern effect. I also love adding an advent wreath to our front door!
I have always loved the idea of dried orange ornaments ever since my mom read me the book, Christmas Oranges as a little girl. I still read it for my kids and want to put these on the tree the night we make them.
I found a great recipe that couldn't be easier from She Keeps a Lovely Home forhow to make dried citrus Christmas ornaments. For easy modern wrapping paper, just use butcher paper! It is clean and fresh especially when topped with cinnamon sticks and fresh sprigs of rosemary or pine.
Homemade gingerbread ornaments
You guys, these gingerbread ornaments are the perfect easy diy project! Three simple ingredients and some fun in the kitchen will give you tree ornaments that you will treasure forever.
Let your kids decorate them with craft glue for a bit more pizzaz. You can use them year after year if you store them carefully between tissue paper.
Gluten-Free Makeup
Why is gluten-free make up so important to those with celiac disease you ask? Well considering that in her lifetime the average woman ingests over 7 pounds of lipstick, you can see why it would be important to make sure yours is gluten-free. Especially if you have celiac disease.
It may surprise you but you actually lick your lips quite often and all that gluten in make up can add up. You may be living 100% gluten-free to manage your celiac disease but if what you put on your lips contains gluten, you're still getting small amounts that could be making you sick or be keeping you from getting better. That's where Red Apple Lipstick helps.
Always make sure to choose beauty products that are gluten-free. A very few amount of people living with celiac disease have dermatitis herpetiformis or skin celiac. So for them, every single thing they put on their body must be gluten-free.
I personally love and use Red Apple Lipstick products every day because they are not only gluten-free but also non-toxic and cruelty free. The pigments in the lipsticks, eyeliners, lip liner's and eyeshadows are fantastic.
I love that you don't sacrifice on the look for having a gluten-free make up brand. Well there lipstick is the number one thing that use I also love their shadows. They have a huge array of colors and I love their cute little magnetic cases for each.
Their purple and navy eyeliners give me that pop that I love and use every day. I also use their brown eyeliner to fill in my eyebrows. They offer an awesome mascara that can finish off your whole look beautifully. Perfect for Christmas cards or greeting cards!
And for those who want a little extra more of their lips, Red Apple Lipstick has a variety of beautiful lip liners as well as a raleye balm that helps keep the lips soft. I personally love putting on a thick layer of this right before bed.
To learn more about Red Apple Lipstick products head over to their site and use my code: TVL for 22% off!
For my girlfriends gift bags and boxes, I put Red Apple Lipstick and rallye balm, scented pine cones, chocolate covered cherries, gingerbread cookie cutters and cozy Christmas socks.