this post may contain affiliate links
A hot cocoa bar is such a fun idea for the whole family during the holiday season. What better way to warm up on a cold day than with homemade hot chocolate? Add your favorite toppings and sweet treats to make your hot chocolate your own!
It takes almost no time setting up a hot chocolate station and it's guaranteed to be a hit at holiday parties, birthday parties, or other special events. Serve candy canes, homemade marshmallows, caramel sauce, chocolate chips, and more at your hot cocoa bar.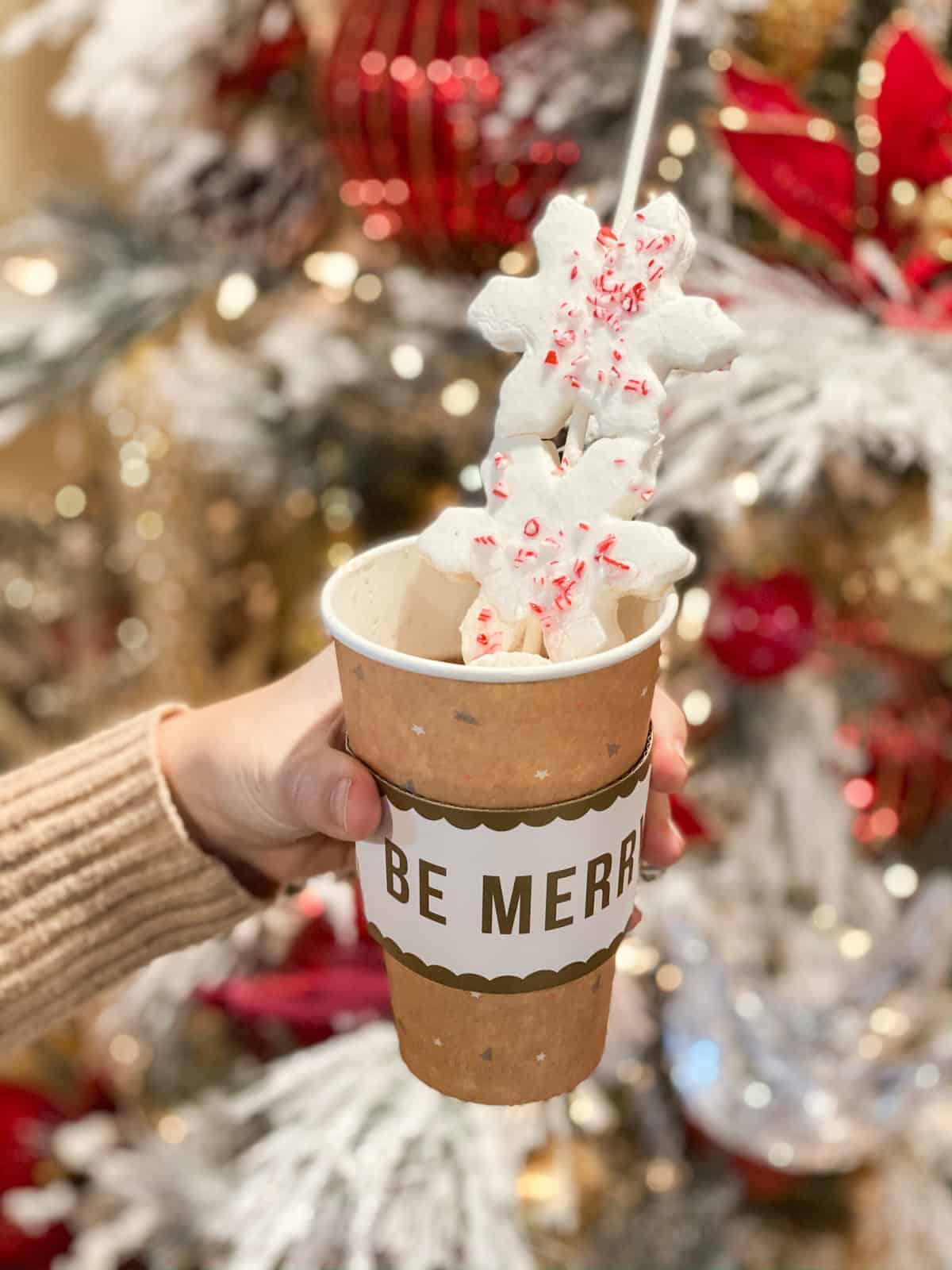 Christmas recipes are some of my favorite recipes to make. They're festive, fun, and enjoyed by the whole family. My family loves to celebrate a Hygge Christmas by making ebelskiver and this chocolate orange cake.
Along with a hot cocoa bar, charcuterie boards are always a crowd pleaser at family gatherings. My Christmas charcuterie board and my Thanksgiving charcuterie board are expected every year.
If this hot cocoa recipe isn't your thing, you should try my candy cane Christmas mocktails. It's perfect for those who want a Christmasy drink but don't love chocolate. And, since it's a mocktail, kids can enjoy it too!
Subscribe to This Vivacious Life
Receive a free e-book of Instant Pot recipes!
What can I put on my hot chocolate station?
The hot cocoa bar ideas are endless! There are so many different toppings from cinnamon sticks to chocolate whipped cream. Pick your favorite toppings and decor to set out for your guests to enjoy. Here are some of my favorite options…
Peppermint sticks or candy canes
Chocolate bars like Hershey's, Snickers, Twix, etc.
Mini marshmallows
Large marshmallows
Cinnamon sticks
Whipped cream (chocolate or regular)
Chocolate chips
Irish cream
Chocolate sauce
Coarse sea salt
Toffee bits
How do you decorate a hot chocolate bar?
Decorating is one of my favorite parts of a hot cocoa bar. There's so many ways to make your hot chocolate bar festive or fit the theme of your party. There is no wrong way to decorate a hot cocoa bar but here are some of my suggestions…
Decorative cups
You can use mason jars, plastic cups, styrofoam cups, mugs, etc. I like having markers or pens handy so people can label and decorate their cups. If using mason jars or mugs, I like to have strands of ribbon laid out so people can decorate that way.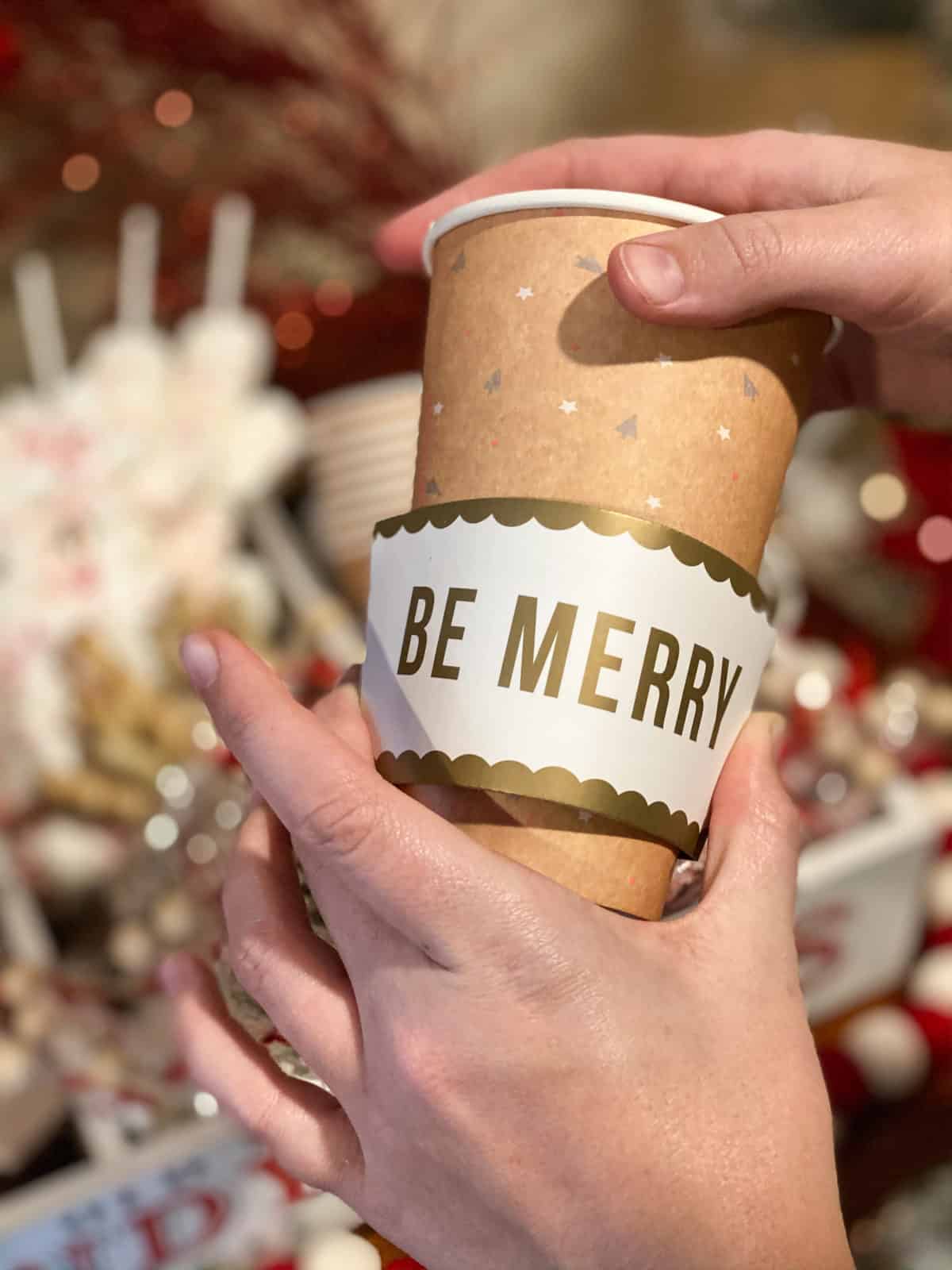 Signs
A cute hot cocoa bar sign is a must! You can buy a sign from Amazon, hobby lobby, or reuse a chalkboard sign. Using a smaller hot chocolate sign to label toppings, directions, etc. is another great way to spice up your hot cocoa station.
What brand of hot chocolate is the best?
There's many different types of hot chocolate to serve at a hot cocoa bar. Homemade hot chocolate, hot cocoa bombs, hot cocoa mix, etc. You can choose whatever style you'd like but here are a few of my favorite store bought hot cocoa mixes…
Ghiradelli Double Chocolate Hot Chocolate Mix
Starbucks hot cocoa
Swiss Milk Chocolate hot cocoa (a classic)
How do you make easy homemade hot chocolate?
You only need four ingredients for a delicious cup of homemade hot chocolate. Heat milk, cocoa powder, and sugar in a saucepan until combined. Then add chocolate chips and whisk until the chocolate has dissolved.
Homemade hot chocolate always tastes better than hot cocoa mix. If you have time, I highly recommending making your own hot chocolate. It's the easiest way to make sure your cocoa bar is the best.
What snacks go well with hot chocolate?
After you assemble the cutest hot cocoa bar, you'll still need to feed your guests. I like to set out a variety of sweet and savory snacks but you can do whatever you'd like.
Sweet snacks for a hot cocoa bar
Chocolate chip or sugar cookies
Rolled Wafers (Piroulines)
Donuts
Banana bread
Muffins
Chocolate bars
Sweet trail mix
Cupcakes
Savory snacks for a hot cocoa bar