this post may contain affiliate links
Milk and cookies make the holiday season brighter! These cute Christmas cookie boards are easy to put together and perfect for a festive movie night or winter party.
Thank you to a2 Milk for sponsoring this post
Milk and Cookies
Is there anything better than milk and cookies? The classic combination of that soft or crunchy cookie with cold, smooth milk is absolute perfection.
We've put together our favorite holiday Christmas cookie board to display at your next holiday gathering. You can be ambitious and make all the treats and cookies yourself or BIY (buy it yourself, something I love doing).
Where did milk cookies originate?
According to History.com, this modern tradition can be traced back to the Great Depression in the 1930's. Parents wanted to teach their children the value of charity, so they baked chocolate chip cookies to place in stockings. Then they poured a glass of milk for Santa, what we now know as a classic childhood treat.
Subscribe to This Vivacious Life
Receive a free e-book of Instant Pot recipes!
Read more about this awesome tradition over on theodysseyonline.com. They have some many great facts that will make you even more of a milk and cookies fan!
We love using a2 milk when combining milk and cookies because a2 Milk® isn't ordinary – it's extraordinary! It comes from cows that naturally produce only the A2 protein and no A1.
Published research suggests that a2 Milk® may help some avoid discomfort. a2 Milk® is real milk that is not treated with growth hormone rBST and comes from U.S. farms that are Validus certified for animal welfare. Give it a try today, there's a coupon on a2milk.com for fans. #aMilkForYou2
How to make a Christmas cookie box or board
Putting together a Christmas cookie box or board is quite simple. Start by getting your favorite small wooden box, wood or white platter.
Add a variety of cookies and treats in different little piles. Use brown and white paper candy cups to put one or two in for extra pizzaz! You can also put a Christmas mug on the tray and fill with tall cookies like biscotti or pirouettes.
Add a festive tea towel and pretty just of milk and boom, there you have it! Feel free to use your creativity. Cookies aren't the only thing that can go on your tray. Popcorn, candies and chocolates can also be added.
What are the best homemade cookies to put on your cookie tray?
Let me just start by saying the you can absolutely buy a variety of cookies from the grocery store and not have to make a single one. However, if you want to bake this holiday season, we have a bunch of Christmas cookies and treats that we recommend putting out. Here are our favorites…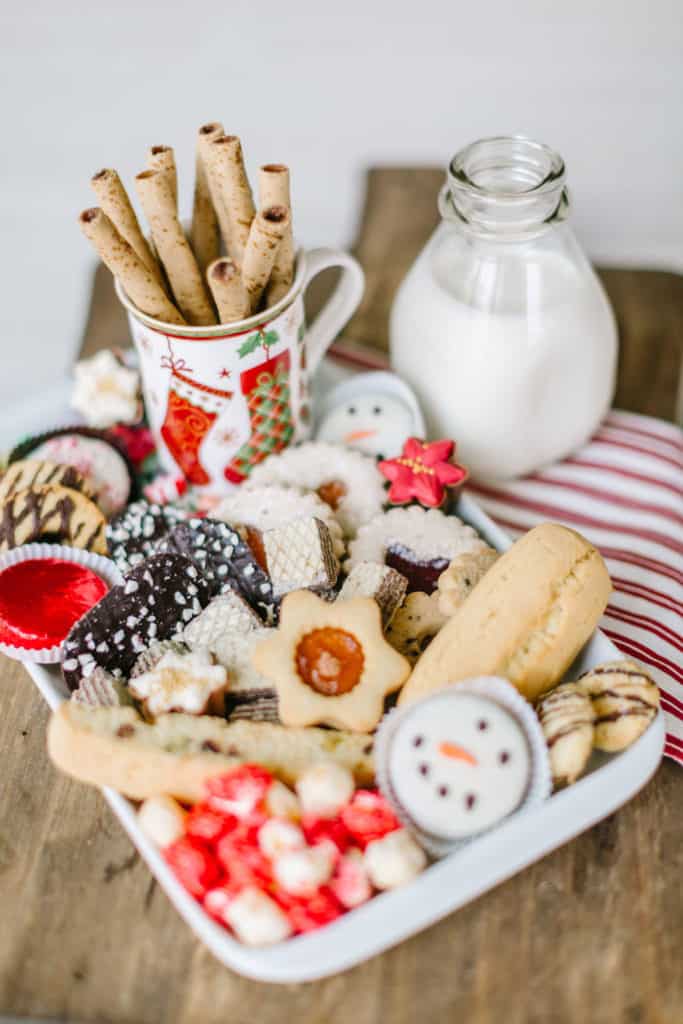 What are some dairy-free milk and cookies options?
While serving coconut milk or almond milk works with this milk and cookie board for those avoiding dairy, you may consider another option…
One reason that some people stop drinking milk is due to stomach discomfort. a2 Milk® is 100% real milk that's easier on digestion and may help some avoid discomfort. a2 Milk® is different than many milks you may have tried. It comes from cows that naturally produce only pure A2 protein, which is easier on digestion and may help some avoid discomfort.
Here are some of my favorite dairy-free cookie options to make the board with as well. Each is festive, fun and super delicious whether you are dairy-free or not.
Photos by Amie Pendle