Have you ever wondered what sparkling non-alcoholic drinks are and what the purpose of them are? Keep reading and not only will you find out all about non-alcoholic beverages, you will also get all of the recipes for my delicious sparkling non-alcoholic drinks.
Drinking is a social activity that gets people to gather together. But what about when you do not want to drink alcohol? Sparkling nonalcoholic drinks are a great option for those who do not drink, during dry January, weight loss, or whatever your reason may be but still want to have a nice beverage while out socializing.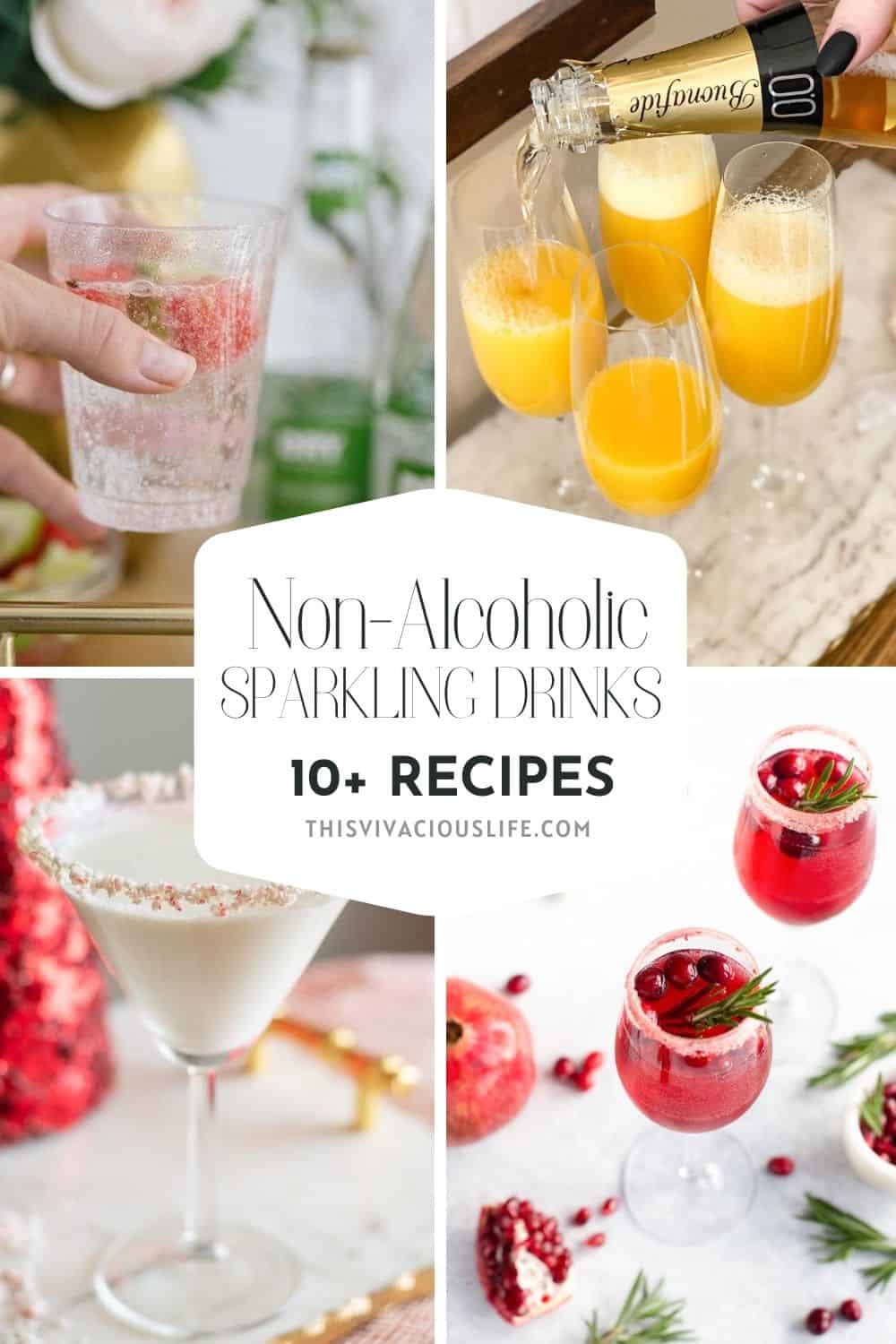 What is a sparkling non-alcoholic drink?
OR you can ask, "What is a mocktail?". Sparkling non-alcoholic drinks are bubbly beverages with no alcohol content. These fun drinks are great alcoholic alternatives for those who are watching their alcohol intake, as there are many health benefits for not drinking alcohol. Cutting out alcohol can also help your mental health. Here are some good virgin drinks and popular virgin drinks.
You would be surprised at how many non-alcoholic drinks there are out there. You can find non-alcoholic beers, non-alcoholic sparkling wine, non-alcoholic proseccos, alcohol-free champagne, non-alcoholic sparkling rosé, and everything in between!
There are plenty of non-alcoholic drinks and mocktails, but not all are sparkling. Sparkling drinks contain some form of carbonation, such as soda water, carbonated water, club soda, and seltzer water. Sodas, like a Coke, are sparkling, but sparkling waters are typical in sparkling non-alcoholic drinks.
Subscribe to This Vivacious Life
Receive a free e-book of Instant Pot recipes!
I really like to have sparkling non-alcoholic drinks at special events, fancy dinners, or even just on a Friday night. My kids love to set the table all fancy and use fancy glasses for non-alcoholic sparkling drinks. They think it is super fun and is a great way for me to test new recipes!
I especially think non-alcoholic sparkling drinks are great for baby showers so the mother-to-be does not feel left out. It is her special day for crying out loud! You can even make the drink the color of the gender for fun.
And if you are watching your sugar intake, we talk more about that in our non-alcoholic drinks for diabetics post.
What are sparkling non-alcoholic drinks made of?
There are a ton of different ingredients you can try out with sparkling non-alcoholic drinks. Of course, it all depends on what you are making. I love using natural ingredients for a fresh, crisp taste.
A great base is typically soda water or carbonated water. They usually go with many different flavors and create a great sparkling beverage. You can have other bases such as non-alcoholic champagne or any other alcohol-free alternative.
Once you have your base, the fun starts. You can make a non-alcoholic version of a drink that you already know how to make, or you can experiment with different flavors. Syrups are very common in sparkling non-alcoholic beverages, as they help add a sweet side to a drink.
A good sparkling non-alcoholic drink can be hard to make, but it helps when you use good products. Fruit juice like orange juice and white grape juice are fairly common, as well as lemon juice and lime juice. Those natural flavors really help make the perfect drink.
Where to buy non-alcoholic beverages
Luckily, a non-alcoholic drink does not have to just be carbonated water and flavoring. There are plenty of non-alcoholic brands that make non-alcoholic products.
Amazon is usually a safe bet when it comes to buying non-alcoholic drinks. You can also find non-alcoholic wine at your local Trader Joe's, Publix, or other grocery stores. There are also companies that offer non-alcoholic beverages and they can ship right to your house!
Always triple check that there is a 0.0 alcohol content before purchasing. Some non-alcoholic beverages will still have a very low alcohol count (at most, 0.05 ABV [alcohol by volume]), claiming they are non-alcoholic on the packaging. It is always better to be safe than sorry.
Here is a list of some non-alcoholic beverages you should try:
Pierre Chavin Perle Bleu Non-Alcoholic Sparkling Wine
Ritual Zero Proof Non-Alcoholic Rum
Martinelli's Sparkling Cider
Ritual Zero Proof Non-Alcoholic Tequila
MONDAY Zero Alcohol Gin – A Non-Alcoholic Spirit for the Spirited Ones – 750ml
When to serve sparkling non-alcoholic drinks
There is never a bad time to have a sparkling non-alcoholic drink. You can make them for a special occasion, such as baby showers or New Year's Eve; you can make them for dinner parties with friends or family; or you can make one after you put the kids to bed. There are millions of options!
I like to make non-alcoholic drinks all of the time, just for fun. They are like science experiments, mixing a bunch of flavors and ingredients together, trying to make a delicious drink. You will find me in my kitchen on a random Tuesday mixing up ingredients and I will probably make you taste test it.
Sparkling non-alcoholic drinks are perfect for holidays. You can come up with a non-alcoholic drink for any holiday and it will add to any parties you throw. I think it is fun to come up with a yummy drink that pairs well with a meal, such as a cranberry-flavored drink with Thanksgiving dinner.
Whenever I throw parties, whether for holidays or not, my friends and family can always count of me having some type of non-alcoholic drink. They are just so fun to make and super tasty.
What is the purpose of drinking non-alcoholic beverages?
There are so many reasons to drink non-alcoholic drinks. Of course it is up to you, but there are tons of good reasons to not drink alcoholic beverages. Fun fact: bartenders will actually make drinks without alcohol when they are testing new recipes so they do not get drunk.
Health: There are health reasons out there in which people are told to not drink alcohol for their safety.
Pregnant: Obviously, you should not drink alcohol when you are pregnant. Sparkling non-alcoholic drinks offer a drink that will allow someone who is pregnant to still enjoy delicious and creative beverages.
Under age: Non-alcoholic drinks are fun for those who are under drinking age, as it allows them to try different drinks without breaking the law. It is also a fun activity to make yummy drinks together.
Safety: If you are out and people are drinking, you want to be safe. Unless you are taking an Uber or taxi, one person will have to not drink. Non-alcoholic sparkling drinks (or non-alcoholic drinks in general) are great for the designated driver, as they are able to be safe but still enjoy the fun and delicious drinks.
No hangover: A huge perk of not drinking alcohol is there will not be a hangover the next day! Say you have an early morning or something really important the next day but you are planning on going out with friends, non-alcoholic sparkling drinks are the way to go. You are still having fun, enjoying a tasty drink, and you will be able to get out of bed in the morning.
Hydration: Since there is no alcohol, you will actually stay hydrated!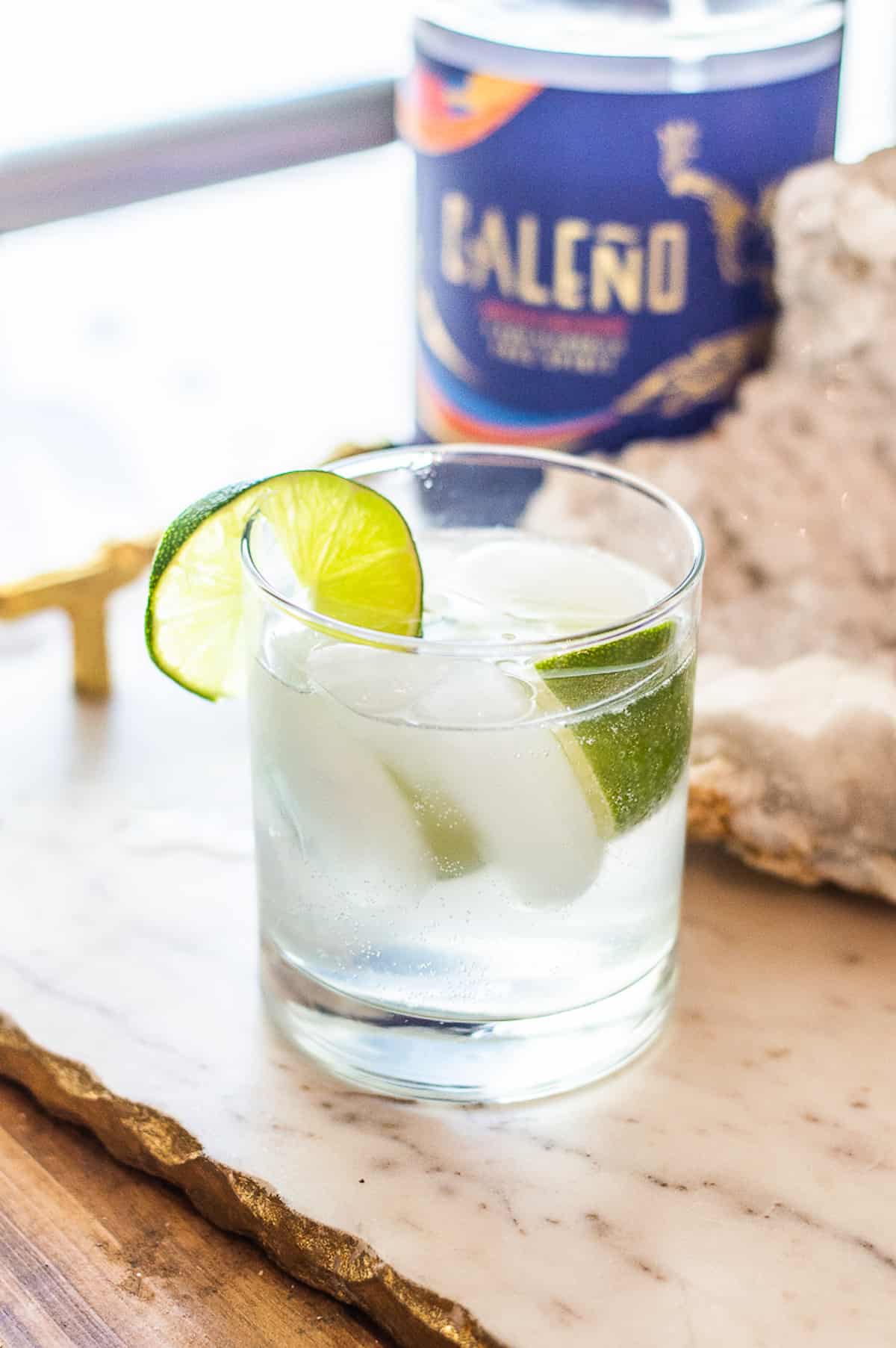 This three ingredient Non-Alcoholic Gin and Tonic is going to be your favorite summer dry cocktail. This mocktail is refreshing and takes only minutes to make. Whether you need a refreshing drink on a hot summer day or a quick unwind beverage at night, this is it.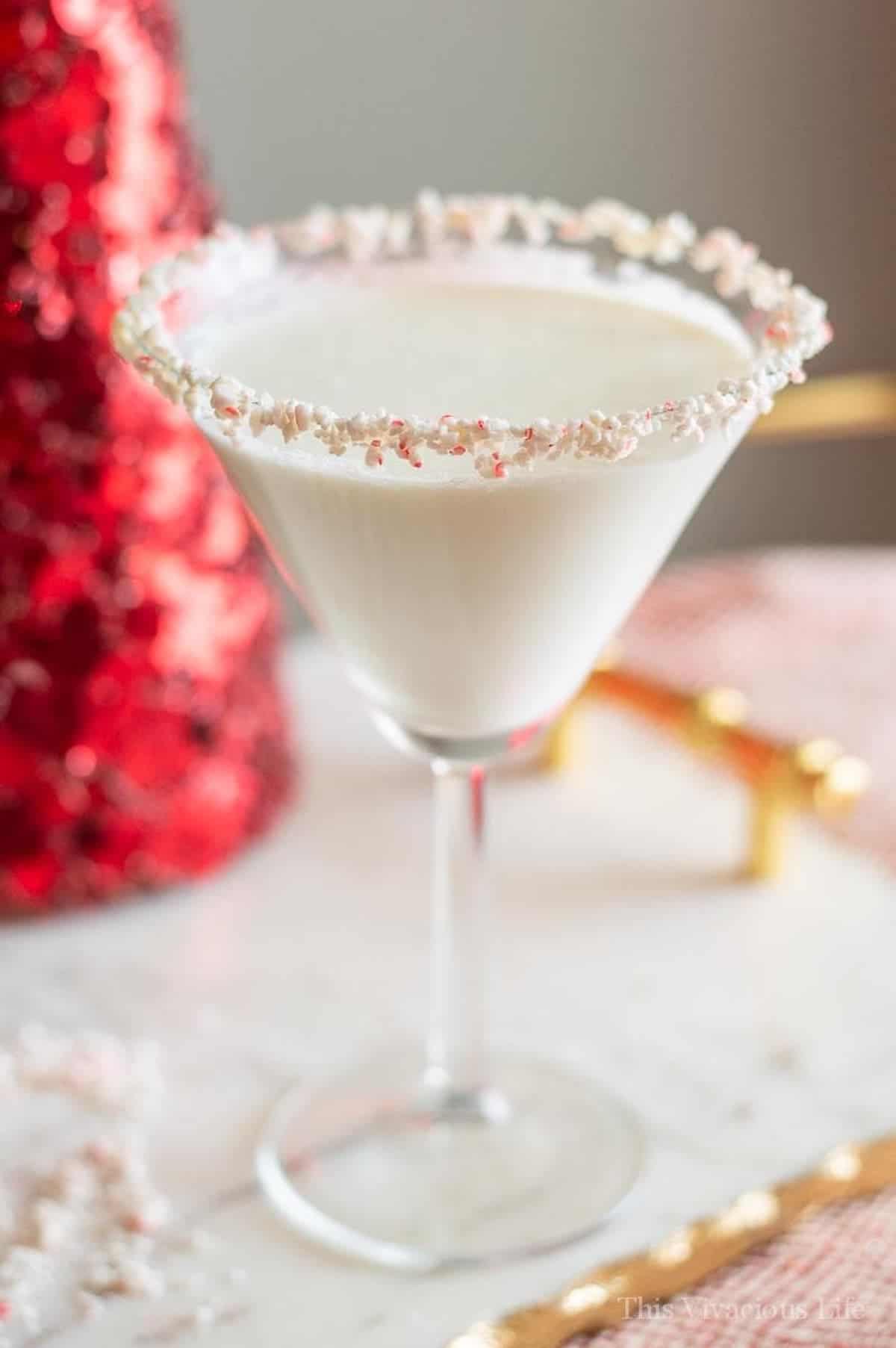 Our Candy Cane Christmas Mocktail make you feel like you are strolling down Santa's driveway in a horse drawn sleigh! It is cool, creamy and perfectly pepperminty…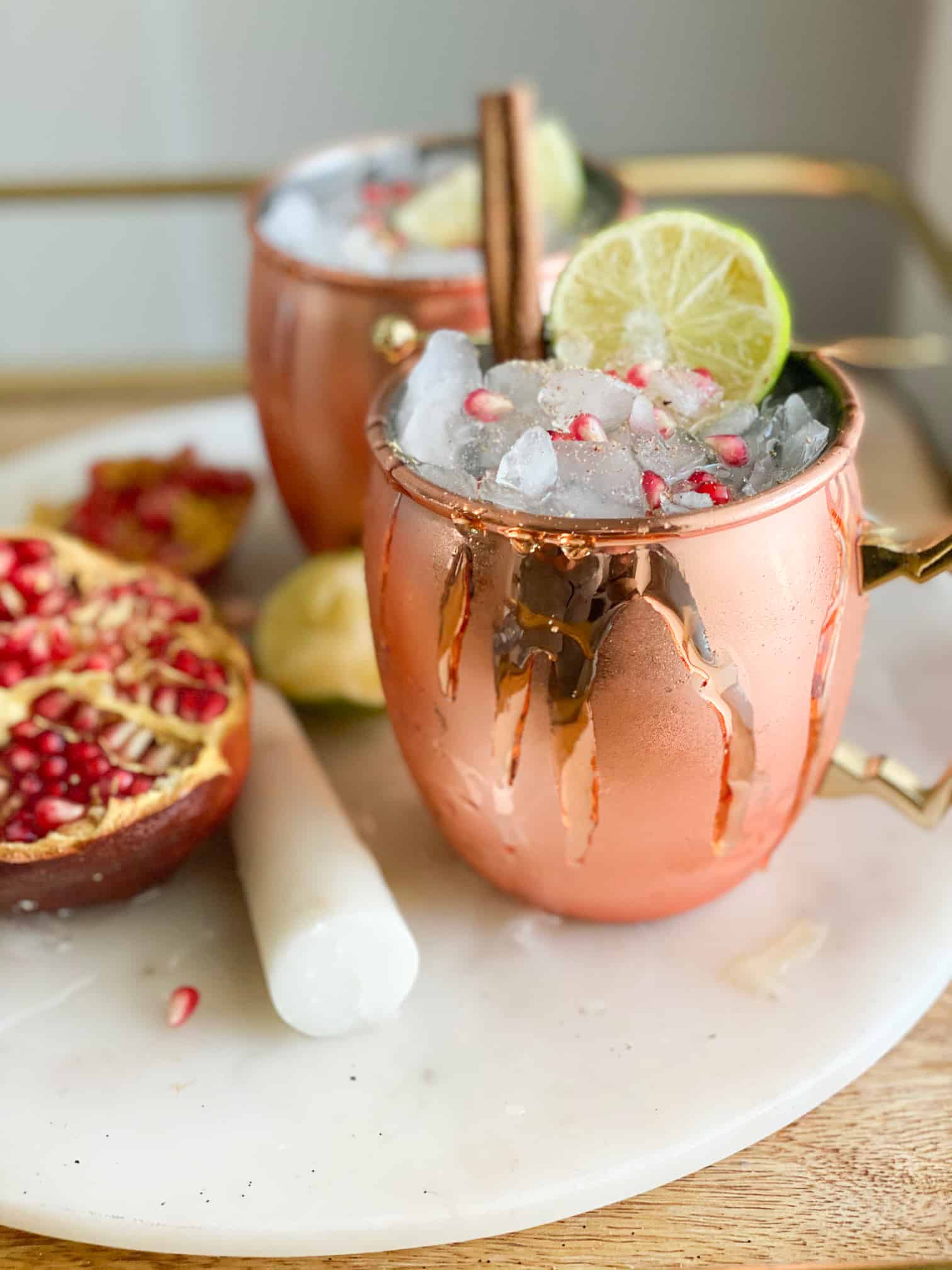 Thanksgiving Mocktails with Pomegranate are the go to drink this harvest season! Our fresh and gingery non-alcoholic Thanksgiving drink is easy to make and embodies all the best fall flavors.
This Fresh Raspberry Mocktail is the perfect balance of sweet and tart with its fresh fruit flavor. Plus, this simple recipe can be made in 10 minutes! This delicious drink is the perfect way to beat the summer heat.
I used the cucumber in this Cucumber Lime Mocktail but we also featured the lavender and vanilla for guests to enjoy. I kept hearing about how light, crisp and delicious they were and I couldn't agree more.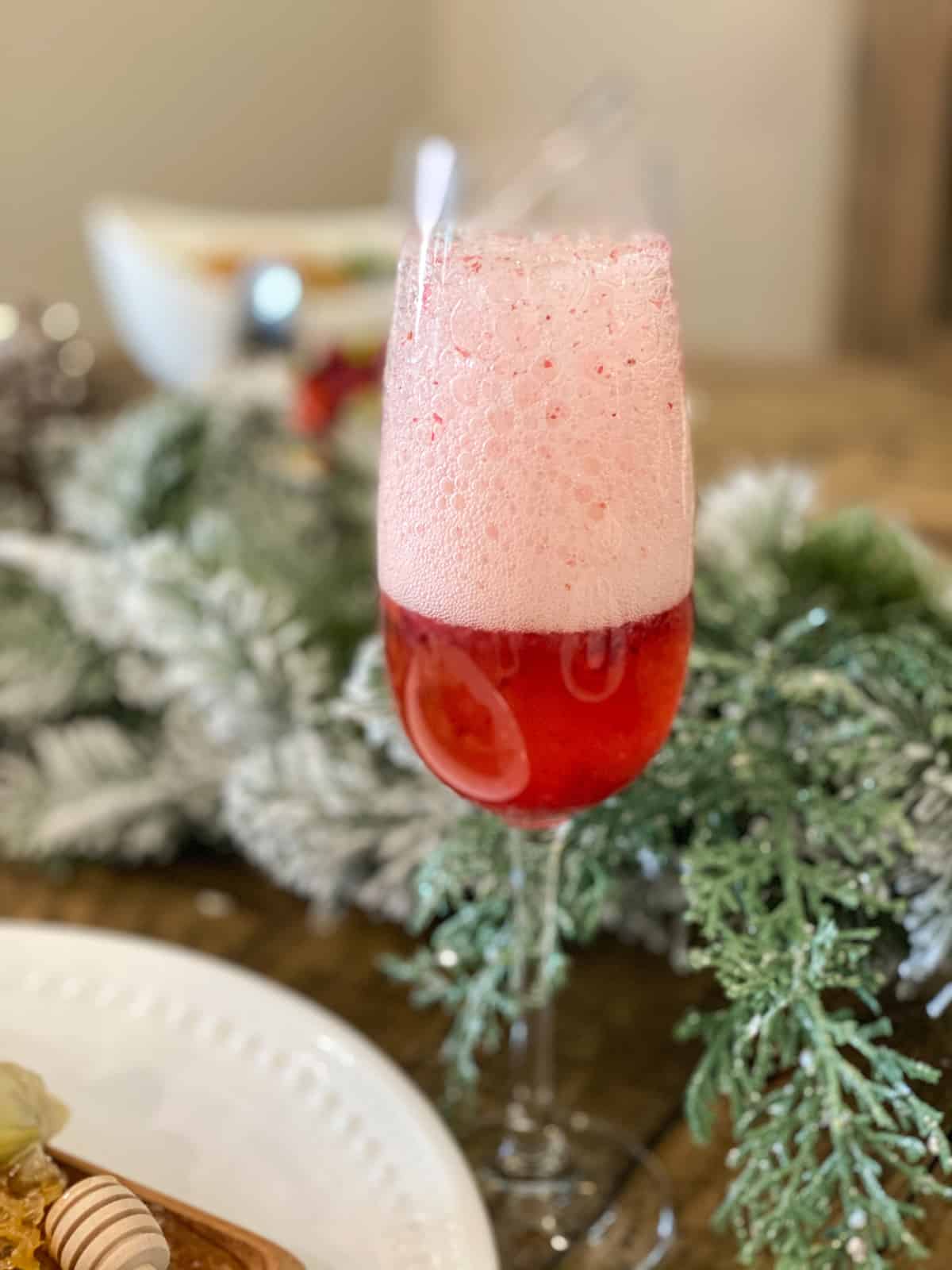 This Cranberry Mocktail is perfect for any holiday or winter gathering! Cranberry sauce, cranberry simple syrup and pomegranate arils come together beautifully in an artful non-alcoholic beverage. Serve it up at your next holiday dinner party for the perfect toast.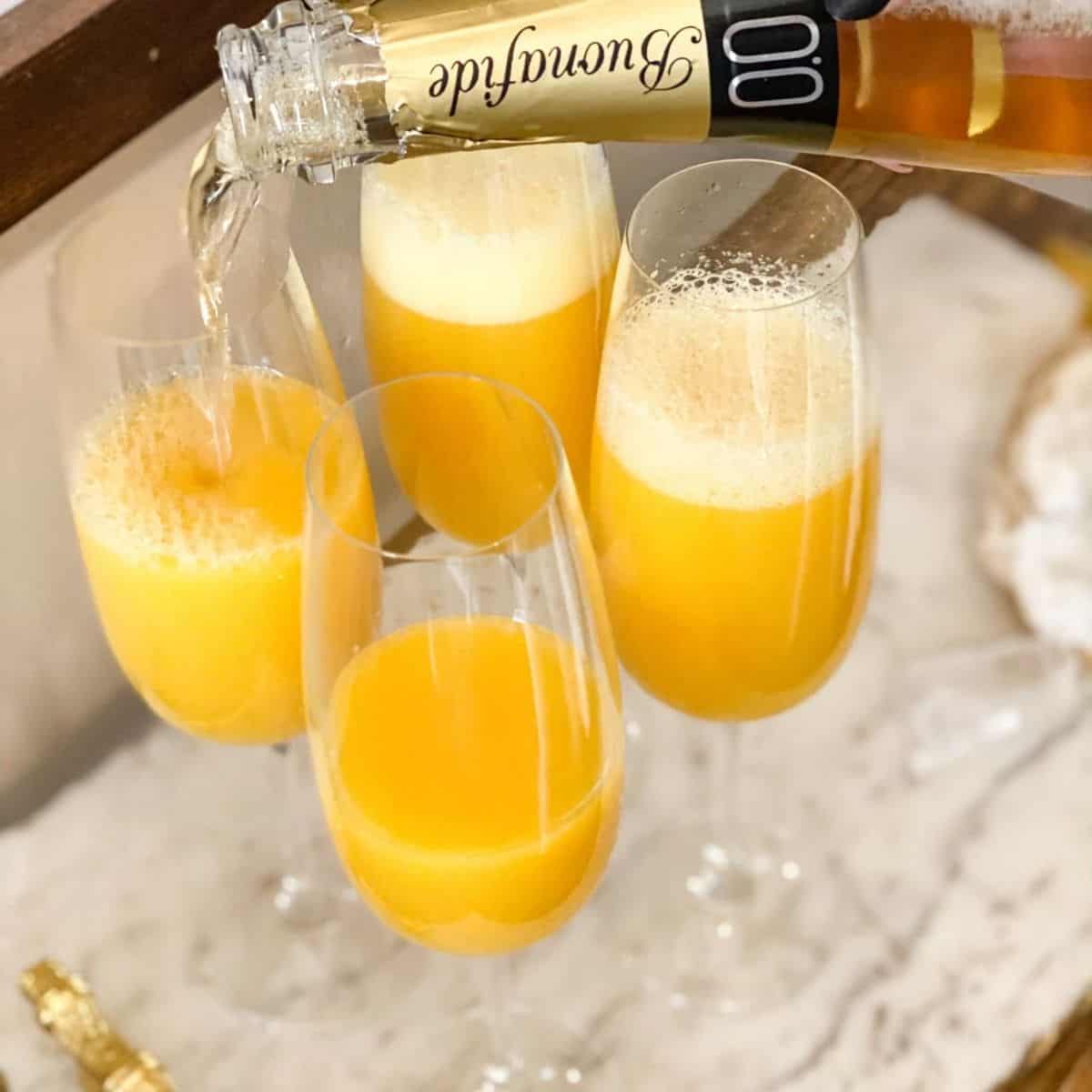 Making a non-alcoholic Virgin Mimosa Recipe is a mocktail that couldn't be easier! With just two delicious ingredients and less than two minutes, its a perfect way to start to your morning or girls brunch.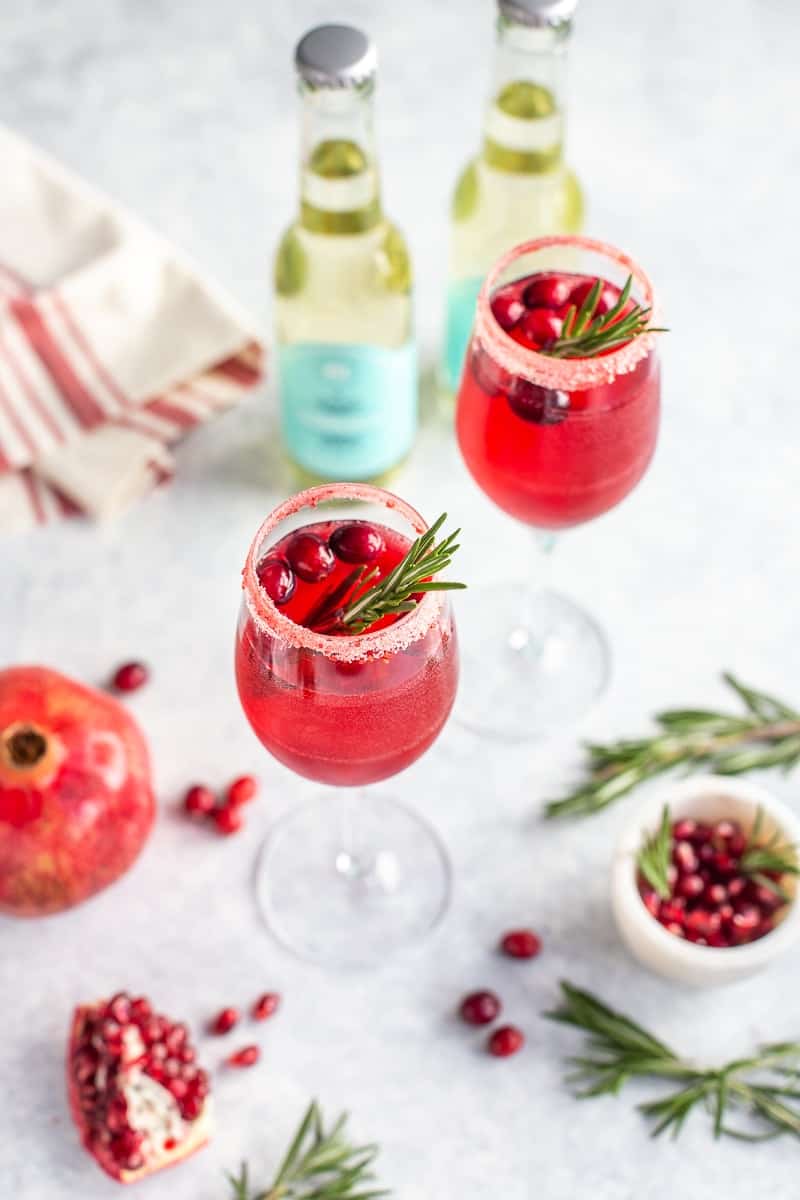 This Non-Alcoholic Prosecco Drink with Pomegranate and Cranberries is the perfect mocktail to serve at any gathering! It not only looks gorgeous but has great flavors as well. Plus, it only takes a few minutes to make.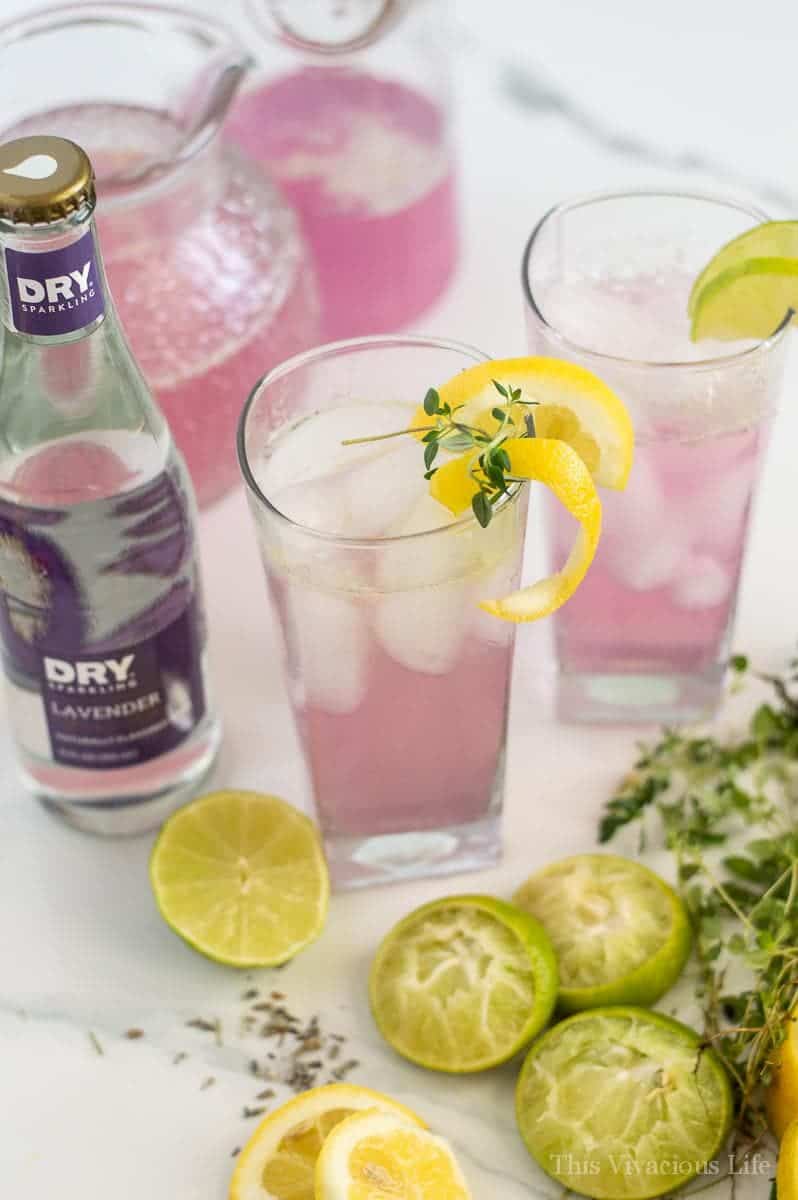 Our Lavender Lemonade and Limeade drinks are both so refreshing and perfect for any summer gathering! Both take less than 5 minutes to make and even the kids will love them. Plus, you can use them as a base to create a delicious mocktail!
Are there non-alcoholic spritzers?
You can definitely make your own non-alcoholic spritzers, but the ones at the store typically contain alcohol. A spritzer usually is wine and sparkling water or carbonated water.
Is sparkling water alcoholic?
There are some sparkling waters that are now alcoholic. You will see them labeled as hard seltzers. Sparkling water on its own is not alcoholic though. It is just water with carbonation and some flavoring, depending on the kind you buy. Sparkling drinks are very popular lately, such as La Croix or Bubly.
What is the difference between a non-alcoholic sparkling drink and a mocktail?
Both beverages do not contain alcohol, but they are different. Non-alcoholic sparkling drinks contain a base that is carbonated so there is a fizzy (or sparkling) taste. Mocktails do not use a fizzy base. Mocktails can easily be made into a non-alcoholic sparkling drink by adding a carbonated base, like club soda or seltzer water.
THE BOTTOM LINE
Sparkling non-alcoholic drinks are perfect for any and every occasion. They are a great option for those who do not drink alcohol for health reasons, are too young to drink, and everything in between. Just because they are non-alcoholic does not mean they are not fun!