This cranberry mocktail is perfect for any holiday or winter gathering! Cranberry sauce, cranberry simple syrup and pomegranate arils come together beautifully in an artful non-alcoholic beverage. Serve it up at your next holiday dinner party for the perfect toast.
Thank you to Red Apple Lipstick for sponsoring this post.
I cannot get enough cranberry from November through January! I like to add it to everything from mocktails to desserts and even main dishes!
Showing you guys how to make the perfect mocktail for anytime of year is one of my favorite things. Whether it's with our our Thanksgiving mocktails and Christmas mocktailsa or our Halloween mocktails, I love finding ways to bring delicious non-alcoholic beverages to your table!
Like our mimosa mocktail, this recipe uses a 0.0% non-alcoholic sparkling wine or champagne. I prefer Buonafide 0.0 wines as they are traditionally and Italian made.
Subscribe to This Vivacious Life
Receive a free e-book of Instant Pot recipes!
However, you could also use non-alcoholic Prosecco which works fabulously!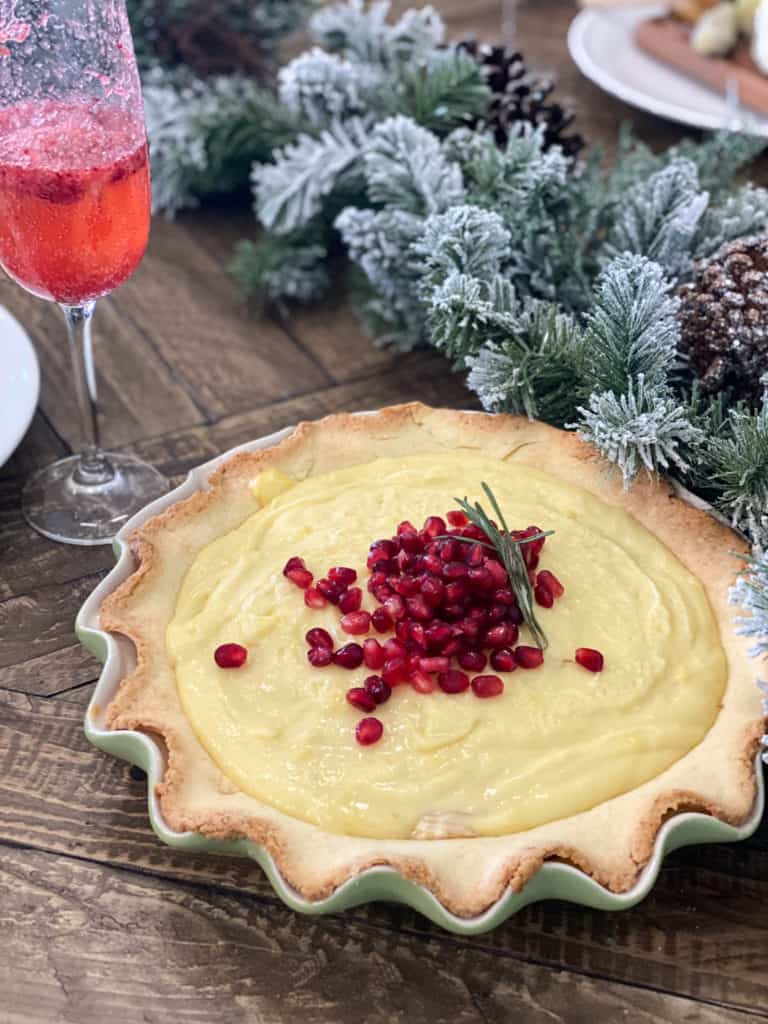 For this mocktail, we made a delicious homemade cranberry simple syrup (which is SO much easier than you might think and takes only minutes) as well as my husbands grandmas famous cranberry sauce. I love making a batch of it for Thanksgiving and using it to make this mocktail.
Save the leftover cranberry jam to enjoy with turkey, ham or our cranberry brie savory bread pudding. It's also great for making our cranberry Christmas crack and cranberry shortbread lemon trifle.
How to make a cranberry mocktail
Make simple syrup by bringing 1/2 C sugar and 1/2 C water to a boil with 1/2 C fresh cranberries. Let boil 3 minutes then set aside cranberries (great for sugared cranberries) and pour simple syrup into a jar.

In a blender, combine the orange, apples, 1 1/2 C fresh strawberries and 1/2 C sugar then p

lace 1 tbsp cranberry sauce in the bottom of 8 champagne flutes, refrigerate remainder of cranberry sauce

Add 1/2 tsp. cranberry simple syrup to each cup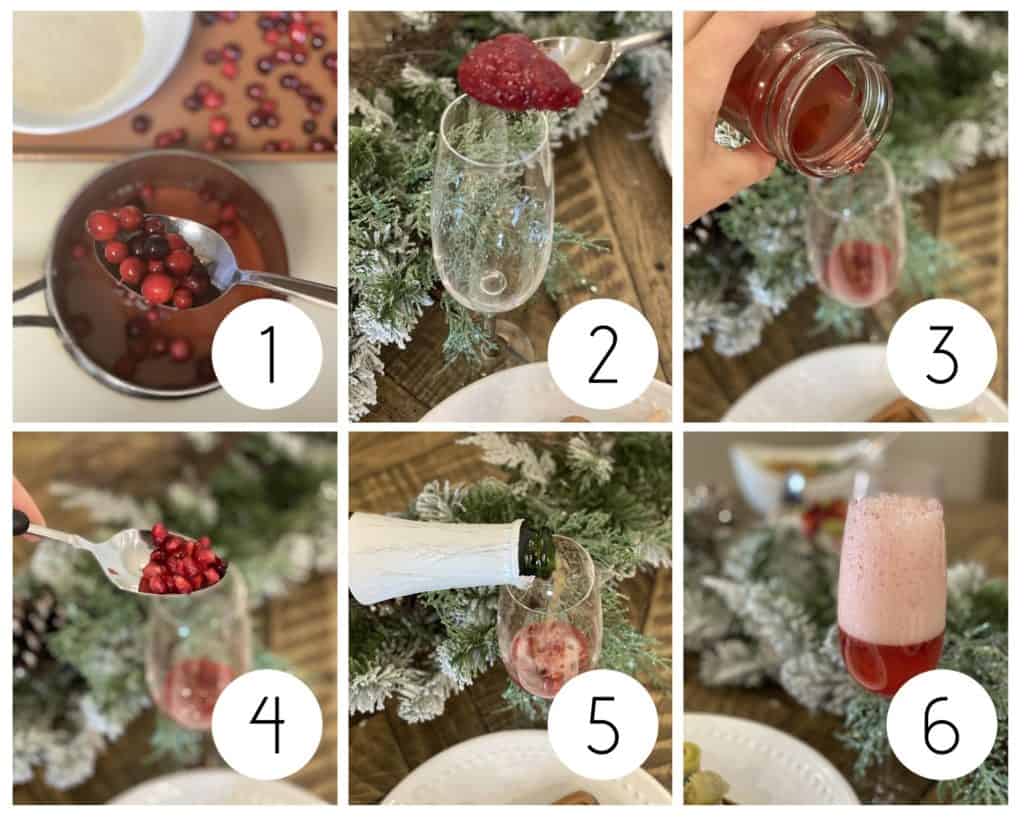 Add 1 tsp. pomegranate arils

Add 0.0% non-alcoholic sparkling wine, brut or champagne pouring slowly as not to overfill

Enjoy!
Pro Tip: Sparkling apple cider works in this recipe as well but it is much sweeter so remove the cranberry simple syrup if using it
You can also add a splash of these simple syrups in place of the cranberry if you prefer…
Lavender Simple Syrup
Strawberry Simple Syrup
Holiday Dinner Party
We love a holiday meal! Whether it's a fancy dinner or a simple breakfast like we did at our sleigh ride brunch, we love sitting around a table and enjoying good food and drinks.
Keep things simple by draping the table with a green holiday garland. No need for a tablecloth or placemats. The clean look of just the garland and dishes is modern and beautiful.
Allow time in the beginning to enjoy drinks and appetizers. Keep things casual but fun. I recommend just one show topping dessert. You can buy this or make it. We took a leftover Thanksgiving pie and added the pomegranate arils and rosemary for a winter look.
Serve up your food with this tasty cranberry mocktail or change it up with our Christmas White Russian mocktail, ginger beer mocktail, or Prosecco drink with pomegranate and cranberries.
Holiday Dinner Party Menu
Start with a delicious individual charcuterie board on each girls plate. They will LOVE this personalized appetizer!
Next, have some hot fresh gluten-free crescent rolls or gluten-free sourdough bread.
I like to then add a sweet fresh touch with a simple fruit salad topped with pomegranate arils.
Our leftover turkey, cranberry and brie savory bread pudding is a fantastic main course! It is both beautiful and so delicious.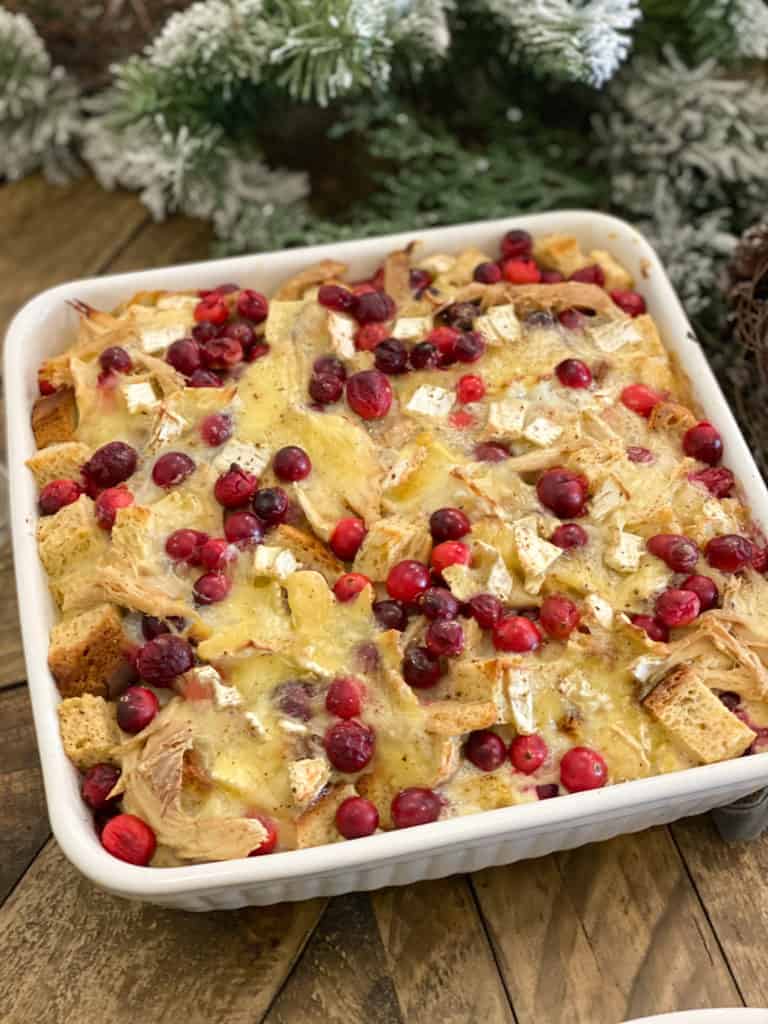 I of course have to have veggies at any meal so this salad is great as well since it doesn't require you to bake. It goes great with the cranberry mocktail!
Girls Gifts to Give
I always love having a little gift to give guests. These little Red Apple Lipstick bags filled with my FAVORITE gluten-free makeup are perfect for a girls gathering!
Gluten-free make up is so important to those with celiac disease because the average woman ingests over 7 pounds of lipstick! Crazy right?! 
It may surprise you but you actually lick your lips quite often and all that gluten in make up can add up. You may be living 100% gluten-free to manage your celiac disease but if what you put on your lips contains gluten, you're still getting small amounts that could be making you sick or be keeping you from getting better. That's where Red Apple Lipstick helps. 
I always tell people, especially those new to living gluten-free, how important it is to choose beauty products that are gluten-free. I personally love and use Red Apple Lipstick products every day because they are not only gluten-free but also non-toxic and cruelty free. The pigments in the lipsticks, eyeliners, lip liner's and eyeshadows are fantastic.
I love that you don't sacrifice on the look for having a gluten-free make up brand! While I mostly use their lipstick I also love their shadows. They have a huge array of colors and I love their cute little magnetic cases for each.
I use the purple eyeliner everyday for an extra POP! I also use their brown eyeliner to fill in my eyebrows. They even have mascara that brings together the whole look.
Red Apple Lipstick also has a variety of beautiful lip liners as well as a ralleye balm that helps keep the lips soft. I like to apply a thick layer of this right before bed for getting those lips extra silky soft while you sleep.
To learn more about Red Apple Lipstick products head over to their site and use my code: TVL for 22% off!
You can give the cute makeup bags to your gal pals with some of your favorite treats and some holiday cookie cutters for a festive trio. Everyone will love that these gifts are both amazing AND practical!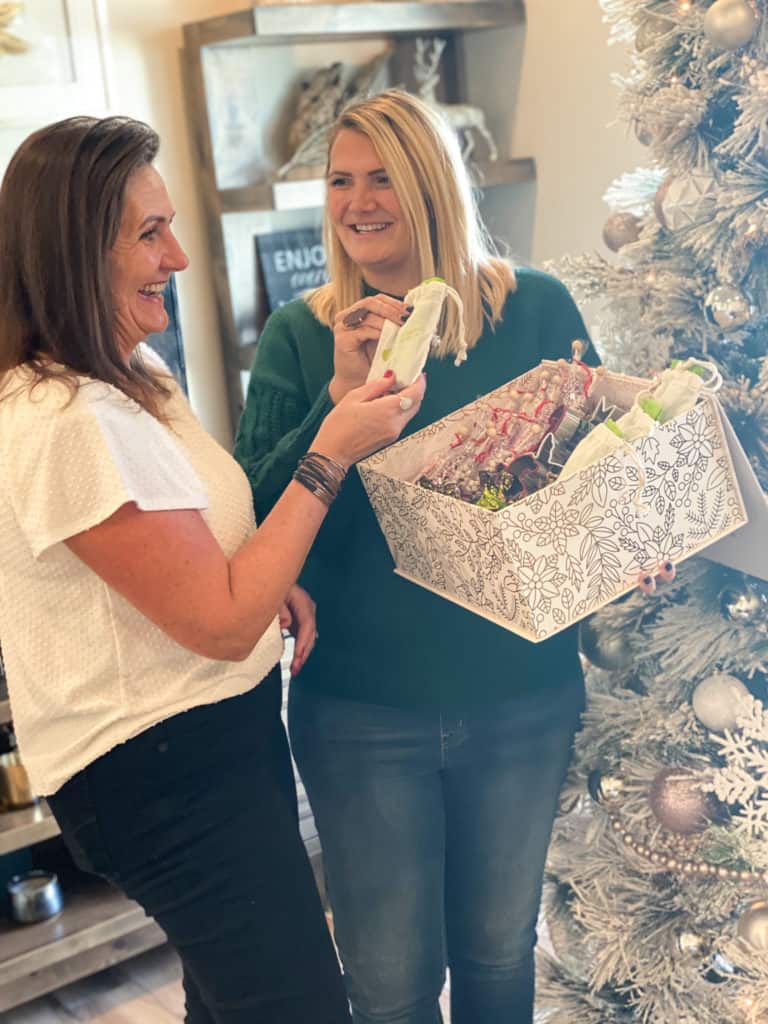 Individual Charcuterie Boards
I love making individual charcuterie boards because they are SO CUTE! They are also much more sanitary then sharing a big board, although I love making a gluten-free charcuterie and cheeseboard or the BEST charcuterie board as well.
With just a few ingredients you have a WOW factor on each plate when guests arrive. It is perfect for munching on with your cranberry mocktail or gingerbread martini mocktail.
Start with some cute mini wood boards and layer them with your favorite things. Here's what we love…
Items we included…
One Boursin cheese wheel per plate topped with rosemary sprigs for that winter touch
Gluten-free crackers
Salami or another cured meat
Artichoke hearts
Olives
Honey or honeycomb with a honey stirrer
A tiny Christmas tree for a more festive look
For a little sweet charcuterie board, just put your favorite chocolates, toffee, and brittles on an small wood board with a tiny Christmas tree. You can also make our charCOOKuterie board or charcuterie cheese board cookies for a fun treat!
Fancy Farmhouse Holiday Decor
My sisters house is decorated so cute for the holidays! She has lots of white and natural wood tones with a few metals that make it the perfect fancy farmhouse holiday set up. Here are some ideas…
Metal deer by driftwood
Wood and glass trees with a modern green candle
White beaded stockings hung on antlers
Gold deer with mini Magnolia tree
Green bottle brush Christmas trees
White farm struck with sparkly snowballs in a basket
If you love this mocktail, be sure to check these out as well…
Non-Alcoholic Bloody Mary Mocktail
Non-Alcoholic Vodka and Dirty Martini Mocktail
NEED MORE GOODNESS? Follow me on Facebook, Instagram, Pinterest, and Twitter for great recipes, entertaining ideas and more!
Cranberry Mocktail & Holiday Dinner Party
This cranberry mocktail is perfect for any holiday or winter gathering! Cranberry sauce, cranberry simple syrup and pomegranate arils come together beautifully in an artful non-alcoholic beverage. Serve it up at your next holiday dinner party for the perfect toast.
Ingredients
1

apple, cut into 4 large slices and cored

1

orange, peeled

2

C

fresh cranberries, divided

1/2

C

sugar

4

tsp

cranberry simple syrup, divided

8

tsp

pomegranate arils, divided

1

bottle

0.0% non-aloholic brut, champagne or sparkling wine (sparkling apple cider works too but it will be much sweeter)

rosemary sprigs (optional)
Instructions
Make simple syrup by bringing 1/2 C sugar and 1/2 C water to a boil with 1/2 C fresh cranberries. Let boil 3 minutes then set aside cranberries (great for sugared cranberries) and pour simple syrup into a jar.

In a blender, combine the orange, apples, 1 1/2 C fresh cranberries and 1/2 C sugar

Place 1 tbsp cranberry sauce in the bottom of 8 champagne flutes, refrigerate remainder of cranberry sauce

Add 1/2 tsp. cranberry simple syrup to each cup

Add 1 tsp. pomegranate arils

Add 0.0% non-alcoholic sparkling wine, brut or champagne pouring slowly as not to overfill
Nutrition
Calories:
139
kcal
|
Carbohydrates:
25
g
|
Protein:
1
g
|
Fat:
1
g
|
Saturated Fat:
1
g
|
Sodium:
10
mg
|
Potassium:
169
mg
|
Fiber:
2
g
|
Sugar:
22
g
|
Vitamin A:
64
IU
|
Vitamin C:
14
mg
|
Calcium:
18
mg
|
Iron:
1
mg