this post may contain affiliate links
Have you ever wondered what a virgin drink is? You are not alone! Keep reading to find out everything you need to know about virgin drinks and what makes a good non-alcoholic drink.
There are many drinks that you will find in a bar, but one that is becoming more common is called a virgin drink. What is this newly popular you may ask?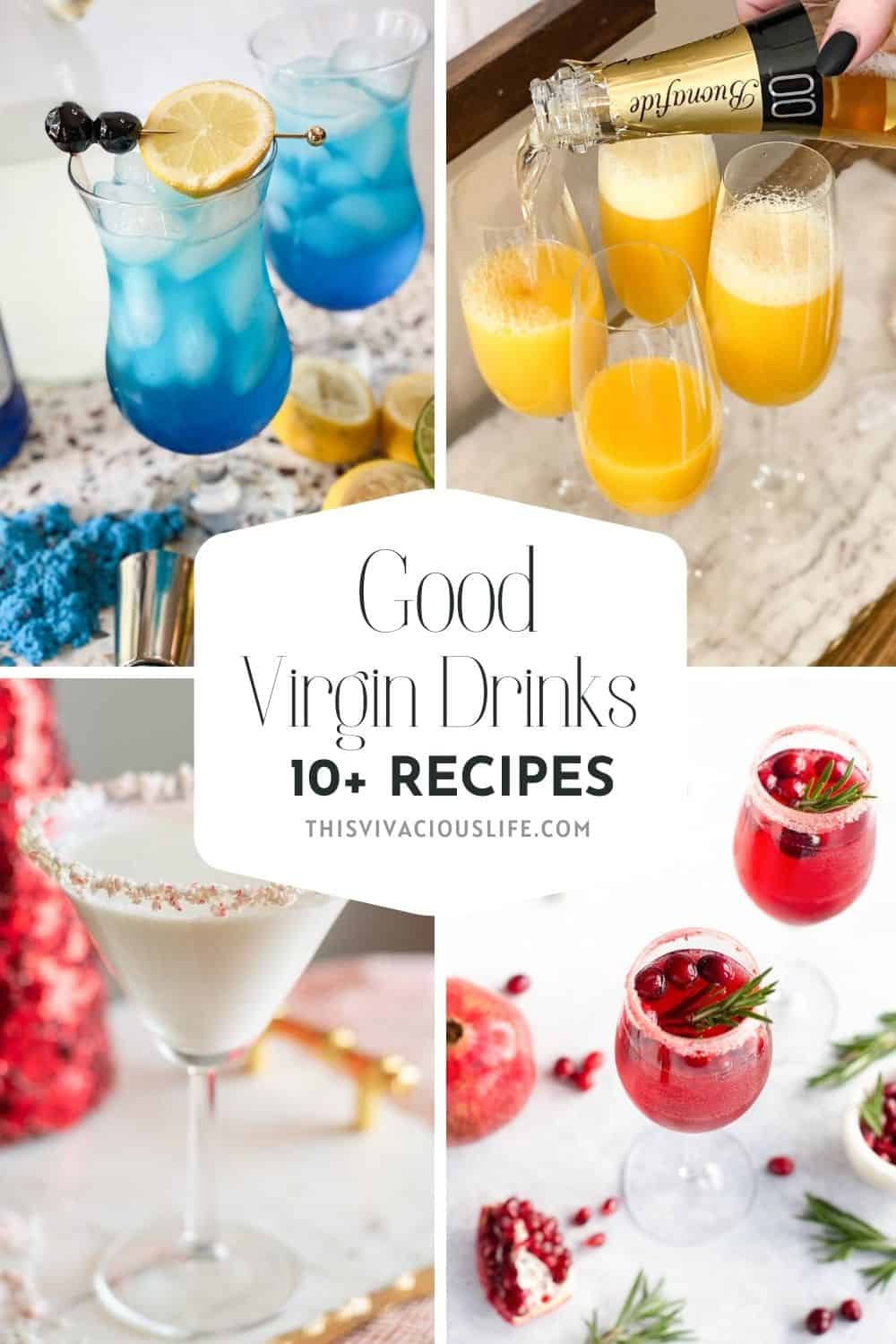 What are virgin drinks?
OR you can ask, "What is a mocktail?". Virgin drinks are non-alcoholic beverages. They are a great option for those who cannot drink or choose not to drink. It could be for religious reasons, health reasons, pregnancy (here are our favorite mocktails for pregnancy), dry January, if you are the designated driver, or just personal preference. Regardless of the reason, these types of drinks are a great option for those who do not want to drink.
A virgin drink is a twist on an original cocktail. You can pretty much make any cocktail a mocktail. Take the alcoholic version and switch the alcohol with a non-alcoholic option. These are our favorite non-alcoholic sparkling drinks and other popular virgin drinks.
There are many nicknames for virgin drinks. You will hear people call them mocktails (word play on mock cocktails), a sober cocktail, alcohol-free cocktails, boneless cocktail, or many other names. If you ask, the head bartender will know what you are talking about.
Subscribe to This Vivacious Life
Receive a free e-book of Instant Pot recipes!
Non-alcoholic drinks are perfect for a hot summer day, special occasions, and everything in between. I love coming up with new non-alcoholic party drinks because it is a fun way to be creative and to make a tasty drink! They are great for baby showers as well, so the mother-to-be does not feel left out.
And if you are watching your sugar intake, we talk more about that in our non-alcoholic drinks for diabetics post.
What are virgin drinks made of?
There are many different types of virgin drinks, so they have a bunch of different types of ingredients. The main ingredients will typically be some sort of base, like club soda, ginger ale, soda water, or tonic water. There are non-alcoholic versions of drinks, like rum, vodka, champagne, and more, so you could use those as bases as well.
Then, you will have all of the different flavors you can use to make your drink. Some common ones are sugar syrup, tropical fruit juice, cranberry juice, maple syrup, pineapple juice, grapefruit juice, fresh lime juice (which we use in our ginger beer mocktail), and lemon juice. Of course, you can use whatever you like to create your own delicious virgin drink.
What makes a good virgin drink?
A good virgin drink is not just thrown together. It takes some research to know exactly what type of products you should use. There are many drink recipes out there, and you should try them out to learn how to make a good non-alcoholic drink.
One thing I have learned is to not overcomplicate things. All you need are some simple ingredients, a vision, and flexibility. Sometimes you will mess up and make mistakes, but to make a good alcohol-free drink, you need to make mistakes to learn.
Here are some of the best mocktail recipes that you most definitely need to check out. But first, here are some holiday mocktail roundups…
Our non alcoholic mulled wine recipe is a warm drink that is great for Christmas parties. It is full of those favorite spices you think of when it comes to the holiday season.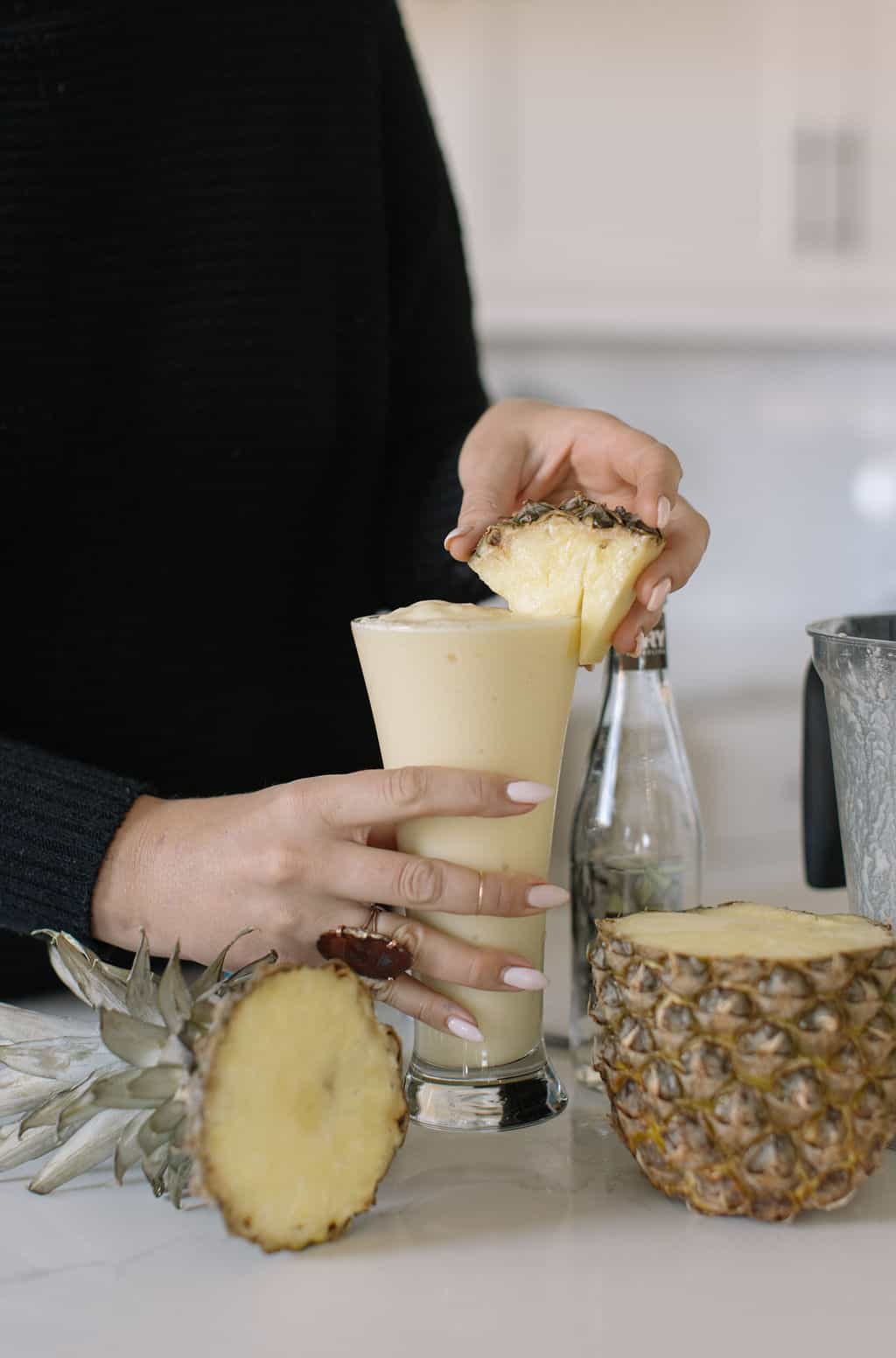 This 5 MINUTE creamy, fruity non-alcoholic Piña Colada Mocktail is perfect for hot summer days! It has all the flavors of the beach but none of the booze. Everyone will love a virgin piña colada and can enjoy it together too.
This Fresh Raspberry Mocktail is the perfect balance of sweet and tart with its fresh fruit flavor. Plus, this simple recipe can be made in 10 minutes! This delicious drink is the perfect way to beat the summer heat.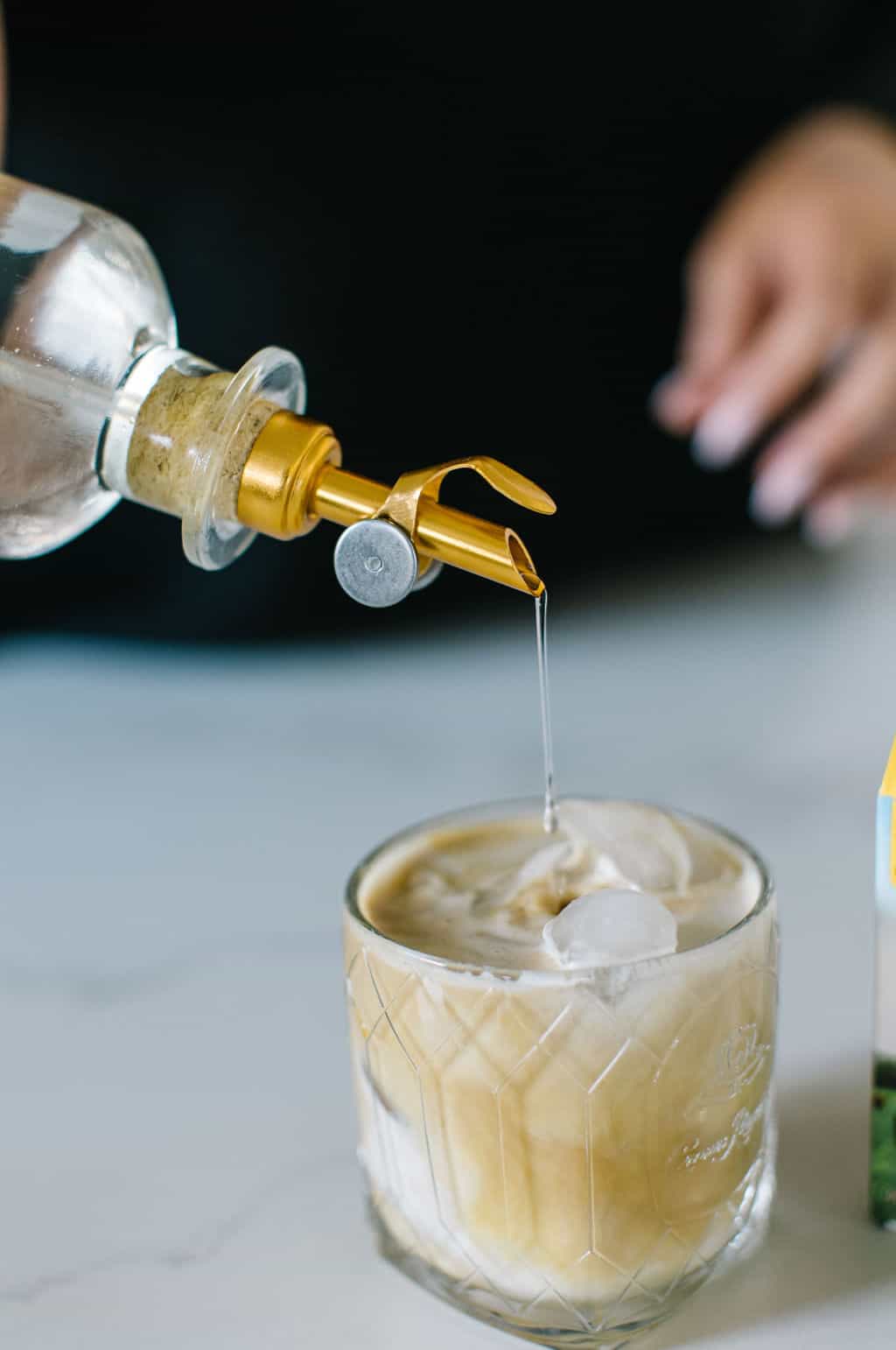 This Non-Alcoholic White Russian Mocktail is a family favorite that is easy to make and so delicious! You can make it with coffee but it also works with brewed cocoa beans or coffee flavored syrup if you prefer. Either way, it is going to be delicious!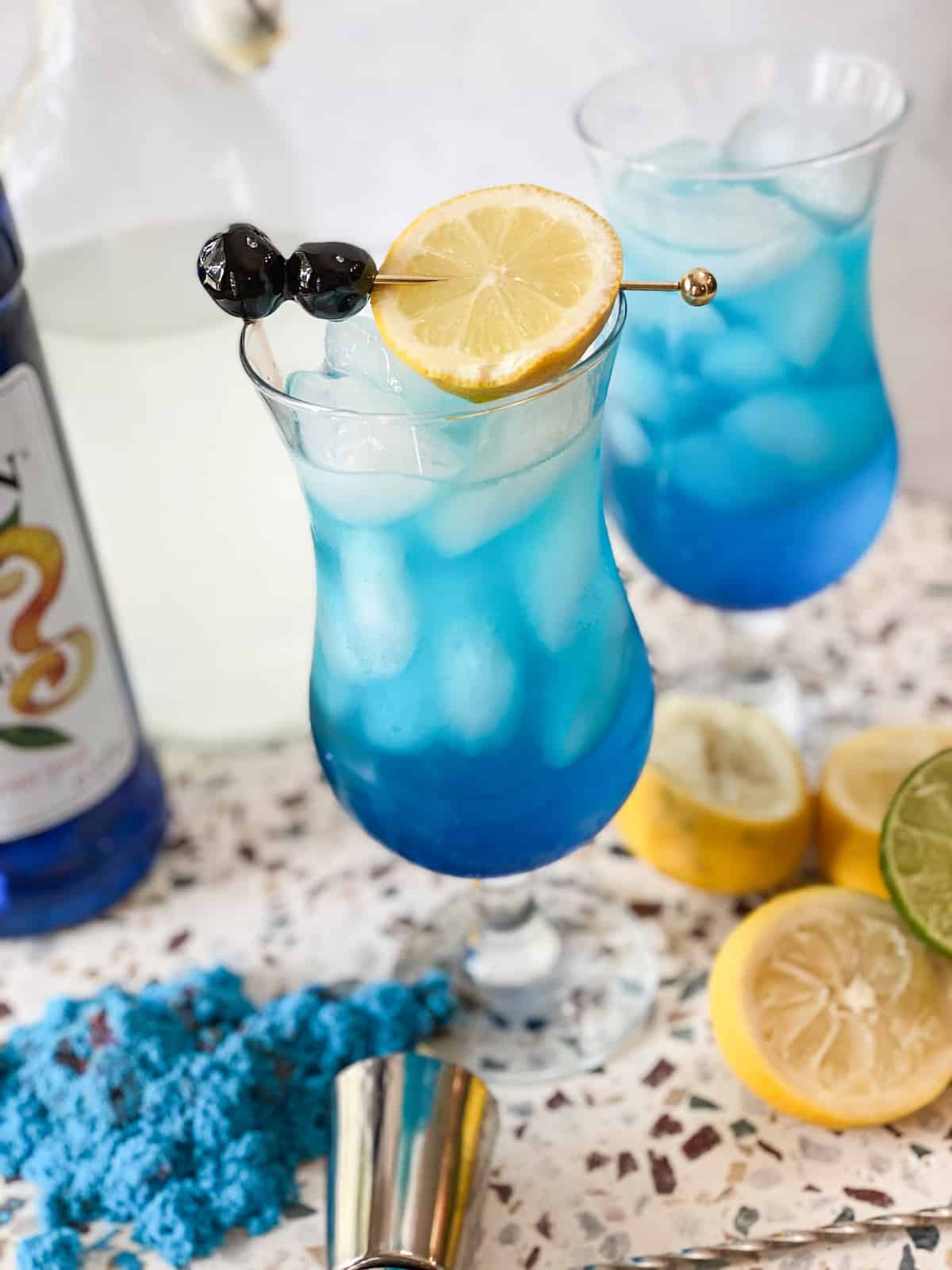 This Blue Lagoon Mocktail is a 3 minute non-alcoholic drink that everyone will enjoy! The sweet & fruity flavor comes from fresh citrus and sweet blue curaçao syrup.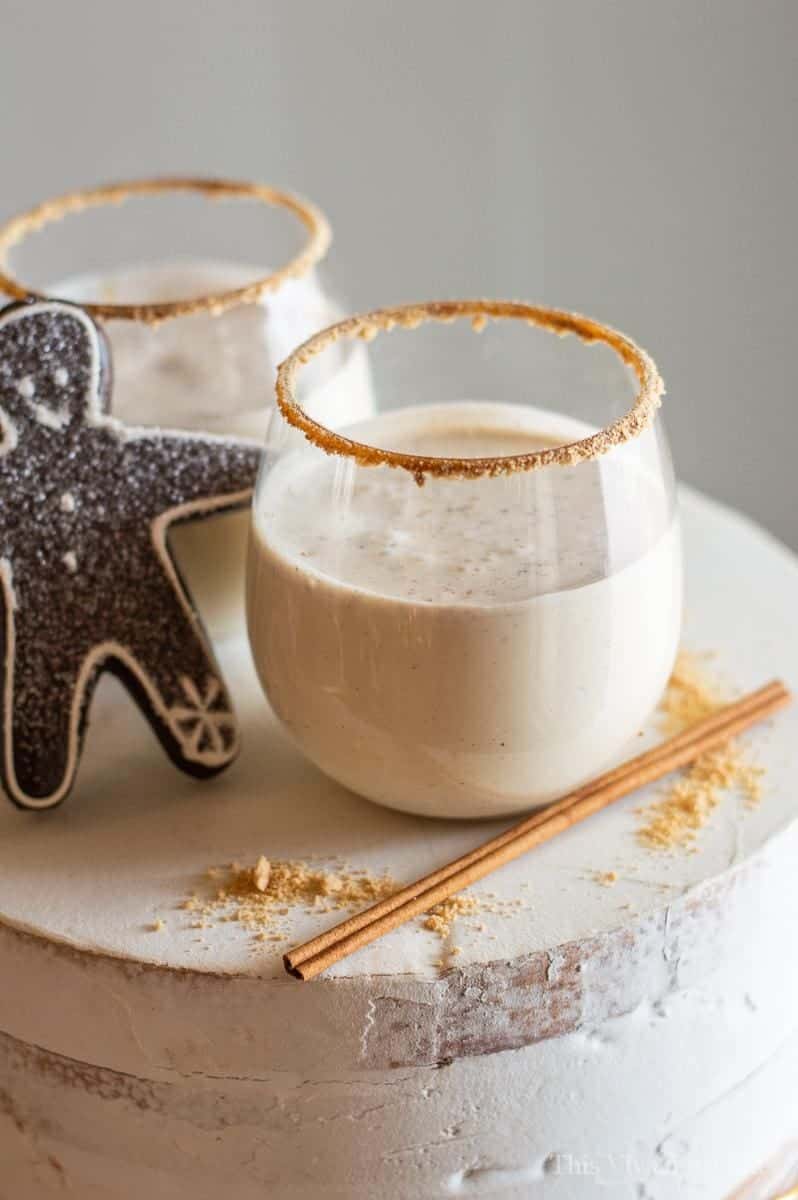 This Gingerbread Martini Mocktail is especially festive for the holidays! It has all the flavor of your favorite Christmas cookies.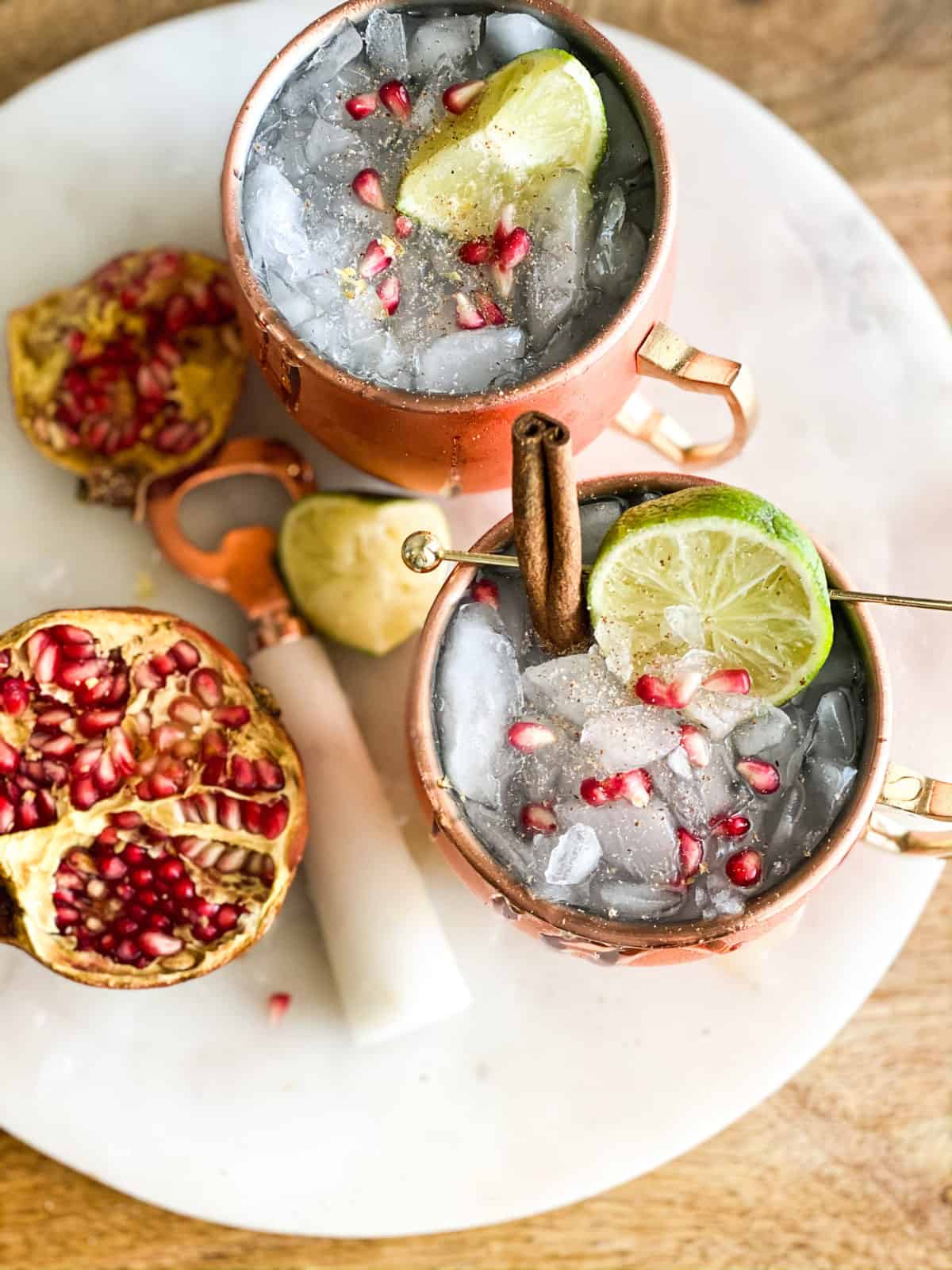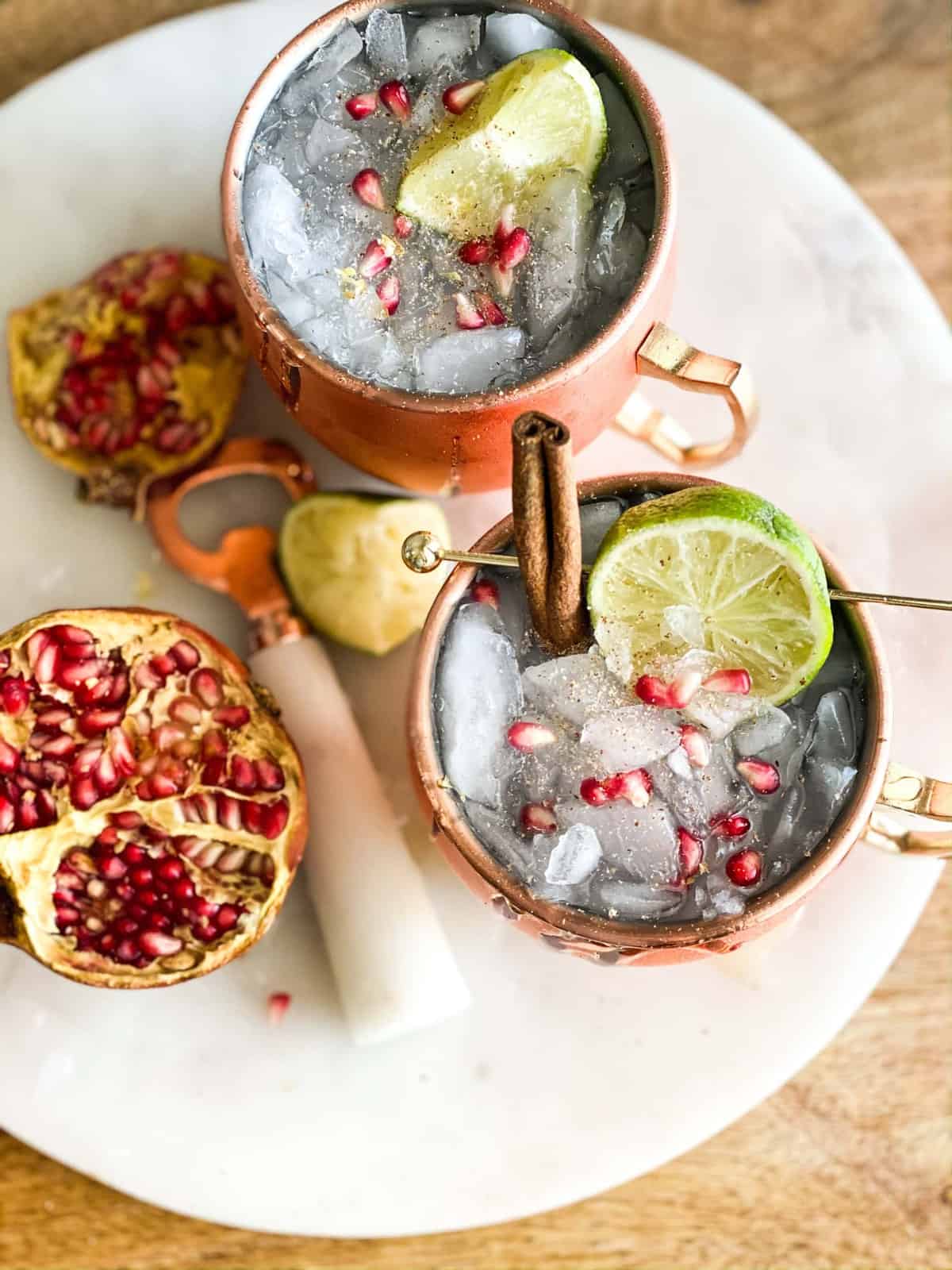 Thanksgiving Mocktails with Pomegranate are the go to drink this harvest season! Our fresh and gingery non-alcoholic Thanksgiving drink is easy to make and embodies all the best fall flavors.
This Grapefruit Mocktail with Rosemary and Honey is a family friendly drink that is both beautiful and delicious.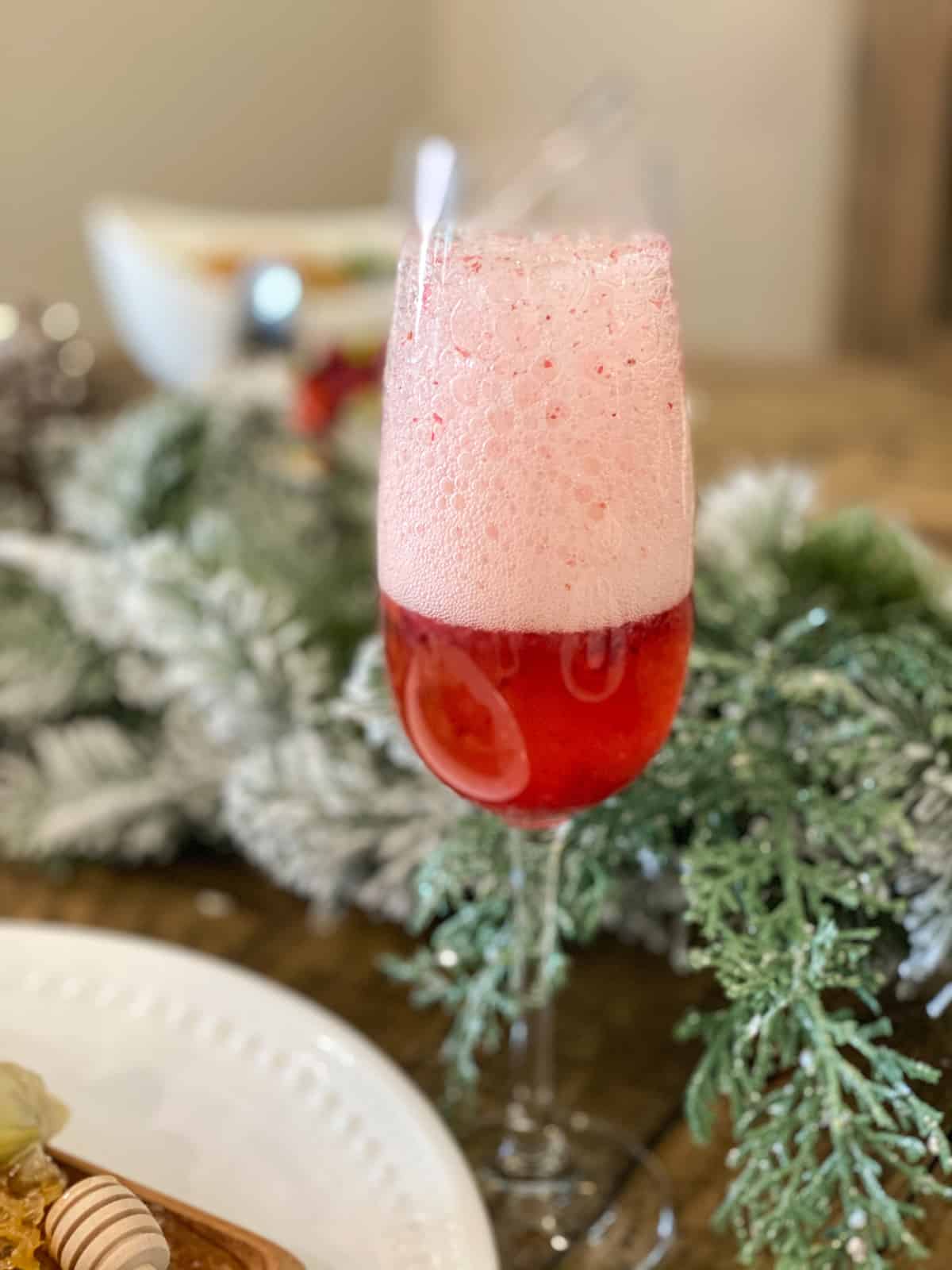 This Cranberry Mocktail is perfect for any holiday or winter gathering! Cranberry sauce, cranberry simple syrup and pomegranate arils come together beautifully in an artful non-alcoholic beverage. Serve it up at your next holiday dinner party for the perfect toast.
Our Non-Alcoholic Bloody Mary Mocktail is a favorite drink of mine. It is made with fresh tomatoes for optimal flavor. Don't worry though, you can also make it with good organic tomato juice. It is a savory drink that almost looks like a full meal with all the delicious garnish and believe me, nobody will mind that!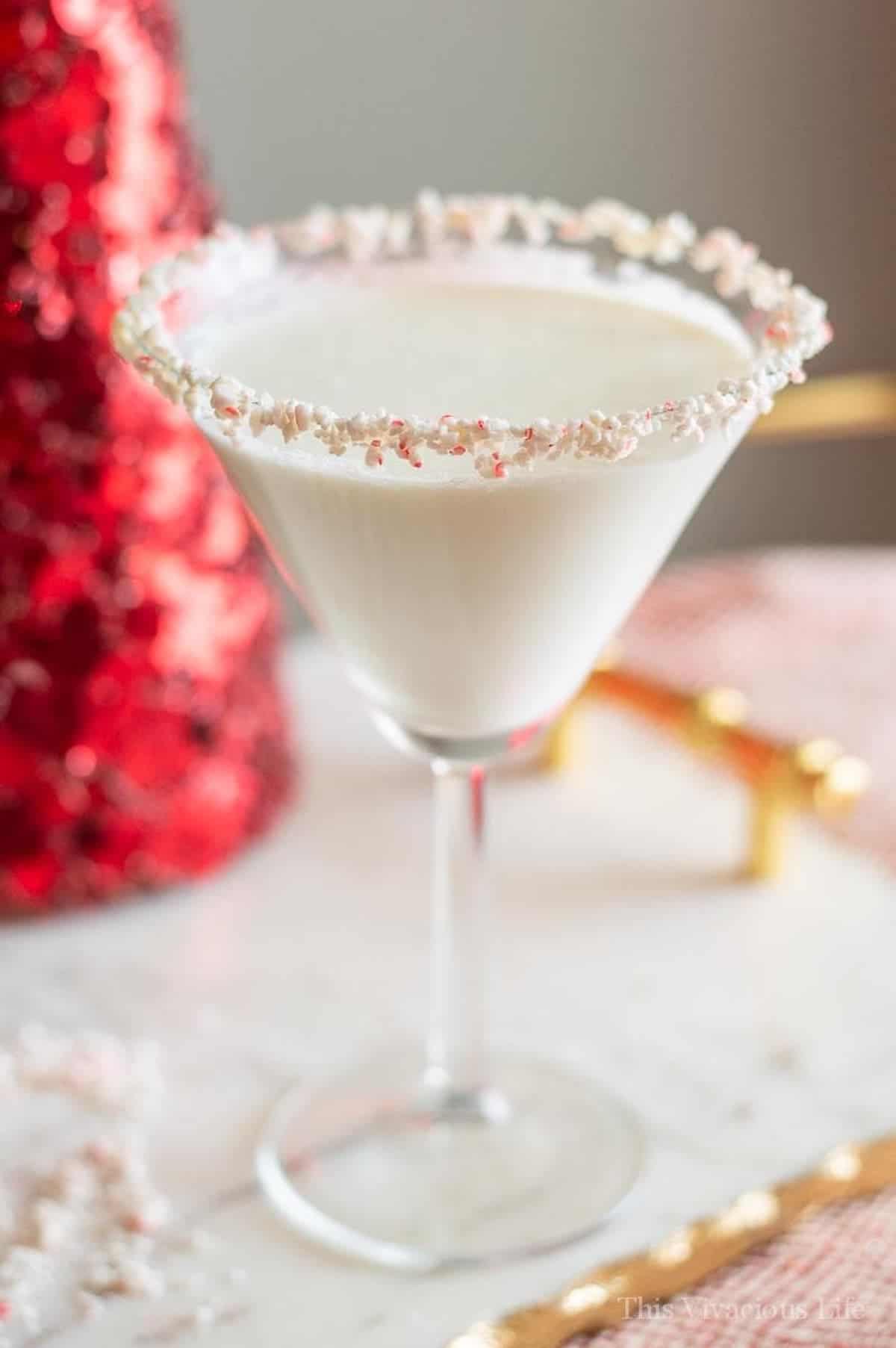 Our Candy Cane Christmas Mocktails make you feel like you are strolling down Santa's driveway in a horse drawn sleigh! It is cool, creamy and perfectly pepperminty…Plus it is fun to drink out of a martini glass.
This yummy Cucumber Lime Mocktail features our favorite dry sparkling soda. I used the cucumber in this mocktail but we also featured the lavender and vanilla for guests to enjoy. I kept hearing about how light, crisp and delicious they were and I couldn't agree more.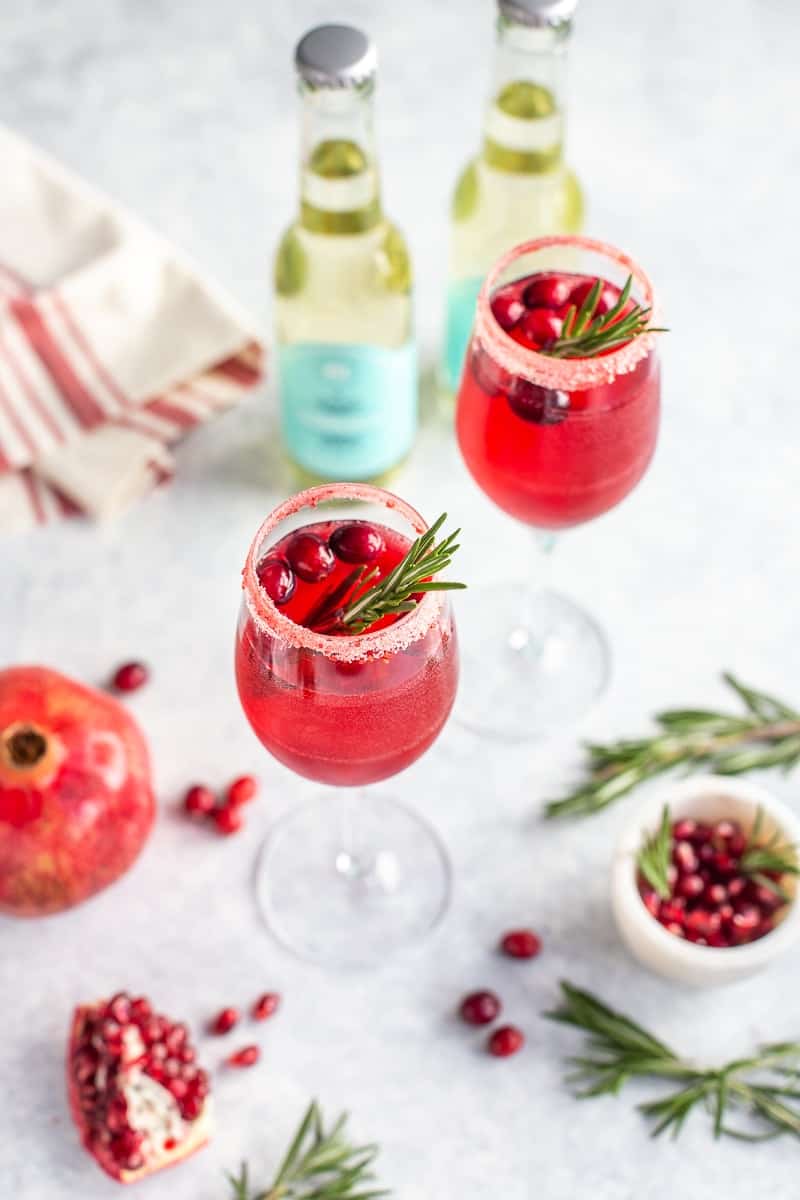 This Non-Alcoholic Prosecco Drink with pomegranate and cranberries is the perfect mocktail to serve at any gathering! It not only looks gorgeous but has great flavors as well. It is also listed in my post on How to Make the Perfect Mocktail Every Time.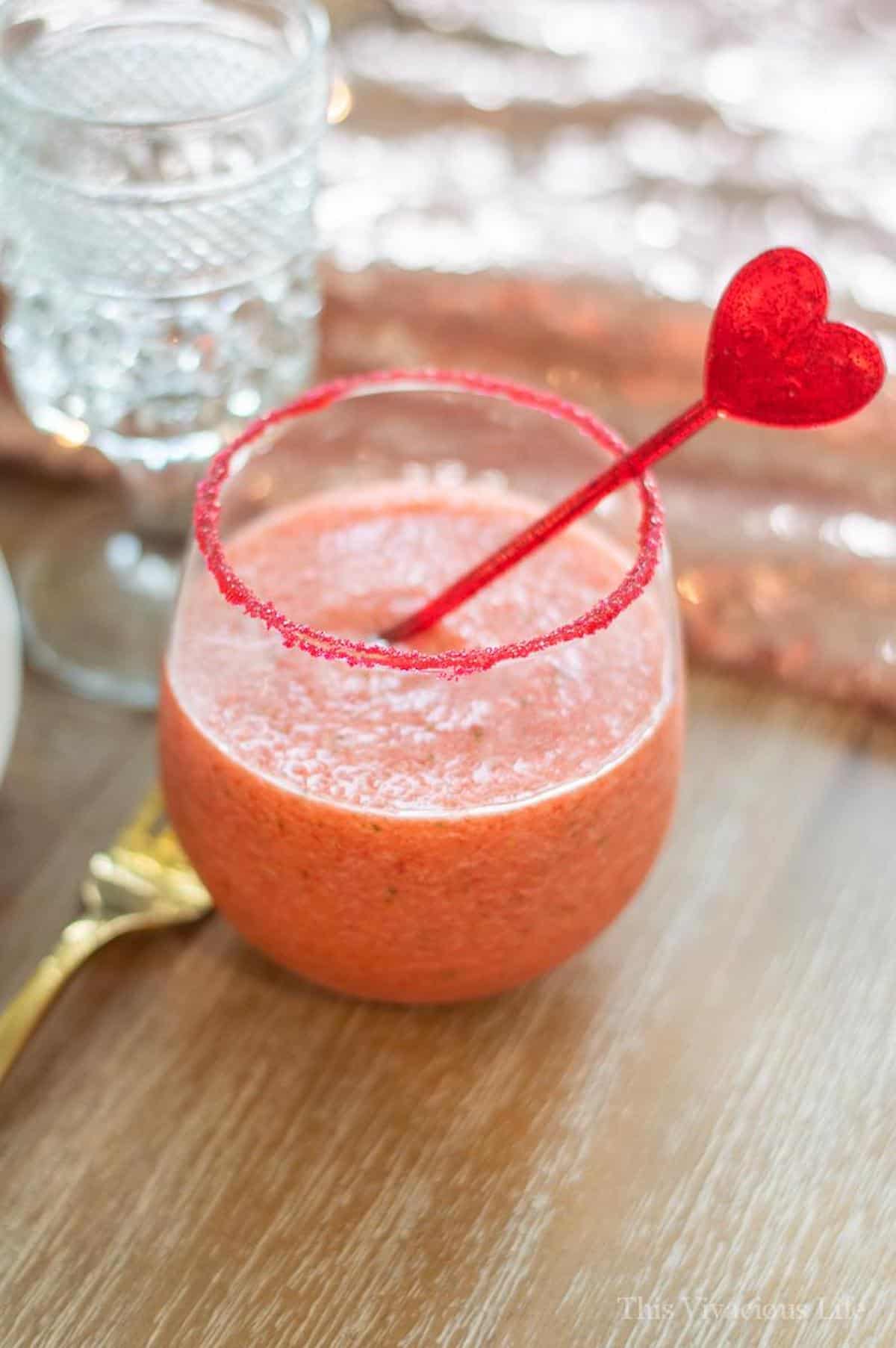 This 3-MINUTE Virgin Strawberry Margarita mocktail couldn't be easier to make and it is sure to be a crowd pleaser! Plus, you will love our twist! There is nothing better than a virgin margarita.
Why should I get a virgin drink?
Virgin drinks are a great way for bartenders to practice making drinks (or inventing new drinks) without having to consume as much alcohol. These drinks may be beneficial for those who are designated drivers, need to be on their A game, or have an early morning the next day. It is also a good option for those who are under age.
Can all drinks be made virgin?
Absolutely! All you need to do is substitute the alcohol with something different, or do not replace it at all. This is typically done in piña coladas and strawberry daiquiris.
What is the difference between a mocktail and a virgin drink?
They are essentially the same thing. Both mocktails and virgin drinks do not contain alcohol. They can be used interchangeably. You will even see people call a non-alcoholic cocktail a virgin cocktail. It all depends on who you ask.
THE BOTTOM LINE
Virgin drinks are drinks that do not contain alcohol. It is as simple as that. They are becoming more and more popular and are sometimes better than the real thing.