This Whole30 paleo ranch is so delicious and a wonderful accompaniment to vegetables, salad or meat.
Our Whole30 paleo ranch is a tasty alternative to traditional dressing. It is a great guilt free condiment.
Being the biggest ranch fan there is, I knew I had to make this Whole30 paleo ranch for my own Whole30 reset. My very talented mom Tana, created it from scratch. I love that it tastes so authentic and goes great a salad dressing or made thicker for a dip.

As you know, my mom has created some yummy stuff for us before including the BEST gluten-free cinnamon rolls and banana black bottom pie. So I knew that when she perfected a Whole30 paleo ranch recipe, it was also going to be great.
Of course, she didn't disappoint. Coming from this ranch fanatic, let me tell you that it's super delicious!
I personally love that it is so incredibly easy to make. It really can be whipped up in 2 minutes…now that's a win. Use a little more coconut milk cream on top to thicken it for a dip. Or thin it out with the more runny part of coconut milk under the cream for more of a dressing consistency.
Now don't freak out if you open your can of coconut milk and it isn't separated. That happens with some brands, just use half the can (6.5 oz or so) in place of the thick cream and more watery coconut milk under it that we call for. It will still taste great.
If you need some yummy salads to serve your Whole30 paleo ranch on may I suggest this butter lettuce with fennel and radishes from Erin at Meaningful Eats? Also, Chrystal from Gluten-Free Palate has this Instant Pot chicken fajita soup that would be great with a drizzle!
Whole30 Paleo Ranch Dressing
Ingredients
All the thick cream on the top from a can of full fat unsweetened coconut milk and 1/4 C watery coconut milk from the can under the cream (OR 6.5 oz. non-separated full fat coconut milk)
12 oz. Primal Mayo (or another Whole30 approved mayo)
Soak 1 T minced onion in 2 T lemon juice
1 T Parsley
1 tsp. each dill, minced garlic & chives
2 tsp. salt
1/2 tsp. Pepper
Instructions
*DO NOT SHAKE THE CAN OF COCONUT MILK BEFORE STARTING. IF YOUR COCONUT MILK IS ALREADY MIXED JUST USE HALF A CAN OR 6.5 OZ NON-SEPARATED FULL FAT COCONUT MILK IN PLACE OF THE CREAM AND WATERY COCONUT MILK INSTRUCTIONS)
Soak 1 T minced onion in 2 T lemon juice
Whisk together the soaked onion and lemon juice with remaining ingredients and enjoy
*To make it thinner, add more coconut milk or to thicken it, use less
https://www.thisvivaciouslife.com/whole30-paleo-ranch-dressing/
If you like this recipe, check these out…
Crab Stack with Blood Orange Vinaigrette
Strawberries & Cream Paleo Fauxtmeal (Gluten-Free, No-Oats)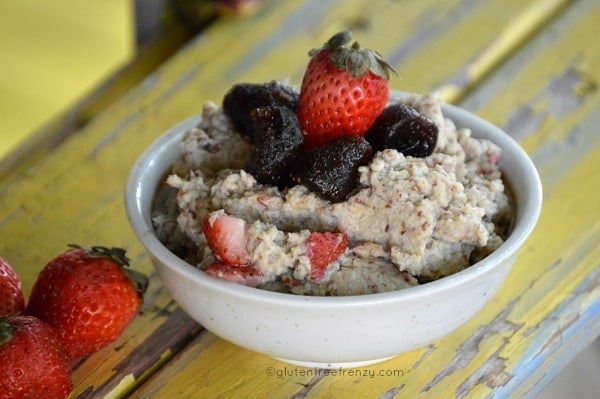 Whole30 Paleo Roasted Butternut Squash Soup