I can't wait to show you how to build a gluten-free charcuterie and cheeseboard that a sure to wow!
There's not much to a gorgeous gluten-free charcuterie and cheeseboard, but here are our best tips that will help you do it like a pro.
There's nothing quite like a serving up a stunning gluten-free charcuterie and cheeseboard. No matter what time of year it is, it makes one beautiful centerpiece or conversation starter at any gathering. With just a few simple tips you can take your charcuterie from drab to fab!

Anytime I ever see a charcuterie or cheeseboard on the menu at a restaurant, it's the first thing I want to order. To me, it outweighs the entrées and dessert in both beauty and taste.
In fact, I recently ate at Giada's in Vegas and did her chef tasting menu (which was phenomenal by the way) and my favorite course by far was the cheese course. I love the dry meats, the raw honey and of course the big broken chunks of fresh Parmesan.
I believe that when done right, a gluten-free charcuterie and cheese board can leave a lasting impression on your guests. They will be both satisfied with what they've just eaten and their taste buds will be enticed by what will be served next.

My first recommendation for building the perfect gluten-free charcuterie and cheeseboard is to begin by selecting three different cheeses. You should then choose three different Italian meats.
Some of my favorites include a really hard parmigiano reggiano, fruity white Stilton, smoked apple walnut cheddar and a Buffalo mozzarella. For meats, I absolutely love sopressata, Italian dry salami, prosciutto di Parma and wagyu beef salame.
Although I will say the latter is hard to find at a really good quality. Get creative in what you choose though and go with what your taste buds prefer. Note: you can estimate about 2 ounces of each cheese and meat for each guest.
Find a beautiful marble, wood or slate board that you will be using and begin arranging the meats and cheeses in separate areas of the board. Place small knives next to each cheese so that the flavors of each don't mingle.
Also, remember that cheese is best served at room temperature. So, it's OK to pull them out of the fridge and place everything before guests arrive.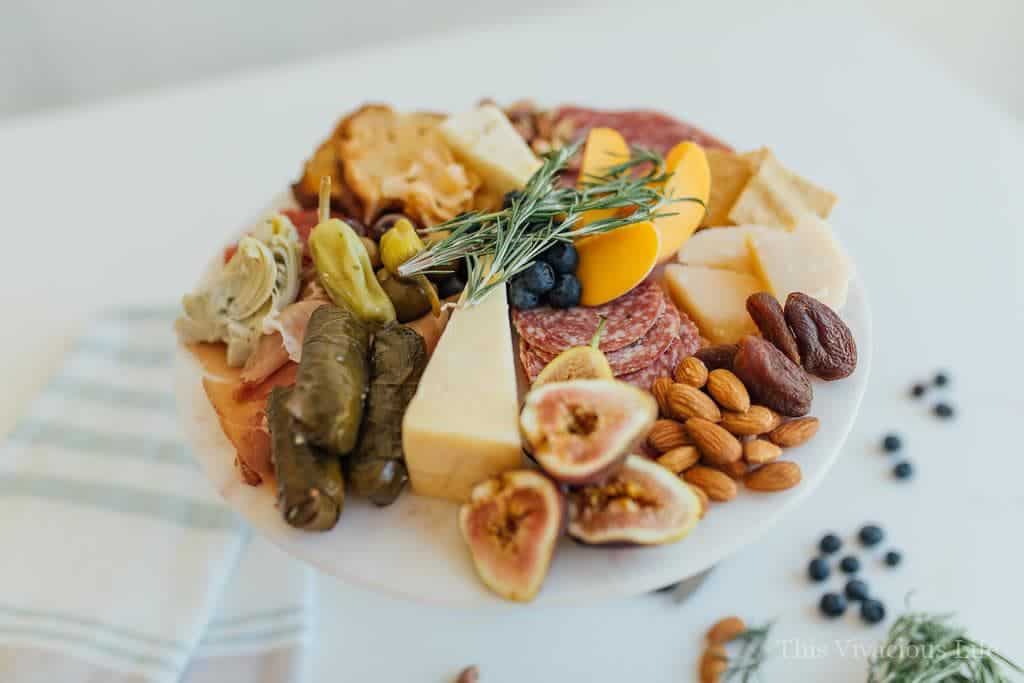 Once you've placed your cheeses and meats, fill the space in between with other delicious items. I love serving triangles of our gluten-free garlic rosemary butter bread. It's easy to make with Canyon Bakehouse bread and nobody will even know it's gluten-free.
I also serve gluten-free crackers, assorted marinated olives (or tapenades) and artichoke hearts, raw nuts and fruits. Fresh figs are my favorite and they are so gorgeous! If they aren't in season just go for a fig spread which is also very pretty and delicious.
Grapes look beautiful as do dried apricots as well. I personally think it's a bit of a foodie crime to not serve raw local honey on your gluten-free charcuterie and cheeseboard but that's just me.
So as you can see it's pretty simple to put together the perfect gluten-free charcuterie and cheese board. Really it's about presentation so if you are looking to elevate it a bit more, throw on some fresh sprigs of Rosemary had some freshly sliced pears.

I'd love to hear what your favorite charcuterie and cheese board items are… Please leave them in the comments below.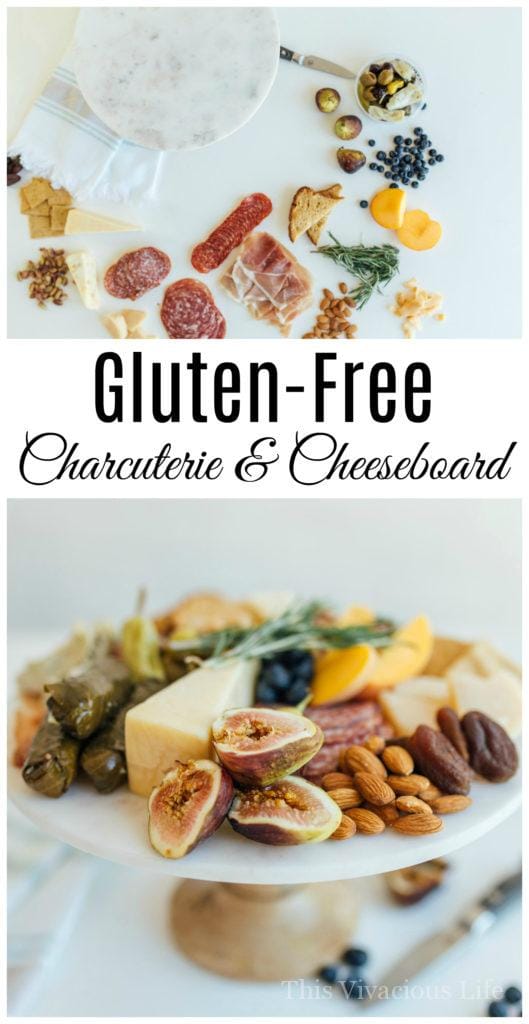 Gluten-Free Rosemary Garlic Toast for Charcuterie and Cheeseboard
Ingredients
2 slices of Canyon Bakehouse 7-grain bread
2 tsp. butter
1 tsp. crushed garlic
1 sprig fresh rosemary, crushed
fresh ground pepper
Instructions
Toast the gluten-free bread
Spread butter on top
Sprinkle buttered toasts with crushed garlic, rosemary and ground pepper
Slice into halves or quarters before serving
https://www.thisvivaciouslife.com/gluten-free-charcuterie-and-cheeseboard/
If you like this, be sure to check out these…
Simple White Flower Arrangements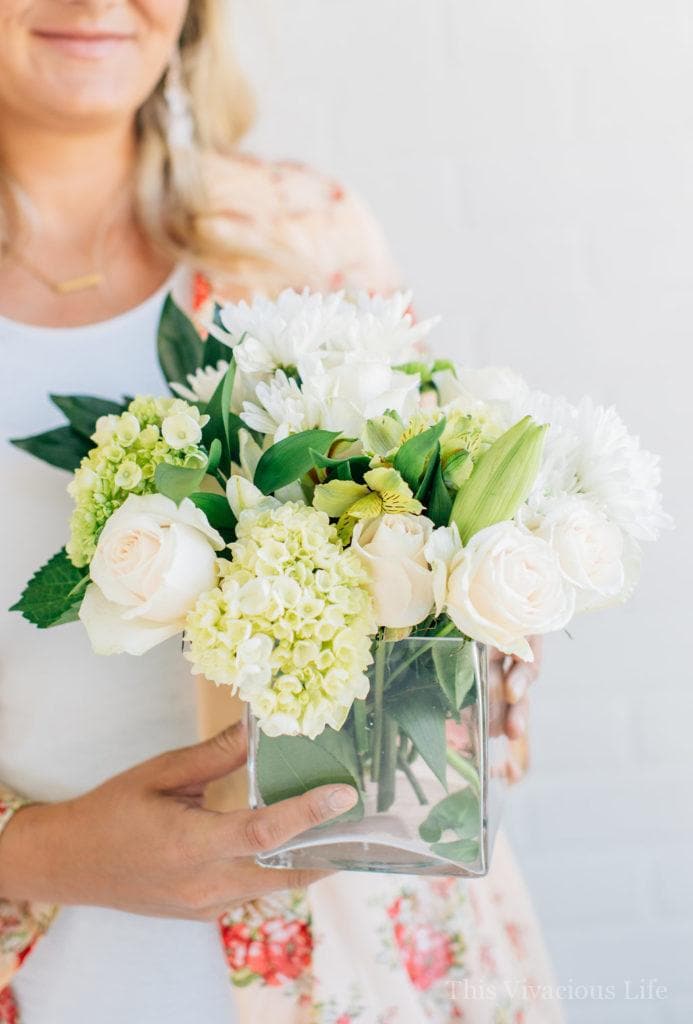 Cactus and Succulent Baby Shower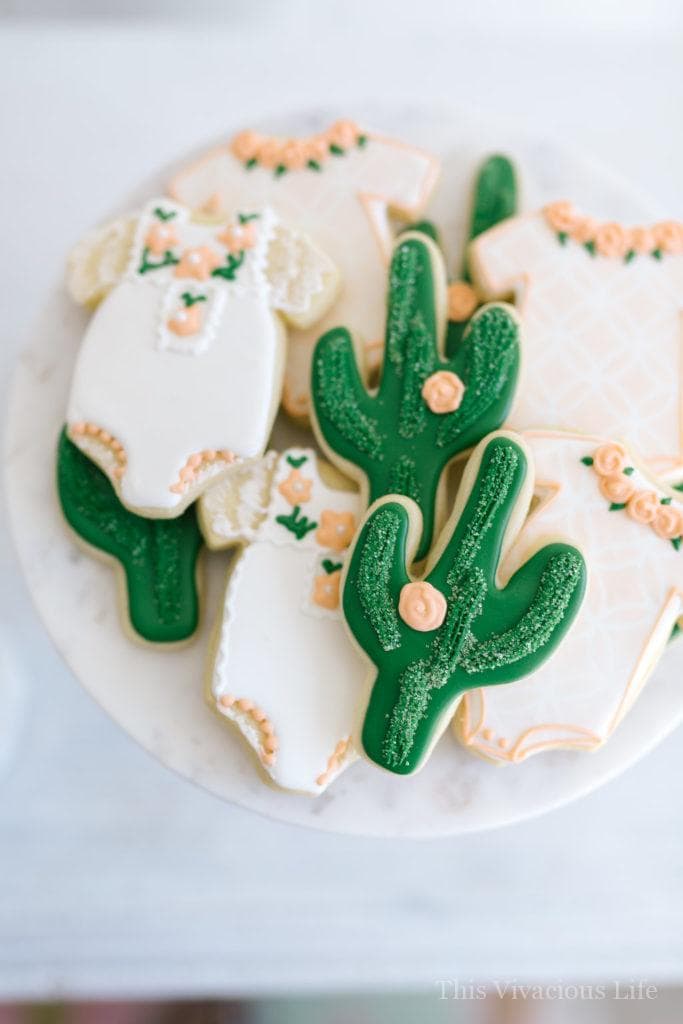 Photos by Amie Pendle. Originally published here July 28, 2017.