My hands down favorite Thanksgiving food is gluten-free green bean casserole with homemade fried onions. I can literally eat the entire pan on my own! 
Green bean casserole was always one of my all time favorite Thanksgiving day foods. I decided to make a recipe for gluten-free green bean casserole so I, and many others, don't have to miss out on a classic favorite.
If you know me, then you know that I don't think anyone who lives gluten-free should miss out on anything. Especially not on holidays. This is why I recreate delicious favorites as well as come of with fun new menu items that everyone will enjoy. Remember my savory stuffing cupcakes? They are always a big hit on the Thanksgiving table.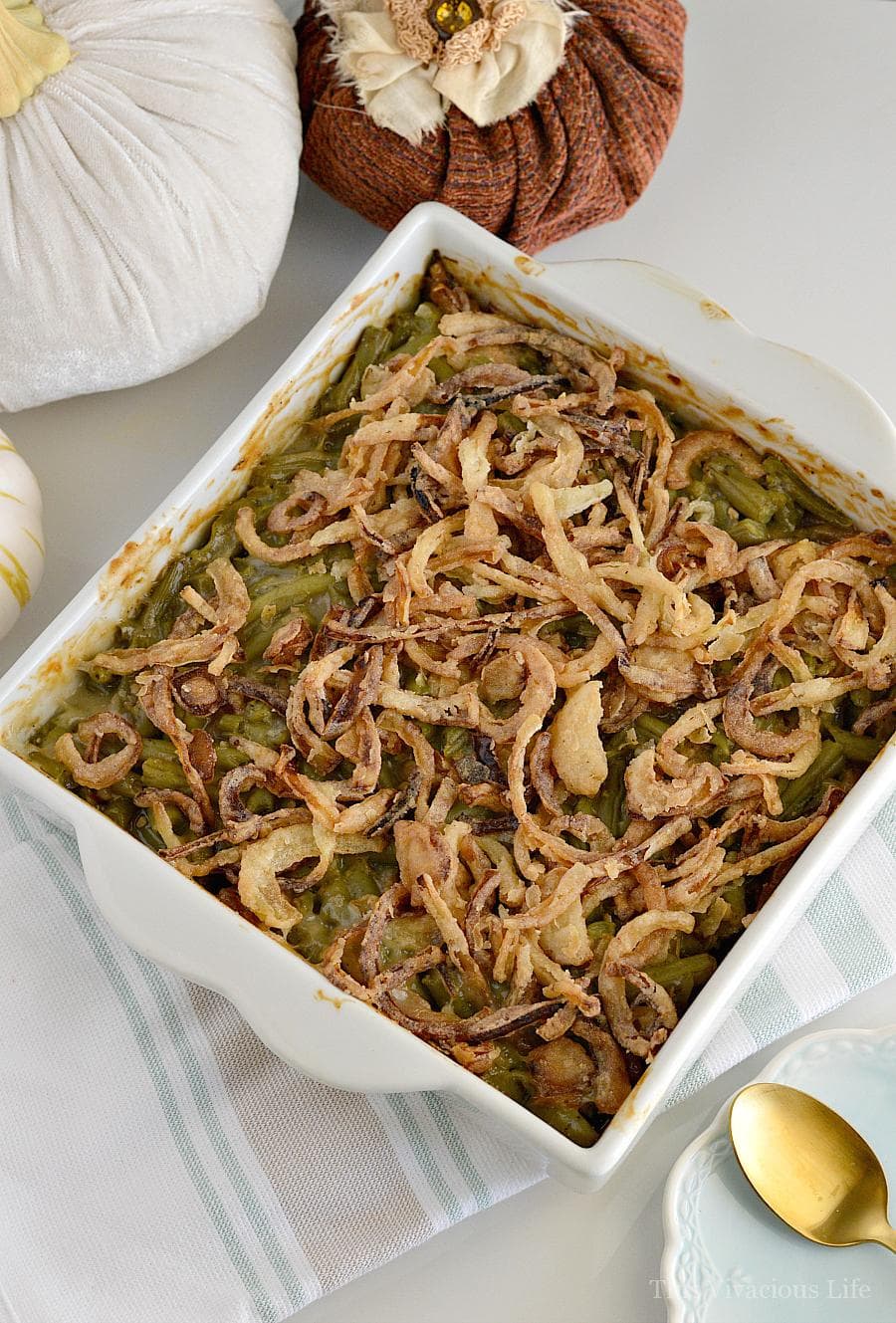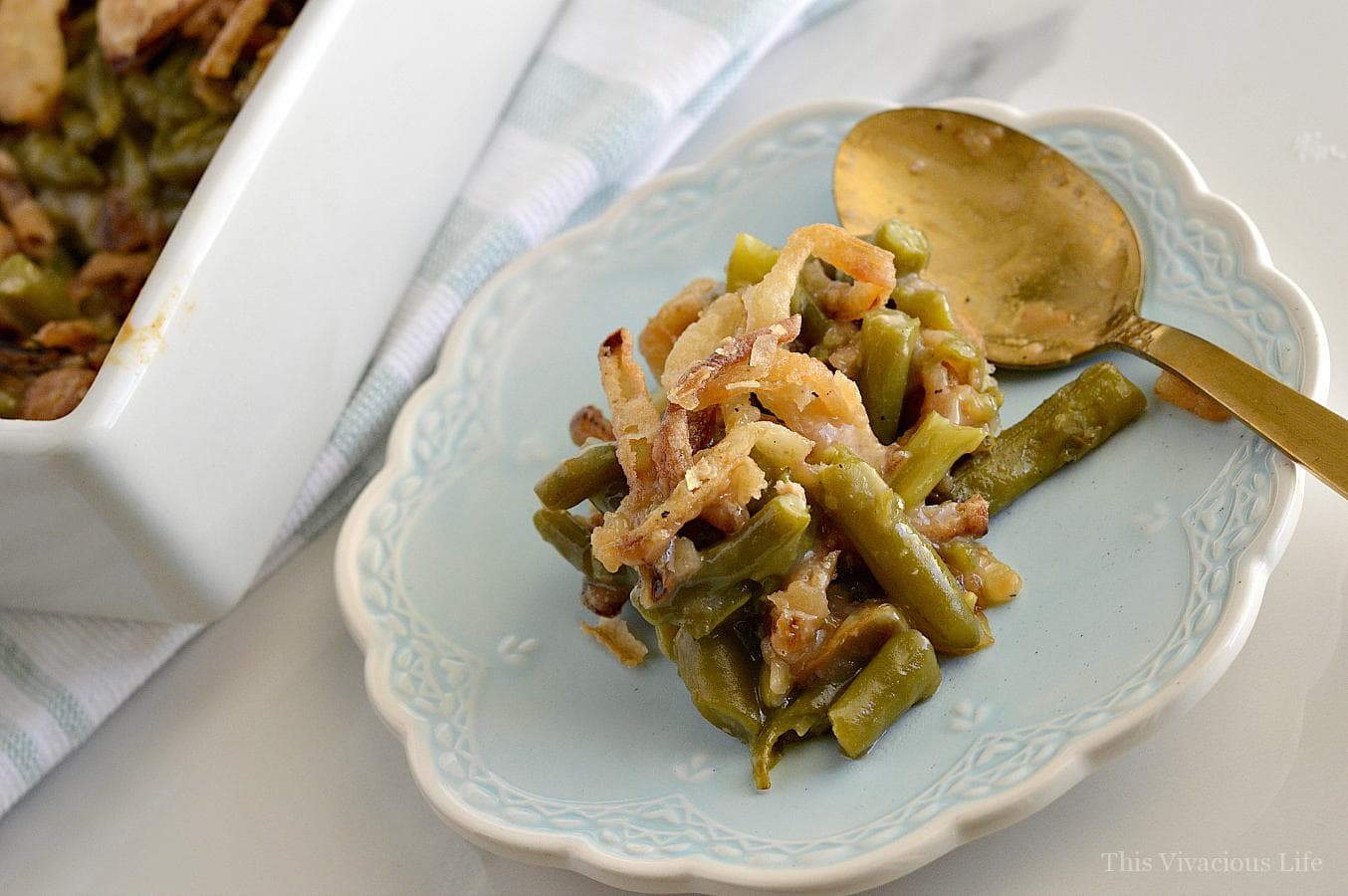 This green bean casserole with homemade fried onions is surprisingly easy and will definitely be a crowd please. One word of warning, I don't recommend using purple onions when making fried onions as they turn out a bit dark and unpleasant looking. Stick with white or yellow.
You may wonder why I use canned green beans instead of fresh. The truth is that I love a classic green bean casserole and the fresh just don't give it that same flavor that grandma's did. What can I say, I am a very nostalgic person. Now, if you like fresh, most certainly feel free to use them.
Gluten-Free Green Bean Casserole w/ Homemade Fried Onions
Ingredients
1 box Pacific Foods Condensed cream of mushroom soup
1 tsp. gluten-free soy sauce
4 cans of organic green beans
Dash of Real Salt and pepper
1 1/3 c. gluten-free fried onions
2 large onions
1 1/2 c. gluten-free all-purpose flour blend OR (1/2 c. brown rice flour, 1/2 c. tapioca starch, 1/4 C corn starch & 1/4 c. coconut flour)
1 tsp. Real Salt
1/4 tsp. pepper
raw or organic milk
Instructions
To make the fried onions, begin by slicing onions into thin rings then soak in milk
Combine flours, Real salt and pepper
Heat oil in a large skillet
Remove a few onion rings from milk and coat in flour
Fry in oil
Drain on a paper towel lined plate
For the casserole, combine green beans, gluten-free cream of mushroom soup, gluten-free soy sauce, Real salt, pepper and 2/3 c. gluten-free fried onions in a casserole dish
Bake 25 minutes at 350 degrees
Sprinkle with remaining fried onions and bake 5 more minutes
https://www.thisvivaciouslife.com/gluten-free-green-bean-casserole/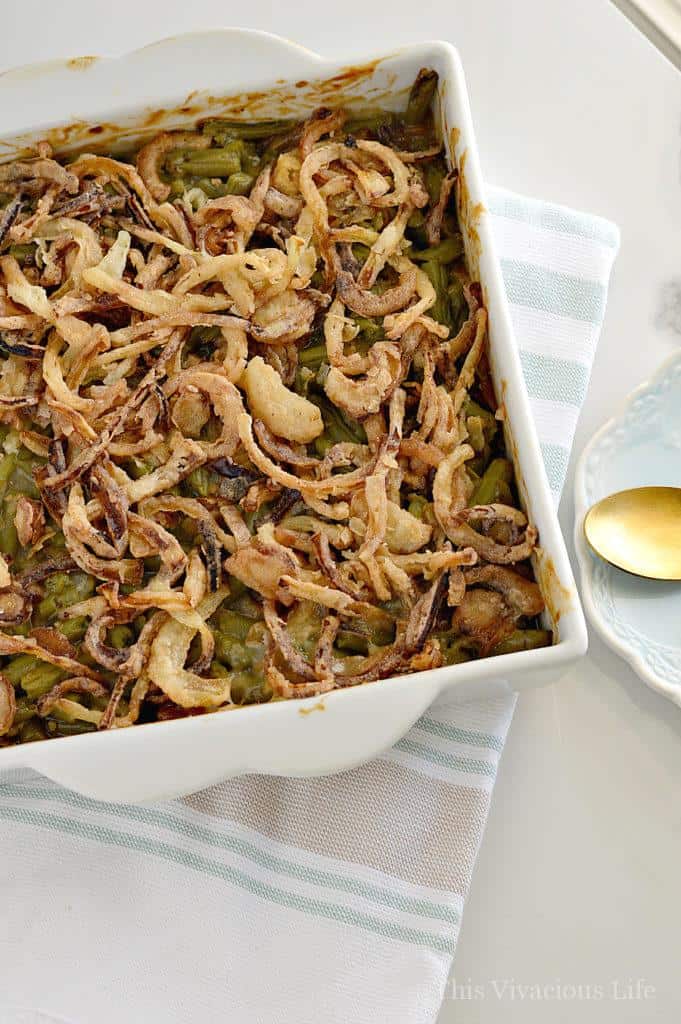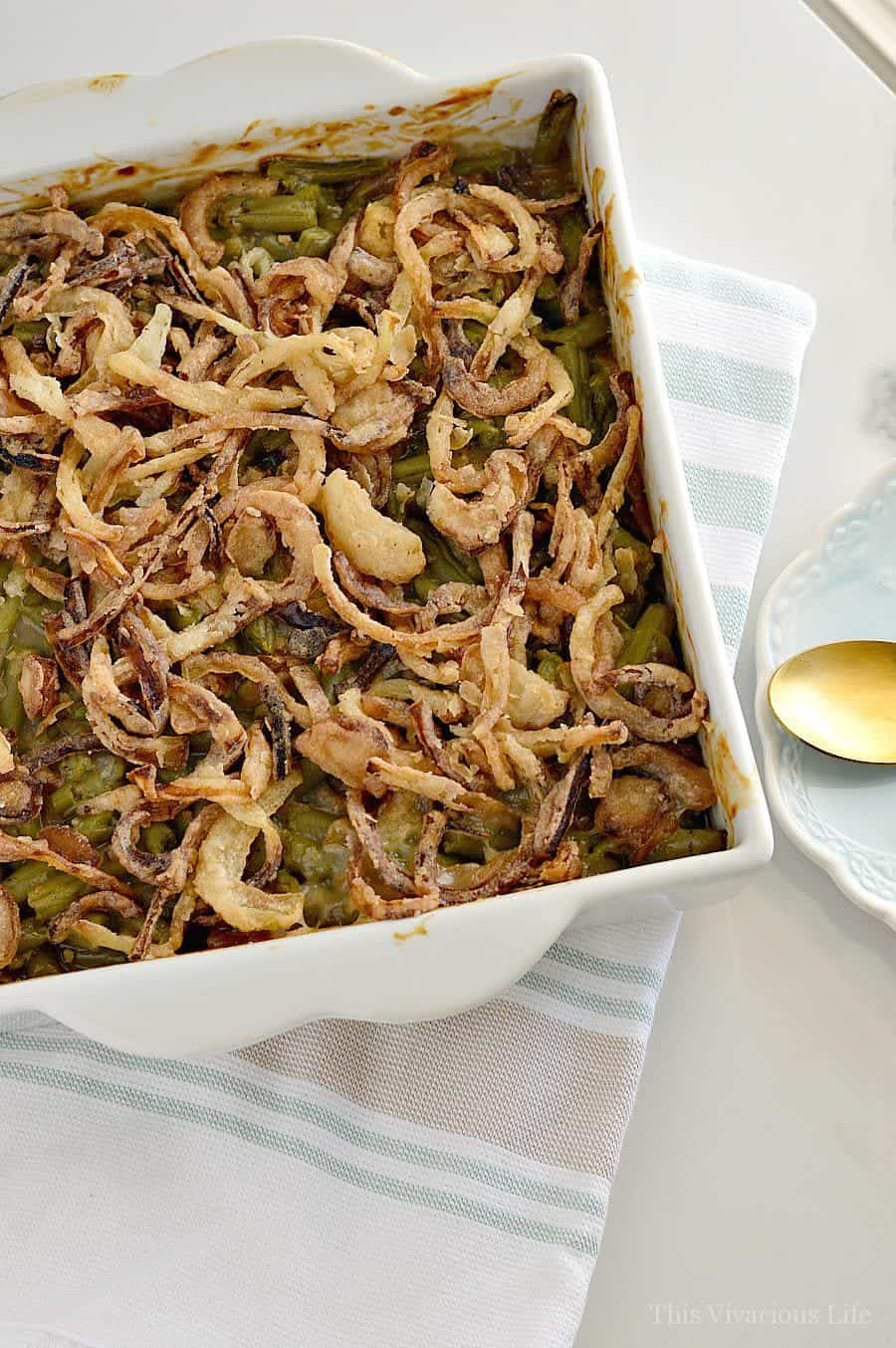 If you love this recipe, you will love these…
Gluten-Free Green Bean Casserole Galette
Best Gluten-Free Blogger Thanksgiving Recipes
Thanksgiving Leftovers Salad