this post may contain affiliate links
Have you ever wondered, "How early can you make Thanksgiving sides?" We are sharing everything you need to know with our comprehensive guide. From casseroles and breads to potatoes and veggies, we will let you know how early you can prepare them.
You can use our Thanksgiving non perishable foods list to help you with shelf stable cooking. From green bean casserole to corn casserole, we have great ideas for Thanksgiving sides.
Cooking Thanksgiving dinner is not something you can do last minute. You have all of the sides and desserts to cook, and don't even get me started on the turkey.
Whenever we host Thanksgiving, I come up with a schedule of when I am going to cook everything so I can make sure everything will be ready in time.
But how do you figure that out? And how do you keep everything warm? Well, we are here to teach you and give you all of the tips and tricks you need for the best Thanksgiving day and Thanksgiving meal!
Subscribe to This Vivacious Life
Receive a free e-book of Instant Pot recipes!
Thanksgiving is a big day when it comes to cooking. The holiday is known for many types of foods and they are usually homemade. So, that can make the morning of Thanksgiving stressful, as you are trying to cook a delicious meal.
Planning your Thanksgiving meal is stressful too because you have to find the perfect balance to have the best Thanksgiving side dishes that everyone loves. When you add up all of the time it takes to make those side dishes, it can become daunting. But do not worry, we will help you out.
Luckily, we have a bunch of easy Thanksgiving side dishes that are perfect for the holiday season. We have some classic side dishes and some new ones that you may not have heard of.
Side dishes help make up a big Thanksgiving feast that your friends and family will talk about for years. I also love appetizers so check out our appetizer category. While you're doing that, check out the best honey baked ham side recipes!
Side dishes do not always take long to make, but most people only have one oven, so you have to plan that in advance and have ways to keep dishes warm. Crockpots, tin foil, and microwaves help a lot when you do not have a lot of oven space.
Less than an hour before
There are some Thanksgiving recipes that only take a few minutes to make, so those are usually safe to make closer to when you are eating. It does depend on what the recipe is though.
If the side needs to stay warm, it may be easier to make right away unless you have the space available to let it sit in a slow cooker or Instant Pot. If the side needs to stay cold, you can go either way.
Sometimes it is easier to make the sides that need to stay cool first and let them sit in the fridge until it is time to eat.
Instant Pot Carrots
Our Instant Pot carrots take a TOTAL of 5 minutes to make. In my opinion, I would make these carrots closer to the time you are eating.
They are so incredibly easy that you can throw them in a pressure cooker a few minutes before the guests arrive.
If you make them earlier in the day, they will have to sit in the Instant Pot to stay warm and they could become mushy. So, I would say these could be done closer to meal time.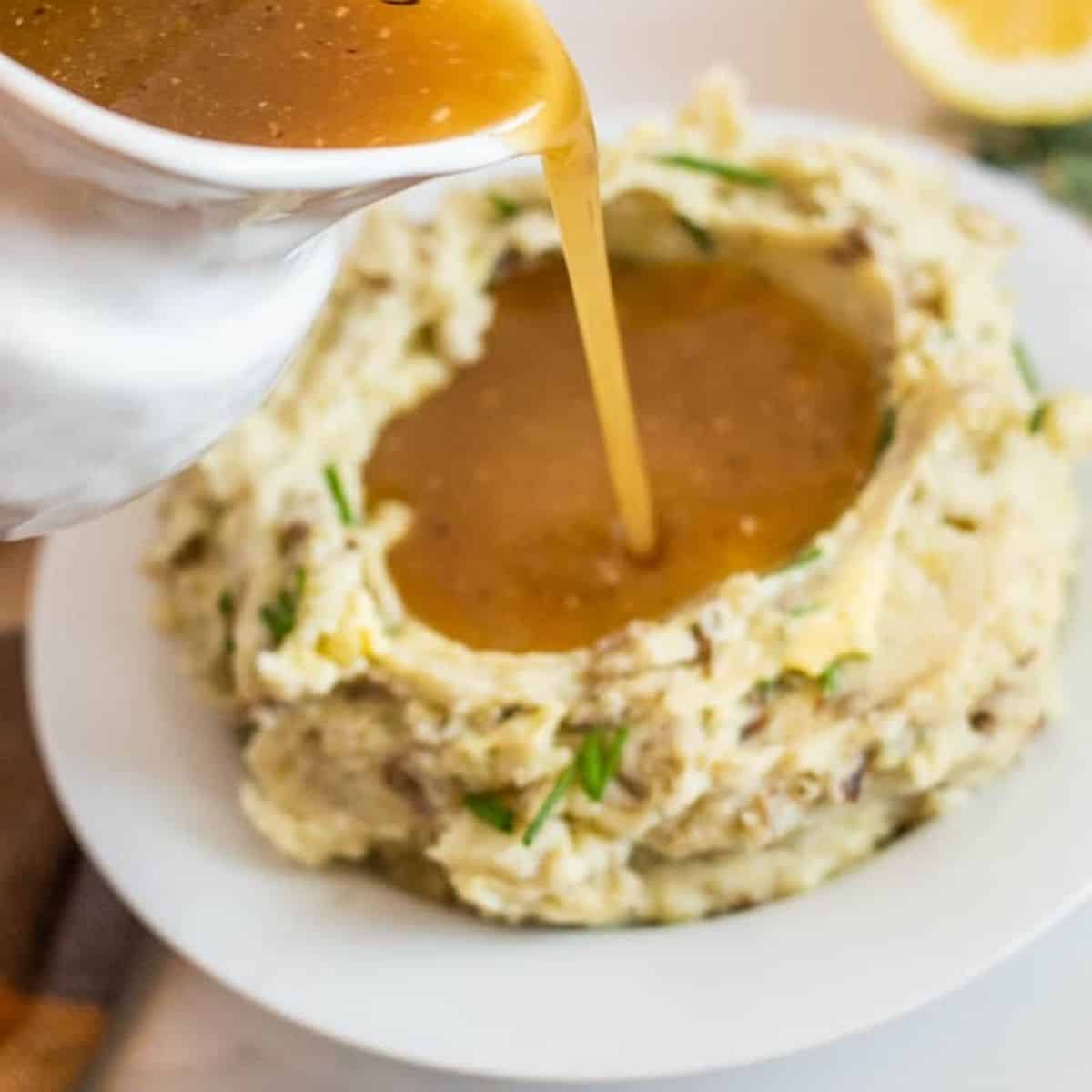 Gravy
Our gluten-free gravy recipe is an easy recipe that you can make minutes before your guests arrive. You can make it and have it on the dinner table within 10 minutes TOPS.
If you want to make it ahead of time, store the gravy in the fridge and cover with tin foil or plastic wrap. You can either reheat on the stovetop on medium heat OR reheat in the microwave for a minute or two.
Pro tip: If the gravy is too thick, add a bit of water to get it to the desired consistency.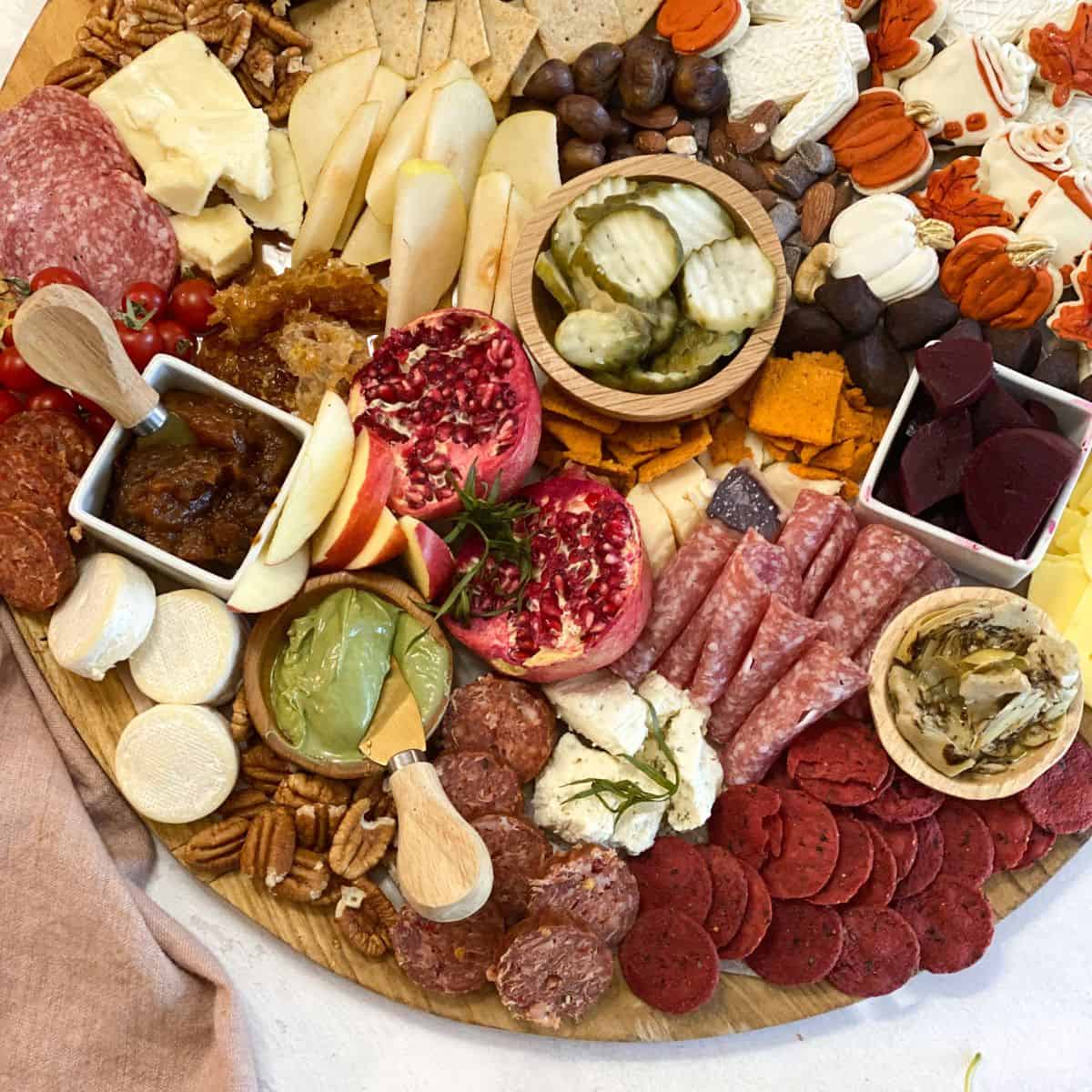 Thanksgiving charcuterie board
Our Thanksgiving charcuterie board only takes 30 minutes to put together. This recipe is a good one to delegate because it is not that hard to make.
So if you have a family member or friend who is asking what they can do to help, have them throw together our Thanksgiving-themed charcuterie board.
Another reason this recipe can be made close to dinner time is there is not any baking or cooking involved. It is cutting things up and putting them on the charcuterie board.
You do not have to worry about timing things out with the oven, which makes it a lot easier. This board is totally customizable which is fun!
If you want to make this ahead of time, you definitely can. You can throw thing cold things on the charcuterie board (like the cheeses, meats, fruits, and dips).
Then wrap it in plastic wrap, then take it out when you are ready to eat. Simply add the crackers and cookies before serving and you are good to go.
A couple hours before
Dishes like stuffing and biscuits are staples on a holiday menu, but can sometimes take a bit of time to make. Preparing these delicious side dishes a few hours beforehand will help spread out the cooking time and kitchen space.
Having a cooking game plan really makes a difference when preparing a holiday dinner. It will also making cooking a joy rather than a stress.
These are not the only things you can make a couple hours before. It all depends on what recipes you are making and how much space you have in your kitchen.
You may want to make desserts earlier in the day too! The good thing is that it is up to you because you are the one cooking.
Stuffing
Before I say anything else, make sure you leave the bread you plan to use for this recipe out for a day or two so it can become stale. Stale bread works best for this recipe.
Other than that, you can make this gluten-free stuffing a couple hours before your Thanksgiving meal. I love making extra for Thanksgiving sandwiches the next day.
It takes around 35 minutes to cook, but has a prep time of 20 minutes, so you will want to make this savory stuffing earlier in the day. To keep it warm, put some aluminum foil on top and reheat before dinner if needed.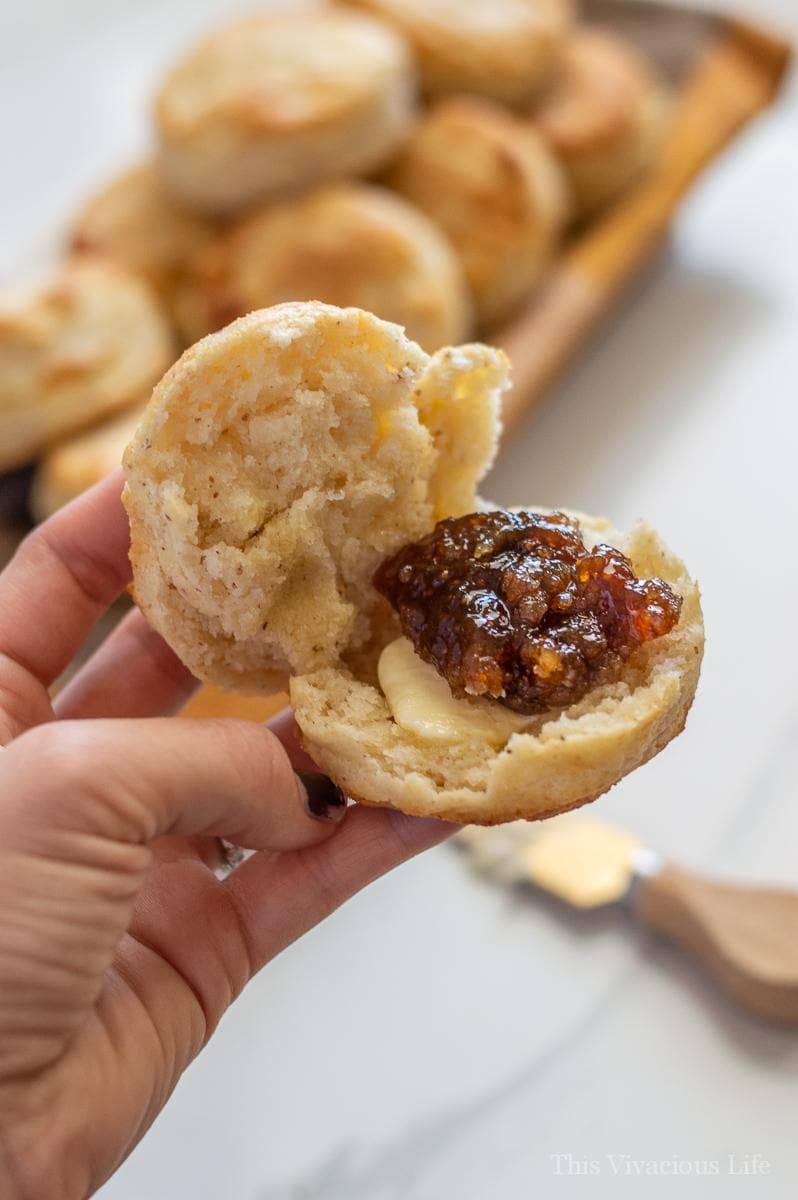 Biscuits
Our gluten-free biscuits are easy to make a few hours ahead of time. They only need 20-25 minutes to rest before baking, so it is definitely feasible to make them the same day.
It just depends on what else you are making and the oven space you have. After they are done baking, you can cover them with aluminum foil to keep them warm.
You can also reheat them a few minutes before dinner also. Just pop them in the microwave for a few seconds at a time and place them in a cute bowl for the dining room table.
The day before
Doing the prep work the day before makes your life a lot easier on the actual day of the meal. Make-ahead Thanksgiving side dishes make your Thanksgiving menu a lot easier to cook.
It will relieve some stress and so you do not have to spend the whole day of Thanksgiving cooking. After all, it is a time to spend time with loved ones.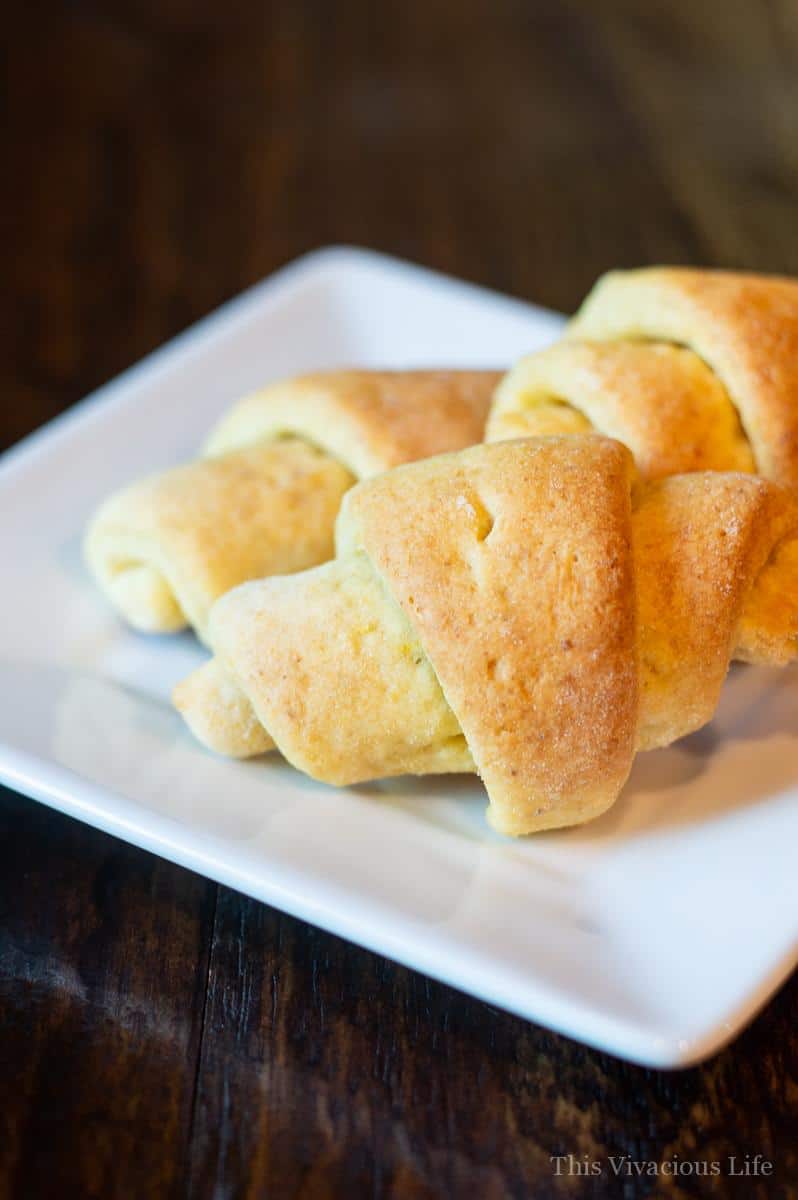 Dinner rolls
Rolls do not need to be tricky. It can be overwhelming when it comes to making rolls because you have to allow them to rise, but do not worry. It does not have to be complicated.
Our gluten-free crescent rolls do take about 2 hours and 20 minutes to prep, rise, and bake, but when you make them the day before, it takes a lot of the stress away.
Once they cool, you can keep them in an airtight container. I would not make them more than one day ahead of time because they are best when they are fresh.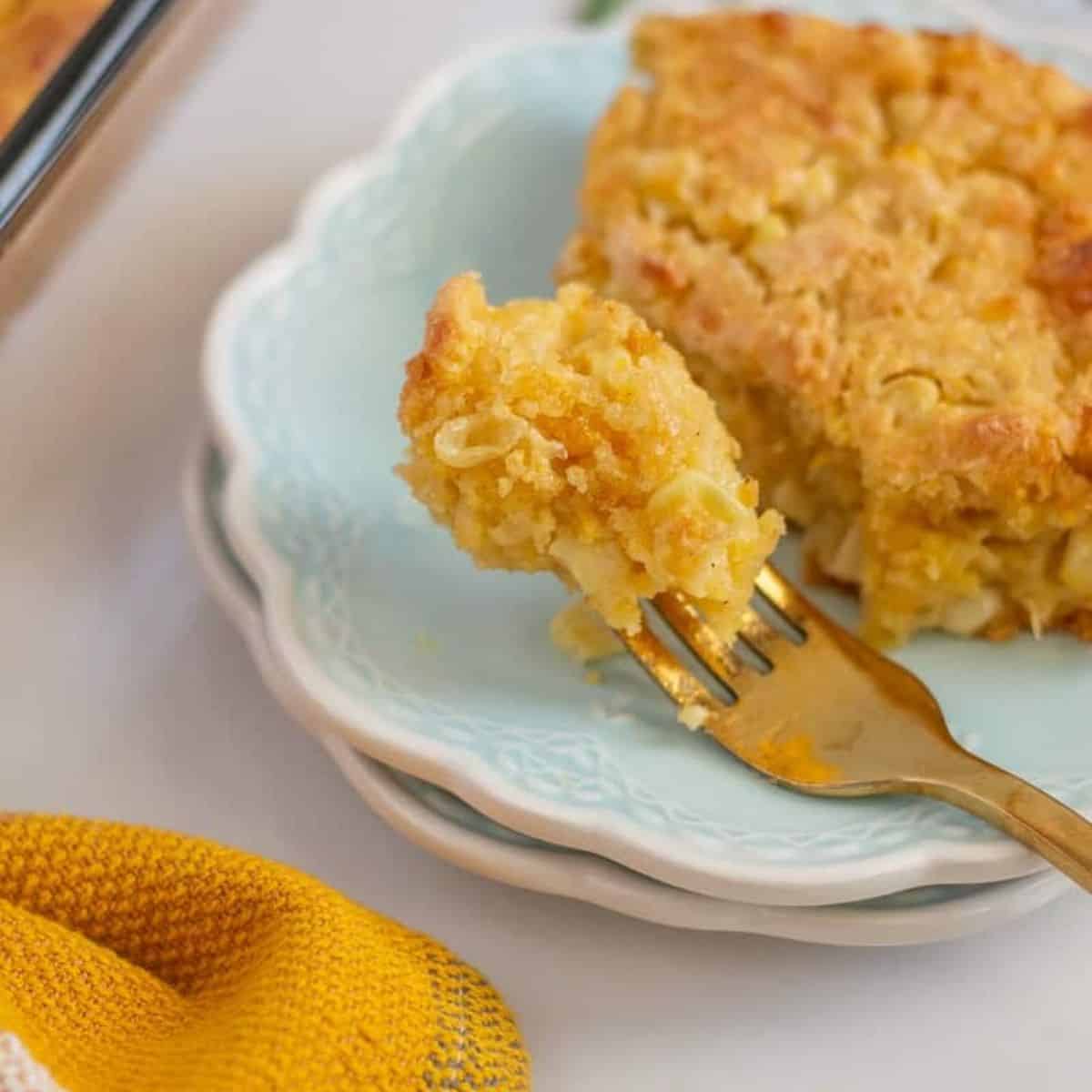 Casseroles
I find that making casseroles the day before Thanksgiving makes my life a lot easier when it comes to cooking a Thanksgiving feast. We really like our gluten-free corn casserole. It is a more hearty (and sweeter) version of cornbread.
Some other casseroles we have are our gluten-free green bean casserole and our gluten-free sweet potato casserole. Both are super tasty and perfect for Thanksgiving.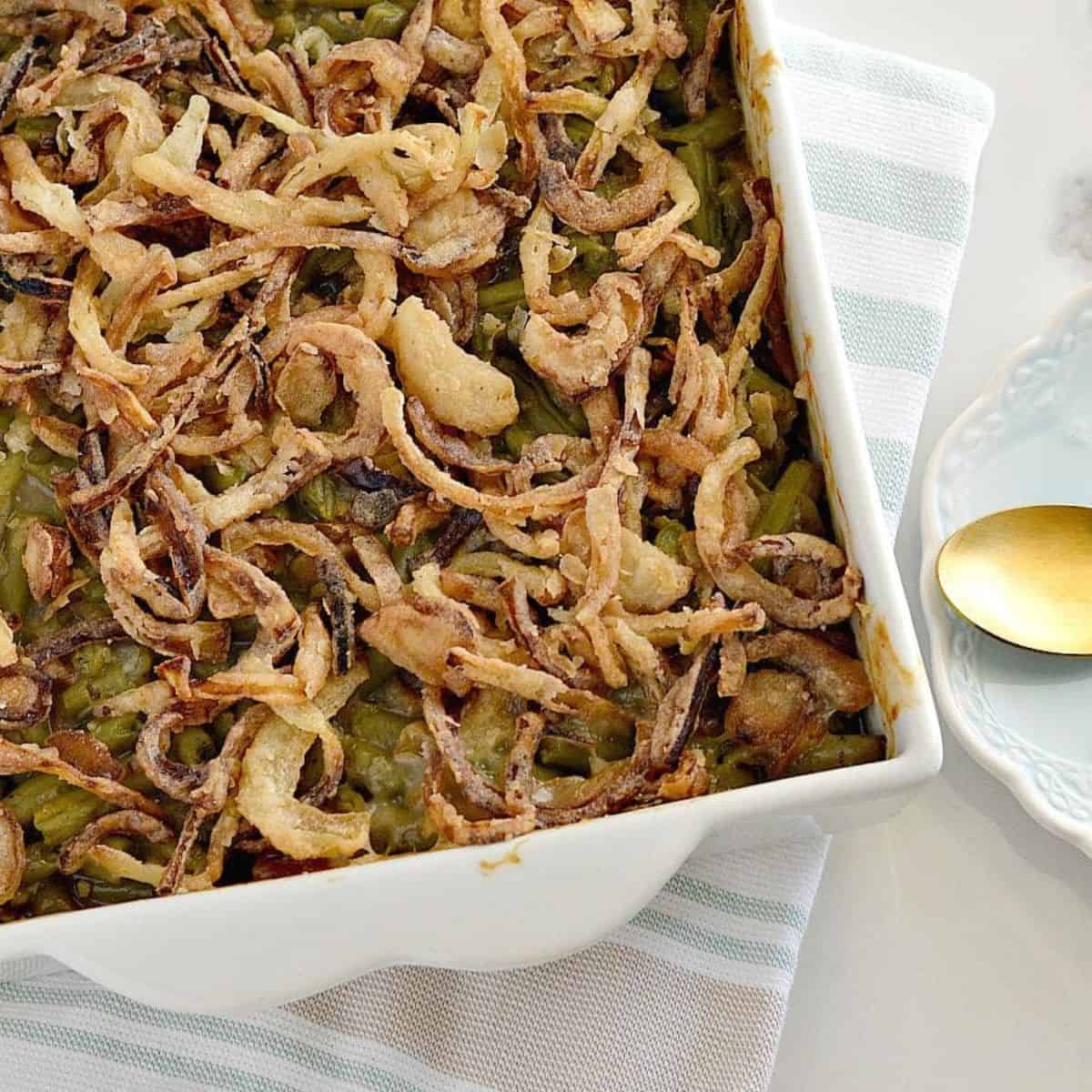 You can also make casseroles a few days before to make the day before Thanksgiving a bit easier too. It may be best to freeze the casserole after you make it though because the longer it sits, the less fresh it will be.
All you have to do on Thanksgiving day is throw the casserole in the oven for 20-30 minutes at around 325-350 degrees to warm up. If the casserole has been frozen, it will most likely take an hour to warm up.
The best way to do this is to put them in the oven after you take the turkey out. That way, they will be ready to go for your Thanksgiving meal.
Mashed Potatoes
Mashed potatoes are a staple when it comes to Thanksgiving dinner. These creamy mashed potatoes are gluten-free and pair well with warm butter or our gluten-free gravy.
It is best to cook mashed potatoes the same day, but you can (and should) prepare them the day before. What you can do is peel the potatoes the day before and let them sit in the fridge covered in cold water overnight.
That way, you do not have to worry about peeling the potatoes in the morning. This will save you some time on the big day.
How early can you prepare Thanksgiving dessert and Thanksgiving turkey?
While these aren't sides, I figured this would be helpful as well. So let's cover just a few more items…
Desserts
Most desserts are fine to make the day before. Some pies, like apple pie or pumpkin pie, are best when they are at room temperature, so go ahead and make those the day before and let them sit on the counter!
We love our gluten-free apple pie cookie cups because they are super easy to make and they are absolutely adorable. These are fine to make the day before or on turkey day.
They have a resting time of an hour so make sure you take note of that. Everyone loves these individual dessert cups.
Our gluten-free apple pie jars can be made ahead of time as well to save you time on Thanksgiving. You can use the pie dough to bake the pie crust ahead of time and freeze it.
That way, you can pull it out when you need to make these cute pies. Cleanup is also a breeze.
Another dessert you should add to your Thanksgiving menu is our Razzleberry pie. With this recipe, we use store bought gluten-free pie crust so you do not have to worry about making homemade pie crusts.
This pie sits on the counter at room temperature so you do not have to worry about making room in the fridge or having to reheat it in the oven! If you use dairy free butter to make the crust, this can even be vegan.
The Turkey
Cooking the turkey is probably the most stressful part of cooking Thanksgiving dinner. You have to figure out how big your turkey needs to be, how you want to cook the turkey, and when the perfect time is to start cooking it.
Our gluten-free turkey is easy to cook and we have instructions to help along the way. It's also great for leftovers!
Make sure that when you are buying the turkey that there are no added seasonings or anything that could contain gluten. You will want to think ahead about thawing the turkey before cooking it.
Sometimes it can take up to four days for a turkey to completely thaw in the fridge. Brining takes even longer.
That is why you have to think ahead when it comes to cooking the turkey. If you want to brine a turkey with fresh herbs, you have to submerge the turkey for 24 hours before cooking.
So, make sure you are thinking ahead about your Thanksgiving turkey. Those side dishes too.
We hope that you have the best Thanksgiving! Enjoy your time with family and friends and especially enjoy the delicious food you made.
Other helpful information: Here is what we recommend for how to reheat Thanksgiving sides. Thanksgiving leftovers are my favorite, so it's good to know how to best reheat them.