this post may contain affiliate links
We've got gluten-free Superbowl food and party planning tips that will help make your next party a huge success.
Needing some gluten-free Superbowl food and party planning help? We've got just what you need here to make it delicious and keep it safe.
Whether you are a seasoned gluten-free eater or a newbie, we have some gluten-free Superbowl food and party planning tips to share with you. It's so important to make sure you understand the basics of gluten-free party planning. Now, ideally all gluten-free parties would be done in a dedicated gfree place with no risk of cross-contamination. BUT, it is highly unlikely that every party you ever attend will be run this way.
What I'd like to do here is to educate everyone who wants to plan a party but has a loved one or guest who must live gluten-free attending. Below I am sharing my favorite tips for hosting a gluten-free guest. I will also share some fun gluten-free Superbowl foods that everyone will love! Be sure to check out our ladies night football party for more inspiration as well.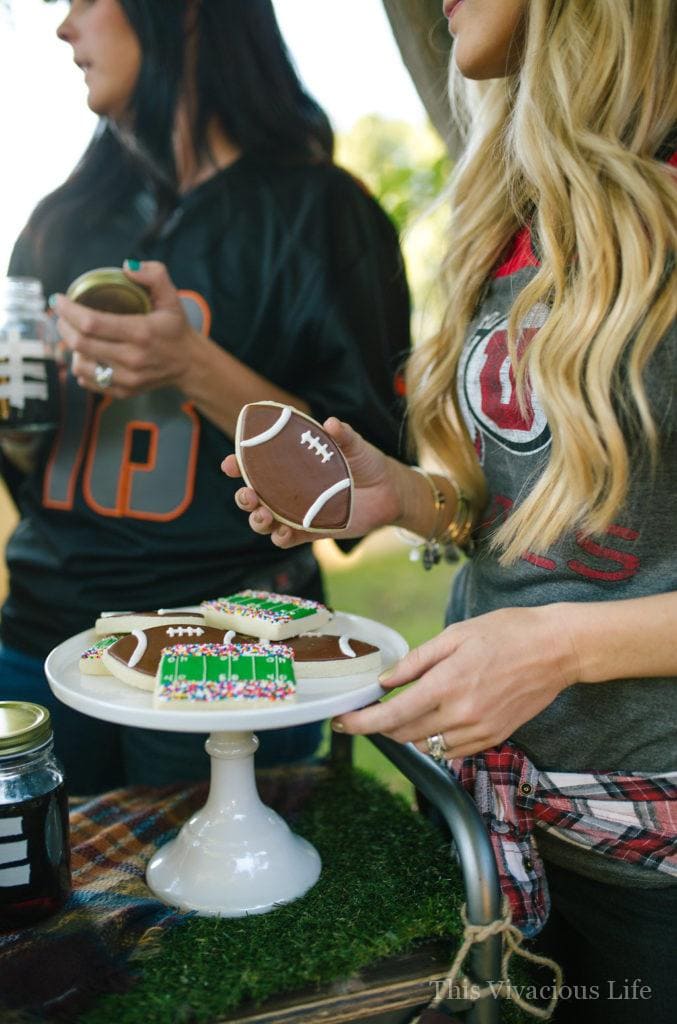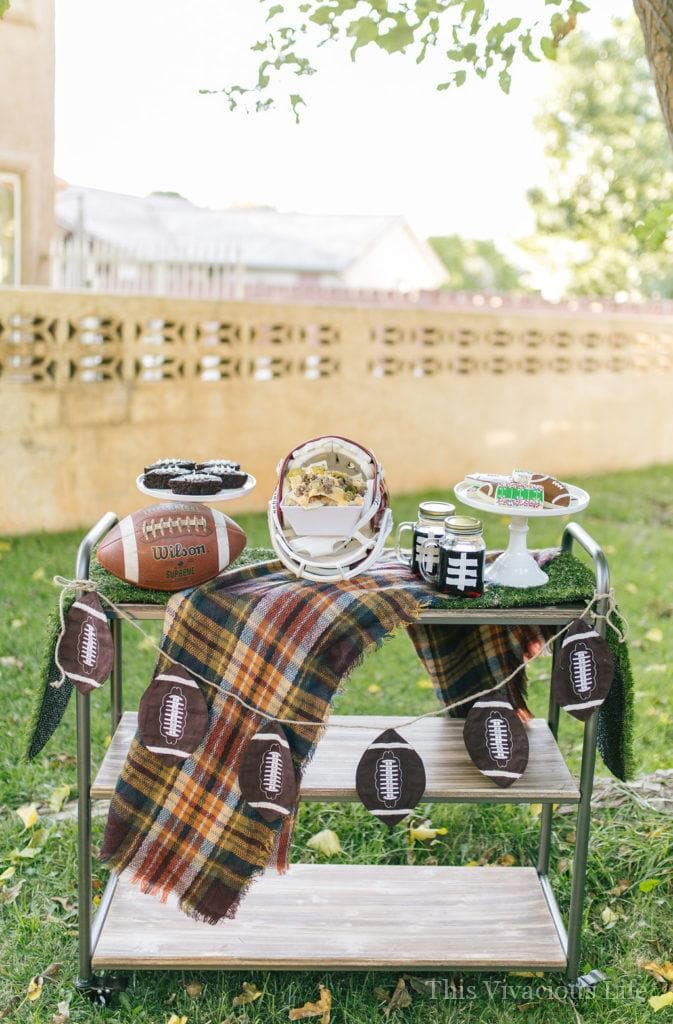 Find out ahead of time what your guests gluten-free needs are. Do they have celiac disease? Do they also have other food allergies? If so, what are those? I can tell you that they will greatly appreciate you taking the time to ask them before hand. It will also give them more ease when they attend your party.
Subscribe to This Vivacious Life
Receive a free e-book of Instant Pot recipes!
Keep things separate. Don't mix gluten-free and gluten-full dishes on the same platters or use the same serving utensils. Products like Gluten Free Labels come in handy to label dishes and utensils clearly separate and keep from having a mix up.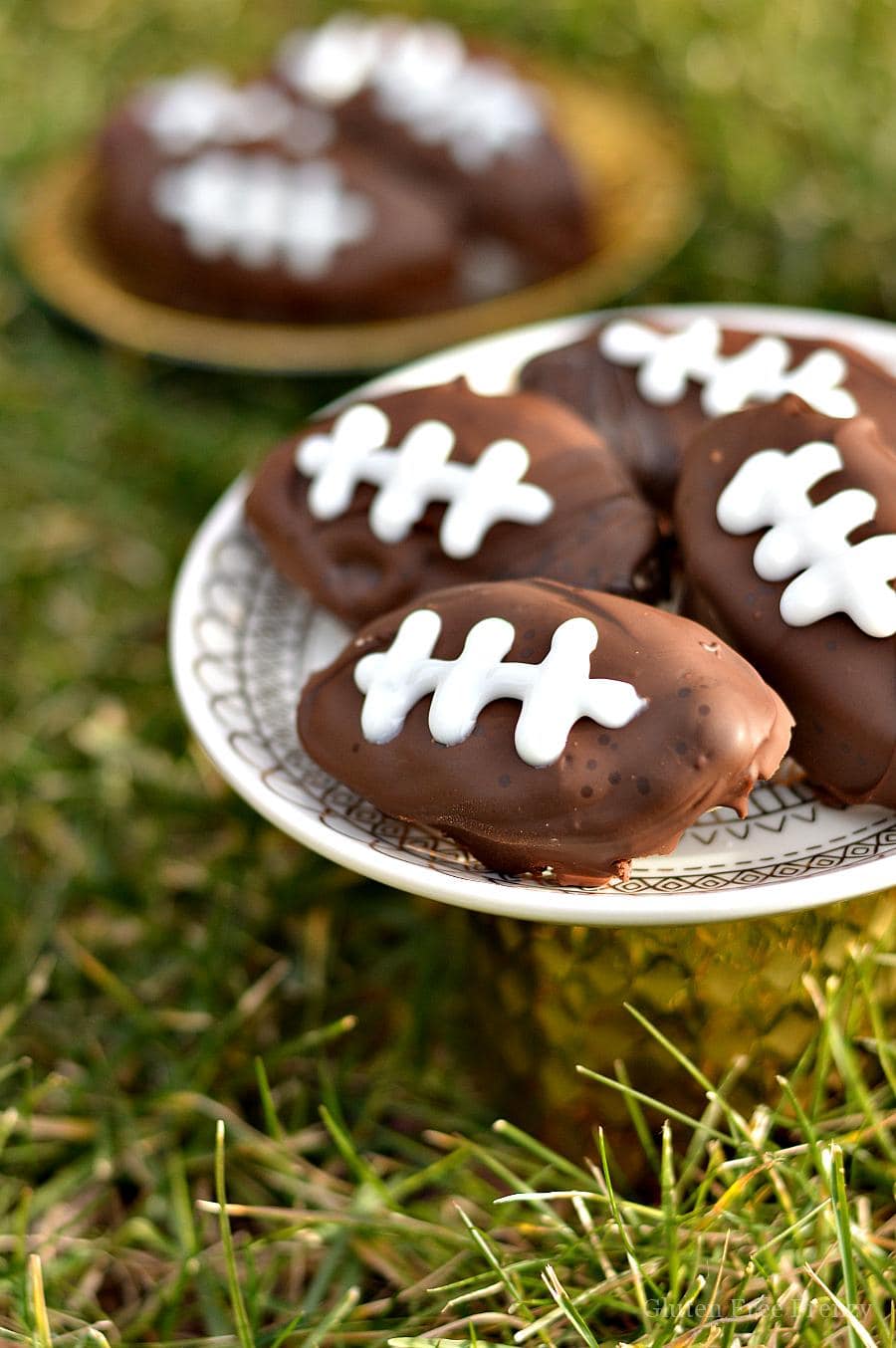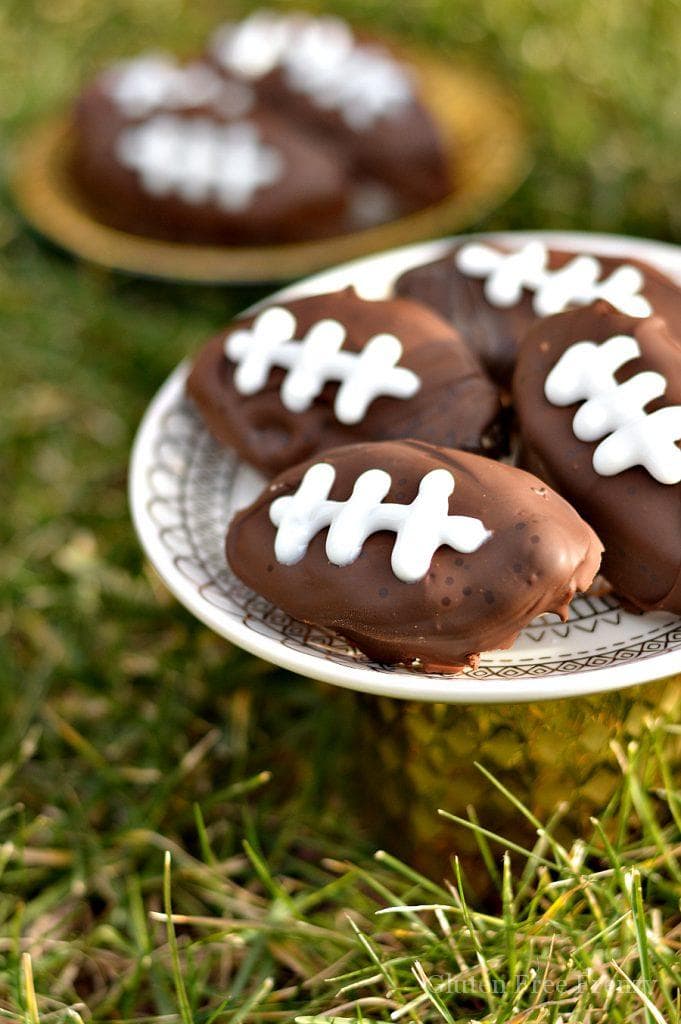 If you can't prepare gluten-free in a truly safe environment without risk of cross-contamination, buy products that are gluten-free. Reach out to your local gluten-free bakery and see what you can get. Some great ideas for naturally gluten-free party foods include cheese (most, check everything first), veggies and Hidden Valley Ranch (They are now labeled gluten-free on the back if they are a variety that is gluten-free.), fresh fruit, Applegate Farms and Boars Head lunch meats (again, always check), nuts, dried fruit and many mainstream potato chips (check before you buy).
Always check for hidden ingredients. You may be surprised that gluten would be in a liquid form but it is sneaky and hides in everything from soy sauce and tea to the more obvious bread and cakes.
When your gluten-free guests arrive, take them aside and show them what you have done for them. Let them know where stuff was purchased and how it was handled in preparation. This will mean more to them than you will ever know.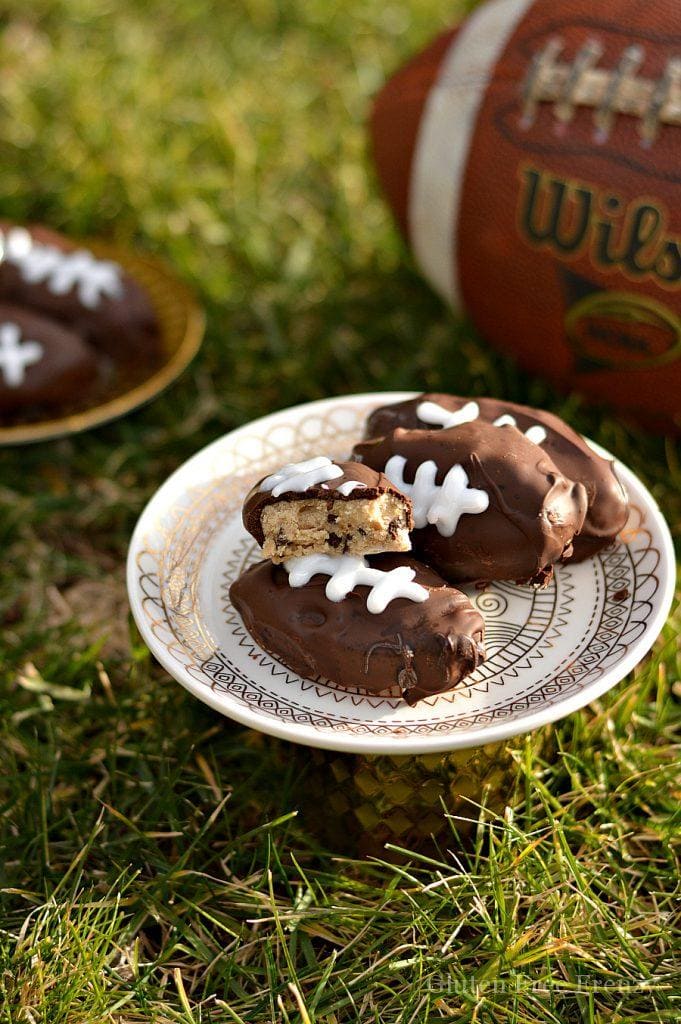 For gluten-free guests:
Don't be afraid to call ahead. Always be kind but simply ask if it would be ok to bring a dish or two that you know are safe and you could enjoy. You could even offer to come early and help if you prefer.
Always bring gluten-free snacks in your bag just in case there really isn't anything you can have and you couldn't bring a dish because it was a catered party.
Bring digestive enzymes or my favorite, Redmond Clay for if in the worst case scenario, you happen to get glutened.
For little ones, make them feel like one of the gang by always bringing them a safe cupcake or treat to enjoy with the other kids. If it is a pizza party, bring them a gluten-free pizza. If sandwiches will be served, do your best to make them a gluten-free sandwich ahead of time so they can enjoy the same kind of food the other kids are having, just a gluten-free, safe version.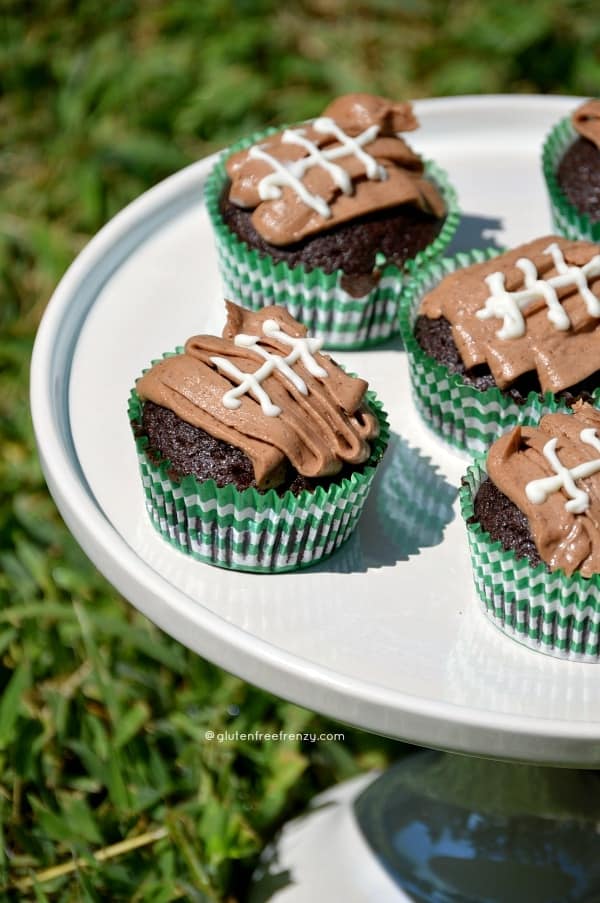 Gluten-Free SuperBowl Ideas:
Make your favorite gluten-free brownies and cupcakes into footballs
Give our no bake cookie dough footballs a try
Order (or make if you are ambitious) a footlong gluten-free sub from your favorite local, dedicated gluten-free bakery
Find a safe place to order gluten-free pizza from. Everyone loves pizza right?
Serve your favorite dips and chips in football shaped dishes
Order stadium and football cookies from a gluten-free baker
There are SO many more amazing ideas on Pinterest that can easily be adapted to gluten-free. Take a look sometime and start letting the creative wheels turn. You may surprise yourself what you can come up with
If you like these ideas, you will love these!
No Bake Cookie Dough Footballs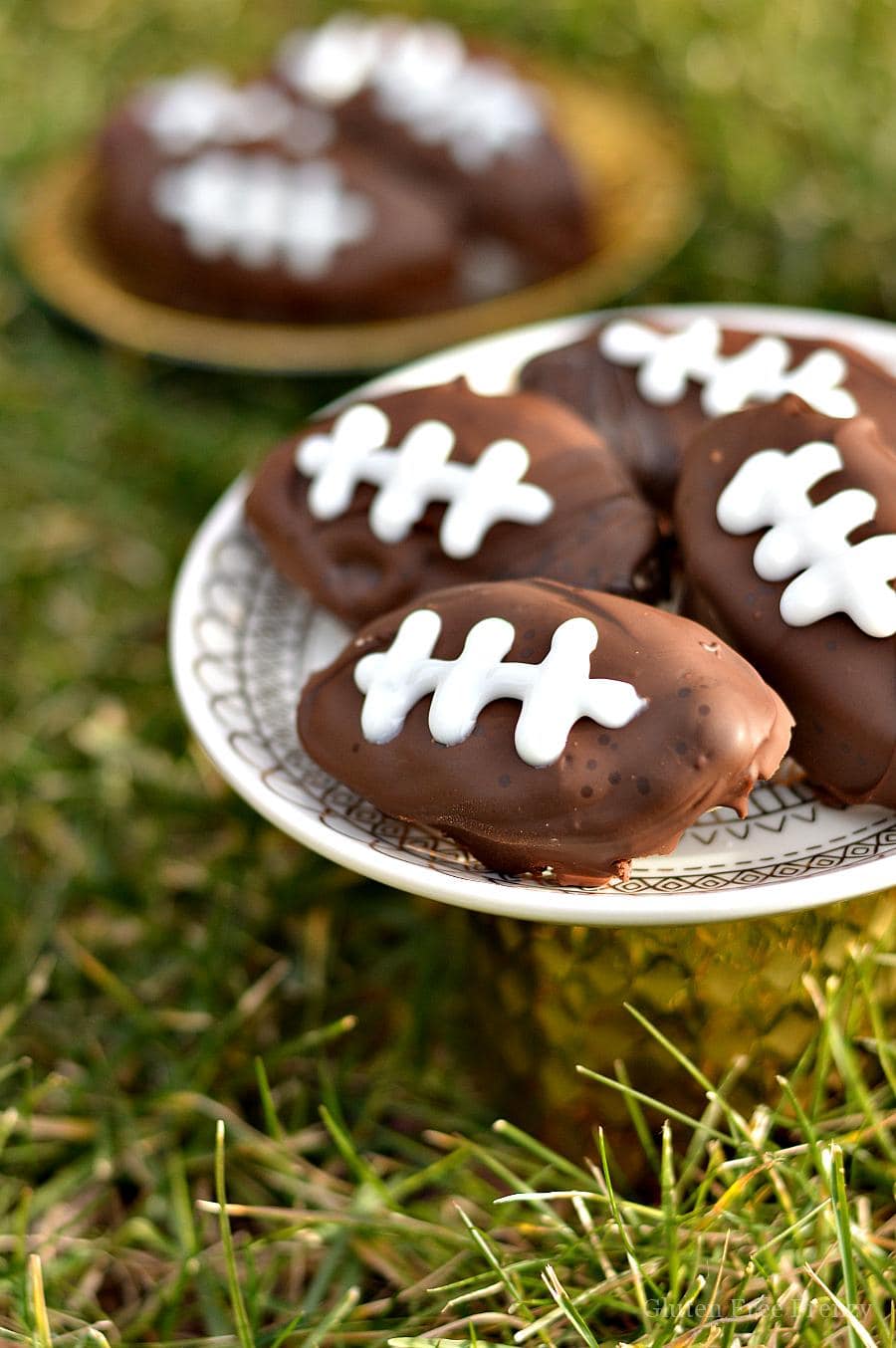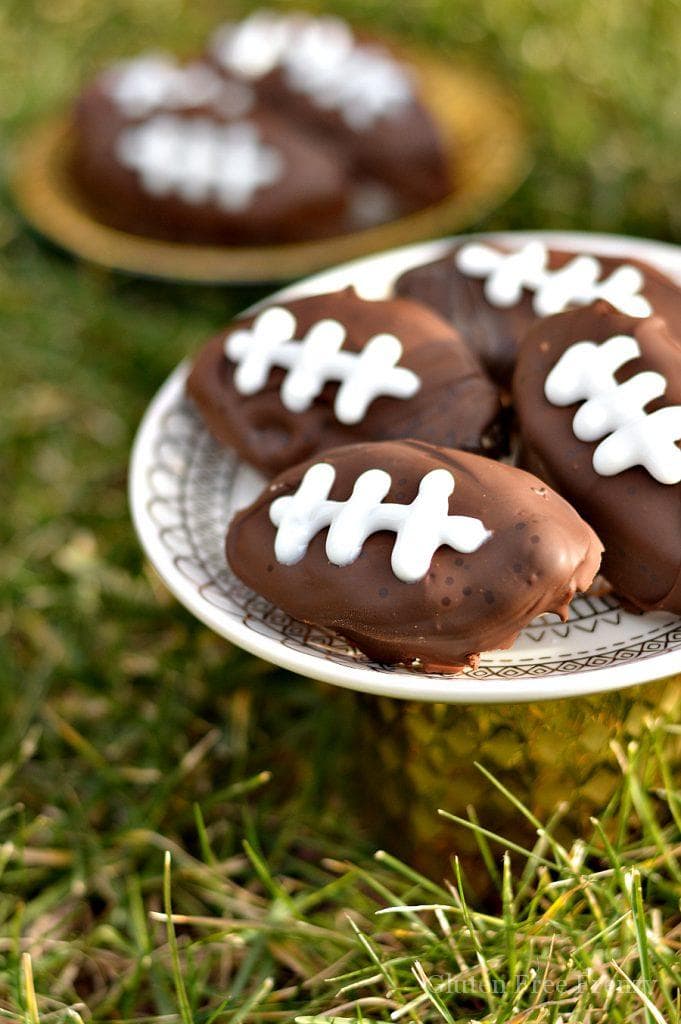 Ladies Night Football Party
Gluten-Free Football Food