This 20-minute Valentines charcuterie board is the ultimate day of love snack or meal. It is filled with meats and cheeses in heart shapes plus yummy sweet treats and chocolates!
Everyone will love the mix of sweet and salty on the this board. With cheese, chocolate, fruit and even dips, there is something for everyone. Or go BIG and make a cute Valentines grazing table for a crowd!
CharCUTErie Board
I have been SO excited to create this charCUTErie board in a gorgeous heart shape. I found this board at Williams Sonoma as well as the mini heart marble boards below. That are probably coasters but they are so dang cute for mini charcuterie boards!
Putting a couple heart dishes and red velvet cake mix cookies on the board add so much pizzaz and give it that really Valentines look. I also like popping on a few heart shaped chocolate and cookies with jammy heart cut outs.
Of course, adding our red velvet cake mix cookies for a delicious and festive red addition makes it perfect. You can even cut cheese into little hearts and arrange salami slices like a rose for a bit more WOW!
Subscribe to This Vivacious Life
Receive a free e-book of Instant Pot recipes!
Serve the whole board up with one of our Valentines mocktails and vegan chocolate sauce topped dessert nachos at your next Galentine's party! You could also make this Valentine's board but in a charcuterie cone.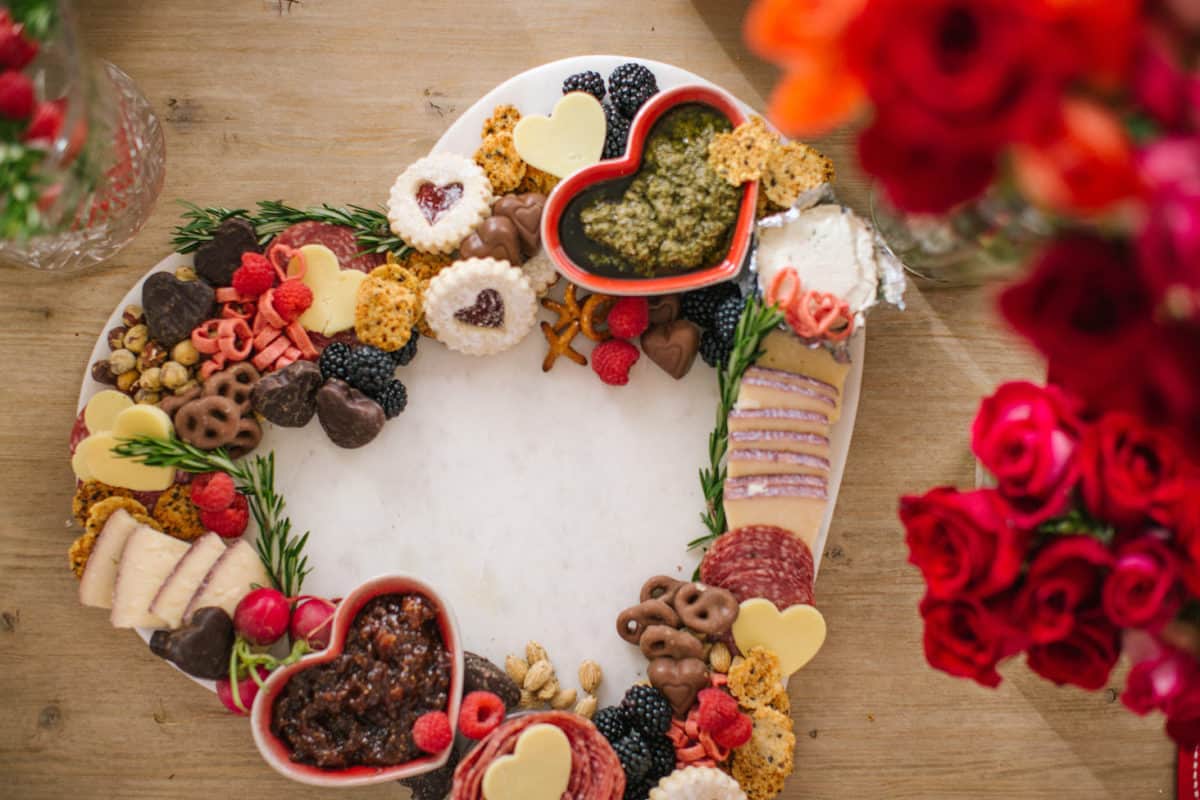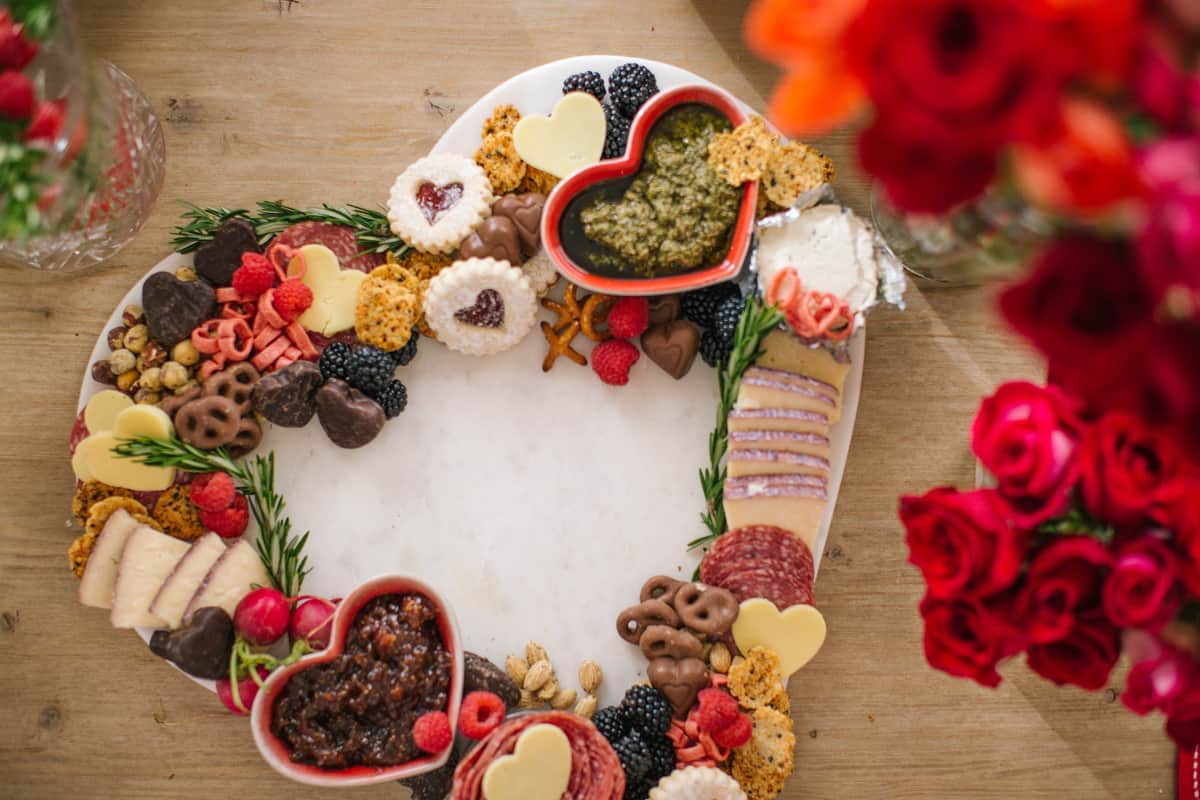 For mini boards or individual charcuterie boxes, simply add smaller portions of your favorite things to each board. I recommend a meat, a cheese and a veggie but crackers are also great.
Adding herbs to your charCUTErie board gives it life and color. I love fresh rosemary because it gives the board and authentic wreath feel which I love. Fresh sage is also great because it looks like leaves.
We have used them on almost all our boards including our Christmas charcuterie board. Even our small charcuterie board can feature tiny little fake trees or a sprig of rosemary. Some don't need it especially when they are on the sweeter or more masculine side like our Super Bowl charcuterie board, Halloween charcuterie board, pancake charcuterie board, Mexican charcuterie board, or Thanksgiving charcuterie board.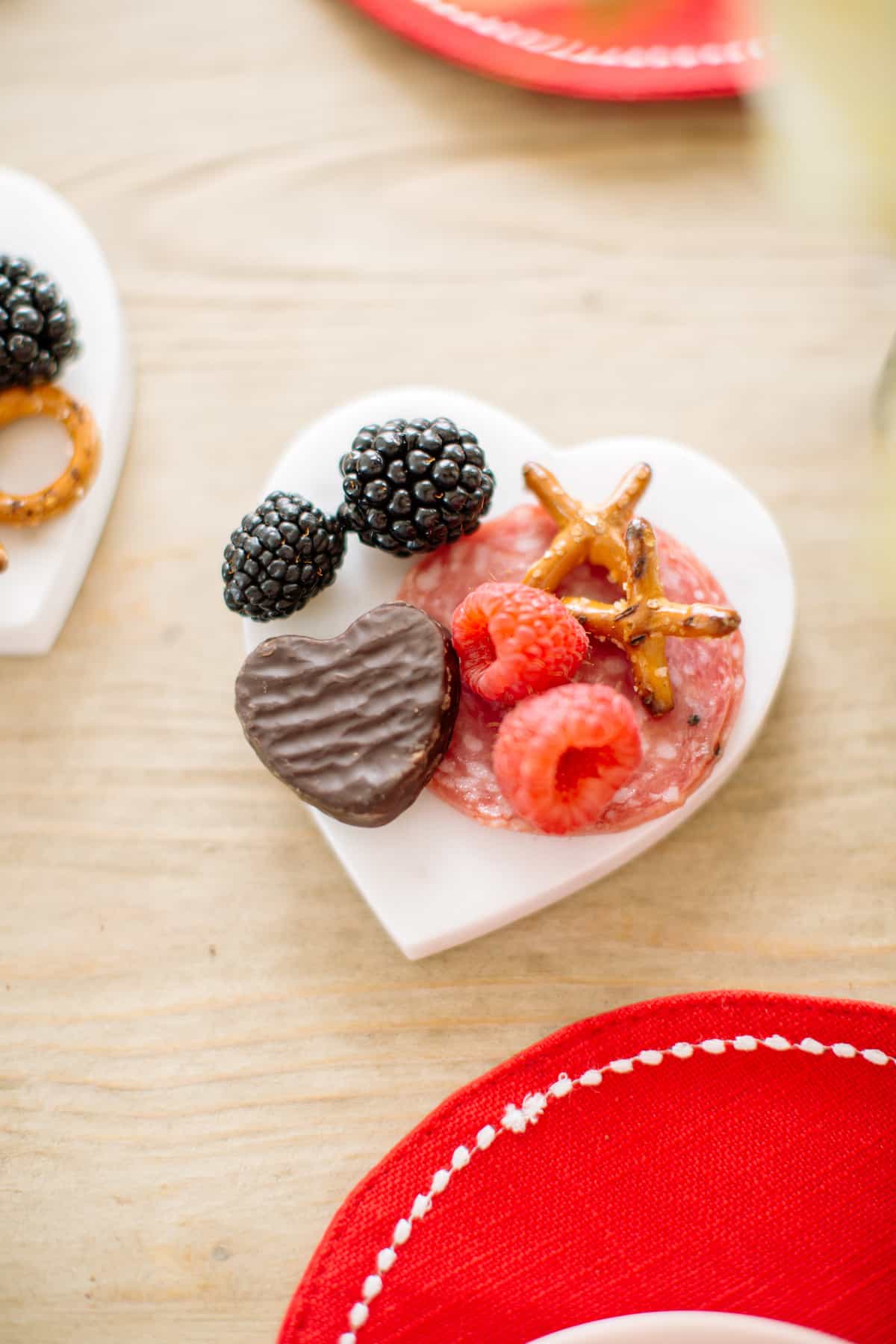 What usually goes on a charcuterie board
Beautiful boards are a great way to enjoy a casual date night or family dinner. They typically include meats, cheeses, crackers and fresh fruit.
You can even add chocolates and nuts in a small bowl on the board or fill in empty spaces with fresh greenery.
What you'll need for this one
Sweet dips and savory if you like
Crackers
Heart shaped chocolates
Valentines cookies
Variety of cheese
Variety of meats
Fresh greenery for esthetic
Berries or other fresh fruit
Chocolate covered pretzels
No matter what you choose, the whole family will love this Valentine's charcuterie board even if they only get it on special occasions. It's a great way to get even the teenagers excited for this lovey dovey holiday.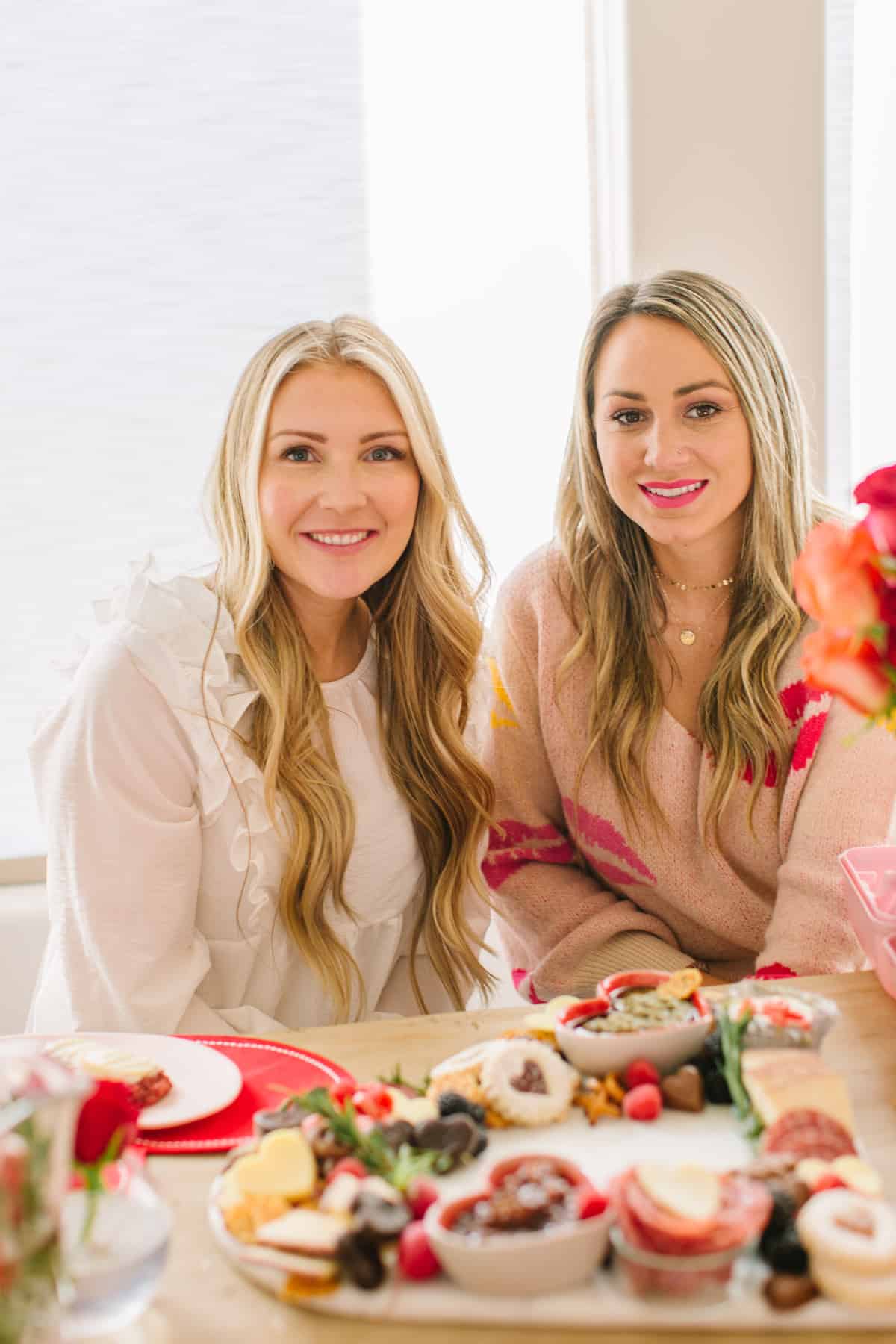 Best meats for a charcuterie board
When it comes to what meats to include on your cheese board, it comes down to personal preference. Like it spicy? Get that hot chorizo salami and slice it right onto the marble or wooden board.
Here are some of my personal favorites to get you thinking…
sopressata
Italian dry salami
prosciutto di Parma
wagyu beef salame
Although I will say the latter is hard to find at a really good quality. Get creative in what you choose though and go with what your taste buds prefer. Note: you can estimate about 2 ounces of each cheese and meat for each guest.
Best cheeses for a charcuterie board
Again, the choice for cheeses for creating the perfect board are entirely up to you but we recommend having a variety. I like a simple sliced cheddar that you can easily find at your local grocery store for making heart shapes with a cookie cutter.
I also really like having some sort of soft cheese. My favorite is Boursin but we also love goat cheese. It goes great with little dark chocolate hearts and sweet dip with crackers.
If you are more of a savory charcuterie board fan, then grab some smoked gouda and aged havarti plus savory dips. If you like a sweeter board, blueberry Wensleydale and a fruit encrusted goat cheese.
How to make it
This Valentines charcuterie board is a fun idea for any February gathering. I love how it is perfect for kids and adults and can be made so fast! So let's make it…
Step 1: Get a board and place heart cups and little spreading knives where you would like them
Step 2: Add some dips, sauce or berries in the little cups as well as things like pickles which are wet and can make a mess
Step 3: Add heart cut out cheeses around the board, I recommend at least three varieties
Pro tip: Use mini heart cookie cutters to get the little shapes out of your cheese
Step 4: Make salami roses and add those in as well
Step 5: Add the cured meats, crackers (I used some heart shaped veggie chips here!), fruits and veggies (I love adding fresh lots of fresh red raspberries and blackberries to this board!)
Step 6: Add all the yummy treats! Chocolate covered pretzels, heart shaped chocolates, cookies with hearts and whatever else your HEART desires
Step 7: Finish by adding in the green herbs to give it a live, effervescent look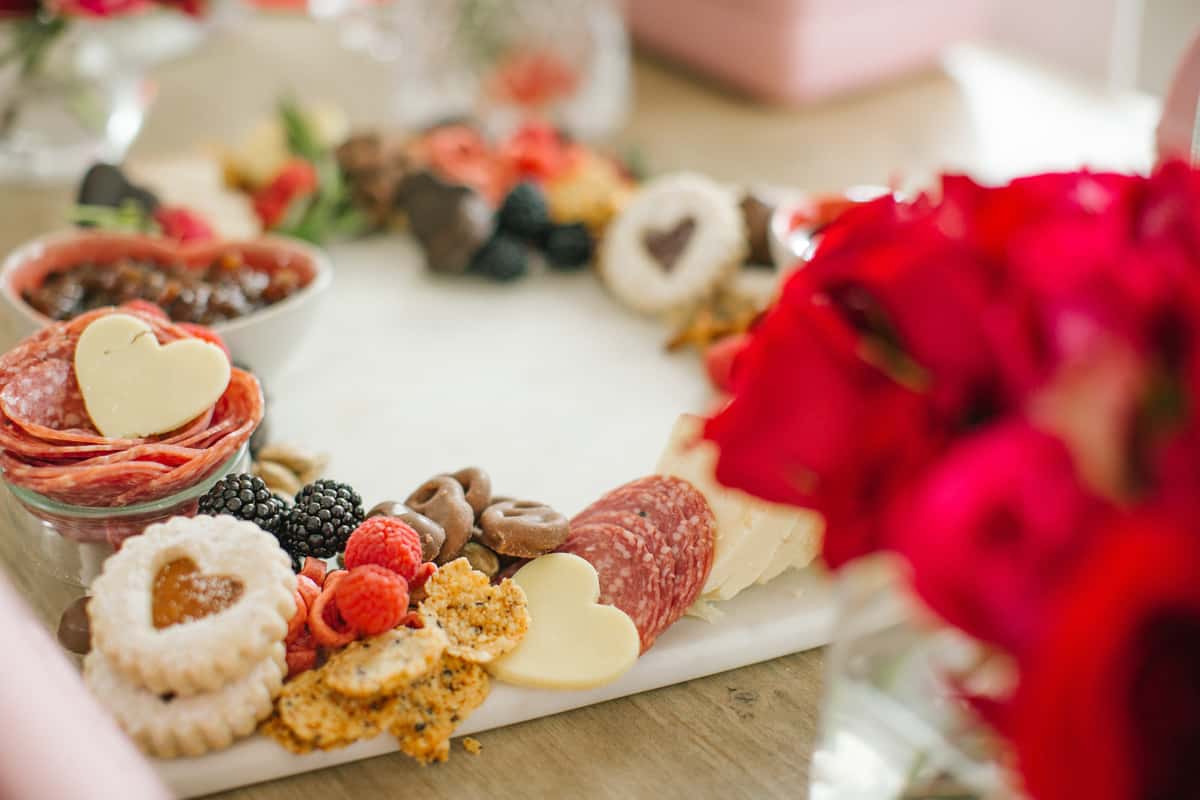 What are the best Valentines sweets to put on the board?
I love putting heart shaped chocolates and York peppermint patties on my boards but linzer cookies with a heart shaped jam center also makes a great addition!
Really, any heart shaped candies or cookies will do. You can even make Valentine's Day sugar cookies made into little chocolate shapes or other love themed decorated sugar cookies for your board.
How far in advance can you put it together?
Grazing and gluten-free cheese and charcuterie boards are fantastic for gatherings because they are so easy to put out and then let everyone nibble on at their own pleasure. As a host, you couldn't ask for a better set up.
No more running in and out of the kitchen, you can now sit down and relax with everyone else! Don't feel like you have to keep it only savory, you can add in the sweets as well for an all inclusive board.
The cheeses for your Valentines's day charcuterie board can be cut into heart shapes and meats can be put together into roses and refrigerated until you are ready to put them on the board. Leave off the crackers until right before serving so they are crisp.
What's the best way to store leftovers?
Leftovers deli meat, cheeses, fresh fruit and veggies can be stores in airtight containers in the refrigerator. Crackers and cookies can be places into bags or containers and kept at room temperature.
NEED MORE GOODNESS? Follow me on Facebook, Instagram, Pinterest, and Twitter for great recipes, entertaining ideas and more!
Valentines Charcuterie Board (20 minutes)
This 20-minute Valentines charcuterie board is the ultimate day of love snack or meal. It is filled with meats and cheeses in heart shapes plus yummy sweet treats and chocolates!
Ingredients
1-2

jars

Sweet dips and savory if you like

1

box

GF crackers (I love using heart shaped veggie chips)

24

oz

Variety of cheese

24

oz

Variety of meats

16

oz

Berries or other fresh fruit

1

box

Valentines cookies

8

oz

Heart shaped chocolates

8

oz

Chocolate covered pretzels

Fresh greenery for esthetic 
Instructions
Step 1: Get a board and place heart cups and little spreading knives where you would like them 

Step 2: Add some dips, sauce or berries in the little cups as well as things like pickles which are wet and can make a mess

Step 3: Add heart cut out cheeses around the board, I recommend at least three varieties

Step 5: Add the cured meats, crackers (I used some heart shaped veggie chips here!), fruits and veggies (I love adding fresh lots of fresh red raspberries and blackberries to this board!)

Step 6: Add all the yummy treats! Chocolate covered pretzels, heart shaped chocolates, cookies with hearts and whatever else your HEART desires

Step 7: Finish by adding in the green herbs to give it a live, effervescent look
Nutrition
Serving:
1
serving
|
Calories:
771
kcal
|
Carbohydrates:
50
g
|
Protein:
28
g
|
Fat:
51
g
|
Saturated Fat:
26
g
|
Polyunsaturated Fat:
3
g
|
Monounsaturated Fat:
17
g
|
Cholesterol:
104
mg
|
Sodium:
2078
mg
|
Potassium:
345
mg
|
Fiber:
3
g
|
Sugar:
18
g
|
Vitamin A:
586
IU
|
Vitamin C:
1
mg
|
Calcium:
435
mg
|
Iron:
3
mg