Have you heard about charcuterie boards and wondered what they are? Don't worry! Find out the answer to this question and everything else you need to know about charcuterie boards in this article.
It is always fun to host a party and have a bunch of different appetizers, but sometimes I don't know which appetizers people will enjoy. That's where charcuterie boards come into play.
A charcuterie board is a spread of the best meats, typically on wooden boards or a large cutting board. By adding a selection of cheeses as well, it becomes a charcuterie AND cheese board. It is a delicious appetizer that offers something for everyone!
What is a charcuterie board?
Charcuterie boards have become super popular lately, typically paired with wine or other drinks. They make the perfect appetizer for any and all special occasions. Charcuterie boards come in all shapes and sizes, so they are perfect for your next party.
A charcuterie board traditionally was just made of cured meats. The ones we know today are also known as a cheese board, or large board (usually a cutting board) full of different types of cured meats, hard cheeses, soft cheeses, and artisan bread and/or crackers. Some people will put fig jam and a little bit of fresh herbs. My Small Charcuterie Board post goes into detail about a variety of ingredients you can use.
Subscribe to This Vivacious Life
Receive a free e-book of Instant Pot recipes!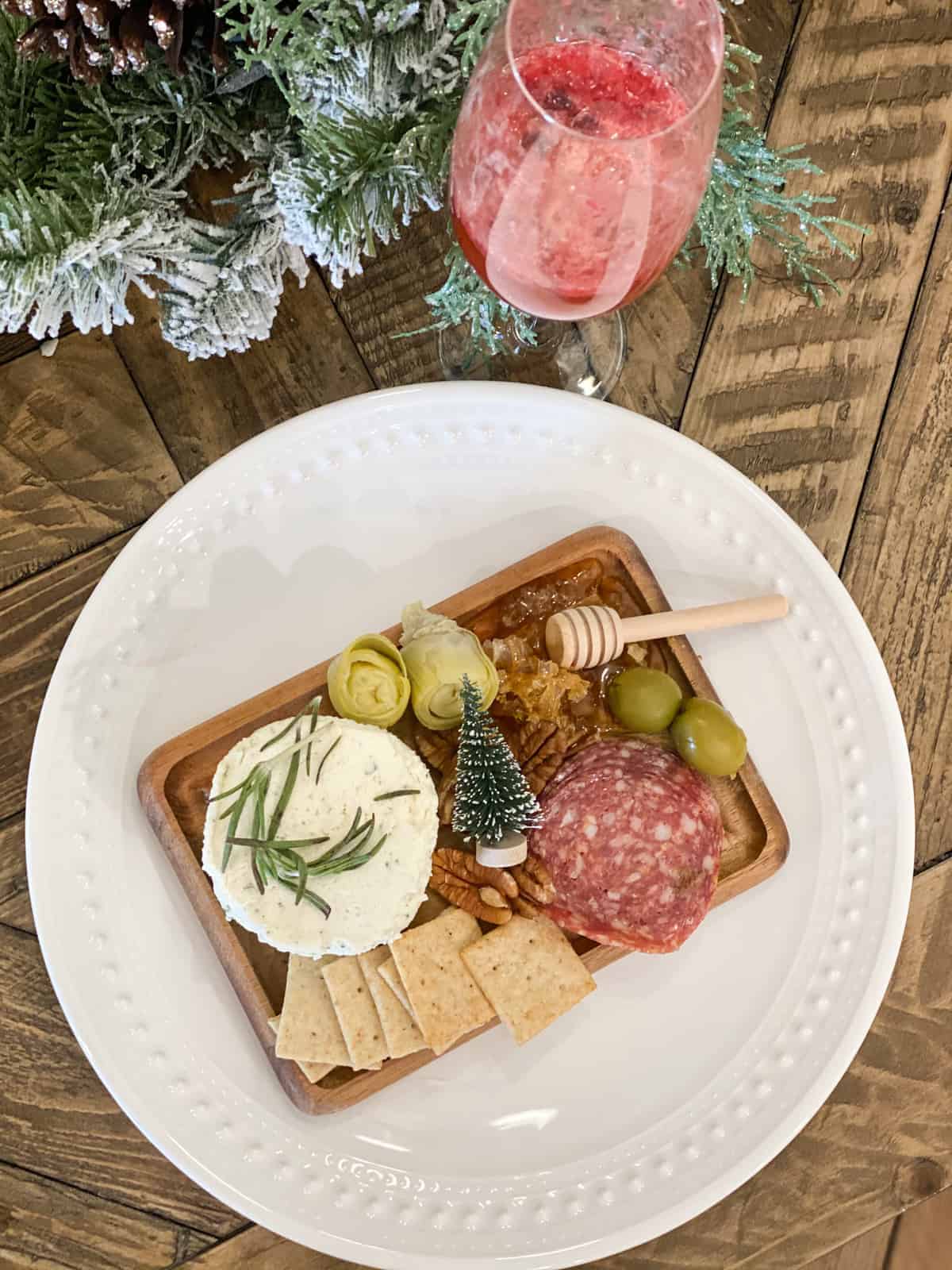 When to make a charcuterie board
Like I said above, charcuterie boards are perfect for any occasion. I even make them for a small get together, like a girls night. They are super simple to make and you do not have to go all out to make one. Here are some examples of great times to make a charcuterie board, with recipes!
How to make it for your next party
The first thing you need to do is find the perfect charcuterie board. If you are in a pinch, you can use a cutting board or serving board. But, if you have the time, it is super fun to find a cute board that will enhance the looks and make the perfect charcuterie board.
Next, you need to gather the food. You can find all of the ingredients at your local grocery store, but to save money, I prefer to buy at Costco. That way, you are able to buy assortments of meats and a combination of cheeses in bulk for cheap.
Buying in bulk is especially helpful if you are feeding a ton of people. In my Charcuterie Table and Grazing Table (Easy & Delicious!) posts, you can learn more about making the best charcuterie boards for a crowd.
When you are buying the food, you will also want to think of the types of bread you want, wine pairings, marcona almonds, and other things to fill the remaining space on your charcuterie board. You can also get decorations, depending on the theme of the party, to fill in the space.
Lastly, you will put the charcuterie board together. Place the meats, cheeses, and other foods on the board however you please. There is no wrong way to assemble one, so have fun with it! I like to use fresh herbs to put the final touches on a charcuterie board.
You can also have charcuterie cones, which are great for parties. That way you can go around and socialize while still enjoying your charcuterie.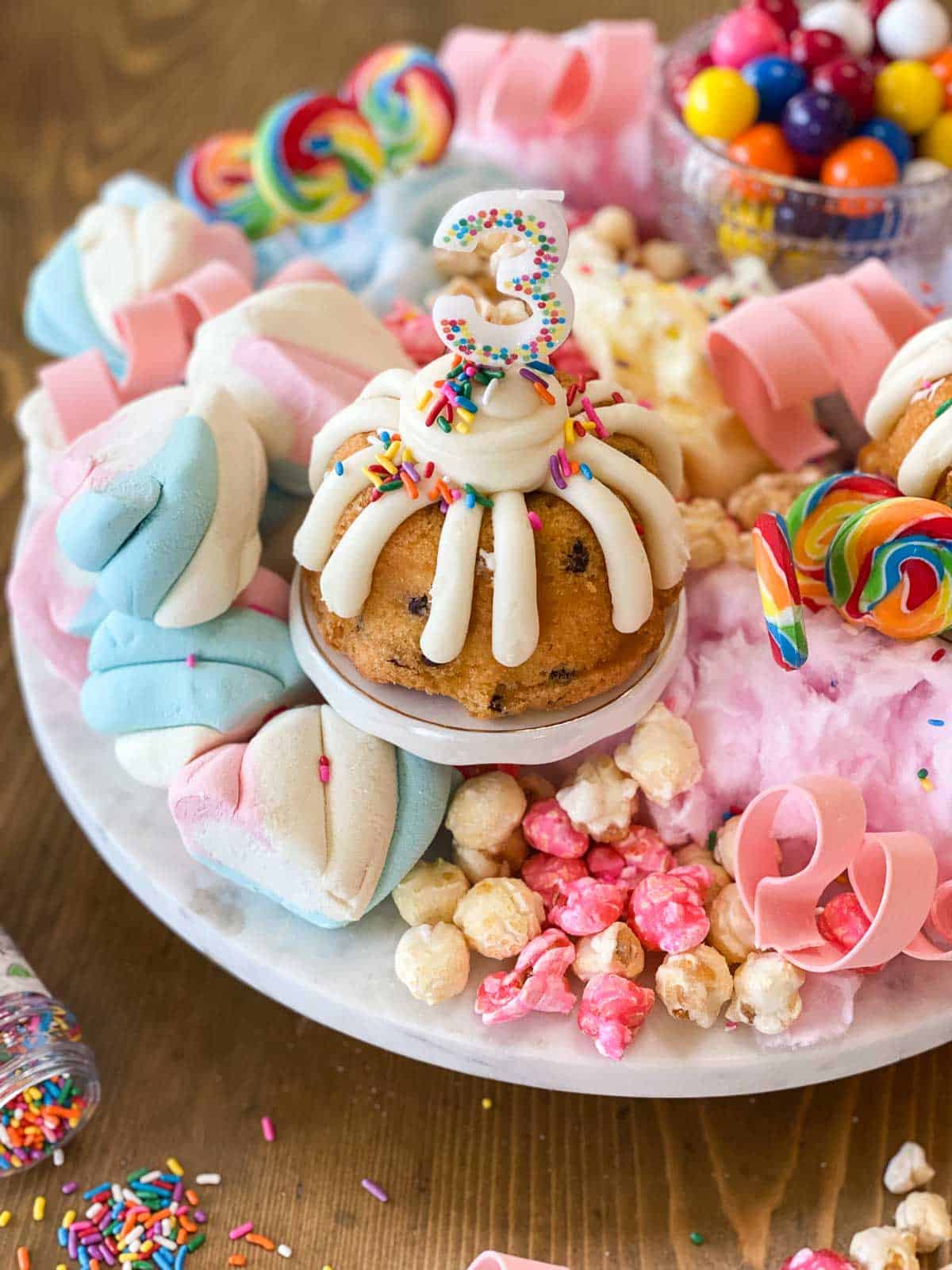 Sweet Dessert Boards
Did you know that you can even go completely away from traditional meat charcuterie boards and make a sweet dessert board? They are so cute! Our Birthday Charcuterie Board is the ultimate party and kids love all the colors.
Our cookie charcuterie board is such a fun take on the classic making salami, olives, crackers and cheese into… you guessed it, COOKIES!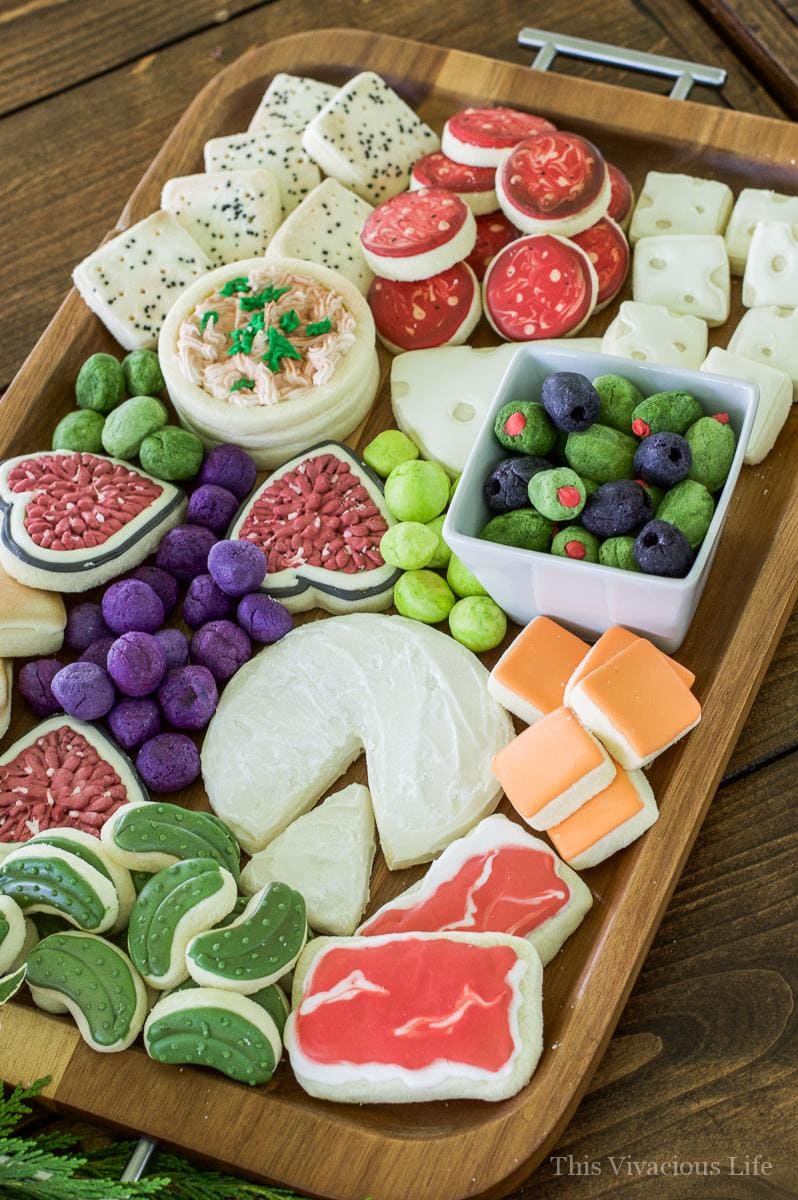 Charcuterie boards for allergies
One may ask if you can make charcuterie boards gluten-free and/or vegan. You absolutely can! I have celiac disease, so I have to make changes so I can enjoy a delicious charcuterie board myself.
For a gluten-free charcuterie board, you should check out my Gluten-Free Charcuterie and Cheeseboard recipe for all of the tips and tricks you need to know. Basically, you will replace the bread with gluten-free bread and/or gluten-free crackers. You can always omit bread entirely and stick with meats and cheeses.
For a vegan charcuterie board, you should check out my Vegan Charcuterie Board recipe. It is super simple and super delicious. I love putting all of the yummy fruits and nuts in this recipe as it adds a lot of variety.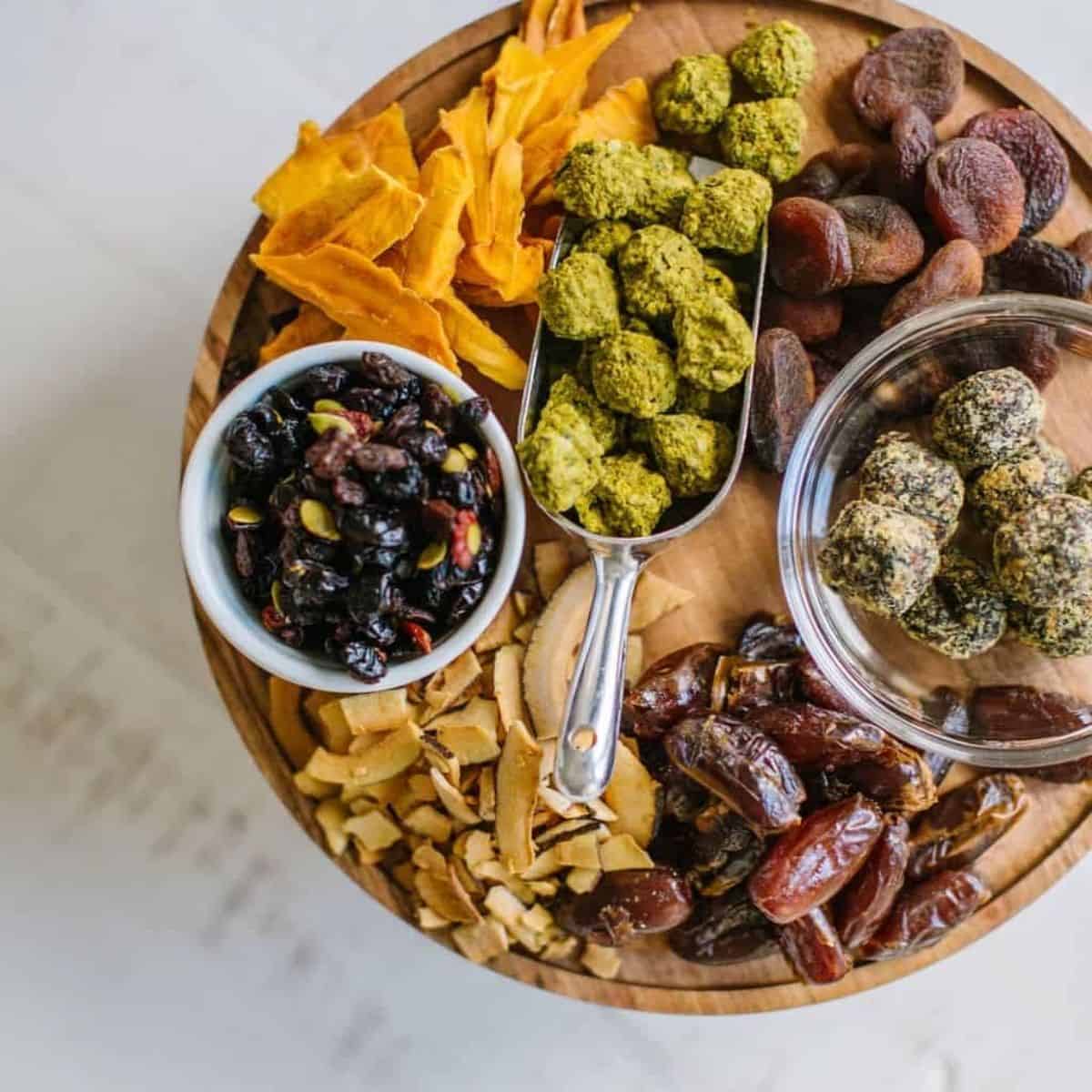 What does the word charcuterie mean?
Charcuterie is a French term that translates to pork butcher. In France, it is the art of preparing meat products, such as hard salami, pork products, summer sausage, and others.
What is the difference between a cheese board and a charcuterie board?
The difference is in the ingredients. A cheese board has a variety of cheeses, whereas a charcuterie board includes different meats, types of cheeses (goat cheese, blue cheese, soft cheese, creamy brie, etc), fresh fruit, dried fruits, and everything in between.
What else can you serve with a charcuterie board?
A charcuterie board can be an appetizer on its own or it can pair with many appetizers. I think it is fun to pair with chips and dips. You can also make a charcuterie board a meal on its own. Adding more meat and bread will help make it more of a meal. Charcuterie boards pair very well with drinks, like wine.
What is the difference between a charcuterie board and an antipasti platter?
When you break down what the words mean, a charcuterie board means pork butcher, whereas antipasti means before the meal. An antipasti is the first course in a meal. A charcuterie board can be a meal or an appetizer at any time. It can be served on its own, whereas antipasti is just one course.
Should I worry about leaving the cheese out?
As long as it is not out longer than two hours, you should be fine. If its out any longer, the cheese and meats could spoil. If your charcuterie board is in a warmer area (if you are outside and its hot out), make sure it is not out any longer than an hour. Do not worry too much about it. If you are super nervous about it, you can always make a vegan charcuterie board instead.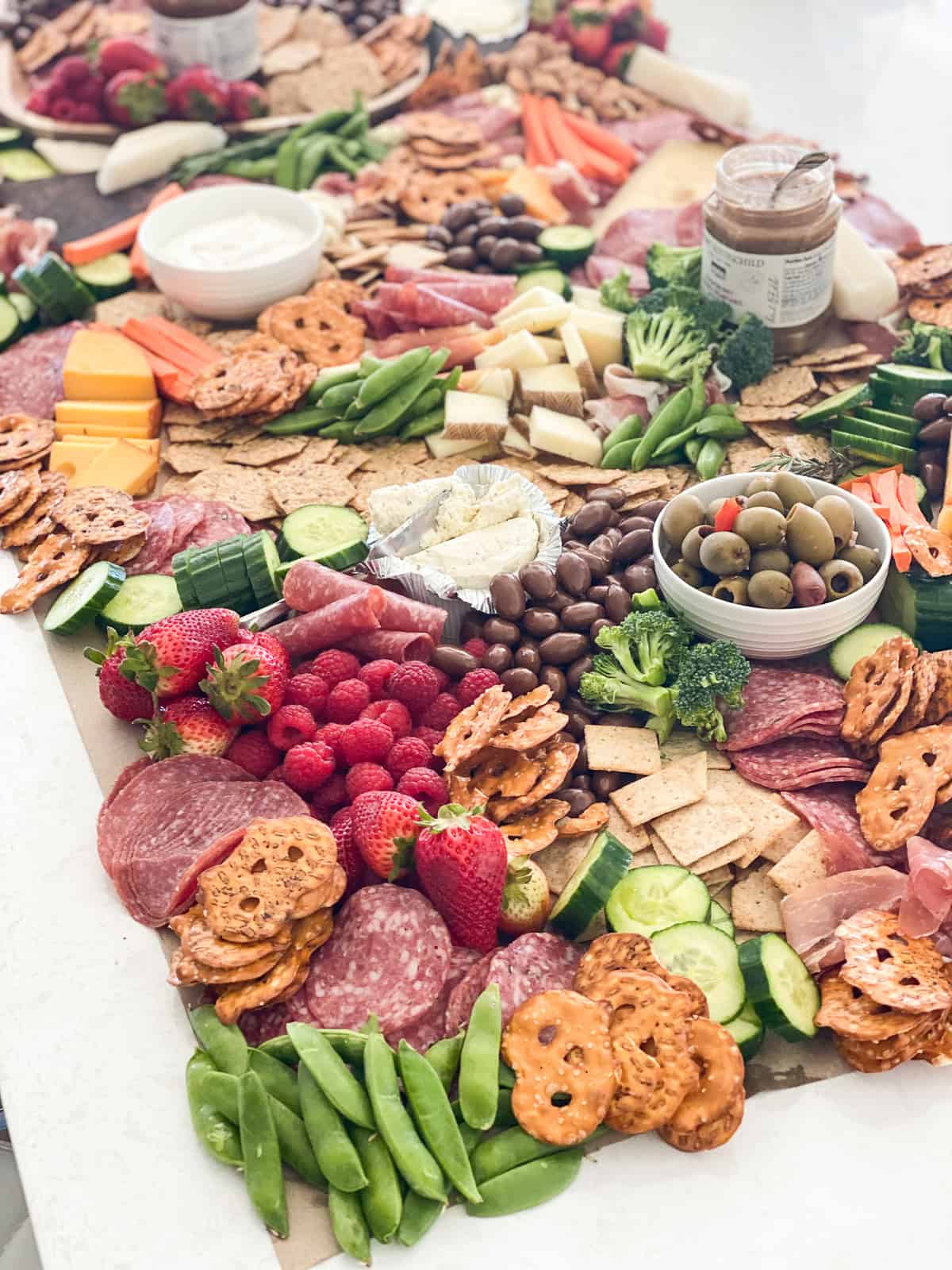 THE BOTTOM LINE
A charcuterie board is a platter that contains meat, cheese, breads, and a variety of nuts and fruit. It can be an appetizer, a meal, or a snack. Charcuterie boards are typically paired with drinking wine, but they are delicious at any time.