this post may contain affiliate links
Our frozen strawberry pie is cool and delicious plus, it only has a few simple ingredients and is no-bake!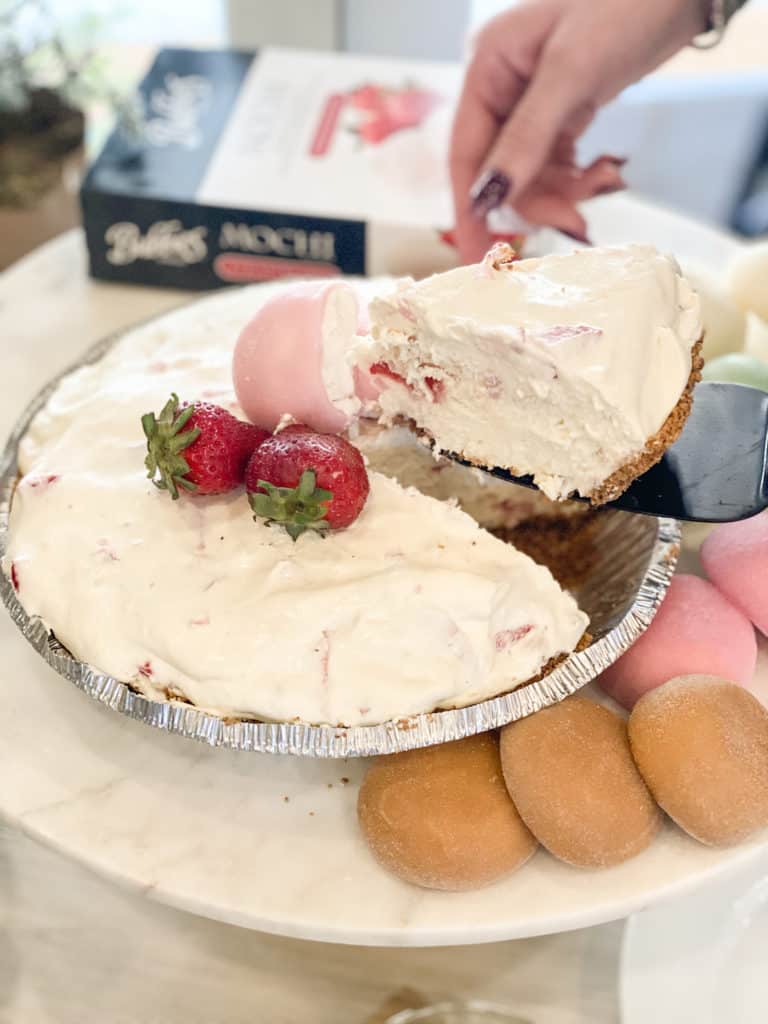 I love baking because sweet treats like this freezer pie help make memories. You can serve this pie at a fun summer party or with your Christmas dinner.
Food is a way that I make memories with my kids. My mom did the same for us, especially during the holidays. I love these memories with my mom and I love creating new ones with my family.
Our strawberry dessert is the perfect dessert for a hot summer day, a dinner party, or summer parties. We have plenty of party ideas where serving this pie would be the perfect dessert.
Gluten-Free Mochi
Subscribe to This Vivacious Life
Receive a free e-book of Instant Pot recipes!
I've always been a big mochi fan. These little rice wrapped ice cream balls are just the right amount of sweet without too much going on. We love Bubbies Hawaii brand because they are so good!
Plus, all of their flavors are gluten-free…even the cookie dough! Here is what they have to say about their mochi…
While mochi ice cream is a fairly new trend, mochi itself has been around for hundreds of years. It originated in Japan and is made from sweet rice flour, steamed, and pounded into a dough. Its texture is soft and chewy. We've wrapped this delectable dough around our delicious, super premium ice cream for the perfectly proportioned bite of happiness. It's smooth, cool, and oh so delicious.
Bubbies comes in ice cream flavors you already know and love like Strawberry, Vanilla, and Triple Chocolate. If you are feeling a little bolder, you can try other flavors like Red Velvet, Passion Fruit or Pistachio! With over 25 uniquely delicious flavors including vegan flavors as well as seasonal varieties, there's a flavor to fit any craving!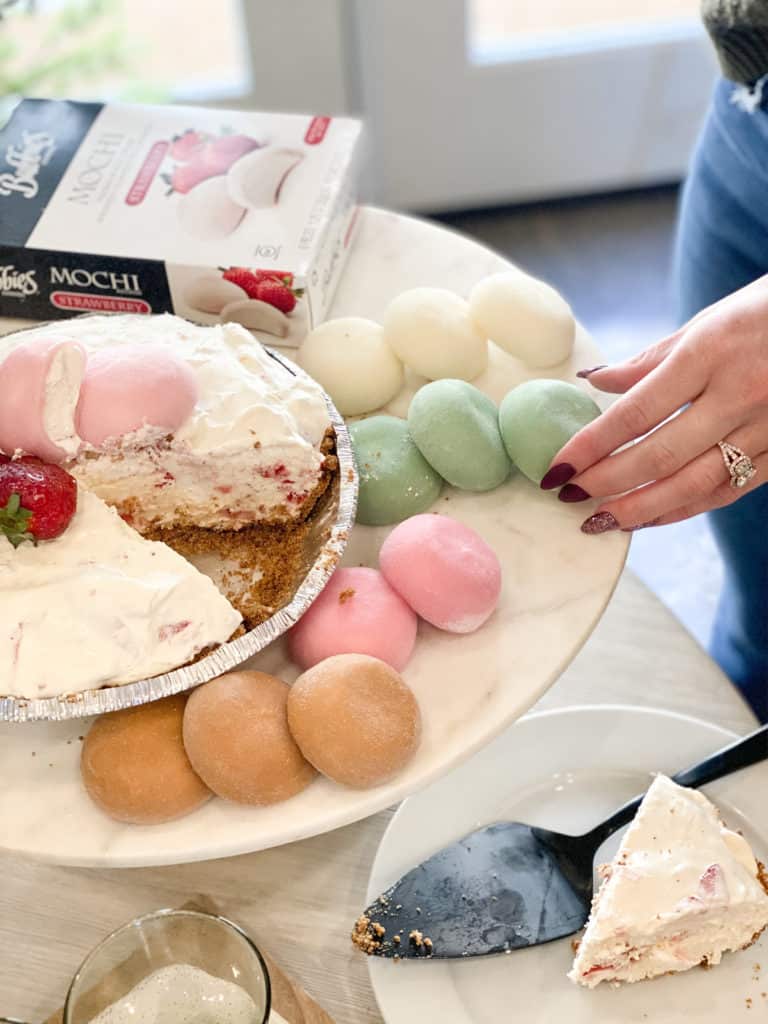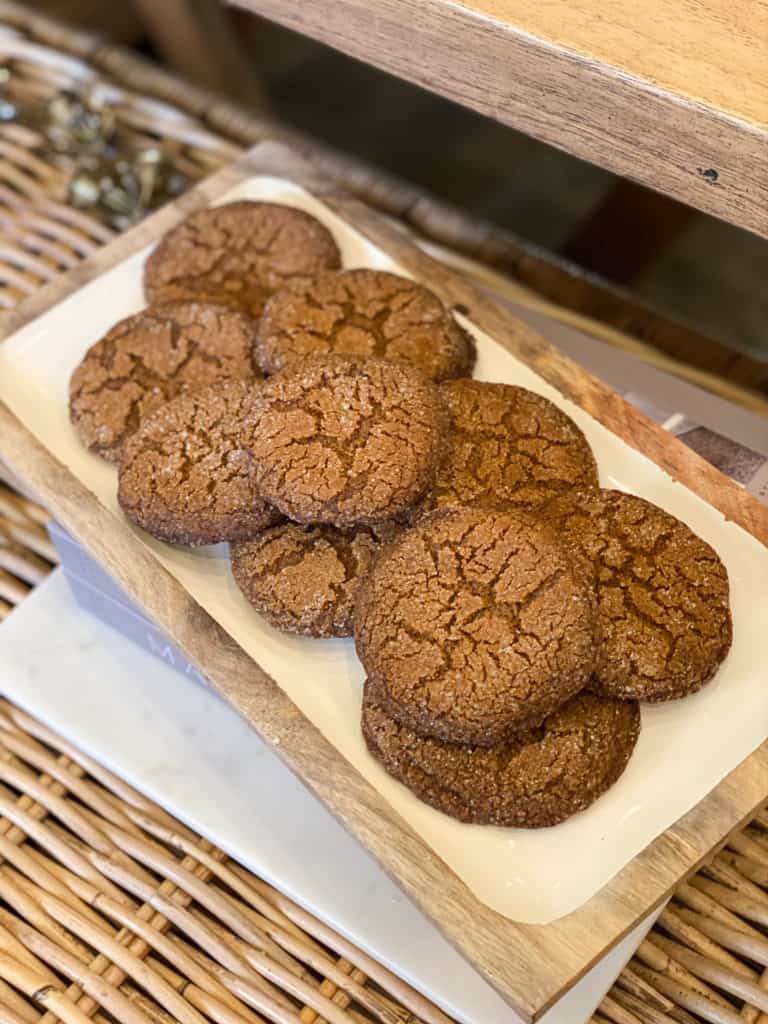 Why you should make this recipe
It is one of our many easy recipes as it is a frozen dessert.
This pie is a delicious dessert with a buttery graham cracker crust.
It is great any time of year.
Assembly time is only 10-15 minutes.
Ingredients needed
Sweetened condensed milk – You need 7 ounces of sweetened condensed milk for this recipe. It gives the pie that sweet flavor that mixes so well with the strawberries.
Cream cheese – Make sure the cream cheese is softened before making this recipe. What I find is easiest is to pull the cream cheese out an hour or so before you are planning on baking. Cream cheese takes about 30 minutes to soften but will get to room temperature after an hour or so.
Whipping cream – Whipping cream is another part of the delicious homemade strawberry pie filling. Make sure you get whipping cream, not whipped cream.
Strawberry mochi – This recipe calls for four strawberry mochis. While fantastic on their own as little morsels of sweet goodness, I also love to us Bubbies mochi in simple recipes like this frozen strawberry pie. It really gives this pie great flavor and texture!
Fresh strawberries – You need a pint of fresh strawberries and will want them hulled and diced for this recipe. I find fresh strawberries have the best flavor.
How to Make Frozen Strawberry Pie
Mix sweetened condensed milk and cream cheese:
In a large bowl, beat sweetened condensed milk and cream cheese together until smooth. Make sure the mixture has no lumps because when you take a bite of the pie, you do not want a lump of cream cheese.
When the cream cheese is softened, it really helps the mixture become smooth. Soft cream cheese mixes much better than cold cream cheese.
Whip heavy whipping cream
In another bowl, whip the heavy whipping cream with a whisk. Whip the whipping cream until thick peaks form.
It doesn't take too long for thick peaks to form. You will know what it looks like when it is done, trust me.
Fold whipping cream into sweetened condensed milk
After the whipping cream is ready, you will fold the heavy whipping cream into the sweetened condensed milk mixture. Make sure you take your time.
Folding is different from mixing because you do not want to stir in the whipping cream, as it will mess with the texture. When you fold the whipping cream in, use a spatula to slowly fold into the sweetened condensed milk mixture.
Fold in diced mochi
Before folding in the mochi, you will want to dice them. Dicing them gives a tasty little bit of mochi goodness in each bite.
Just like the whipping cream, you will fold the diced mochi into the mixture. Folding instead of stirring keeps the integrity of the mixture.
Add in diced strawberries
After dicing the pint of strawberries, you will add them to the pie mixture. Add them slowly so you do not spill.
Once the pie filling is done, give the filling a good stir to mix in the strawberries. Don't stir too hard, just enough to stir in the strawberries.
Place into crust
Now, you will pour the mixture into the gluten-free graham cracker pie crust. Take a spatula and scoop all of the yummy goodness into the crust.
Put the pie into the freezer and allow it to freeze for 2-3 hours or until it is solid. I know it takes patience, but it is worth the wait.
Tips For Success
Use a stand mixer to mix the cream cheese and sweetened condensed milk together. It really helps get out all of the lumps and create a smooth texture.
Allow the mochi to sit out just a little bit before dicing. If you try to dice it as soon as you pull it out of the freezer, it will be hard to cut.
Make sure you give your pie plenty of time to freeze before you are planning on serving it. Sometimes it takes a bit longer to freeze, depending on the freezer.
Storage and Freezing
Storing: For this recipe, storing and freezing are the same thing. As the pie is served frozen, you will want to put it back in the freezer once you are ready to put it away.
Freezing: This pie will last up to a week in the fridge if you make sure it is covered with plastic wrap or tin foil. This is nice because you can make the pie ahead of time if needed.
FAQ
Can I use frozen strawberries?
You can use frozen strawberries if you want. I find that fresh strawberries taste better in my opinion.
If you do use frozen strawberries, you don't have to worry about thawing them before hand. You'll be putting them right back in the freezer.
Should I add whipped cream on top?
Absolutely. I think whipped cream is perfect on any pie!
You can also use Cool Whip if you want. It typically comes frozen, so make sure you put it in the fridge to thaw before using it.
Ways to Enjoy
I find that this delicious dessert pairs well with so many recipes, especially our razzleberry pie and black bottom pie. Fruit pies are some of my favorite things.
One of the many things I love about this pie is that you can have it any time of year. I love making this pie during strawberry season when the strawberries are at their best, but I also love making this pie for our outdoor Thanksgiving dinner.
If you do make this pie in the summer, you should pair it with one (or more) of our delicious summer mocktails. They are super easy to make and so refreshing. We have plenty of pool party ideas where you could serve this pie.
If you are wanting to make this pie for Thanksgiving, you should also try out our gluten-free Thanksgiving recipes and our Thanksgiving punch recipes. I love all the yummy foods that go along with the holiday season.
NEED MORE GOODNESS? Follow me on Facebook, Instagram, Pinterest, and Twitter for great recipes, entertaining ideas and more!
Frozen Strawberry Pie
Our frozen strawberry pie is cool and delicious plus, it only has a few simple ingredients and is no-bake!
Ingredients
7

ounces

sweetened condensed milk

8

ounces

cream cheese, softened

8

ounces

whipping cream

4

strawberry mochi, diced

1

pint

fresh strawberries, hulled and diced
Instructions
Beat sweetened condensed milk and cream cheese together in a bowl until smooth

In another bowl, whip heavy whipping cream until thick peaks form

Fold in whipping cream to the sweetened condensed milk mixture

Fold diced mochi into mixture

Add strawberries and give a good stir

Place into gluten-free graham cracker pie crust and freeze 2-3 hours or until solid
Video
Nutrition
Serving:
1
slice
|
Calories:
294
kcal
|
Carbohydrates:
20
g
|
Protein:
5
g
|
Fat:
23
g
|
Saturated Fat:
13
g
|
Cholesterol:
79
mg
|
Sodium:
134
mg
|
Potassium:
243
mg
|
Fiber:
1
g
|
Sugar:
17
g
|
Vitamin A:
871
IU
|
Vitamin C:
36
mg
|
Calcium:
126
mg
|
Iron:
1
mg
This post was originally published on December 3, 2022, and has been updated with new information and tips on December 1, 2022.