this post may contain affiliate links
Our frozen strawberry pie is cool and delicious plus, it only has a few simple ingredients and is no-bake! Serve it up at your favorite modern cozy Christmas party.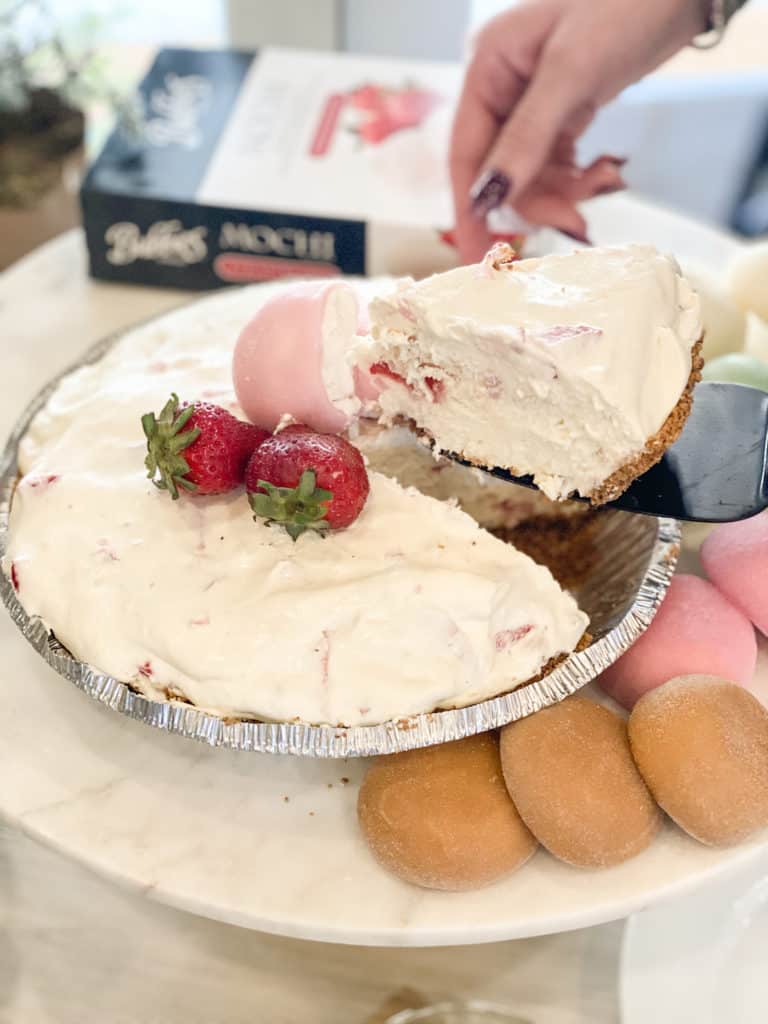 Frozen Strawberry Pie
This frozen strawberry pie could not be easier! With just a few ingredients you will have a fantastic dessert that is sure to please everyone.
I chose to use heavy whipping cream that was whipped to stiff peaks but with no sugar added to keep this dessert from becoming too sweet. The Bubbies mochi adds just enough sweetness to make it feel like a treat especially with the sweetened condensed milk.
As you can see, we kept things simple with an already prepared gluten-free graham cracker pie crust but you can easily make one on your own as well. I do love the clean up of a store bought one though.
Subscribe to This Vivacious Life
Receive a free e-book of Instant Pot recipes!
This pie is cool and delicious like many of our Christmas mocktails including our Christmas White Russian mocktail. And if you want a drinkable sweet dessert, our gingerbread martini mocktail is both festive and delicious!
Modern Cozy Christmas
A modern cozy Christmas is full of all the simple elements that you will find with any hygge celebration. Cozy Christmas celebrations truly make the focus on the people you are celebrating with, which is exactly what I love.
Have plenty of sweet for people to enjoy while they sit back and visit. From cookies and candies to cake and maybe even a gingerbread house for the kids decorate, it will be a hit!
Keep the decorations simple with earth tones and natural materials like wood, wool and greenery. Have guests join in cozy sweaters so they could just relax and enjoy the evening.
Gluten-Free Mochi
I've always been a big mochi fan. These little rice wrapped ice cream balls are just the right amount of sweet without too much going on. We love Bubbies Hawaii brand because they are so good!
Plus, all of their flavors are gluten-free…even the cookie dough! Here is what they have to say about their mochi…
While mochi ice cream is a fairly new trend, mochi itself has been around for hundreds of years. It originated in Japan and is made from sweet rice flour, steamed, and pounded into a dough. Its texture is soft and chewy. We've wrapped this delectable dough around our delicious, super premium ice cream for the perfectly proportioned bite of happiness. It's smooth, cool, and oh so delicious.
Bubbies comes in ice cream flavors you already know and love like Strawberry, Vanilla, and Triple Chocolate. If you are feeling a little bolder, you can try other flavors like Red Velvet, Passion Fruit or Pistachio! With over 25 uniquely delicious flavors including vegan flavors as well as seasonal varieties, there's a flavor to fit any craving!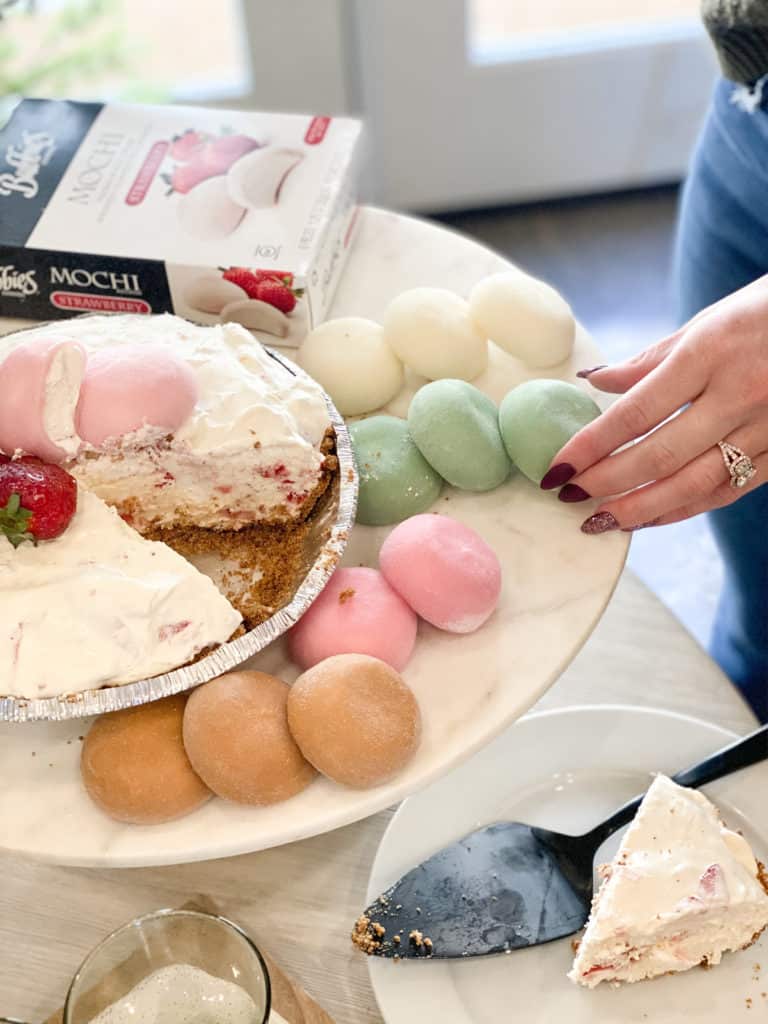 While fantastic on their own as little morsels of sweet goodness, I also love to us Bubbies mochi in simple recipes like this frozen strawberry pie. It really gives this pie great flavor and texture!
Modern Christmas Kitchen Decor
I love modern gatherings during the holidays because they are SO EASY to decorate for! Simply add green trees right on top of your table for your own little Christmas forest feel.
Put some wood and marble elements on the table as well and use them to give height and dimension. Copper bowls, little bottle brush trees and wood rolling pins compete the look.
For that extra special (yet simple) touch, hang mini wreaths from the back of each chair with simple ribbon. Just this alone makes the table feel cheery!
Easy Christmas Party Dinner Ideas
Keeping things simple at your next Christmas or holiday party is the way I recommend you go. After all, you can do it all…decor, treats, presents AND a big elaborate meal.
For this event, I decided to literally do the easiest thing on the planet…pizza! Just taking it out of the box though and putting it on a marble slab with cute little bottle brush trees around it makes it super fun.
Here are some other easy Christmas party dinner ideas:
Nacho bar
Tacos
Chili
Soup bar
Salad bar
Sushi (bought of course)
and the list goes on and on… Just keep it simple!
Modern Christmas Trees
When decorating your minimalist mini Christmas tree, use simple decor like these wool ball garland or wood ball garland in natural colors. Twinkle lights are also a great addition for just a touch of sparkle. 
I have always loved the idea of dried orange ornaments ever since my mom read me the book, Christmas Oranges as a little girl. I still read it for my kids and want to put these on the tree the night we make them.
I found a great recipe that couldn't be easier from She Keeps a Lovely Home for how to make dried citrus Christmas ornaments. 
Also, these gingerbread ornaments could not be easier to make! Three simple ingredients and some fun in the kitchen will give you tree ornaments that you will treasure forever. 
They make a modern tree a bit more warm…
Modern Christmas Decor
Modern Christmas decor means keeping things simple. Natural elements and colors like tan, green and cream. That's why I love these simple ceramic and wood houses. They have little tea lights in them and are so beautiful!
Simple green and white glass trees are another great modern Christmas decoration that goes with any existing theme. You can add some bottle brush trees as well.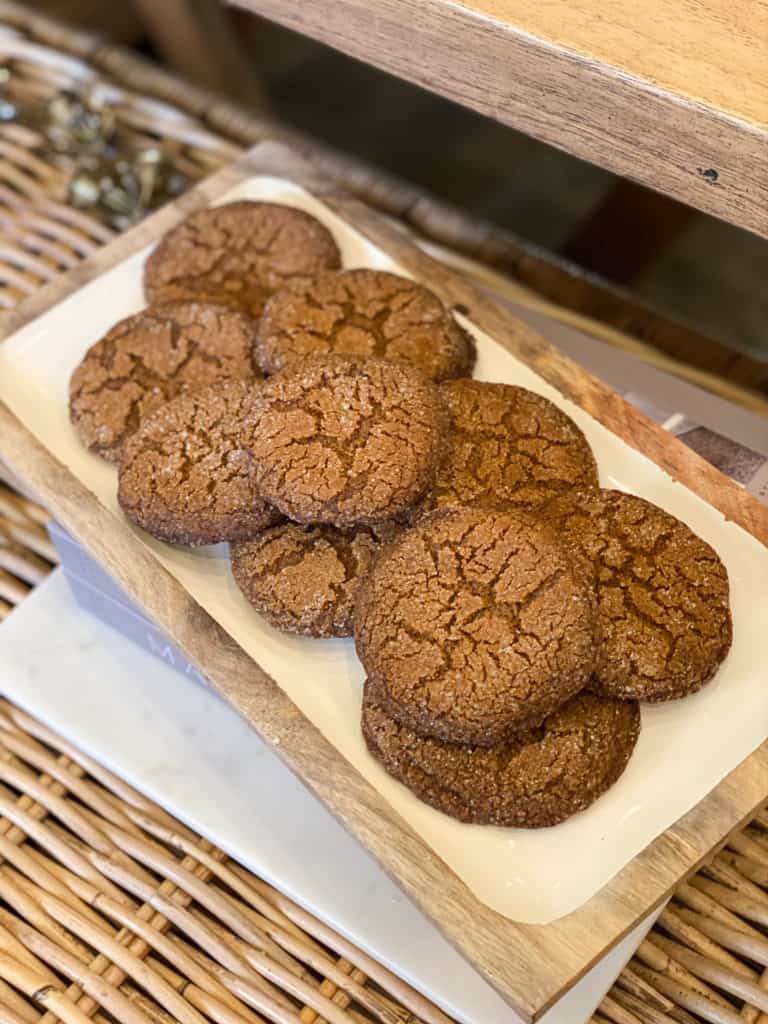 Cozy Christmas Elements
I love anything cozy Christmas! Here are a few of my favorite elements to make any gathering more cozy or hygge if you will…
Soft sweaters
Cozy flannel
Sweet treats
Candles
Soft minimalistic toys for kids (we love Maileg)
Natural elements like wood and brick
Fireplace crackling
Warm socks
While any sweet treats will add to the cozy factor, I love this no-bake frozen strawberry pie. It gives you the time needed to spend with the ones you love rather than baking in the kitchen all day.
How to make frozen strawberry pie
Step 1: Beat sweetened condensed milk and cream cheese together in a bowl until smooth
Step 2: In another bowl, whip heavy whipping cream until thick peaks form
Step 3: Fold in whipping cream to the sweetened condensed milk mixture
Step 4: Fold diced mochi into mixture
Step 5: Add strawberries and give a good stir
Step 6: Place into gluten-free graham cracker pie crust and freeze 2-3 hours or until solid
Be sure to give our other frozen treats try…
Peppermint Frozen Hot Chocolate
Gluten-Free Peach Granola Yogurt Pops
NEED MORE GOODNESS? Follow me on Facebook, Instagram, Pinterest, and Twitter for great recipes, entertaining ideas and more!
Frozen Strawberry Pie
Our frozen strawberry pie is cool and delicious plus, it only has a few simple ingredients and is no-bake! Serve it up at your favorite modern cozy Christmas party.
Ingredients
7

oz

sweetened condensed milk

8

oz

cream cheese, softened

8

oz

whipping cream

4

strawberry mochi, diced

1

pint

fresh strawberries, hulled and diced
Instructions
Beat sweetened condensed milk and cream cheese together in a bowl until smooth

In another bowl, whip heavy whipping cream until thick peaks form

Fold in whipping cream to the sweetened condensed milk mixture

Fold diced mochi into mixture

Add strawberries and give a good stir

Place into gluten-free graham cracker pie crust and freeze 2-3 hours or until solid
Video
Nutrition
Serving:
1
slice
|
Calories:
294
kcal
|
Carbohydrates:
20
g
|
Protein:
5
g
|
Fat:
23
g
|
Saturated Fat:
13
g
|
Cholesterol:
79
mg
|
Sodium:
134
mg
|
Potassium:
243
mg
|
Fiber:
1
g
|
Sugar:
17
g
|
Vitamin A:
871
IU
|
Vitamin C:
36
mg
|
Calcium:
126
mg
|
Iron:
1
mg