this post may contain affiliate links
Hosting a lobster boil is a great adult end of summer gathering. The casual party design and food display makes for a very relaxing environment.
I always love gatherings that are no fuss and super casual. This lobster boil is truly an incredible way to bring together friends in a no-rush atmosphere.
Since finding these lobster accessories while on a shopping trip at my favorite store, TJ Maxx, I knew I had to host a lobster boil. The table cloth is bright and fun while also being very affordable. The lobster napkins were the perfect accompaniment to the table cloth and also were just a few dollars. I laid newspaper over the table cloth down the center of the table to put our fresh seafood on. For this lobster boil we kept it super simple. I didn't worry about tons of seasoning, I just used salted water and have incredible quality butter (Kerrygold is my favorite) to serve warm with the fresh seafood.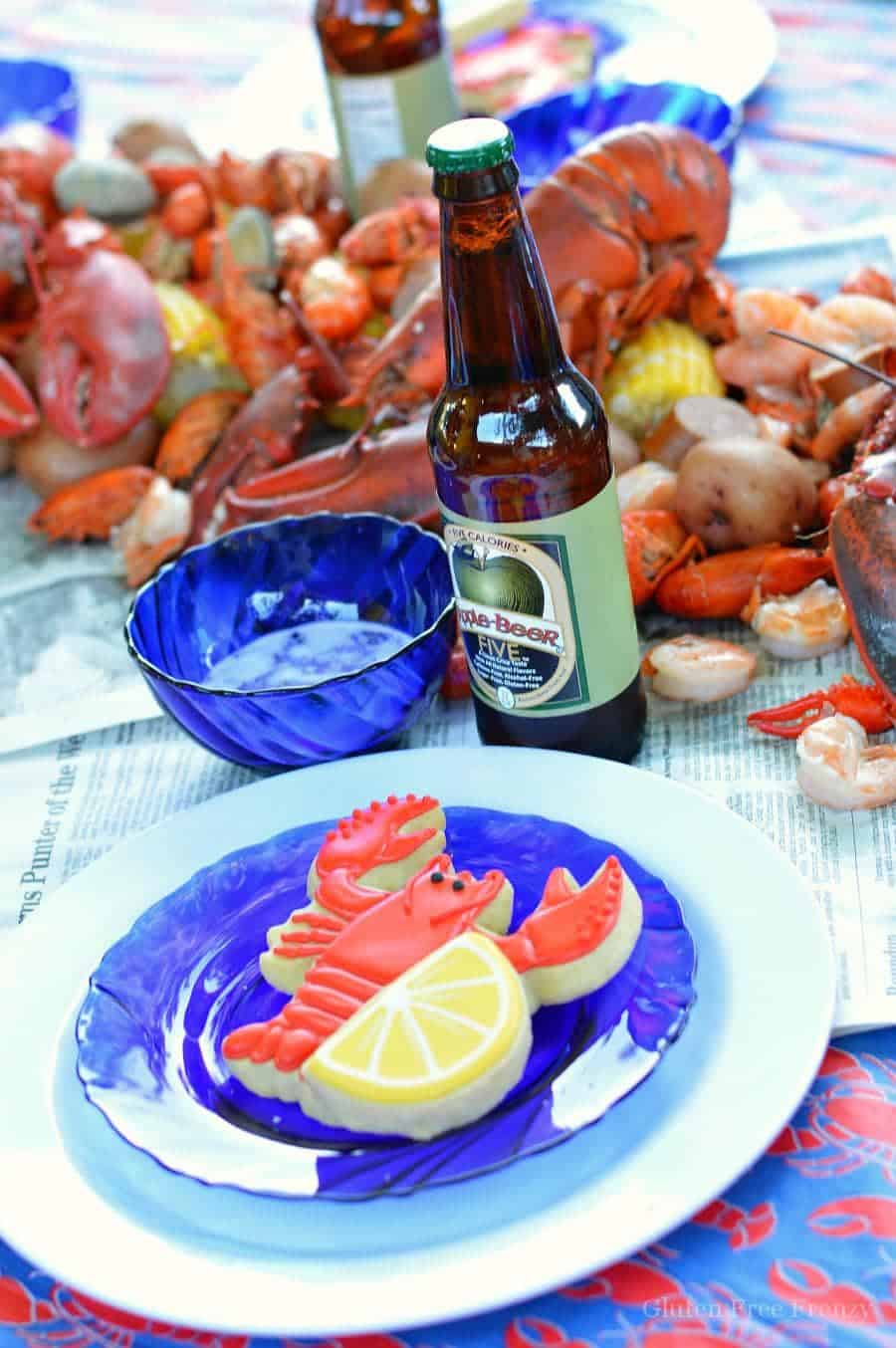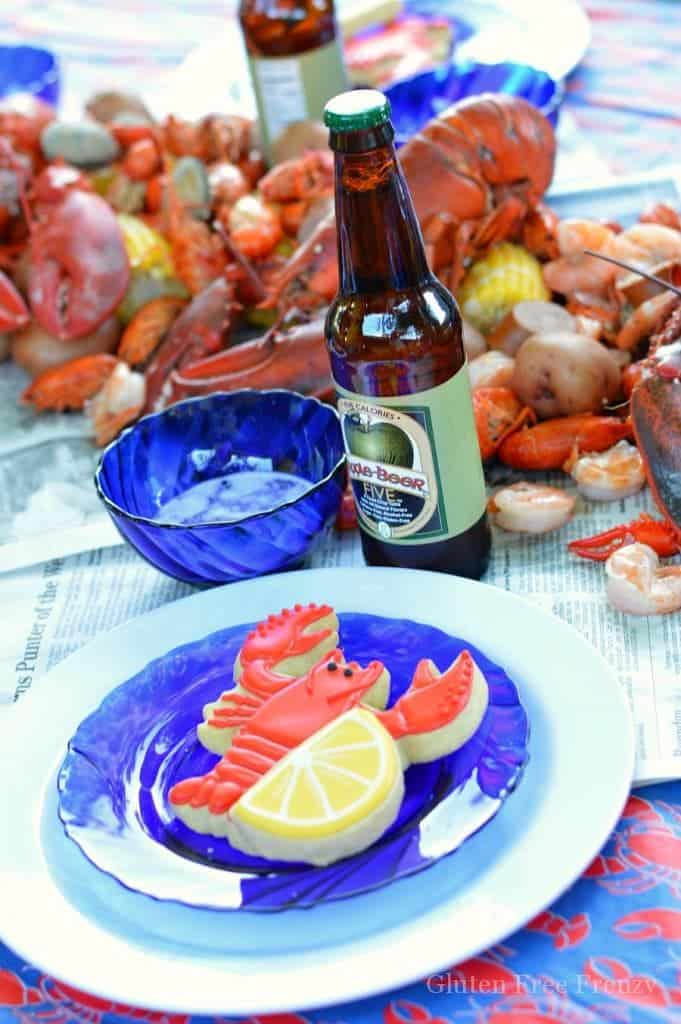 We live in Utah so there is no really fresh lobster around. The good thing for me though is that we have an amazing butcher at our local Harmons who is always trying to accommodate our needs. He ordered in crawfish for me and also got live lobsters for me to pick up the morning of the lobster boil. You could absolutely taste their freshness!
I have to tell you guys though that I was terrified, like really terrified to cook those live lobsters. Our butcher even warned me about one with a mad face drawn on the package. He said, "Good luck with that one, is is fiesty!" Luckily my mom and hubby were willing to help but I am not going to lie, it was pretty scary! I recommend using a big oven glove.
NEED MORE GOODNESS? Follow me on Facebook, Instagram, Pinterest, and Twitter for great recipes, entertaining ideas and more!
Lobster Boil Party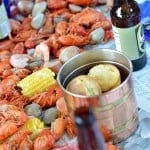 What's not to love about a succulent and tasty lobster boil!
Ingredients
2

Fresh lobster

400

g

Crawfish

100

g

Oysters

400

g

Shrimp

400

g

Kielbasa sausage

1

lbs

Red potatoes

4

Corn on the cob

50

g

Warm butter
Instructions
In LARGE stock pots, bring water to a boil with a few teaspoons of salt. Once it is boiling, add the red potatoes and cook 8-9 minutes. Keep the potatoes in the water and cooking while you continue to add the next ingredients. Add sliced kielbasa sausage and lobsters one at a time. Cook 8 minutes per pound of your average, not total, lobster weight. So if you have lobsters that are 1.5 lbs, cook 12 minutes. Five minutes into your lobsters cooking, add the clams either tied in a cheesecloth or placed in a steamer basket so as to keep the meat inside once they open. During the last 5 minutes of your lobsters cooking, add the corn on the cob. Once lobsters are done, remove them and let stand 10 minutes before serving. Drain the remainder of ingredients and pour hot onto the newspaper. Serve right away with warm butter.
Nutrition
Calories:
733
kcal
|
Carbohydrates:
37
g
|
Protein:
52
g
|
Fat:
42
g
|
Saturated Fat:
17
g
|
Cholesterol:
446
mg
|
Sodium:
2056
mg
|
Potassium:
1231
mg
|
Fiber:
4
g
|
Sugar:
7
g
|
Vitamin A:
480
IU
|
Vitamin C:
21
mg
|
Calcium:
230
mg
|
Iron:
5.3
mg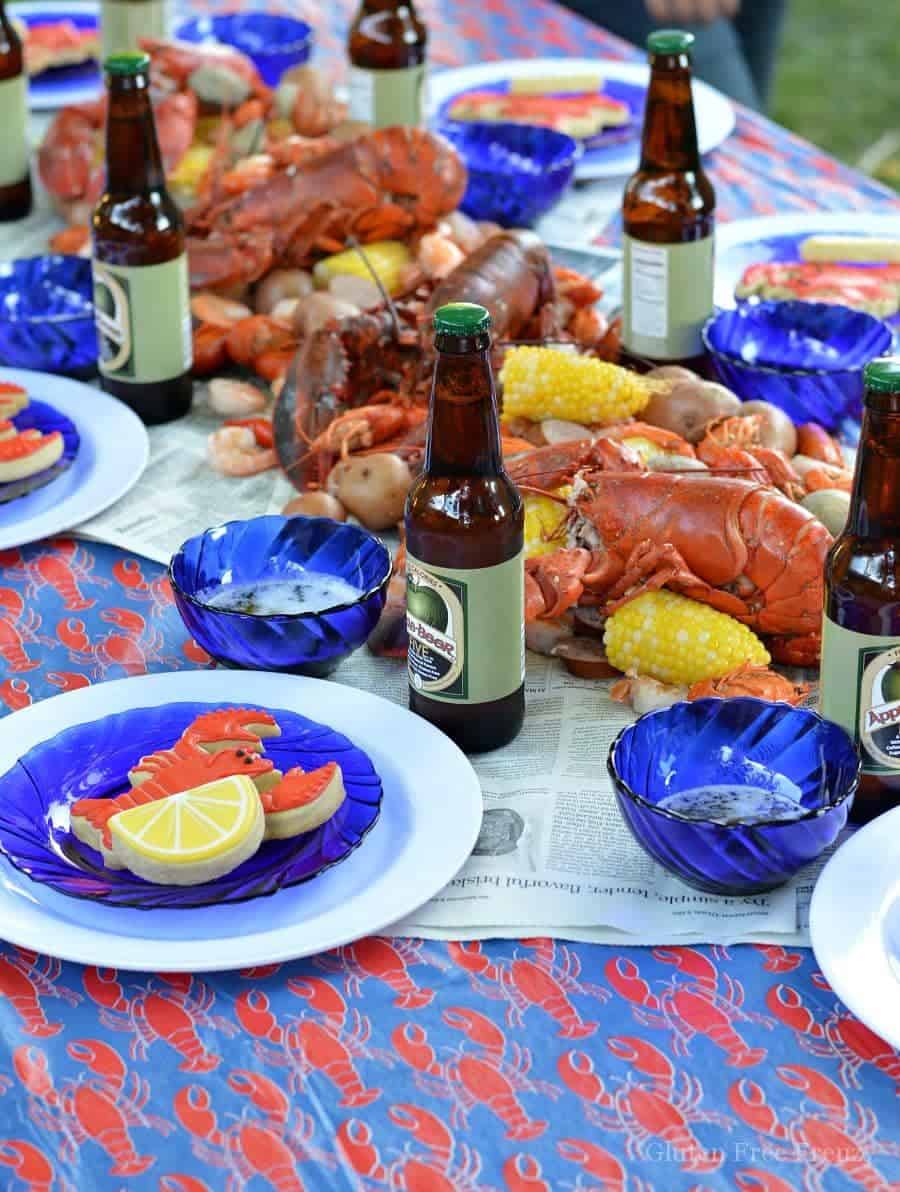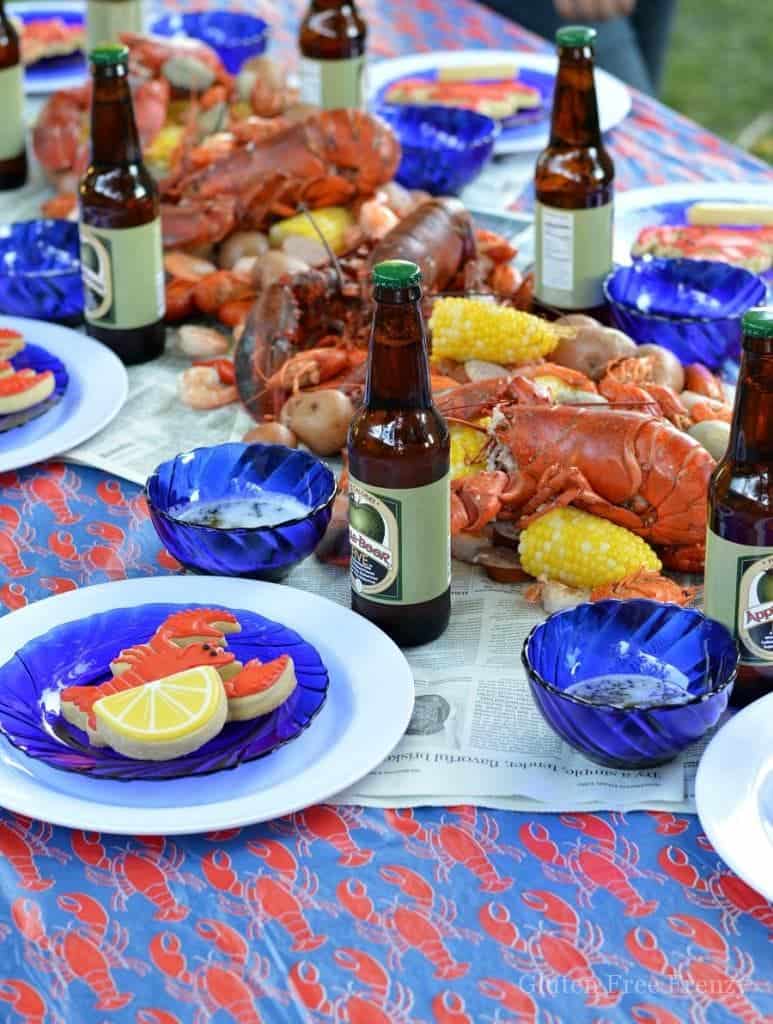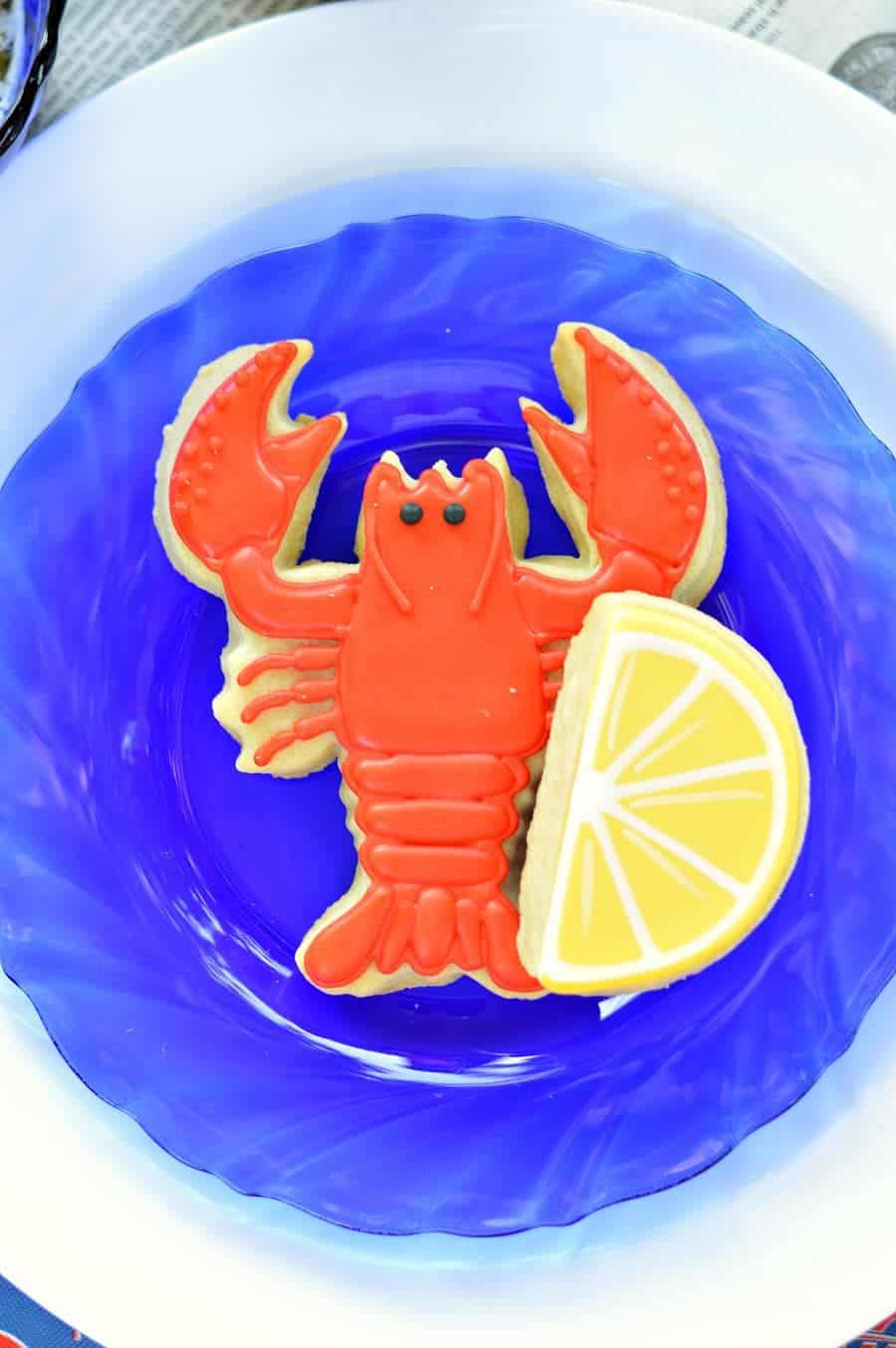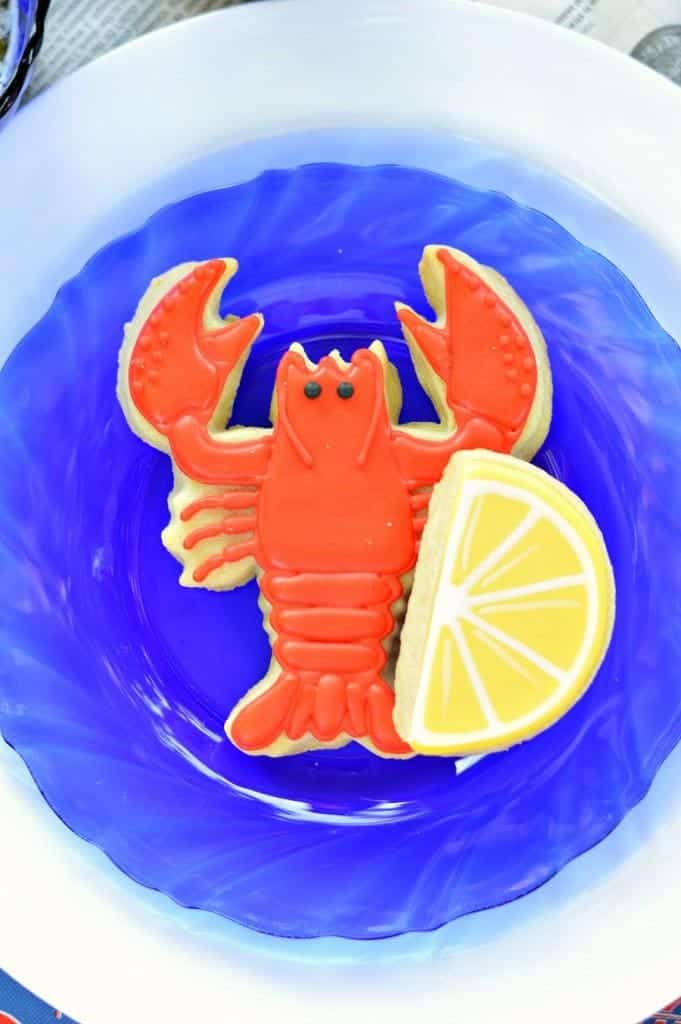 Serve warm cornbread muffins and cold apple beer (non-alcoholic) along with your seafood for an entire feast. Since you are already making so much food, I recommend delegating out the dessert. I knew from the start that I wanted to keep dessert simple but also wanted it to be my wow factor so I called my friend Shanan over at Enchanted Cookie Boutique. I gave her my idea for these lobster and lemon cookies and she couldn't have executed them more perfectly!
Shanan is amazing and I have featured her work before in these mermaid cookies and geode cookies. Shanan ships nationwide and is very reasonably priced. Her cookies were definitely the WOW factor for this party.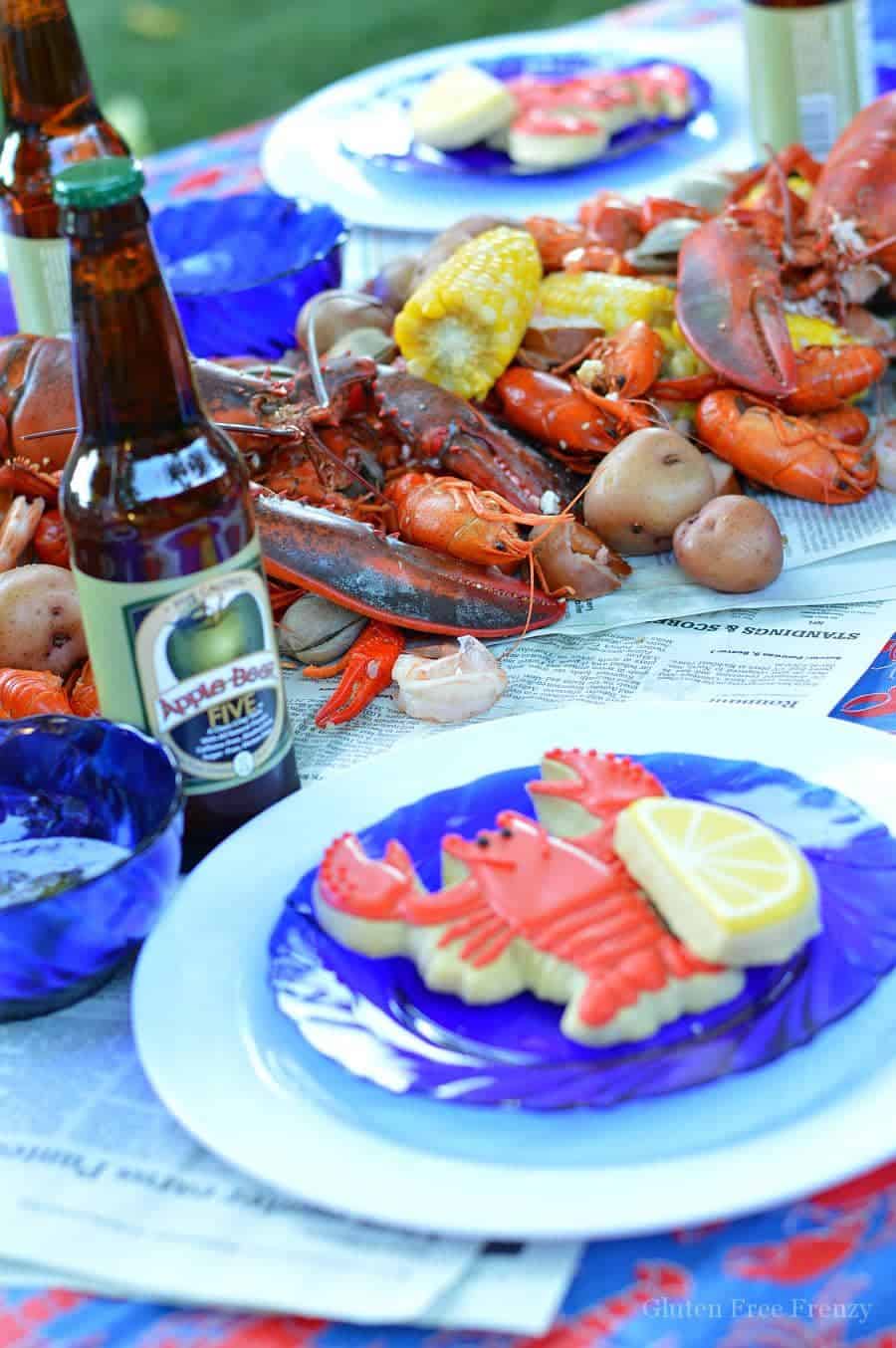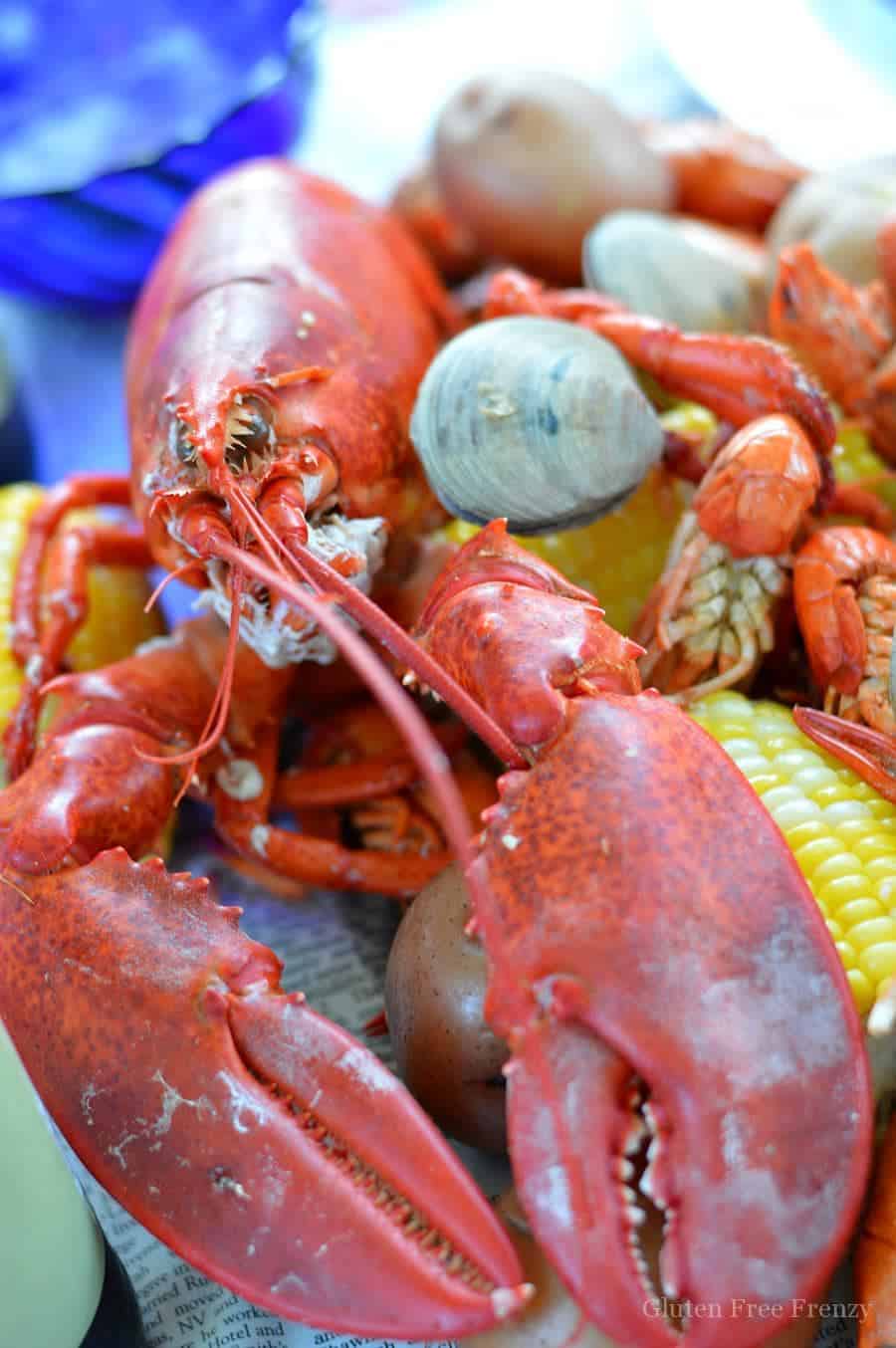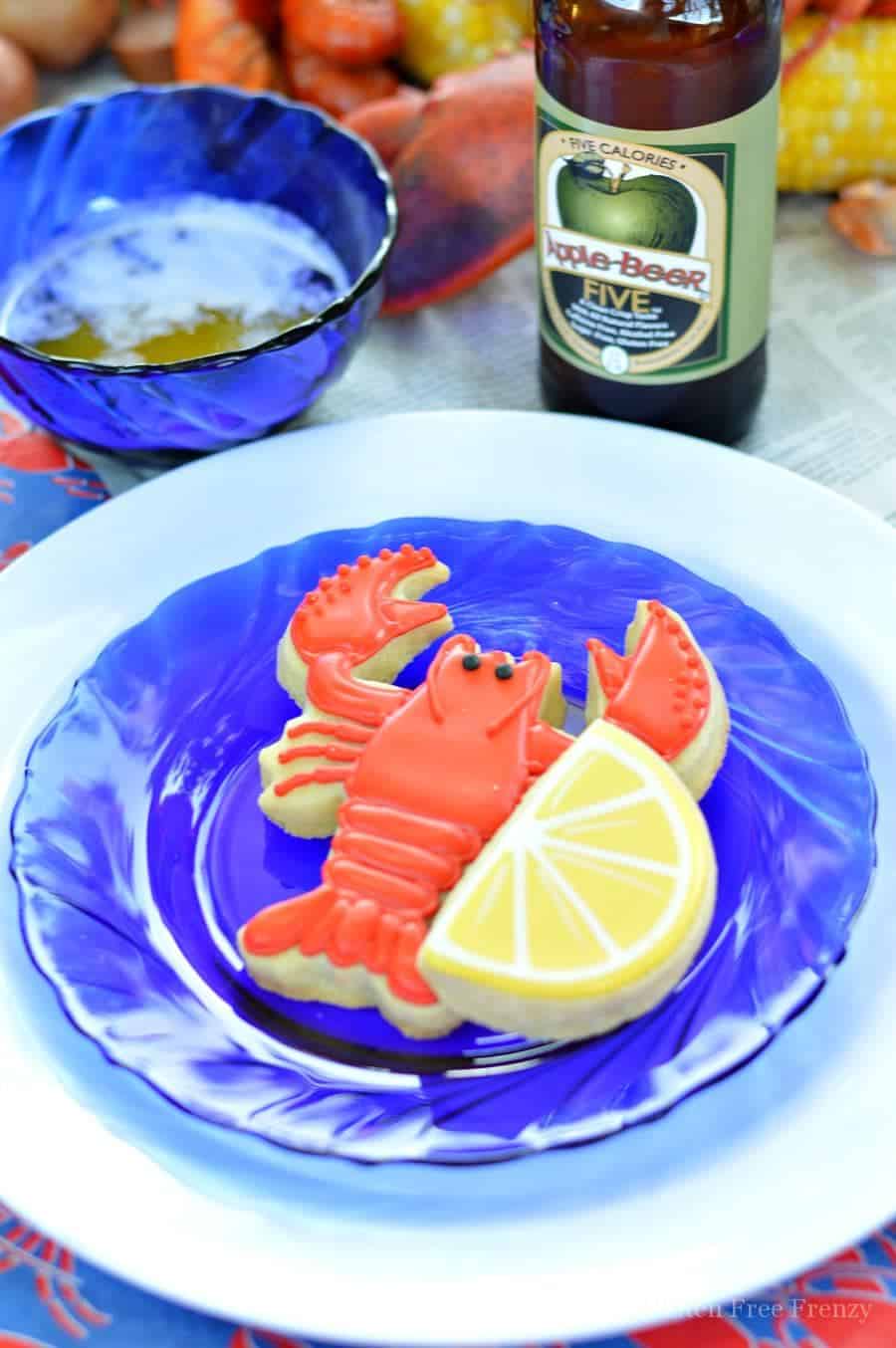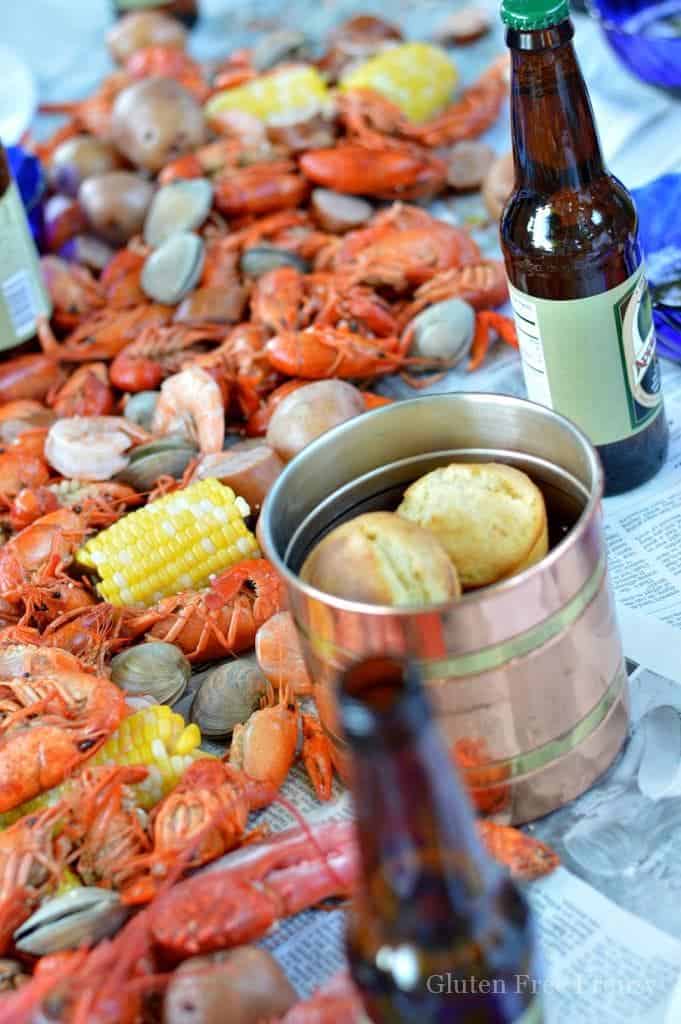 It wouldn't be a lobster boil without some sort of muffin or biscuit in my books. So I decided to go with a classic cornbread muffin served in a copper tin. The Old Bay seasoning jar made the perfect little pop of decor on our wood nautical boat shelf.
Because I wanted to have one other little sweet bite for my guests, I decided to make single serve lemon pudding spoons. Just top them with triangles of lemon for an extra fresh look.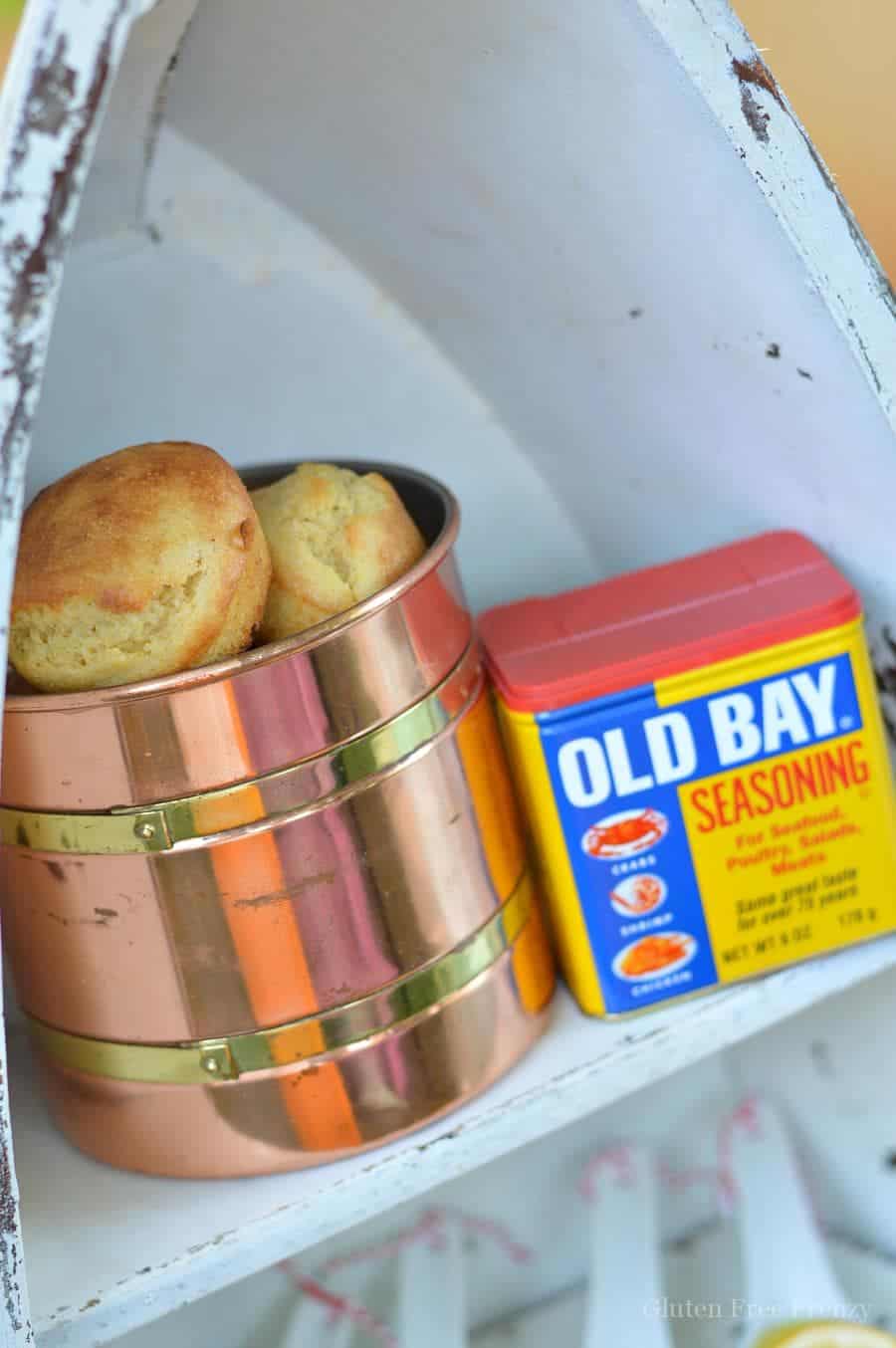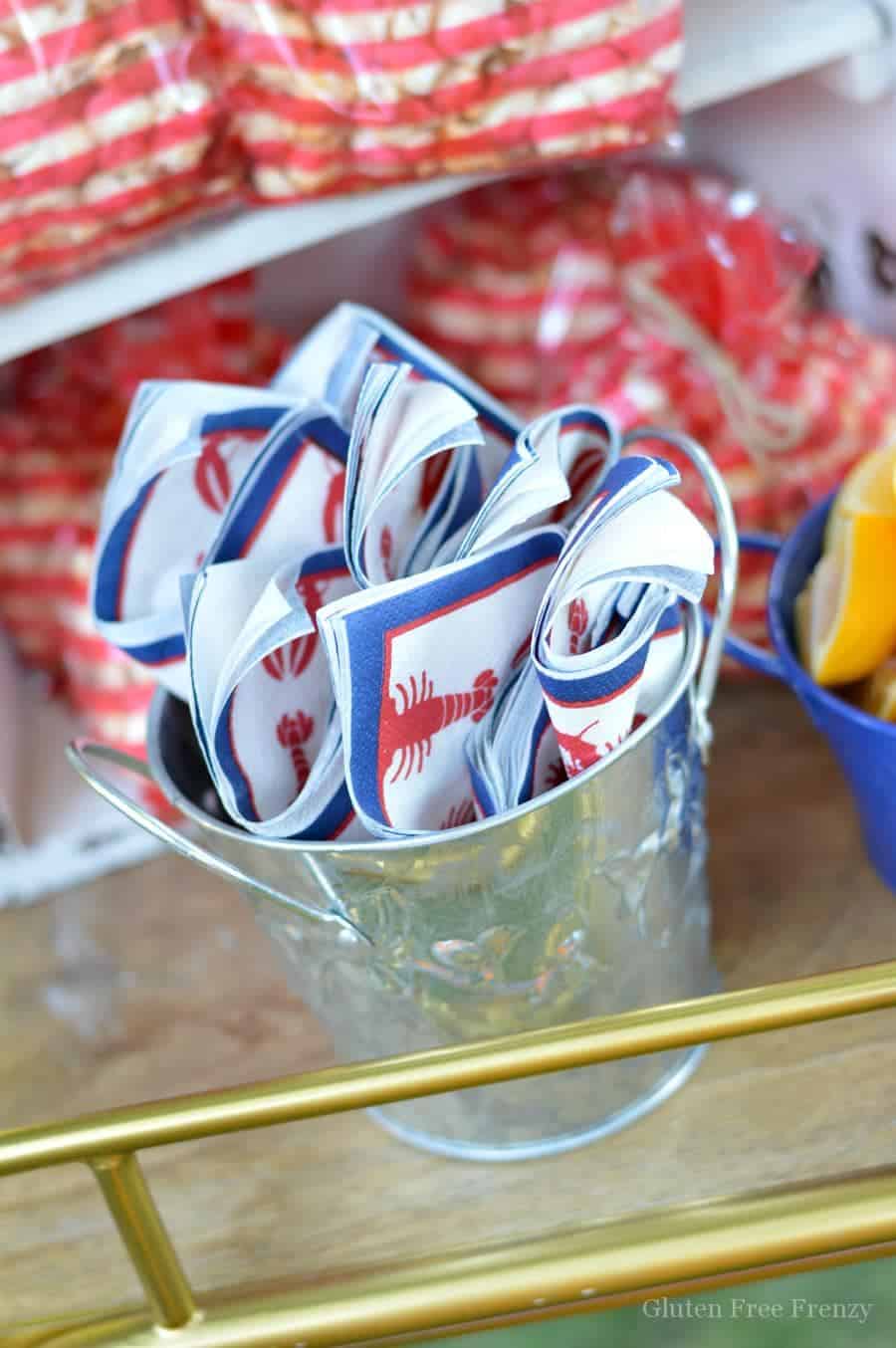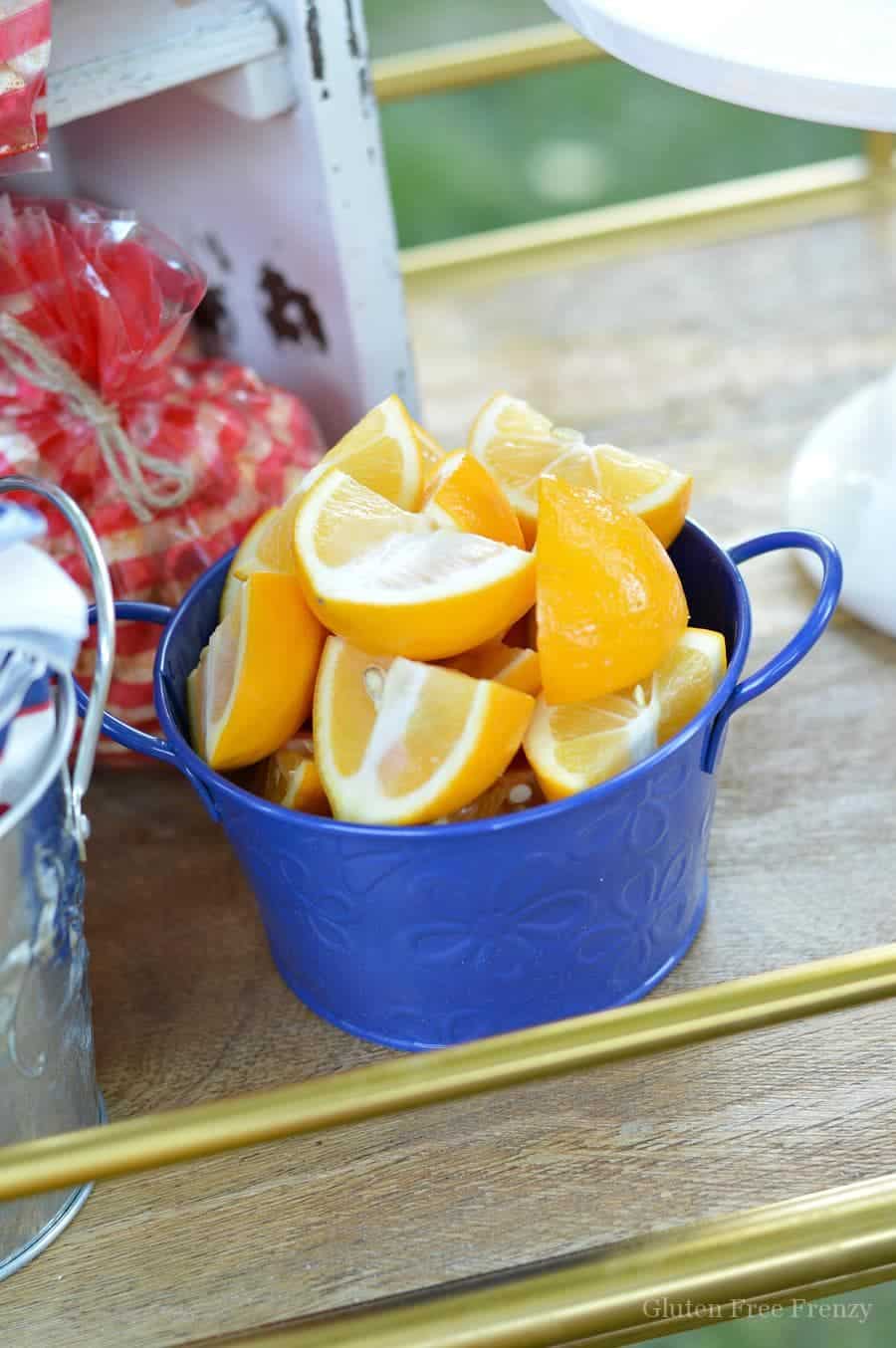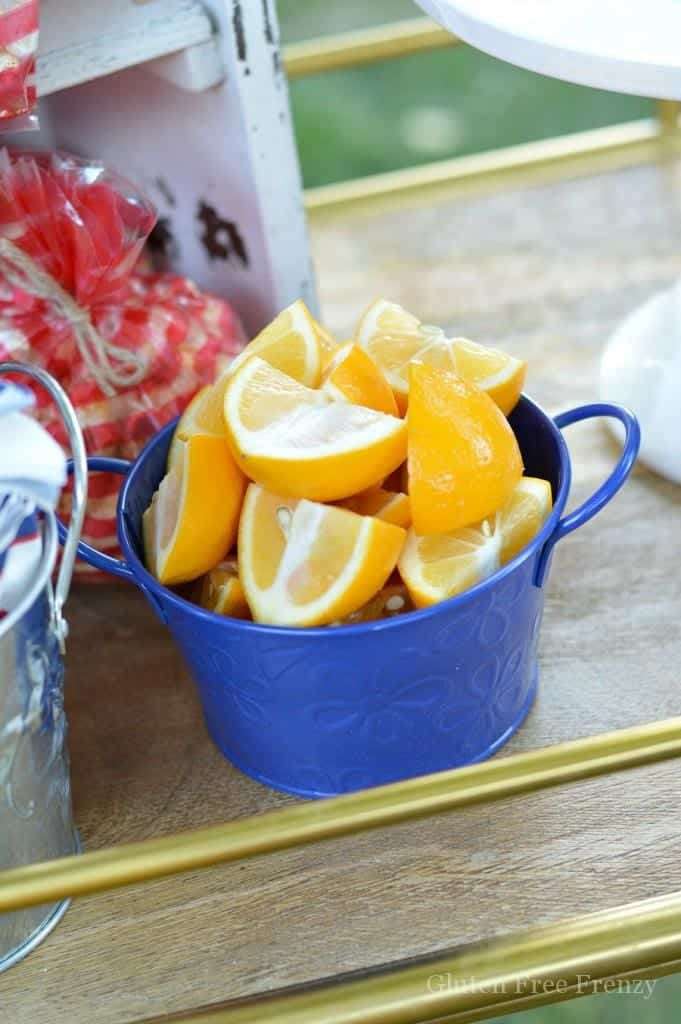 Little Old Bay buttered popcorn bags made the perfect take home treat for my guests. We also sent everyone home with darling lobster plates wrapped in twine. I wanted to make sure that the gals had something lobster"y" in case they ever wanted to host their own lobster boil!
Overall, it was such a fun and casual gathering with friends and fellow foodies. I loved that we got to sit outdoors and visit while eating some incredibly fresh seafood!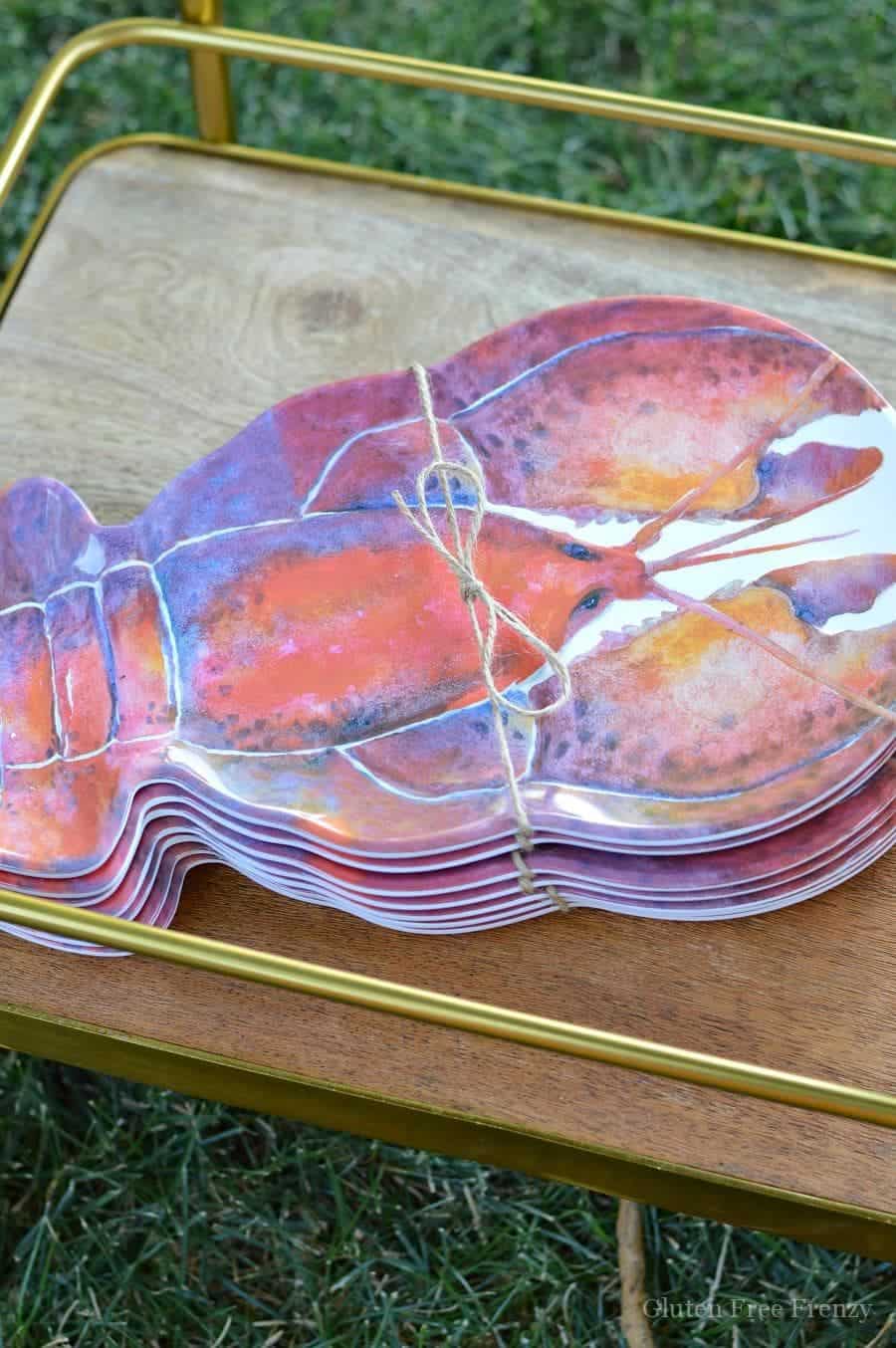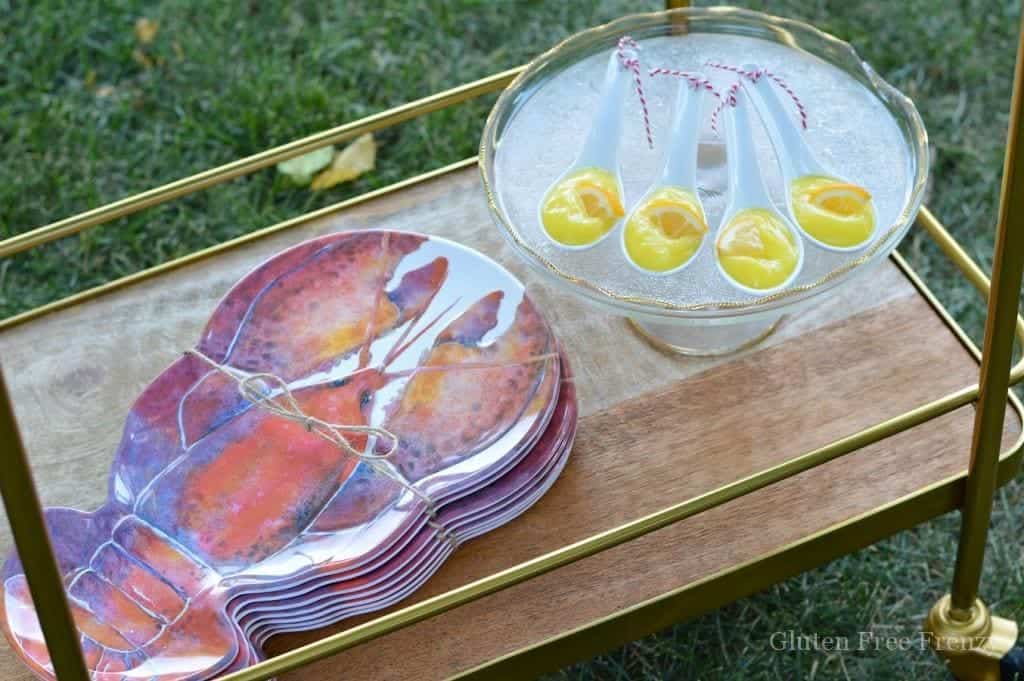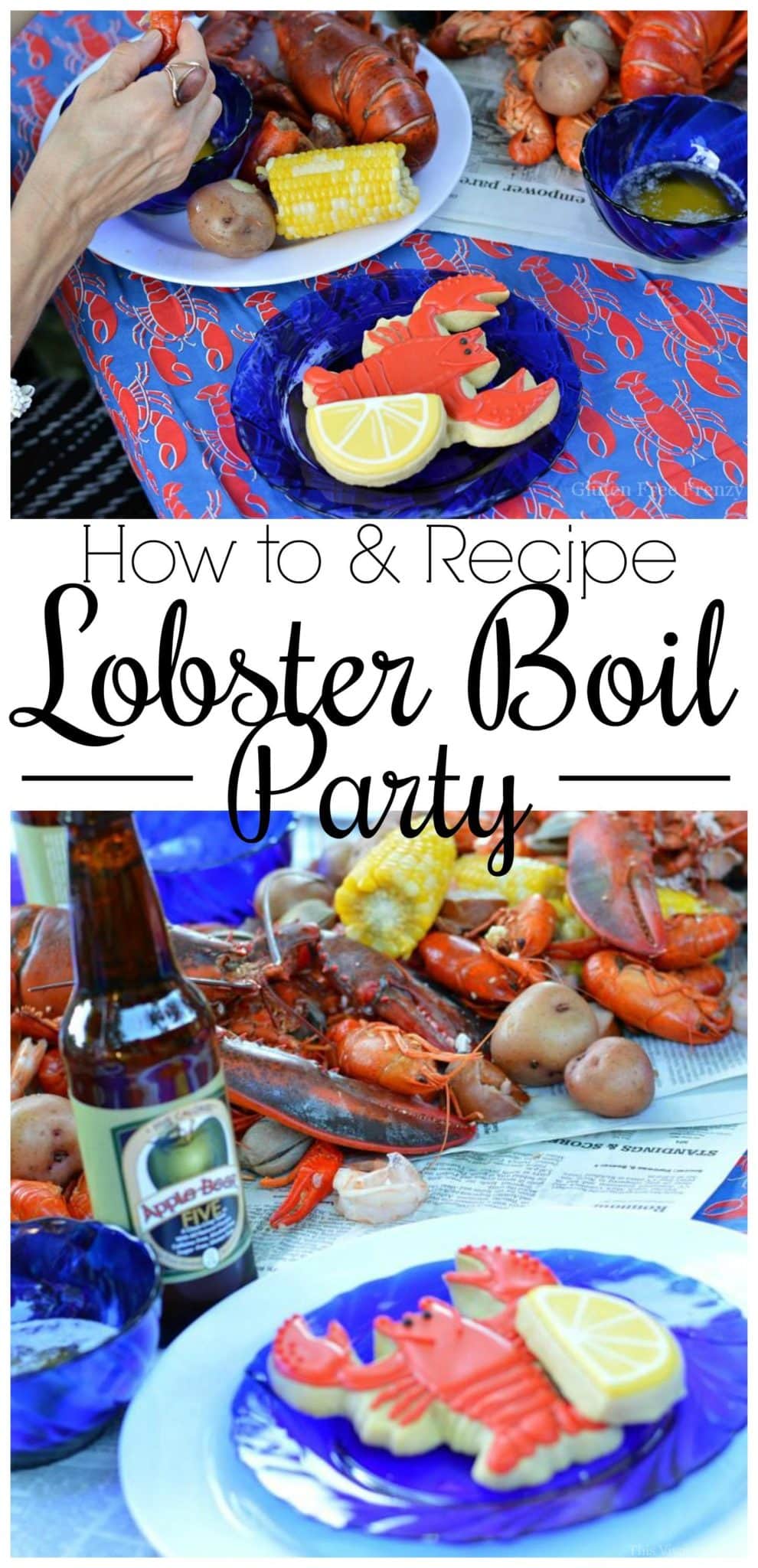 If you love this party, be sure to check out these…
Rustic Italian Dinner Party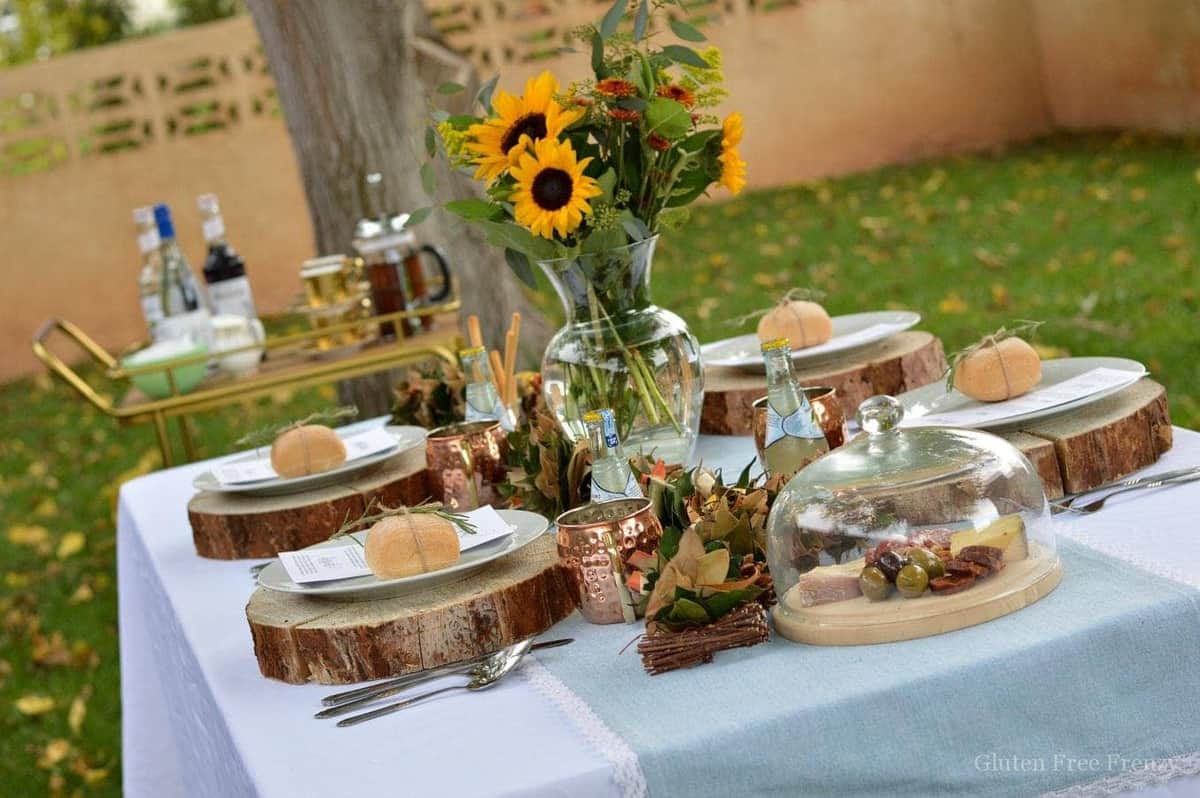 Adventure Awaits Little Lending Library Party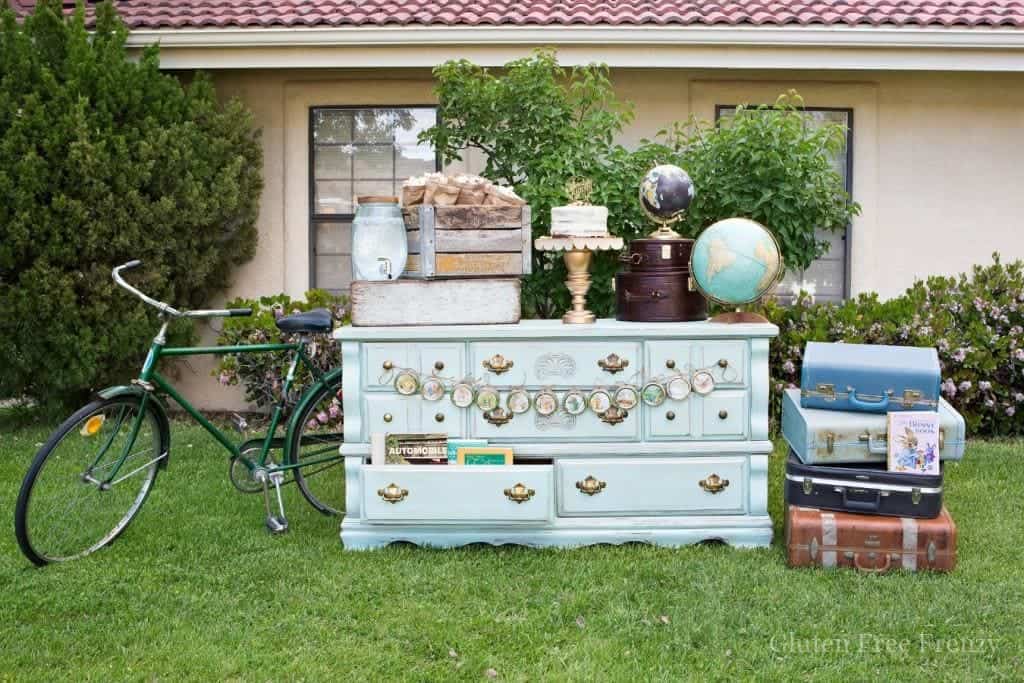 Gluten-Free Charcuterie and Cheeseboard