this post may contain affiliate links
Let me show you just how easy Friendsgiving ideas can be. It doesn't have to be difficult to host your own harvest ladies lunch.

Easy Friendsgiving Ideas…
I am sharing some Friendsgiving ideas with you all because I personally love this modern, fun take on a classic holiday and thought you guys might as well.
Below you will see how to host a harvest ladies lunch or Friendsgiving. We will cover everything from food to decor and more!
November is more than just a time for gathering with cousins you only see once a year and that uncle you barely know.
I love that Friendsgiving has been given the spotlight it deserves. I a mean, who doesn't love getting some of their closest friends together for an evening, or brunch like we featured here, of delicious food and company?
Subscribe to This Vivacious Life
Receive a free e-book of Instant Pot recipes!
This one we did is a really modern take on a harvest gathering with lots of fresh white, jadeite and rustic wood. There is very little brown or orange and that's ok. 
That's actually my first of the Friendsgiving ideas I will share… Get out of the box with your decorating. Try your hand and lighter colors that you wouldn't traditionally see on a Thanksgiving table.

Forage some pinecones or place light green and white gourds on the table. Foraging your own tables decorations makes this gathering extremely affordable as well.
While the food is what really shines at any November gathering, there are some fun little decorations that will definitely make your tablescape pop.

We chose to use mint and white velvet pumpkins to keep the gathering soft and feminine but also still with that harvest theme.
However, for more life on the table, give those foraged light green and white pumpkins I mentioned a try. 
The 16 x 20 gather print from Lily and Val fit perfectly with our color scheme as well… I knew I just had to have it! They even had little matching cards with envelopes then I got to gift my friends with.
The center piece is a simple arrangement I found at my local TJ Maxx. As a rule of thumb, I never use anything but fresh florals at my parties.
However, this one seem to fit perfectly. I especially loved that the leaves were textured to match the velvet pumpkins.
Remember that Friendsgiving ideas include FOOD! Don't feel limited to only serving up meals after 4pm. A Friendsgiving brunch would be a lovely idea as well.
You will be a hit when you serve up delicious dishes like these. Our turkey, cranberry and Brie bread pudding is soft and oh so flavorful!
The turkey, corn and cream cheese gluten-free fried flautas definitely brings the heat and provides bold new flavors to your harvest ladies lunch.
And what would a harvest gathering be without ham right? Our ham n' cheese potato casserole with buttery pretzel crust is a dish that everybody will love.
We used vintage jadeite bowls to serve our buttered carrots and corn. It's also what we used for the fresh baked gluten-free rolls.
I chose jadeite cake stands for serving up the other dishes. My gold rimmed turkey plates are another T.J. Maxx find that I love to use every year on Thanksgiving.
I added some depth and texture with copper cups and a copper pitcher for serving sparkling apple cider.
Have some little get to know you games and place cards so guests don't have to fret in remembering anyones name.
Whatever you choose to serve, find the color scheme that works great for you and build around that. Remember to prep ahead with things like the savory bread pudding so you can enjoy visiting with everyone too.
You may even consider asking your friends to each bring a dish. This makes planning so much easier on you as the host.
It also makes for a great conversation starter as everyone shares their dish and why they love it so much. They could even bring a recipe card for everyone with the recipe on it. 
I hope these Friendsgiving ideas have helped you in the planning of your own little gathering. I know it will be a huge success!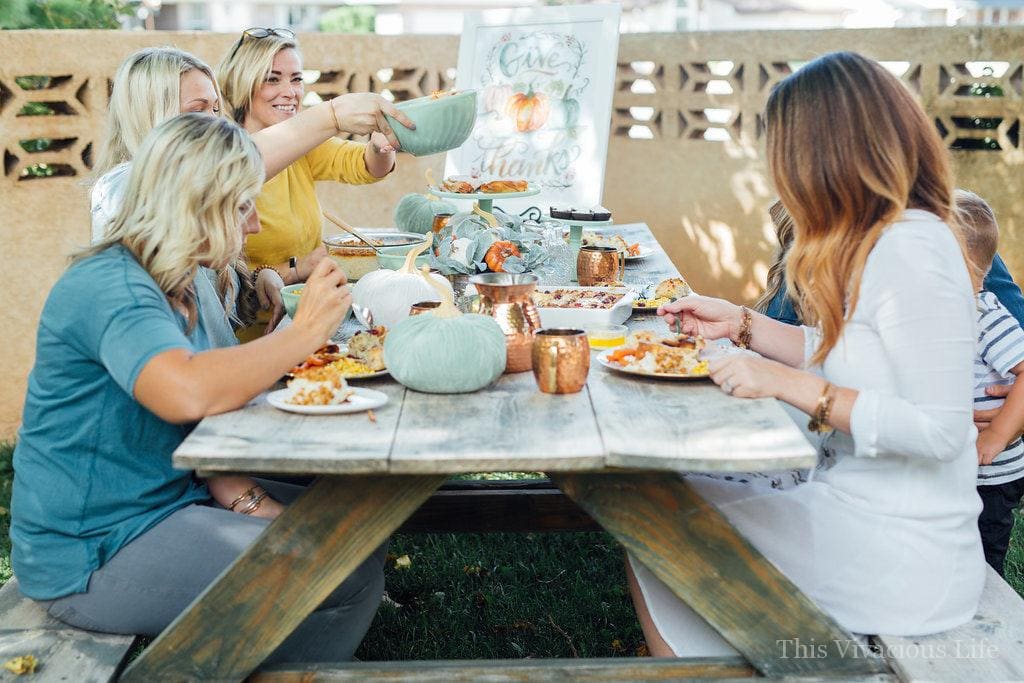 Be sure to check out recipes that we used on our table…
Turkey, cranberry and Brie bread pudding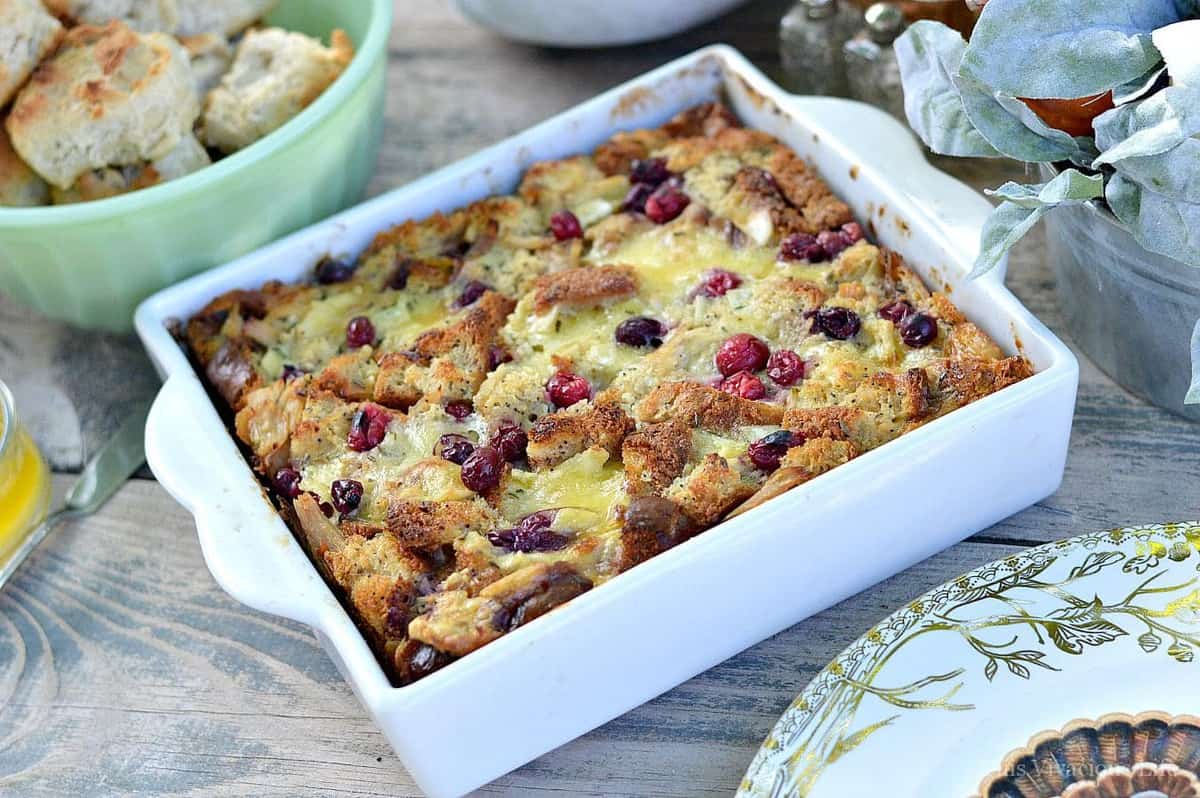 Ham n' cheese potato casserole with pretzel crust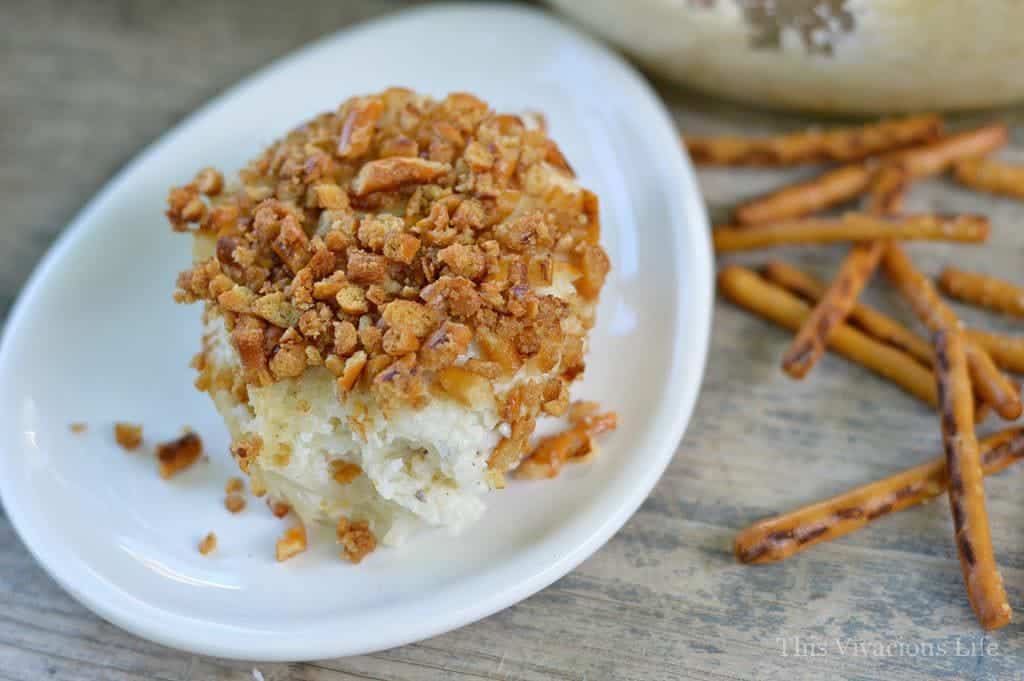 Turkey, corn and cream cheese gluten-free fried flautas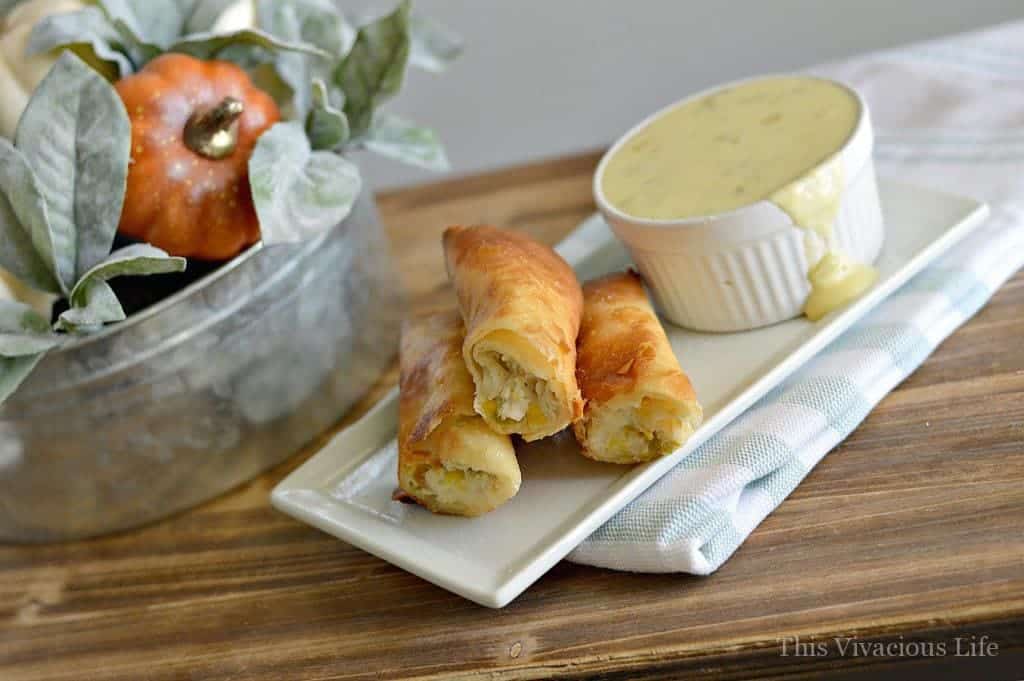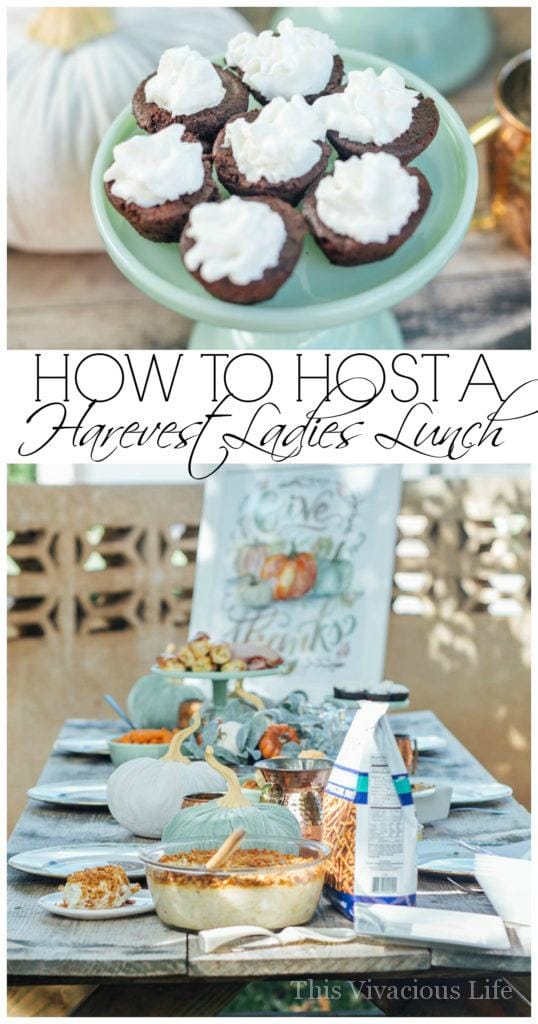 Here's another fun gathering and a few things to help you with your harvest ladies lunch…
Rustic Italian dinner party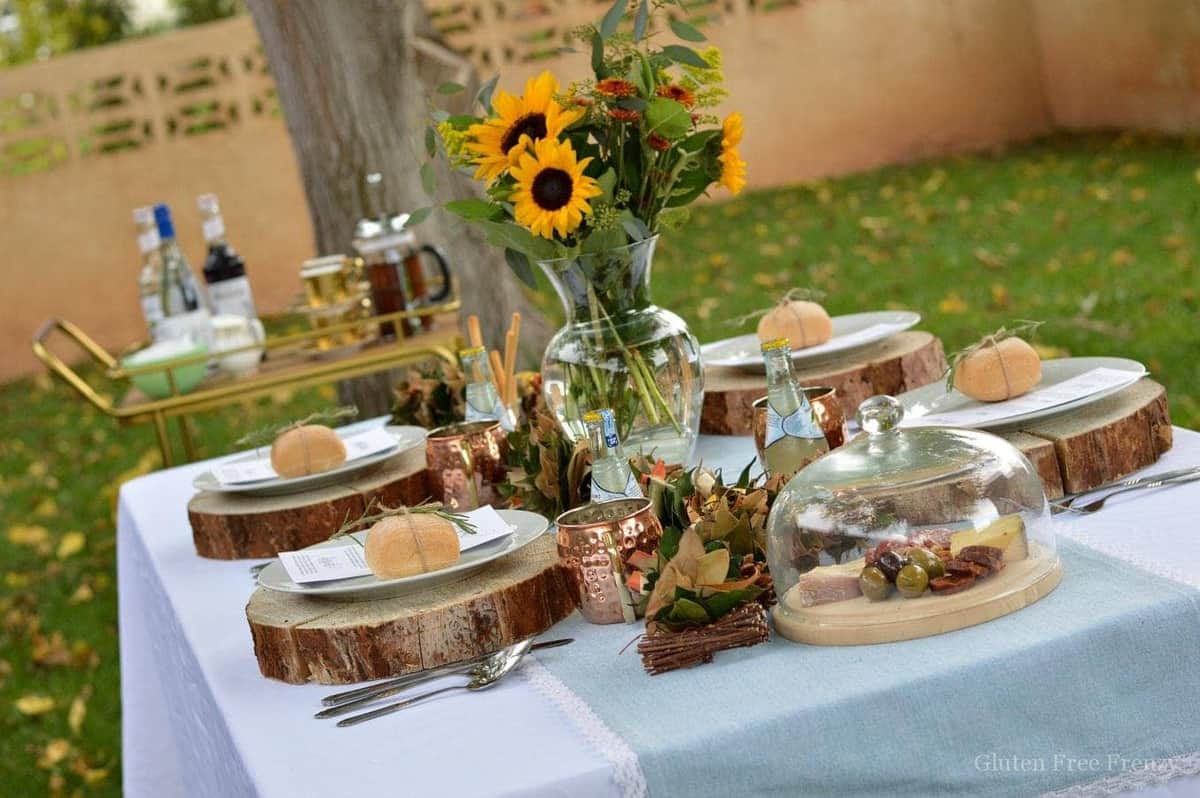 Simple white flower arrangements

Cheese and charcuterie board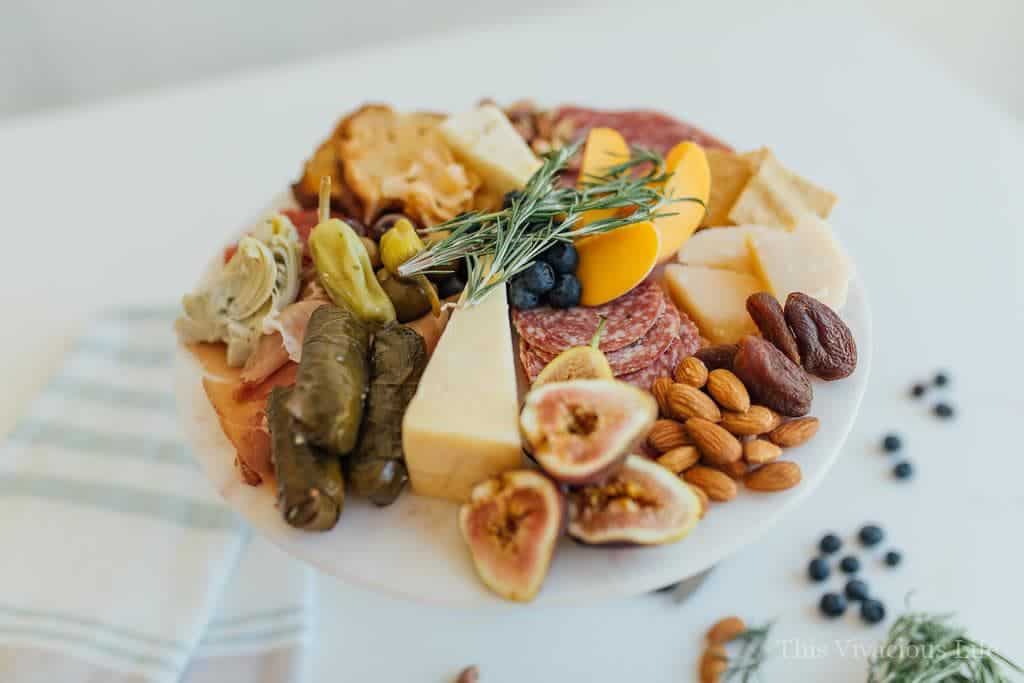 Photos and video from the harvest ladies lunch by Amie Pendle
Originally published on October 17, 2017.