These unique charcuterie board ideas are edible works of art that have stolen the attention and affection of food lovers everywhere. Whether it's a special occasion or a family dinner, charcuterie boards are an effortless, yet impressive, addition to the table.
Although you can never go wrong with the an easy charcuterie board, it's sometimes fun to spice things up with festive elements. In this post, you'll find a charcuterie board for events like Halloween, Valentine's day, Christmas, and more!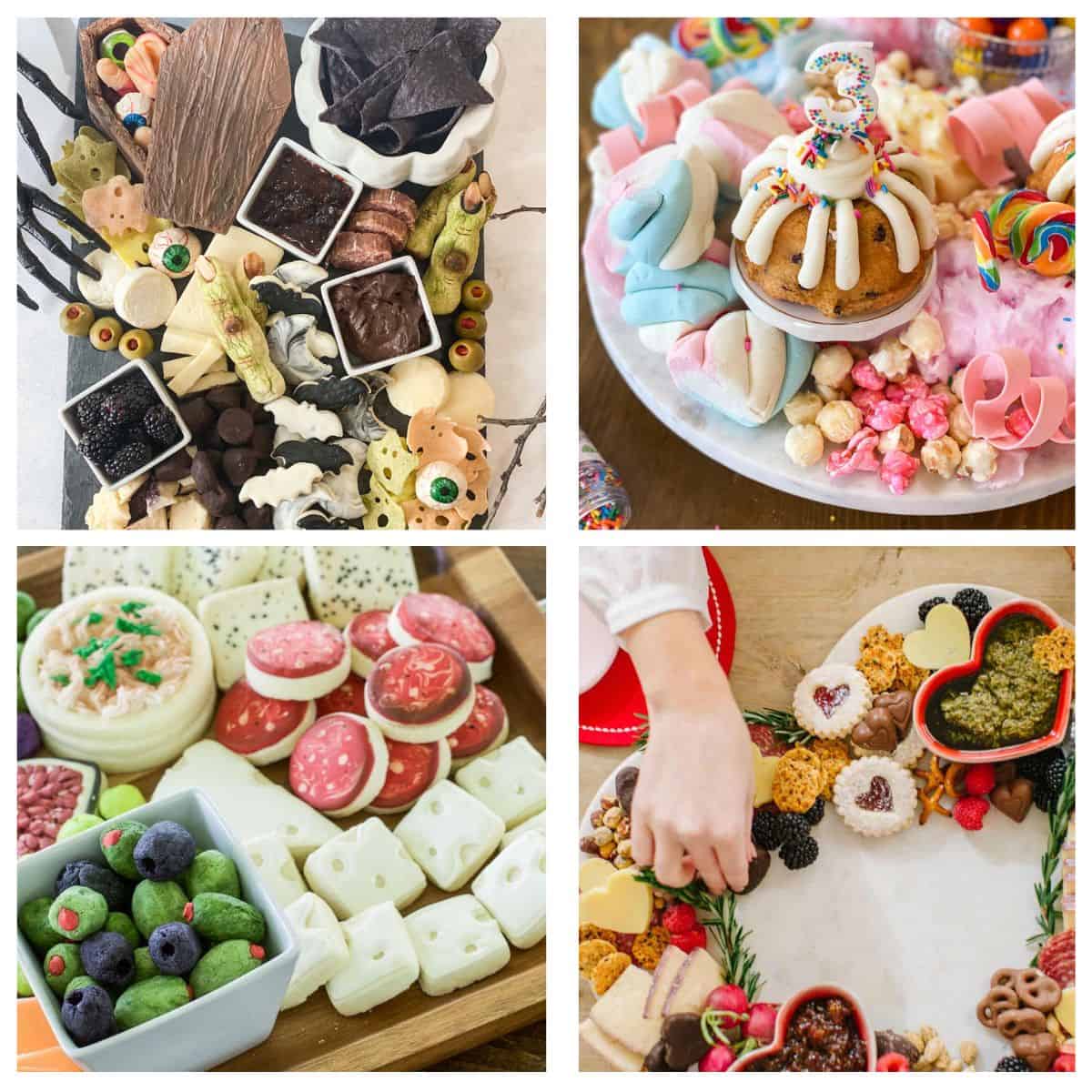 The best part about charcuterie boards is that they're much easier to put together than they seem. And, you can customize the ingredients to accommodate picky eaters or dietary restrictions. Simply pick your theme, grab your favorite snacks, and arrange!
I find myself making a gluten-free charcuterie board for all sorts of occasions but it's so fun to make unique and festive charcuterie boards for special events. The options are almost endless when it comes to cheese board themes so you're guaranteed to find one you like in this post.
How do I ensure a balanced mix of flavors and textures on the charcuterie board?
Achieving the perfect balance of textures and flavors may seem challenging, but it's very straightforward. When add something soft like cheese or hummus, pair it with something crunchy like crackers. When adding fruit, throw in meats or another savory food and vice versa. Combining a variety of contrasting flavors and textures results in a dynamic board that everyone will love.
Subscribe to This Vivacious Life
Receive a free e-book of Instant Pot recipes!
Can I prepare a charcuterie board in advance?
Yes, most charcuterie boards you can prepare a few hours in advance. Simply arrange tour board, store in the fridge, and serve when ready. However, I do recommend adding things like crackers, bread, etc. to the board right before you're ready to serve. Some foods get stale when left in the fridge.
1. Halloween Charcuterie Board
This Halloween charcuterie board or charBOOterie, features a variety of sweets and savories that are sure to spook and delight! Who doesn't love grazing on some goodies while dressed from head to toe in their favorite costume? This eering board is perfect for halloween snacking.
2. Valentine's Charcuterie Board
Prepare to woo both taste buds and hearts with a Valentine's Charcuterie Board that's as enchanting as a romantic night under the stars. Bring out your inner cupid as you add a variety of treats that blend flavors and textures in a way everyone will love.
3. Christmas Charcuterie Board
This 30 minute Christmas charcuterie board or charcuterWREATH, is the perfect cheeseboard for the holiday season! With fresh fruit, a variety of meats & soft cheeses and even sweets, there is something for everyone to enjoy.
4. Super Bowl Board
Get ready to score big points at your next Super Bowl party with a game winning Super Bowl Charcuterie Board. This board is more than just a touch down as it's packed with summer sausage, smoked cheese, pretzels, and more. With some meat products, hard cheeses, and a little creativity, you'll have the perfect super bowl themed board.
5. Birthday Charcuterie Board
Elevate the birthday bash with a slice of creativity that's as exciting as the cake itself with a Birthday Cake Charcuterie Board! Get ready to unleash the fun, the flavors, and birthday spirit, because this charcuterie platter is going to steal the show, one delicious bite at a time.
6. Pancake Charcuterie Board
Who says the charcuterie fun is reserved for evenings? Treat yourself to a breakfast that flips the script on ordinary mornings with a Pancake Charcuterie Board. Made with your favorite gluten-free pancakes and instant pot bacon, this is a fun way to serve Sunday brunch or breakfast.
7. Mexican Charcuterie Board
Get ready to say "adios" to bland bites and "hola" to this Mexican charcuterie board. A taco board that's filled with your favorite Mexican finger food and dishes guaranteed to be a hit at your next gathering.
8. Thanksgiving Charcuterie Board
Elevate your Thanksgiving feast by staring out with this amazing Thanksgiving Charcuterie board. Say goodbye to the waiting game and hello to a 30-minute cheese board that's a great addition to your dinner party. Made with a variety of cheeses, seasonal fruits, traditional meats, and Thanksgiving cookies.
9. Charcuterie Cones
Why be limited by traditional platters when you can have a sensation that's as visually impressive as it is tasty? These charcuterie cones are a fun and very easy way to switch up the classic cheeseboard. My personal favorites are honeycomb, cured meats, and olives but the options for this creative charcuterie board are endless.
10. Individual Charcuterie Boxes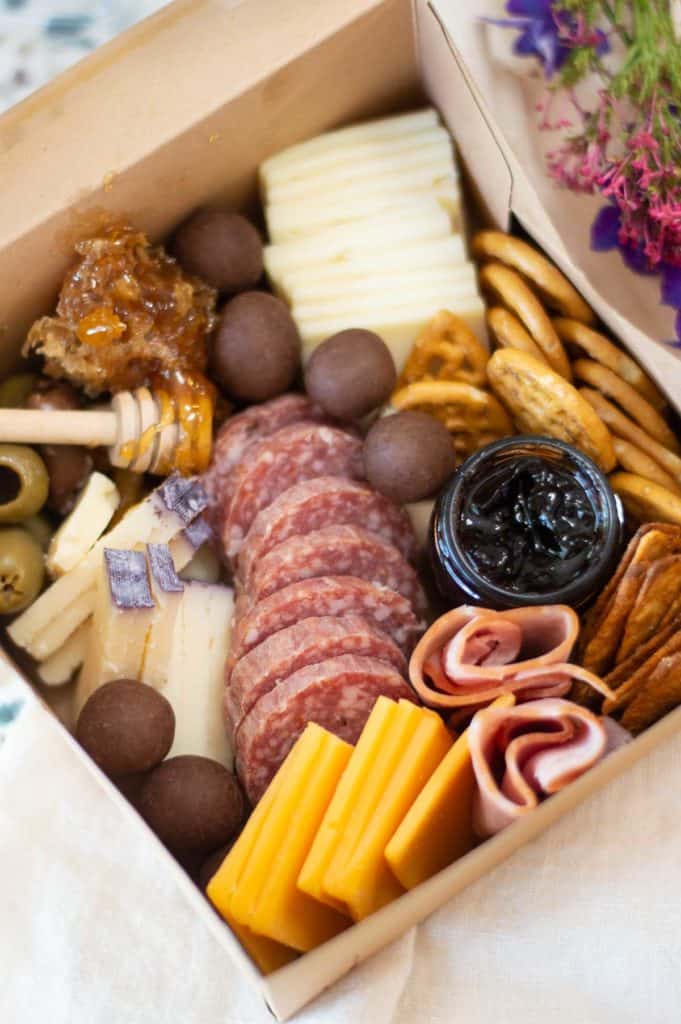 Whether you're celebrating a birthday, an anniversary, or simply a special, these Individual Charcuterie Boxes are the perfect gift for creating lasting impressions. Plus, since they are individual, you can customize your own charcuterie board exactly to your liking. The food ideas are endless as these delightful surprises are as tasteful as they are charming.
More charcuterie boards
Now that we're diving into one-of-a-kind charcuterie boards, here are some timeless options that might tickle your taste buds. And hey, if you're not planning around a special occasion or holiday, there's something incredibly satisfying in the simplicity of a classic cheeseboard.
Summer Charcuterie Board
A summer charcuterie board is perfect for those hot summer months when it's sometimes too hot to cook. Light foods arranged on a wooden board served with fresh lavender lemonade sounds like the perfect summer evening to me!
Cookie Charcuterie Board
If you have a sweet tooth, this cookie charcuterie board or dessert board is just the recipe for you. A beautiful board topped with decorated sugar cookies and other sweets is a fun twist on the classic board.
Vegan Charcuterie Board
Most charcuterie boards are filled with meat and cheese, but this vegan charcuterie board is just as delicious and accommodates all types of dietary restrictions. Add fig jam, peanut butter, and other plant based foods for the best vegan snack.
Grazing Table
If you're feeding a crowd, there's no easier way to do it than a grazing table. Packed with various cheeses, fresh vegetables, and meats, this grazing board is big enough to feed over 20.
Small Charcuterie Board
On the other hand, if you're looking for single servings, this small charcuterie board is an easy board that's thrown together in minutes. Make your own board with different types of cheeses, crackers, and veggies for an aesthetic, yet simple snack.
The Best Charcuterie Board
You can never go wrong with the best charcuterie board. It has the perfect balance of textures and flavors that's guaranteed to impress everyone, even the picky eaters.