this post may contain affiliate links
This 5 MINUTE creamy, fruity non-alcoholic pina colada mocktail is perfect for summer! It has all the flavors of the beach but none of the booze. Everyone will love it and can enjoy it together too.
I have always loved a good virgin pina colada. The flavors just whisk me away to the beach and I can almost feel the sand between my toes…
Like with many of our mocktails and especially our blue lagoon mocktail, summer mocktails and virgin margarita, it is just super refreshing. In our Valentines mocktails post we have a delicious strawberry basil margarita mocktail that is also frozen and blended and boy is it fresh too!
It's also great for a fun summer brunch served along with our mimosa mocktail, non-alcoholic gin and tonic and our Bloody Mary mocktail (that is LOADED with all the good stuff!).
The best part about this recipe is that it is as easy as vacation. Even the kids can make it, it's that simple. While this is a great summer sip or perfect for 4th of July drinks, it's also great for mothers day mocktails. And don't worry, we also have some ideas you will love for Halloween mocktails, Thanksgiving mocktails and Christmas mocktails!
What is a non-alcoholic pina colada made of?
Traditionally a non-alcoholic pina colada would be made with strained pineapple, cream of coconut and white rum. Originally made in Puerto Rico back in the 1950's. I can't believe I have to add 19 before that so one day people don't wonder whether it's 1900's or 2000's by the way… That makes me feel old!
To make this a mocktail, we removed the rum and added vanilla soda. It gives it a bit of bite with the carbonation but also some flavor. While you don't have to make it frozen or use full fruit pineapple, I like it better than the strained fruit juice.
So with that, these are the ingredients we use for this yummy recipe…
Frozen pineapple chunks
Vanilla soda (Dry Sparkling works great)
Coco Lopez Cream of Coconut
Optional: Fresh pineapple for garnish
How to make a non-alcoholic pina colada
Making this mocktail could not be easier. It seriously takes two steps, mix and pour!
Combine all ingredients in a blender and pulse until combine
Pour into glasses and garnish with fresh pineapple triangles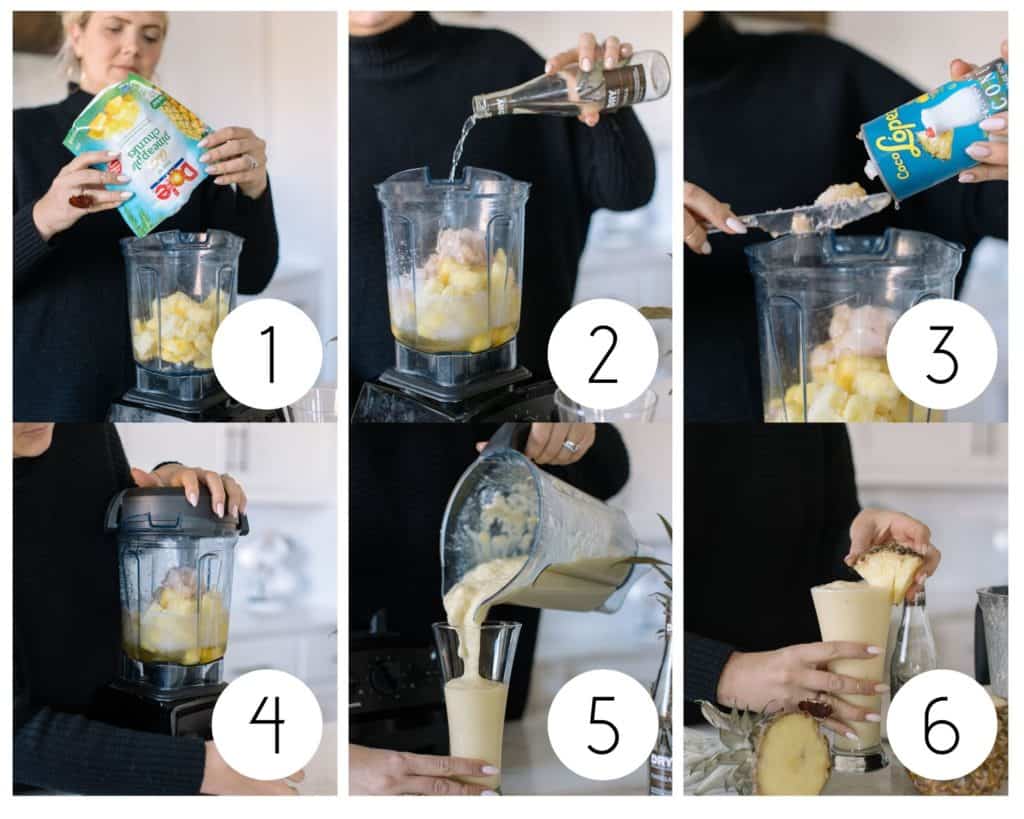 Feel free to get creative with your garnish. From maraschino cherries and fresh pineapple to a skewer of fruit, whipped cream and paper umbrellas. The skies the limit!
Can I use coconut milk instead of coconut cream?
You'd think it would be fine but I am telling you, there is just something about that dang Coco Lopez, authentic cream of coconut that makes this drink extra delicious. There are a bunch of other brands at the store that will do if you can't find this, but for best results, stick to cream of coconut and preferably this brand.
With that said, feel free to give just coconut milk a try, but from personal experience, it's just not quite the same.
Can I use frozen or fresh pineapple?
You can use fresh or frozen pineapple but you'd need to add some ice to the mix if you use fresh to get that cold, frozen pina colada effect. So, I'd highly recommend frozen pineapple here.
Like we do in our non-alcoholic white Russian mocktail, you can change extra flavor with the addition of any of our simple syrups. And you know what? They are super SIMPLE to make!
OR make the cranberry simple syrup we do in this cranberry mocktail or the grapefruit simple syrup in our grapefruit mocktail to add an extra fruity flavor.
What non-alcoholic rum do you use?
I actually removed the rum and use vanilla soda (Dry Sparkling is my favorite) in it's place. You can also add a drop or two or rum extract if you like that flavor. I am personally not a big fan of it.
It's amazing how creative you can get with alcohol alternatives. In our non-alcoholic vodka dirty martini mocktail, you would be shocked at what we use… And our non-alcoholic Prosecco drink, we use some surprising alternatives.
Does mocktail making intimidate you a bit? We go over EVERYTHING it involves in our making the perfect mocktail guide.
NEED MORE GOODNESS? Follow me on Facebook, Instagram, Pinterest, and Twitter for great recipes, entertaining ideas and more!
Non-Alcoholic Pina Colada
This 5 MINUTE creamy, fruity non-alcoholic pina colada mocktail is perfect for summer! It has all the flavors of the beach but none of the booze. Everyone will love it and can enjoy it together too.
Ingredients
16

ounces

frozen pineapple chunks

12

ounces

vanilla soda (Dry Sparkling works great)

15

ounces

Coco Lopez Cream of Coconut

1

fresh pineapple for garnish
Instructions
Combine all ingredients in a blender and pulse until combine

Pour into glasses and garnish with fresh pineapple triangles
Notes
*You can also add maraschino cherries as another great garnish
Nutrition
Serving:
1
glass
|
Calories:
572
kcal
|
Carbohydrates:
103
g
|
Protein:
1
g
|
Fat:
18
g
|
Saturated Fat:
16
g
|
Sodium:
64
mg
|
Potassium:
141
mg
|
Fiber:
5
g
|
Sugar:
98
g
|
Vitamin A:
57
IU
|
Vitamin C:
11
mg
|
Calcium:
22
mg
|
Iron:
1
mg