this post may contain affiliate links
Our gluten-free soft frosted sugar cookies are sure to become your new family sweet treat staple.
We make these chewy little cookies for every holiday. With a different cookie cutter, they sure come to life in a delicious new way.
Gluten-free soft frosted sugar cookies are, in my mind, one of the first recipes that everyone needs to enjoy. I recreated my favorite childhood cookie recipe because it was such a huge part of my life. I can't imagine others who live gluten-free not enjoying these delicious cookies.
Ever since I was a little girl, I remember making sugar cookies for each and every holiday. My mom would always whip up a batch of sugar cookie dough. Then of course we would eat 1/3 of the dough before finally deciding it was time to get to work. We would roll out the dough, but it into all kinds of fun shapes and enjoy the smell of sugar cookies baking.
The crowing jewel to these sugar cookies is definitely the frosting. It is crucial that you apply it liberally. There is nothing quite like biting into one of these gluten-free soft frosted sugar cookies and seeing your teeth marks sink through a generous layer of cream cheese frosting.
Once frosted, my mom and I would enjoy one delicious cookie in all it's glory. It was perfection at it's finest with a glass of cold milk. After our one cookie, we always craved more so we'd say, "Let's just split one". We would then proceed to split a cookie and enjoy it's perfect sweetness. One of us would then say, "How about we split just one more?" Are you seeing a pattern? This would continue for about three of four cookies until we literally couldn't eat anymore. We always joked that we should have just enjoyed the three full cookies we ended up eating anyways, from the get go.
These are truly some of my most cherished memories with my mom. Being in the kitchen with her was our buffer during some very trying teenage years. Even when I was a bratty teen wanting nothing to do with her, she knew we could always come together over something delicious. I think that's one of the reasons why my mom was so always baking or cooking up something. She loved the togetherness it brought our family. I think we spent more time together in the kitchen than anywhere else. We made everything from mom's famous peach cobbler to her amazing chocolate chip cookies.
The great thing is that all the recipes use easy to find flours like brown rice, white rice, tapioca starch and more. I recommend buying in bulk to save money. Bob's Red Mill Gluten Free Brown Rice Flour, 24 Ounce (Pack of 4)
is super inexpensive and we use it a lot.
You can also find a recipe for low sugar healthy sugar cookies from Food Faith Fitness.
NEED MORE GOODNESS? Follow me on Facebook, Instagram, Pinterest, and Twitter for great recipes, entertaining ideas and more!
Gluten-Free Soft Frosted Sugar Cookies
With their soft frosting, these gluten free sugar cookies are delicious and perfect for Christmas
Instructions
Preheat oven to 375 degrees

Using a stand mixer, blend together butter and powdered sugar

Add in sour cream, egg and vanilla; mix until blended

In another bowl, combine first 9 ingredients (until 1 C butter and minus the powdered sugar you already mixed with the butter)

On the lowest speed, add in dry ingredients 1/2 C at a time

Dough will be thick and barely sticky

Divide dough into quarters

Lay out plastic wrap and sprinkle with white rice flour

Roll out on portion of the dough into 1/2 to 5/8 inch (you want them thick)

Using a cookie cutter, cut into desired shapes making sure to do them close together so as to leave very little leftover dough

Lift the plastic wrap and invert cookie onto your hand then place on a baking pad or parchment lined baking sheet

Repeat the process with remaining portions of dough

Bake for 10 minutes then let cool completely before frosting

To make the frosting: Whisk together cream cheese, milk and vanilla. Add in powdered sugar a little at a time and mix until thick and smooth. If you want different colors, add that in and mix just a bit more until combined well. Frost cookies with a thick layer of frosting and store in refrigerator. Enjoy with a big glass of cold milk.
Nutrition
Calories:
458
kcal
|
Carbohydrates:
60
g
|
Protein:
5
g
|
Fat:
23
g
|
Saturated Fat:
12
g
|
Cholesterol:
64
mg
|
Sodium:
270
mg
|
Potassium:
243
mg
|
Fiber:
2
g
|
Sugar:
28
g
|
Vitamin A:
650
IU
|
Vitamin C:
0.5
mg
|
Calcium:
85
mg
|
Iron:
0.9
mg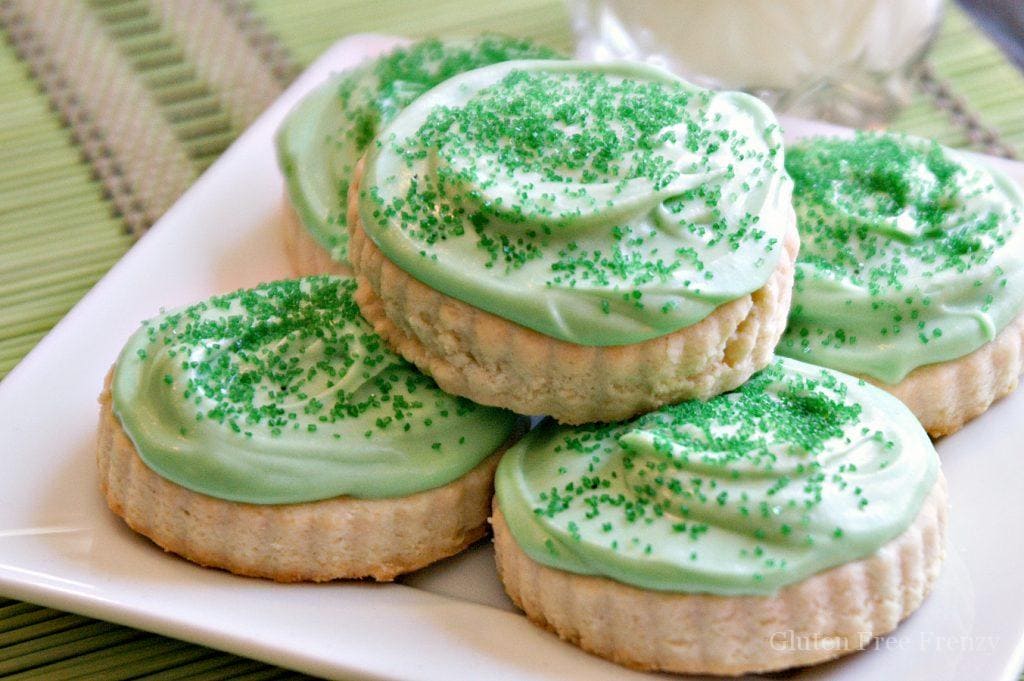 Today with my kids, I do the same. If they are having a hard day or I want to talk more with them, we always do it while baking up something sweet. I hope you all enjoy this cherished family recipe and that it brings your family as much joy as it has brought ours.
It was truly an honor to work alongside my mom as we brought together all our favorite recipes, plus some new ones, in a delicious, gluten-free cookbook. Gluten-Free on a Budget is available on Amazon as well as in Barnes & Noble. We hope you enjoy today's special giveaway. It comes from our hearts as we want to help you develop family foodie traditions like we have.
From my family to yours, Merry Christmas and Happy Holidays!
a Rafflecopter giveaway